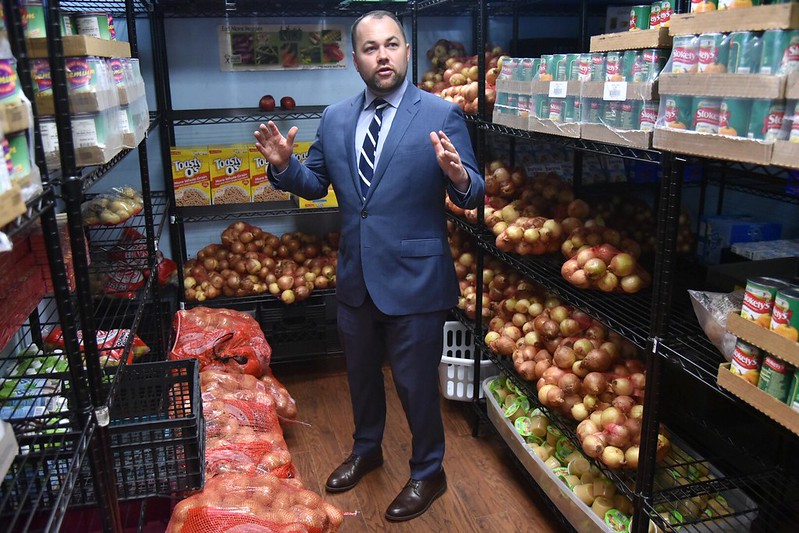 Council Speaker Johnson at a food pantry (photo: John McCarten/CityCouncil)
---
The City Council is expected to pass a package of food policy legislation on Tuesday, central components of an agenda laid out by Speaker Corey Johnson last August to strengthen relevant governance and food policy planning, while combating inequality and waste in the food supply chain.
One bill, sponsored by Council Member Vanessa Gibson, would require the Mayor's Office of Food Policy to develop a ten-year plan to address food access and build a sustainable and economically viable agricultural landscape serving New York City. The second bill, carried by Council Member Ben Kallos and co-sponsored by Johnson, would codify the Office of Food Policy in the City Charter as a permanent office responsible for coordinating food-related initiatives across multiple city agencies, with an emphasis on promoting nutrition in communities with limited access to healthy food because of "economic, racial, or environmental factors."
Both bills passed out of the Committee on Economic Development on Monday and will be up for a vote by the full City Council on Tuesday, where they are expected to pass.
"Food is a human right, and in one of the richest cities in the world, it is completely unacceptable that one million New Yorkers are food insecure and that many communities have inequitable access to healthy food," a Council spokesperson for Johnson said in a statement. "The Council's food equity legislative package is part of Speaker Johnson's vision to promote food justice in this City, and we are thankful to all the Council Members and staff for working hard on these bills as we move closer to ending the food equity gap."
Johnson's platform, first proposed in a report entitled, "Growing Food Equity in New York City," takes aim at rampant food insecurity, including in low-income communities and communities of color, and the structural inequities that contribute to that problem and others, including inconsistencies in access to healthy food. It comprises a number of provisions, many of which were contained in a package of fourteen bills and two resolutions heard in Council committees last September, including several being voted on Tuesday (several other pieces of the package were passed through the Council's general welfare committee on Monday).
In addition to the food policy office and ten-year plan bills, Johnson's full agenda includes legislation to enhance food metric reporting, expand public assistance like food pantries and SNAP benefits, targeted support for seniors and students, farm-to-city programs, and food procurement reforms.
The number of New Yorkers living with food insecurity -- defined as lacking adequate access to affordable and nutritious food -- between 2015 and 2017 was 1.09 million, according to a report by Hunger Free America and cited in the Council's report. While constituting a 22 percent drop in food insecurity from the 2012-2014 period, the figure also represents a 22 percent rise since the pre-recession period from 2005 to 2007, according to the Hunger Free America report. The number of children who experienced food insecurity between 2015 and 2017, 324,432, improved at a slower rate (16 percent) than the overall population from the previous three-year period.
A particular emphasis is on food justice and ameliorating the disparate access to healthy foods in predominantly low-income neighborhoods. The expected passage of the bills comes shortly after the U.S. Supreme Court ruled as constitutional the Trump administration's public charge rule, making it harder for immigrants to obtain a green card when they receive public benefits like food stamps.
"The City of New York is responsible for feeding a large portion of our population, whether it's 1.1 million public school students who are entitled to free breakfast and free lunch, or it's people in our senior centers...or people in our shelter system who we're feeding, or just the countless New Yorkers who rely on food assistance in the form of SNAP," Kallos, a Manhattan Democrat, told Gotham Gazette.
The city has a tremendous amount of sway over food policy and can have meaningful impact by utilizing it, according to Nevin Cohen, research director at the CUNY Urban Food Policy Institute. "Agencies procure food for various purposes, they control land that food can be grown on, they provide resources for business like food manufacturing business. So food spans the gamut of city agencies and having an office that can coordinate food related policies is really essential," Cohen said in an interview with Gotham Gazette.
The two bills passed by the economic development committee are a package that work in tandem, one establishing the food policy office in the City Charter and one requiring it to develop a ten-year plan. The bills are written to go into effect simultaneously.
Under Gibson's bill, the Office of Food Policy would be required to draft a comprehensive ten-year plan -- coordinating among myriad agencies, community-based organizations, and other stakeholders -- that would bring the city's approaches to governing food production, sale, and supplemental assistance under one umbrella. The plan would be required to make recommendations on "reducing hunger, improving nutrition, increasing access to healthy food, reducing food waste, developing and improving food and farm economies, and increasing urban agriculture and sustainability."
"There has been no shortage of food policy ideas and strategic documents and recommendations from different parts of city government, but there hasn't yet been a cohesive food plan for the city of New York," Cohen said. "That's been a major gap that this bill will fill."
The ten-year plan would include strategies for successful implementation with benchmarks and the Office of Food Policy would be required to give progress reports to the mayor and Council speaker.
"I believe this legislation will have a tremendous impact on thousands of families that deserve access to healthier high quality food options. However, we must continue to work together as legislators with community advocates and stakeholders to ensure we establish concrete goals to reduce hunger," wrote Gibson, a Bronx Democrat, in an email. The Hunger Free America report called the Bronx the "hungriest borough," with one in four residents experiencing food insecurity.
Kallos' bill, in codifying the Office of Food Policy, outlines the powers and duties of the director in the City Charter. Currently, the role of Director of Food Policy is housed within the mayor's office and exists at the mayor's discretion. After former Director of Food Policy Barbara Turk stepped down in March 2019, the position went vacant for six months until a new director, Kate MacKenzie, was appointed by Mayor de Blasio this past October. Under the legislation, the office could be established either directly within the mayor's office or in another mayoral department, with the director appointed either by the mayor or the department head.
Supporters say codifying the office will bring a degree of accountability over the city's food policy efforts, which are currently controlled largely through executive action. The bill establishes four official responsibilities of the office: make recommendations to the mayor; coordinate interagency initiatives; conduct outreach to key stakeholders; and promote efforts designed to increase equitable access to nutritious food.
"I think the fact that [the Mayor's Office of Food Policy] was vacant for so long explains why it needs to be codified in the law: so that it is something that we can hold accountable. I am very glad Mayor de Blasio appointed a director, one who has been empowered to do so much, but the mayor could have just as easily eliminated the position," Kallos said.
The mayor's office says it supports the bills.
"The Administration strongly supports these bills and the broader food equity vision outlined by the Speaker. I look forward to working with the Council and advocates in creating and formalizing a robust food policy plan for the City of New York," MacKenzie wrote in an email.
Kallos believes codifying the office's general responsibilities will also give it leverage in negotiating among city agencies, which often operate as independent fiefdoms.
"When I was chair of Governmental Operations I had oversight over half a dozen agencies and it is incredibly difficult to force agencies to work together. By giving the food policy director this power in the Charter, it means there is something they can point to when they are trying to force people to the table who otherwise might not want to work together," he said.
To some extent, codifying the office is a statement about how much city resources should be expended on comprehensive food policy.
"I think a really important need is for the city to adequately fund the Office of Food Policy. Since its inception the office has really had only one or two staff people, and for a city the size of New York that's just not enough," Cohen said.
Kallos' bill does not appropriate city funds for the office or say how many staff members it must have, but Cohen believes the legislation can still be a boon.
"Local laws generally don't have specific appropriations of funding attached to them, but my feeling is that by putting the office in the City Charter it adds significant importance to the office and it will enable advocates both inside and outside of city government to advocate for sufficient funding," he said.