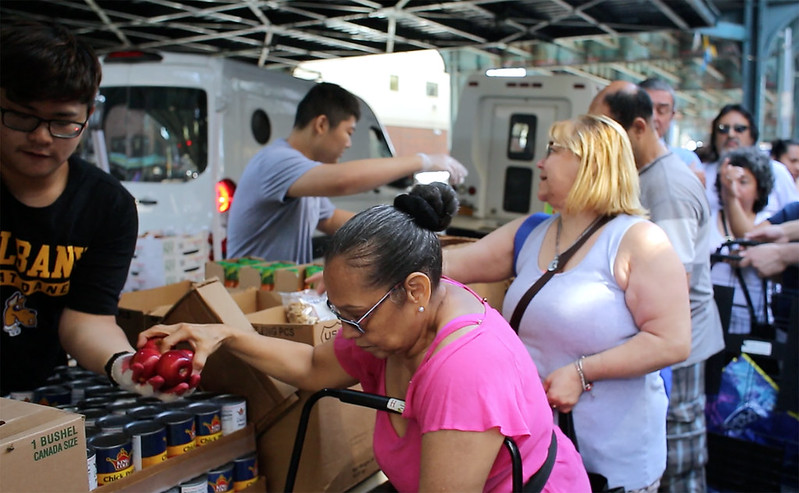 (photo: New York City Council)
---
Food insecurity and hunger, which impact more than one million New Yorkers, don't exist in a silo; instead, they are often connected to other challenges, like housing, health care, immigration status, domestic violence, and more.
A new report from the Food Bank For New York City released at the end of last week outlines those intersecting challenges, detailing how the city's widening wealth gap and rising costs of living, among other trends and hardships many experience, are putting an enormous strain on millions of city residents, and also on the vast network of emergency food providers attempting to help them.
The report also draws a clear distinction between broader trends, nationally and locally, of lower unemployment and poverty rates on one hand and increased demand for emergency food in New York City on the other. And it points to unhelpful federal policies that undermine the work of emergency food providers and other social service organizations working with the city's and country's most vulnerable people.
Currently, more than 1.2 million New York City residents, or 14.4%, are food insecure, making up half of all food insecure people in the entire state, according to the Food Bank. That is 21% higher than the state rate of 11.9% and 12% higher than the national rate of 12.9%.
At its annual conference on hunger and poverty in Manhattan, the Food Bank released "New Yorkers Don't Live Single-Issue Lives: The Intersections of Hunger," and brought together a large network of charities, nonprofits, and public programs focused on food, immigration, and health-related issues. Food Bank For New York City President and CEO Margarette Purvis began the conference, along with leaders of other organizations such as BronxWorks, New York Common Pantry, and Cabrini Immigrant Services of NYC, discussing the new report and those intersecting issues affecting New York's most vulnerable communities.
"When expenses like housing, healthcare, transportation, and childcare pile up, food is often the first thing that's sacrificed, driving families and individuals to the emergency food network," Purvis said in her opening remarks.
Facing Greater Challenges with Fewer Resources
Despite a booming economy on the national and local levels, millions of vulnerable New Yorkers have found themselves struggling against expenses, debts, and the constant threat of homelessness. According to the report, nearly three quarters (74%) of food pantries and soup kitchens throughout the city have seen increases in the number of visitors over the past year (2019).
Specifically, 76% of emergency food providers reported an increase in families with children, 60% reported an increase in seniors, 58% reported an increase in immigrants, and 16% reported an increase in college students seeking emergency food.
Across every category, the most-cited barrier to food security was how the rising costs of living and other competing costs have outpaced income (65% of providers reported this for families with children, 68% for working individuals, 52% with regard to seniors and 32% with regard to college students). Other barriers reported by providers included 61% of providers reporting households with children being led by a single-income caregiver and 63% of providers reporting working individuals earning too low a wage. For seniors, it was reported that 62% of providers indicated low fixed income or 53% indicated little-to-no retirement savings.
The general lack of available money for food inevitably translates into a lack of healthy options for vulnerable New Yorkers, leading to increased reports of severe health problems. More than 70% of emergency food providers reported their clients have some nutrition-related preventable diseases, most commonly diabetes (86%), followed by high blood pressure (84%), obesity (83%), high cholesterol (75%), and heart disease (70%).
"We know there is a direct link between poor nutrition and these medical conditions," said Andre Thompson, Director of Food Programs at New York Common Pantry. "When New Yorkers cannot afford to purchase nutritious food, their health suffers as a result." Cost, unsurprisingly, is the most common barrier to healthy food choices cited by the report, followed by access/availability and education.
Poor health and living conditions of New Yorkers has also forced many of these organizations to provide additional services. Nearly 60% of emergency food providers also run health services or health clinics, around 30% provide clothing and transportation, and about 20% provide subsidized housing assistance and furniture, for example.
Federal Policies Add Questions
With these challenges in mind, one in two organizations reported that in the past year, they provided more food to more clients and plan to do so again in the upcoming years.
Currently, 54% of emergency food providers are confident in their ability to meet demand, while 28% are unsure, and 18% know that they cannot. Their greatest operational challenges cited in the report are developing cash reserves (57% reported), raising unrestricted revenue (38%), and managing or pursuing growth (30%). If a larger budget were provided, 78% said that they could immediately plan much needed expansions to their programs and services, 39% could cover costs while waiting for grants and 36% could expand or renovate their facilities.
Instead, these issues have been exacerbated by the fact that 80% of providers consider policy changes by the federal government as a major or moderate threat to their operations; the report went so far as to describe the Trump administration's latest policies as "harmful if not punitive to those struggling the most."
Some of these federal plans and proposals include stripping public assistance from many unemployed people, changing the federal definition of poverty, eliminating SNAP eligibility for millions of people including over 200,000 New York residents, and removing regional price variations in utility cost calculations for benefits. Rather than provide additional support to these overburdened organizations, these policies are designed to restrict or deny participation in public assistance programs, potentially driving more individuals and families, at loss of public benefits, to turn to an already overburdened network of private services for food assistance.
Immigrant Communities
Under Trump, the Food Bank points out, immigrants are being identified and targeted by immigration enforcement through their involvement in public programs such as SNAP.
Immigrant families are discontinuing participation in these programs out of fear of deportation, fear that it will affect their immigration status, or more general privacy concerns. According to the Food Bank's November Research Report, nearly 9% of emergency food providers reported that their visitors asked to remove their names from the contact list or database, compared to only 2% the prior year. Another study from the Kaiser Family Foundation found that nearly half of community health centers reported more immigrant patients declining to enroll themselves in Medicaid in the past year.
In order to protect their clients' identities and ensure that immigrant communities feel safe using their services, 73% of emergency food providers in New York City have made changes to their operations, according to the Food Bank report. The most commonly reported change throughout this network was to provide home delivery for those not willing to show up to distribution centers (36%). They also provided immigrant communities new and specific services (25%) as well as distribution hours that were not publicly listed in order to protect the privacy of those seeking meals (22%).
Another possible threat to immigrants will go into effect on February 24. Under the U.S Citizenship and Immigration Services' new definition for "public charges," programs such as SNAP, Medicaid, and housing assistance will become a determining factor in an immigrant's application for permanent residence or a green card. This highly controversial move means the federal government is attempting to move toward disallowing immigrants to come to or stay in the country if they are deemed too burdensome.
Javier Ramirez Baron, the Executive Director of Cabrini Immigrant Services of NYC, expressed strong concern that the new rule has "created an incredible amount of fear in our community. Even those who would not be impacted are afraid they will be penalized for accessing vital services." His fears echoed that of the New York City's Human Resources Administration (HRA), which estimated that 304,000 New York City residents, including U.S. citizens and green card holders who would not be subject to a public charge test, could be discouraged from participation in crucial public benefits.
'The Charitable Network Cannot Replace Government Public Assistance'
The report concludes: "Though New York City's network of emergency food providers is already operating under tremendous strain, it is striving to meet the increased need by focusing on the intersectionality of hunger with the other issues their clients face. However, the charitable network cannot replace government public assistance. Public and private efforts must together focus investments on the intersections of hunger and poverty that follow vulnerable New Yorkers through every aspect and phase of their lives."
Notably, the Food Bank's annual report and conference came just after the New York City Council passed several pieces of legislation aimed at fighting hunger and food insecurity, among other related problems, including codifying the city's Office of Food Policy and requiring it to develop a ten-year food plan, as well as requiring city agencies to make efforts to enroll more eligible seniors in SNAP.
***
by Zachary Kourgialis
@GothamGazette