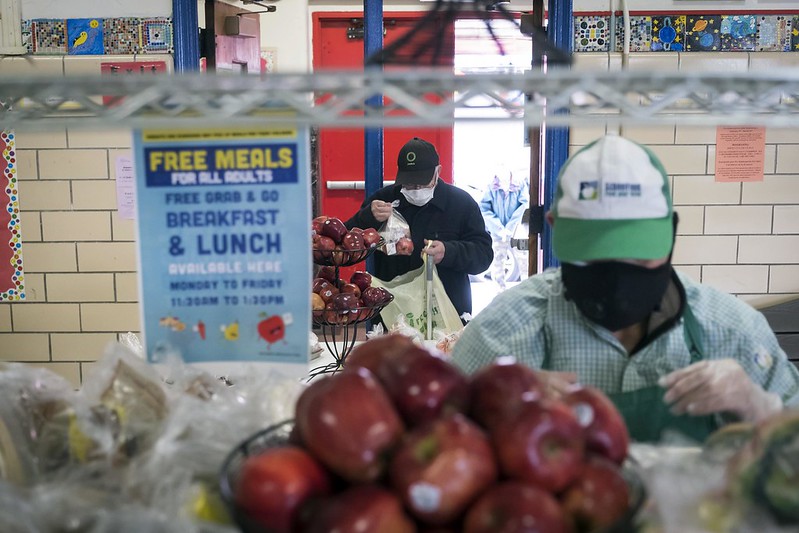 (photo: Ed Reed/Mayoral Photography Office)
---
As New York City continues its struggle as the epicenter of the COVID-19 pandemic and its socioeconomic fallout, food insecurity continues to plague an increasing number of New Yorkers. Mayor Bill de Blasio has named a "food czar" and instituted a number of initiatives and added spending to attempt to address the problem, with the city giving out more than 10 million free meals in April and expecting to provide even more in May.
The mayor recently said the city's new goal is to be able to soon distribute 1 million meals per day through both delivering to the most vulnerable and hundreds of pick-up sites across the five boroughs. Such work of course comes with many challenges that the city must overcome to meet New Yorkers' needs.
On Tuesday, the Hunter College NYC Food Policy Center hosted its second digital discussion about the state of the city's food system and anti-hunger efforts amid the coronavirus outbreak and the unemployment and food access crises it provoked.
Home meal delivery, especially for seniors, the state of the food supply chain, and the healthfulness of food being provided by the city were among the focus topics for the panel, which included Joel Berg of Hunger Free America; Commissioner Grace Bonilla of the city's Human Resources Administration; Ruth Finkelstein of Brookdale Center on Aging and Hunter College; Tony Hillery of Harlem Grown; Michael Hurwitz of GrowNYC Food Access and Agriculture; and Kate MacKenzie of the Mayor's Office of Food Policy.
Finkelstein spoke about how seniors are in a "different kind of hunger" situation that is causing many to fall through the cracks.
"There were already 1 in 10 older adults who were hungry in New York. Then with a really very strong recommendation that people over 70 not leave the house, you have this whole new difficulty obtaining food," she said. A very high percentage of the more than 19,000 confirmed or probable COVID-19 deaths in New York City are among those over 65 years of age.
New York City has launched the GetFoodNYC program that is delivering 500,000 meals per day, according to MacKenzie, with that goal to reach 1 million meals per day over the course of the month of May.
Earlier this week, Manhattan City Council Member Margaret Chin, who chairs the Council's committee focused on older New Yorkers, along with 29 other Council members penned a letter to push the city's Department for the Aging (DFTA) to urgently request $26.2 million in additional funding to support the city's home delivered meals (HDM) program.
"With COVID-19 protocols instructing the HDM to continue operating as usual, this program provides a powerful model for the types of community partnerships and attention to cultural preferences that now more than ever our City must support and expand," the letter reads. "As the COVID-19 pandemic intensifies and more seniors sheltering-at-home face food insecurity, the home delivered meals program has experienced an onslaught of new demand, concurrent with significant staffing challenges resulting from the spread of the disease. Programs initially reported increases of 20-30% since the start of March for HDM clients, and those numbers continue to grow as more older adults express need for food and social support, with some programs now expressing increases of approximately 50%."
Finkelstein said the city's program comprises "a very complicated and patched together system, through whose cracks many, many, many people fall." She detailed that the majority of those who are falling through the cracks are those who are not already known to the system in any way, "because until now they were independent," not enrolled in any food assistance program or senior center.
For home delivered meals, seniors and others in need -- or their caretakers -- can call the city's 311 helpline, the mayor and other city leaders have stressed. But some New Yorkers have experienced problems with the service, as evidenced by anecdotes from panel discussions and radio show callers, and media reports.
MacKenzie said people are now getting through to a 311 dispatcher much more easily than a few weeks ago. The city has added workers to reduce wait times, and the mayor has said it is hiring more dispatchers still, and senior center staff is being trained to help seniors enroll in the food delivery program.
"We can't solve for the future while we're still in the midst of solving for the crisis that we're in," MacKenzie said. "And particularly for seniors, this is going to be a very long crisis where the guidance is really to remain at home." (Other measures are being taken or advocated to help reduce isolation among so many homebound seniors, many of whom live alone.)
In terms of the meals being provided by the city, both through home delivery and hundreds of pick-up sites, questions about nutritional value have been raised -- by people like Brooklyn Borough President Eric Adams, who has long had a public health focus, and at Tuesday's panel discussion.
MacKenzie said the city is regularly updating nutrition standards and that the team is working closely with food czar Kathryn Garcia, and that they are adhering to existing nutrition standards. The problem, according to MacKenzie, is food supply — the city is operating in terms of emergency meals.
"The things that are in the food boxes, they are emergency food boxes. The contents of those boxes still adhere to the city's nutrition standards, but they might be cans of tuna, yes there are granola bars, yes there are raisins and mixed nuts, these are intended to be emergency meal kits," she said. "It goes into that conversation about what is the future, what is the steady state here. But currently we are still feeding people emergency provisions."
MacKenzie also mentioned the city's newly increasing efforts to contract with nonprofits and restaurants that can provide meals, especially culturally relevant and ethnic food. She explained that if "individual organizations can provide upwards of 1,000 meals per day, we'll talk about doing business with them."
Tara Klein, policy analyst at United Neighborhood Houses, told Gotham Gazette that her organization is in a unique position to meet the needs of the community and it's good the city is starting to lean on the nonprofit network more.
"One of the benefits of having small community-based organizations run some of these meal programs, as they have been for many years, is the individual needs. I see that it's specialized types of food, culturally sensitive meals, some seniors need food that's easy to chew or sensitive to people who have diabetes," Klein said in a phone interview. "There's a whole range of different types of food and those small, nimble organizations are able to adapt because they know their clients, and they're able to make individual distinctions."
There's also partnerships with the private for-profit sector. State Assembly Speaker Carl Heastie announced on Tuesday a deal with Uber Eats whereby the for-hire vehicle company will donate "8,000 free meals to nonprofits and institutions serving New Yorkers impacted by the COVID-19 pandemic."
On the overall status of the food supply coming into the city and New Yorkers being able to go out and find it, Hurwitz of GrowNYC Food Access and Agriculture explained that at his organization many local and regional farmers are trying to find alternative platforms to sell through, while others are doing well. He explained that farmers' markets have been quite busy, and that Garcia has been great at helping facilitate social distancing in these open air settings.
"It's because we have prioritized our employees' health, we've prioritized our customers' health, and we've prioritized the health and wellness of our farmers and their employees," Hurwitz said. "I think being outside with extra staff, with guidelines, people feel a little safer shopping at those types of outlets. And we've done that at our farm stands and our food boxes as well."
MacKenzie said the city is also trying to help local farmers and distributors and created a platform that helps match growers and sellers. "We're doing everything to try and find outlets for these great suppliers of food," she said.
Also on Wednesday, New York Senator Kirsten Gillibrand announced that she is introducing legislation to create a direct supply chain from farmers to food banks.
"As restaurants, hotels, schools, and other food service entities cease operations to combat the COVID-19 pandemic, reports have emerged that millions of pounds of produce have been left to rot in fields. Meanwhile, food banks across the country are facing unprecedented demand, as millions of newly unemployed Americans now face food insecurity. The Food Bank Access to Farm Fresh Produce Act will provide needed support to food banks as they continue to serve the surge of jobless Americans, while also supporting struggling farmers who lack buyers for their produce," her press release said.
Roughly 30-40% of food pantries and soup kitchens in the city are closed, according to the panelists at Tuesday's Hunter College NYC Food Policy Center event.
MacKenzie of the Mayor's Office of Food Policy argued that this problem requires some nuanced discussion.
"While the information is factually true, the bigger question is of the pantries that are open, how has their reach expanded," she said. "Because many, many feeding operations have actually in some cases doubled work and meals they're providing, food they're serving. I just want to recognize, to reframe the pantries that are closed and those that are doing more." She added that the city has been working to place volunteers to re-staff many food pantries in the city, keeping them open, given that the absence of the usual volunteers, many of them typically older, has been essential to why they have closed.
Berg of Hunger Free America stressed that the charitable food network was stretched before this crisis, and understanding that is important. He said even at the best of times every dollar worth of food provided by a food pantry or soup kitchen is one-eleventh of what federal nutrition assistance programs do. Many pantries are run by unpaid volunteers, and there is no logic to the system, he said. Berg added that of the nearly 1,000 different food pantries and soup kitchens in the city, 100 of them provide half the food.
"There is very little 'middle class,' so to speak, in the emergency feeding system. There's some bigger agencies with multimillion-dollar budgets, with professional staff serving a lot of people, then there's hundreds and hundreds and hundreds of microscopically small agencies. And so I suspect, the 30-40% of agencies that are shut down are the ones that are very small to begin with," Berg said. "And it may or may not make sense to use resources, national guard troops, volunteers, grants to open them, or it might make sense to provide more resources in under-resourced neighborhoods."
Long-term, Berg believes for the food pantry system, there needs to be a "comprehensive strategic look that combines our heart and also our head." He said there is "no logic to the system" and all soup kitchens are licensed by the health department, but food pantries only interact with the state or city government if they receive funding from those entities, making them somewhat hard to track.
"We need a fundamental look at where the food needs are," he said. "It does mean really looking at census data, where immigrants are, and people who are unable to access these other programs, where the train lines run." He also believes there should be coordinated applications to get funding and monitoring of the agencies.
MacKenzie said this is the right time to be thinking about "what an evolved system looks like," she emphasized that it's not a clear picture yet.
"I think it's really important we do really try to think really creatively and out of the box about what systems should exist and not try necessarily to try and rebuild a system that wasn't working to begin with," she said.