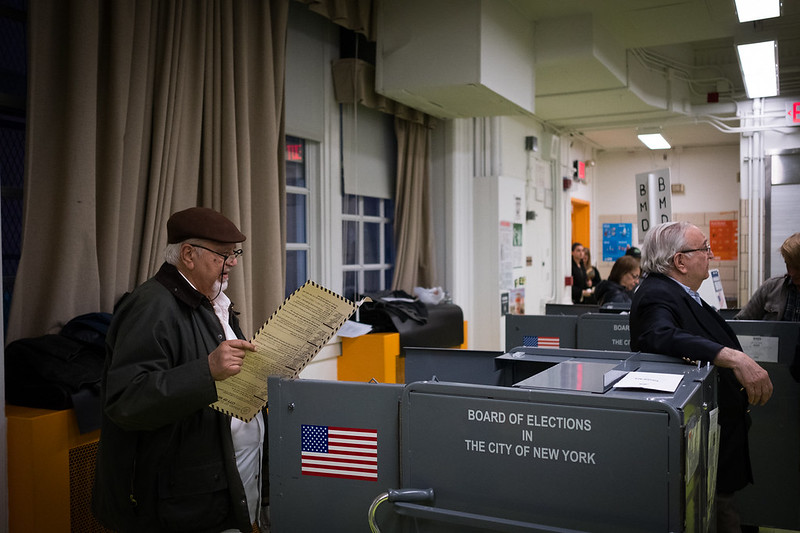 Ranked-choice voting is coming soon (photo: Edwin J. Torres/Mayor's Office)
---
The New York City Board of Elections missed a City Charter-mandated June 1 deadline to issue a report on how it will implement the new voter-approved ranked-choice voting system in 2021, advocates and elected officials said Friday.
At a press conference hosted by good government group Common Cause New York, Comptroller Scott Stringer and Manhattan Borough President Gale Brewer said the report is essential to adequately prepare for the new voting format next year and called on the Board of Elections (BOE) to release it immediately.
Ranked-choice voting, which will only apply to party primary and special elections for city government positions, allows voters to select multiple names on the ballot in order of preference rather than voting for a single candidate. If no candidate initially receives more than 50% of the vote, the candidate with the fewest first-place votes is eliminated and their ballots redistributed based on their voters' second choices, and so on until one candidate has a majority.
Voters approved the measure in a referendum last November. It takes effect for elections beginning in 2021 and requires the BOE to submit a report to the Mayor and City Council Speaker "containing a plan for achieving timely implementation of ranked choice voting" by June 1 of this year.
Supporters of the reform say it will force candidates to try to appeal to a wider political base and eliminate the need for expensive run-off elections, which tend to have minimal turn out. But successful implementation will be challenging and significant voter education will be necessary, advocates and elected officials have repeatedly pointed out.
"The deadline is crucial in order to make sure that the Board can purchase the necessary upgrades to the existing voting machines for ranked-choice voting," said Susan Lerner, executive director of Common Cause New York.
New York City began using ballot-on-demand printers and electronic poll books on a large-scale as part of rolling out early voting last year. The technology purchased by city elections administrators is supposed to be compatible with a ranked-choice format but, along with optical ballot scanners, requires software upgrades that must be certified with the state elections board before 2021 elections.
That certification process usually takes around six months, Lerner said, and the first city elections of 2021 could be special elections early in the year, followed by the regularly-scheduled June primaries for dozens of seats across city government.
A spokesperson for the City Council confirmed it has not received a report. "The Council will not tolerate delayed implementation of ranked choice voting and we demand the BOE meet the deadlines every step of the way in this process," the spokesperson wrote in an email. The mayor's office did not respond to inquiries about the report.
Under the New York City Charter, if the board fails to submit the implementation report within 30 days of the deadline it will "create a rebuttable presumption that such board is declining to implement ranked choice voting as required by this section."
"Once again the barrier to democracy is our own board of elections because they dropped the ball again," said Stringer, who is running for mayor in 2021. "Someone should just get that report done now, so we don't have problems later on."
Next year will be the busiest city election cycle in at least eight years, with mayor, comptroller, four borough presidents, and dozens of City Council seats "open" due to term limits (meaning no incumbent is running). The public advocate, Queens borough president, and about 16 other Council seats are also up for election, though with incumbents likely running, and the city's Campaign Finance Board estimates roughly 500 candidates total will be seeking office in 2021.
There could be special elections called as early as March, depending on the outcome of ongoing 2020 races for Queens Borough President and Congressional District 15 in the Bronx, where current City Council members are frontrunners. A special election is called when an elected office is vacated mid-term.
Common Cause, along with Reinvent Albany, League of Women Voters of New York City, and Citizens Union, sent a letter Friday to BOE Executive Director Michael Ryan and his deputy, Dawn Sandow, urging them to release a report. "We acknowledge the additional burden of operating in this new environment, but as we've seen the NYC BOE adapt to the COVID crisis, we remain confident the Board is up to the task," the letter reads.
The BOE is frequently criticized for administrative blunders that lead to arduous experiences at the polls and in some cases disenfranchise voters. The risk increases when administrators are rolling out new and untried elements. An extreme example has been this month's primaries, where pandemic-induced changes to the rules governing absentee voting meant an unprecedented number of voters sought the option. There have been widespread reports that many voters did not receive their ballots in the mail in time to cast them, as well as poll-site operation issues of the more perennial variety.
"There is no time to waste. We got to make sure that our candidates know the rules and that our voters are educated," Stringer said, noting that effort must begin with the implementation report.
"I know that we are in the middle of a cascade of crises," said Brewer, including the coronavirus pandemic, protests for racial justice, and a major economic downturn. "But equally important is voting and voting the way voters want to vote." The referendum establishing the new voting system was approved with nearly 75 percent of the vote but in an "off-year" election with relatively low turnout.
"I have to say to me it's frightening because what it says is, 'we are not ready,'" she said.
The BOE did not respond to requests for comment.