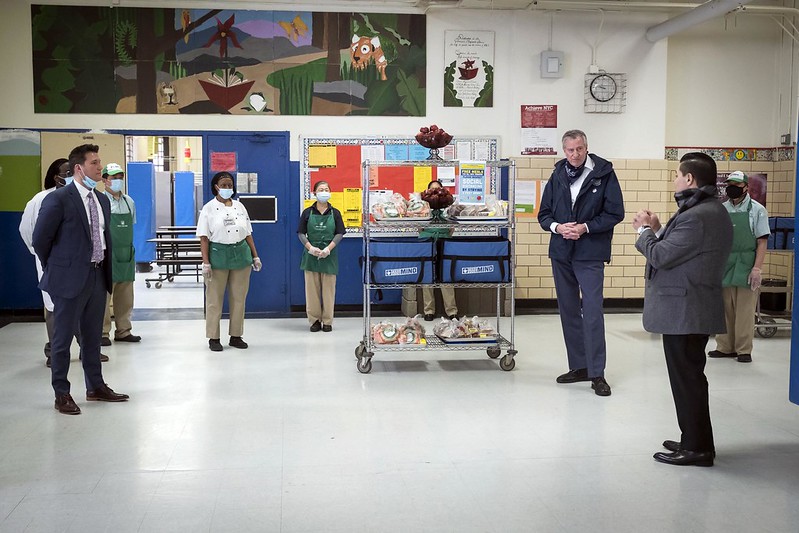 Mayor de Blasio at a school food hub (photo: Ed Reed/Mayoral Photography Office)
---
The uncertainty around how New York City public schools will be reopened come September extends to the emergency food initiative greatly expanded by city government during the devastating coronavirus outbreak that led to mass unemployment and food insecurity, as a large portion of the program was using public schools to distribute millions of free meals.
A part of the massive program that has distributed over 100 million free meals since March will likely shift as students and staff return to schools that have served as central emergency food hubs during the pandemic shutdown. While New Yorkers of all stripes, including families, could pick up "grab-and-go" meals at more than 400 school sites across the five boroughs five days a week, many others received more than 1 million meals a day through home delivery and still others received emergency sustenance through food pantries and other means.
With the planned shift in how school buildings are used, it's not yet clear how the city intends to distribute emergency food or even what the need will be come September, in part due to the unknowns around the city's economic revival. Whereas schools have long been a source of two meals a day for many low-income students and became logical food pick-up hubs during the shutdown, a school reopening where students are only in school buildings two or three days a week creates a complicated picture on many fronts, including food.
A month out from the planned reopening of schools, those leading the city's emergency food program acknowledge that plans are not yet set for how meal distribution will work after Labor Day. While some students will attend school up to three days a week, parents can completely opt their children out of in-person learning, and although there is a commitment by -- but not yet a plan from -- top officials to provide students with meals, it's unclear how many food insecure adults without children have been utilizing the school food pick-up sites over the past months and whether or not they will be able to continue to do so.
Grab & Go Meals
The city's emergency program, called GetFoodNYC, is led by the city's "food czar," a position Mayor Bill de Blasio announced on March 21, when he said Department of Sanitation Commissioner Kathryn Garcia would take the new role. Soon after being appointed, Garcia helped stand up efforts to make 470 Department of Education sites, almost all of which were schools, available to provide three meals a day to children under 18 (and, later, to families and then also adults without children as of April 3), and develop and expand other emergency food programming.
It is the school pick-up piece of the program that Garcia and the city have yet to make concrete plans to continue once schools reopen.
"DOE [Department of Education] is planning carefully around reopening," said Department of Sanitation Assistant Commissioner for Public Affairs Joshua Goodman, in an email to Gotham Gazette. "Until we know what school reopening will look like, we cannot know exactly what Grab & Go meal operations may look like – but our commitment will remain the same, that no New Yorker should go hungry due to the pandemic."
It was only late last Thursday that de Blasio revealed the most detailed plan yet as to how schools will reopen, which includes measures to immediately close down classrooms where one or more students test positive for coronavirus, and to close down entire buildings if two or more students in different classrooms test positive. It also requires students or teachers who feel sick to stay home and allows for families to opt into an all-remote learning option. About 26% of families would prefer that option, no matter the safety precautions taken, according to a Department of Education survey reported on by the Wall Street Journal. For students returning to school buildings, it will only be for one to three days a week. Individual school plans are in the process of being designed, though they in part rely on what student enrollment will look like, forming something of a chicken-or-the-egg relationship.
Before they were closed, New York City public schools were serving more than 1 million meals a day, according to the city's Independent Budget Office (IBO), with Garcia saying in an interview that New York City public schools are "maybe the largest feeding program in the country."
"If schools are truly reopening, [the grab-and-go locations] are a lot less important," said Joel Berg, CEO of Hunger Free America, a non-profit dedicated to connecting those experiencing food insecurity to services and advocating for legislation to address hunger. "That would certainly be a good thing in reducing hunger. And, you know, there are 1,600 schools so even if that closes down 400 alternative sites, some adults may be missing out but far more kids would be fed so that would be a worthwhile trade-off."
But that progress will be significantly complicated by the part-time nature of schooling for many students in the fall and the fact that untold number of students will not be going to school buildings at all.
When assessing the grab-and-go program, the IBO found evidence supporting Berg's point about the benefits of students accessing food in schools, as the pick-up program did not serve as a replacement for in-school meals.
"While quickly established, the Grab & Go sites have not fully met the problem of hunger and food insecurity across the city," the report states. "In the last week of April, the sites provided an average of 305,000 meals a day, well below the number schools typically served."
However, IBO did find that nearly 90% of students were within half a mile of the grab-and-go locations, and more than half "were located in census tracts where the average household income was below or near the poverty threshold," with the majority of sites located in Brooklyn and the Bronx.
The report is based on data from March 30, though, and the program has expanded significantly since. It also does not include other emergency food efforts besides the grab-and-go program.
"More than 400 meal hubs at DOE sites across the city are distributing around 500,000 meals per day to people in need," Goodman said in a statement when asked about the IBO report, published at the end of July. "This is an incredible achievement, part of a broader operation that has now served more than 100 million meals since the pandemic began to ensure no New Yorker goes hungry. We appreciate the IBO's role but are deeply proud of the work of DOE staff and the NYC Food Czar team."
Moving forward, the city hopes the grab-and-go program will be used in conjunction with school meals. As although students will not be attending school every day, some not at all, the city is committed to maintaining a grab-and-go program that operates every day for students, according to Garcia's office. How it will do so, and whether it will extend to families or adults without children, is still unclear.
That population of adults without children, as Berg alluded to, is one with few resources dedicated directly to them. Besides the grab-and-go program that is first and foremost for students and their families, GetFoodNYC's food delivery service is meant for seniors or those who cannot risk going outside due to medical conditions that make them more susceptible to COVID-19.
It is unclear how large the population is of those who have been accessing grab-and-go meals at school sites but are not members of families with schoolchildren, and how many may lose out on free meals if the grab-and-go program reverts to being only for children or families with children, as the program does not collect demographic data, in order to avoid discouraging use.
Deepening Struggles for New Yorkers
There are more than 800,000 people in New York City who were unemployed as of June 2020, according to the New York State Department of Labor, maing for a roughly 20% unemployment rate, a massive increase from the roughly 4% at the start of March. This is just one measure of many indicating the extent of economic devastation due to the pandemic, and the growing food insecurity because of it.
Berg described the substantial spike in need caused by the pandemic as "better than the Great Depression but worse than it's been in modern times." He said that, although New York has made substantial and important progress addressing the problem, there are still hungry New Yorkers in need of further assistance.
"It's certainly better than starving and New York City's actually doing better than the rest of New York State, and really doing less bad than the rest of the country," Berg said. "But when the Mayor says, 'we're going to make sure no one's going hungry,' that's not true, either, because people were going hungry before this and they're certainly going hungry now."
From March 21 to June 6 there were over 1 million more unemployment claims compared to the same time period in 2019, according to a recent report by the New York City Department of Health and Mental Hygiene. The number of SNAP (food stamps) recipients increased by 8% from March to May, according to statistics from the New York City Human Resources Administration. Prior to the pandemic, SNAP enrollment had been decreasing, with about a 5% decrease from February 2019 to February 2020. The city's massive emergency food program may have actually led to fewer SNAP sign-ups than may have otherwise occurred amid the economic shock.
According to the results of a poll by the New York City Department of Health and Mental Hygiene (DOHMH), 35% of New York City households said in April that they had received food from an emergency food source in the past month, and 21% of New Yorkers said they were unable to buy groceries because of lack of money following the COVID-19 outbreak and its fallout.
Those facing financial and food insecurity who are neither seniors nor adults with children may turn to other resources meant to help anyone going hungry, according to Garcia.
"I do think that there will be a set of people that, due to the economic downturn, will need support through food pantries and soup kitchens and the grab-and-go program," Garcia said.
Food Pantries
But many food pantries are struggling, too, due to the pandemic, with 75% of food pantries and soup kitchens serving more New Yorkers in April 2020 than in the months leading up to COVID-19, according to a survey by Food Bank for New York City. That report also found that
"At the outbreak's peak, roughly 40% of the city's soup kitchens and food pantries were closed, largely because they are run by seniors who are at high risk during the health crisis."
Food pantries do provide substantially less support to food insecure New Yorkers compared to government programs like SNAP, though, with Berg saying government programs support nearly 20 times more food than food pantries. Still, food pantries can be a vital source of food for those in need.
Ceasar Tobar-Acosta, who heads the food pantry at the Bronx's Kingsbridge Heights Community Center, described the pre-COVID pantry as relying on small donors and serving 10-20 people a day.
"Our numbers shot up from us doing weeks of serving 20 in a day to us, as of last Friday, 150 people showing up a day," Tobar-Acosta said of how things changed once the pandemic worsened, in a July 21 interview.
Tobar-Acosta said, besides the increase in demand and addition of precautions to prevent spreading the disease, COVID-19 resulted in the pantry relying on a new type of donors, namely large non-profits. It also received food from the GetFoodNYC program.
At one point, though, the food pantry almost had to close due to the increase in demand but limited supply. Of food pantries that did close, a disproportionate number were in the Bronx, where 50% closed, 90% of which were in high-need communities, according to the Food Bank for New York City report.
"As someone born and raised in the Bronx my entire life, it is very easy to see how…the Bronx very much captures why New York City is a tale of two cities. When you see all these resources, a lot of money, but then you see, hey, there's a lot of communities that don't get this funding," Tobar-Acosta said. "When you're already living in a food insecure place, the second a pandemic hits you are significantly worse-off because your community already does not have those supplies for a number of reasons. And the Bronx is one of those places where there are a lot of food insecure areas of the Bronx already."
With job loss exacerbating an already-pressing crisis, Tobar-Acosta mentioned one customer of the food pantry who is an essential worker and works a 12-hour shift, but still needs assistance. Many community members are also said to be faced with the tough decision of leaving their jobs and collecting unemployment, or receiving zero-hour work-weeks for some period of time as local employers needed to cut back on costs during the pandemic.
"Most definitely there's a visible impact of job loss. We see newer and newer faces as the days pass," Tobar-Acosta. "They can't go back to their old jobs, because on paper they voluntarily left even though the other option was you don't get paid."
Those facing job loss will likely continue to need assistance, even as, hopefully, the public health crisis continues to improve and the city economy continues to reopen. Garcia said she hopes GetFoodNYC will be able to continue to "fill in the gaps" by providing increased assistance to food pantries. She also said it is likely that many of the food pantries that closed were smaller and may have opened back up since the height of the pandemic.
Funding
Support for food pantries and other emergency food efforts received huge boosts of funding from all levels of government during the pandemic.
Garcia said most of the funding for GetFoodNYC, specifically, comes from the federal government.
"We anticipate that the covid emergency is going to get extended nationally, just based on where we are," Garcia said in an interview. "We have to re-up the program every 30 days under FEMA but it has been accepted under FEMA funding, so that has been what has underwritten emergency feeding during this time."
The city also dedicated a significant amount of funding, such as a $170 million initiative, "Feeding New York," announced by de Blasio on April 15, which Garcia was charged with executing. The plan dedicated funding to the Food Reserve (an existing emergency reserve of nonperishable goods that the city has in case of a crisis, like the pandemic), suggested that grocery stores require workers and customers to wear face masks, and initiated the scaling up of the food delivery system through the Department of Education and Department for the Aging (DFTA), an area where GetFoodNYC has contributed greatly.
City funds for emergency food efforts and GetFoodNYC have also come from through New York City Human Resources Administration (HRA), which had a total budget for food (including funds for Emergency Food Assistance, the GetFoodNYC program, and the Food Reserve) of $73.4 million in fiscal year 2020, which ended June 30, according to the IBO. That number is expected to drop slightly for fiscal year 2021, to $71 million, per the recently-adopted fiscal year 2021 budget.
In both years, city funding for food pantries and soup kitchens was about $21 million, according to IBO. For 2021, the other $50 million goes toward the Food Reserve, suggesting that the GetFoodNYC program will continue to be almost entirely reliant on federal funds moving forward. (This is not a complete picture of emergency food funding, as other agencies, such as the Department of Education and the Sanitation Department, are somewhat involved with such efforts.)
The city took other measures, too, to address growing needs including matching a state government $25 million allocation toward food banks for food and personnel, which was estimated to provide 2.1 million food packages each consisting of nine meals for a total of 19 million meals, according to a City Council press release. The city also deployed city staff to 14 food pantries short on volunteers.
And in addition to emergency funds via FEMA, the federal government passed the Families First Coronavirus Response Act, which provided the Women, Infants, and Children (WIC) supplemental nutrition program with $500 million on March 18. There was also the CARES Act, which provided $15.5 billion to support SNAP, $35 million for WIC, $38 million for Emergency Food Assistance Program (TEFAP) Commodities, $16 million for TEFAP Administration, and $450 million for food banks on March 27.
On top of that, Congress passed a pandemic-EBT program that gives families with children who would have received public school meals with electronic debit cards, something Berg said would result in around $400 million worth of food going to roughly 1 million New York City kids.
Home Delivery for the Most Vulnerable
One of the major areas the de Blasio administration put funds into through the GetFoodNYC program was home-delivered meals for seniors and those with pre-existing medical conditions, two populations especially vulnerable to COVID-19 that had unique challenges, besides financial stress, in accessing food — namely, the risk of contracting the disease while grocery shopping or picking up food.
Even before Garcia was even named food czar, though, the New York City Department for the Aging knew this would be a problem when the city closed hundreds of senior centers in mid-March to prevent the spread of COVID-19. DFTA immediately converted the centers to sites for preparing and sending out delivered meals to seniors' homes, expanding on an existing meal-delivery program for those who are mostly or completely homebound. The week senior centers were closed, 96,000 meals were distributed to senior centers to then be delivered, Deputy Director of Public Affairs for DFTA Suzanne Myklebust told Gotham Gazette at the time.
But, there was still a need for seniors and others who could not risk going outside due to medical conditions that made them more susceptible to COVID-19, especially at the height of the pandemic.
"We do think that there is a group of seniors that one, shouldn't be going out, and two, are very food insecure," Garcia said. "And that their usual option of a senior center congregate food setting isn't going to come into play for quite some time."
Garcia and her team worked to quickly create the food-delivery system within GetFoodNYC, which uses drivers licensed by the Taxi and Limousine Commission to deliver meals from large distribution centers, helping to provide devastated drivers with income while also feeding needy New Yorkers. The program ramped up fast and began delivering 1 million meals a day as of the week of May 27, and from mid-March to mid-June the New York City government served 70 million free meals.
"I worked in government for eight years in the Clinton administration, a big bureaucracy, and the magnitude of what New York City did, it can't be overstated," said Berg. "They did in the course of a few weeks what typically would take government years to plan."
The program was developed in part by enterprise software company Unqork, where former New York City Deputy Mayor Cas Holloway works as the head of its public enterprise initiative. Holloway worked in the Bloomberg administration during Superstorm Sandy, when he first saw the need to develop software quickly and at scale to address a crisis. The GetFoodNYC app developed for the current crisis over the course of a weekend, Halloway said on the What's The [Data] Point? podcast, and made it possible for individuals to fill out a survey to see if they qualify for the program, and order if they do, and had another side for TLC drivers to sign up for delivery shifts, as well as an administrative back-end.
"It has been an enormous team effort across a lot of agencies to make this work, I would say an alphabet soup of agencies," Garcia said in the interview. "And a real commitment by the city to make sure that no one went hungry. What you would traditionally do, like run a soup kitchen for food, clearly was not going to be our go-to in the middle of a pandemic, so I think there was a certain amount of commitment and creativity to getting this done that has to do with a real team of people that felt like this was incredibly important work."
Although the program received some criticism for not initially providing kosher and halal meals, by mid-May it had 18 sites serving kosher meals and 32 sites providing halal meals, strategically placed in communities with large Jewish or Muslim populations. Another issue was questions of how nutritious the meals were, with some recipients describing accounts where they were given snacks rather than actual meals, as reported by Gothamist. Brooklyn Borough President Eric Adams and New York City Council Member Ben Kallos of Manhattan introduced a bill on May 20 to develop nutrition standards for the meals in both the delivery and grab-and-go parts of the program. There have also been issues with delivery accuracy and waste of some meals that have sat in warehouses.
"We take food waste extremely seriously, and doing so is part of how we have been able to distribute over 100 million meals successfully," Goodman said in a statement. "At this scale, we rely on all New Yorkers to let us know right away if there is ever a problem, at nyc.gov/getfoodhelp or by calling 311. We can often fix problems same day if they are brought to our attention."
Garcia has also acknowledged hiccups in the program, saying "the challenge was also just dealing with the scale of the crisis at the moment of the crisis and the huge need that just went flying through the roof, and keeping up with that and trying to make sure we had enough food, food that was religiously appropriate and being able to make that sync together," she said in a recent appearance on What's The [DATA] Point?, which is produced by Gotham Gazetteand Citizens Budget Commission.
Goodman has also repeatedly responded to some of this criticism on Twitter, saying, for example: "To meet incredible scale (1M meals/day) we work with dozens of vendors - over 30 and growing. Some serve fresh food, some frozen, some shelf-stable, which is things like canned tuna, soups, packaged milk, maybe pita chips," and "This is a huge operation of *emergency* food - but as Mayor and Commissioner Garcia stated, must be healthy and nutritious. If someone receives a meal that doesn't meet our standards, let us know at http://NYC.gov/GetFoodHelp so we can fix and hold vendor accountable."
Looking Ahead
Garcia said the need for home-delivered meals, especially among seniors, will likely remain for some time as COVID-19 makes it unsafe for senior centers to return even as the city moves through reopening phases.
For some of those seniors, they have relied on a similar to but more comprehensive program than the GetFoodNYC food delivery service run by DFTA, which has been serving elderly New Yorkers who need food delivered due to illness or disability for years, partially through a partnership with Citymeals on Wheels.
The budget for the Home Delivered Meals program (HDM), unlike HRA's emergency food budget, did see a 25% decrease from $59.7 million in fiscal year 2020 to $44.6 million in fiscal year 2021, according to the IBO. However, some of that decrease is a result of a lack of discretionary funding DFTA received for HDM from the City Council in the 2021 city budget that it had received the year prior, according to DFTA.
"For 30 years, DFTA's Home Delivered Meals (HDM) program has provided nutritious meals to older New Yorkers who are homebound due to severe illness or disability. This program has been operating long before the COVID-19 crisis and will continue operating long after," Myklebust said in a statement. "This year, we issued an RFP to increase meal options for this program, including the availability of culturally aligned meals that reflect our City's diversity, all while ensuring that meals continue to be high quality, healthy and nutritious. A top priority for DFTA and the City is that no older New Yorker goes hungry during this pandemic and that all who need meals has access to them, either through the HDM program or GetFoodNYC."
Garcia remains hopeful about the city's ability to meet need even if there is a second covid wave in the fall, saying, "Our programs are pretty flexible in our ability to dial up if need be."
Berg is not as hopeful. Although he said he gives the city "a lot of kudos" for taking the substantial steps it did, he maintains that higher wages for workers, more than food pantries or federal programs, are key to combating food insecurity. He said the large amount of food pantries within the city are relatively new, compared to in the 1970s when better conditions for workers meant they were relatively unneeded.
And despite the funding already dedicated to addressing hunger nationwide, statewide, and citywide, Berg said that without another substantial federal stimulus package, New Yorkers — especially those who are low-income — will be in a very tough spot.
"I've been in this job 19 years and there've been three truly catastrophic events: 9/11, the 2008 Wall Street collapse, and then Hurricane Sandy. In all of those, low-income people suffered the most and it took years and years and years to recover," Berg said. "Hungry people are the first to get the problem and the last to recover, last to be rehired, last to get wage increases. And I'm worried the current political environment isn't building the public safety net we need."