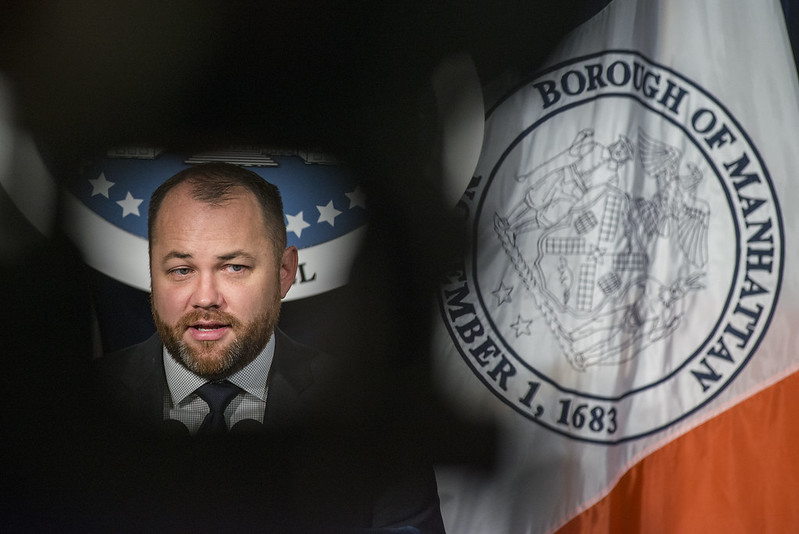 Speaker Corey Johnson (photo: Jeff Reed/City Council)
---
When the coronavirus pandemic hit New York and the mayor vacillated before closing schools and imposing social distancing guidelines and restrictions on large gatherings, City Council Speaker Corey Johnson beat him to the punch in calling for all three. The Council speaker, a Manhattan Democrat and likely 2021 mayoral candidate, made regular appearances on local TV and radio, and tweeted constantly from his official and personal accounts, providing updates, ideas, and critiques. And he released plan after plan from the Council to deal with the fallout of the pandemic.
But Johnson recently fell out of view. During and after a bruising budget battle in June that showed dissension within the ranks of the Council, included vandalism at his boyfriend's apartment building, and led to broadsides from advocates who felt let down by the limited scope of cuts to the NYPD budget amid a resurgent Black Lives Matter movement, Johnson seems to have taken a step back from the actively public role that he played in previous months.
Unlike past years, Johnson was not particularly vocal in the lead-up to the budget deal with Mayor Bill de Blasio in articulating and fighting for his and the Council's top priorities. When the deal was announced, he expressed a great deal of regret and exasperation.
It's been more than two weeks since Johnson held a public news conference (which was before a scheduled full City Council meeting, as is tradition). Though his official Twitter account, which is run by staffers, has been active, his personal account -- which grew by tens of thousands of followers as he used it incessantly on all sorts of matters -- has been silent since July 17. He hasn't publicly weighed in on the mayor's school reopening plans since July 21.
Johnson just began to emerge again this week amid inquiries about his lower profile and absence from the public discourse around the city's ongoing crises and next big challenges, like resuming in-person schooling.
He has participated in some local events – touring areas in Queens damaged by tropical Storm Isaias with Council Members Peter Vallone and Bob Holden; distributing food boxes with Council Member Rafael Salamanca Jr. in the South Bronx; checking out an apparently growing rat problem in his district – but none have been publicized beforehand by his office, which did not advise members of the media of the speaker's public events ahead of time as it typically does.
That changed on Wednesday evening when word came that Johnson would deliver remarks at a Thursday morning Council committee hearing on extending the cap on delivery service fees third-party providers can charge restaurants, which was one of the Council's earlier measures to combat fallout from the pandemic. A Council spokesperson indicated that the bill is expected to pass this month.
After a nearly-silent six weeks post-budget, it amounts to a soft relaunch of Johnson's public presence amid questions about whether he will indeed run for mayor in the crowded Democratic primary set to be decided in just ten months and as many disillusioned with de Blasio's leadership seek a cheerleader for New York City with a policy vision – a role Johnson had played for much of the past two-and-a-half years but has abandoned of late. He's now promising a lot more soon.
"At the beginning of this crisis, we did a lot of work on stop-gap measures to help us survive the shut-down and make sure that we'd have a city New Yorkers would recognize when it reopened," Johnson said in a statement to Gotham Gazette, after declining an interview through his office. "We got the Council up and running remotely so we could pass bills to protect small businesses and COVID-impacted tenants, and we pushed for things like open streets, outdoor dining and reporting on contact tracing. We also had to pass a budget under arguably the worst and most rapid economic decline we've ever faced. Now, we're in a new phase. The budget has passed, and we're doing more long-term planning. This is how legislative bodies work. We have a busy legislative calendar coming up, and will have more to announce soon. There are no silver bullets here, and the challenges facing us are real. But we're determined to come up with solutions that help New York City."
To some observers, it appears he is reassessing his intentions to run for mayor in next year's election, giving other potential and declared candidates more opportunity to raise their profile. To others, it is merely the consequence of leading a 51-member legislative body, representing a diversity of voices and not just his own, and they say his recent action (or inaction) will have little effect on how voters make their decisions in next year's primary.
"There obviously was a clear lane that the speaker could have chosen, particularly heading a city budget, in trying to capitalize or at least solidify himself as a progressive champion," said L. Joy Williams, a Democratic political strategist, referring to deeper cuts to the NYPD, which Johnson had championed but did not achieve. "But I think overall anybody occupying the speaker's role is going to have a difficult time. From a historical standpoint, you just haven't seen speakers really chart out a course from that perch that would propel them to the mayoralty…He's competing directly right with someone like [Comptroller] Scott Stringer in terms of the lane that he should be making for himself, and I don't think he was able to successfully pivot to that during this crisis."
Johnson's engaging and affable persona, and his candor on tough issues had earned him popularity as a leader, especially in contrast to de Blasio. A headline in City & State in December 2018 read, "Is Corey Johnson already mayor?" — and that was six months before de Blasio would launch his lead balloon of a presidential campaign. Johnson was already being praised for providing viable alternative leadership for the city, which intensified and continued through the early months of the coronavirus crisis. As de Blasio increasingly showed his disinterest in local affairs, Johnson filled the vacuum and more and more people looked to him for leadership.
For example, when a major blackout hit Manhattan on a Saturday in July last year and de Blasio was busy campaigning in Iowa, Johnson shared consistent updates and messages of calm to anxious New Yorkers despite the fact that he too was out of town in Long Island, at least initially -- he quickly returned to the city amid the emergency. During the protests this year after the police killing of George Floyd, Johnson was expressing support for racial justice, hammering the NYPD for apparent misconduct, and moving long-stalled legislation while de Blasio dithered and largely offered defense of the police.
For some time, the advantages of Johnson's powerful perch and his hyperactive approach to politics and government appeared to serve him well, with other city leaders often playing catch-up. But that was before the morass of budget negotiations.
On April 21, during the peak of the pandemic, the City Council unveiled a substantive legislative package that was meant to respond to the city's moment of crisis – it included proposals to provide benefits to workers and protections for tenants, relief to small businesses and ideas about creating a network of open streets and stretches of outdoor dining. Some of it was in response to de Blasio's unwillingness, at least to that point, to be more creative and take executive action.
While the Council did shut down for a month, it resumed remote hearings in the middle of April and then maintained a healthy schedule of legislative, oversight, and budget hearings.
Many of the bills introduced in the Counci's relief package were either passed into law or mooted by executive orders from Governor Andrew Cuomo and policy decisions by de Blasio. Among the approved legislation were waivers and refunds for sidewalk cafe fees, renewal extensions for business licenses and permits, protections against commercial and residential tenant harassment based on the impact of COVID-19, among others.
Other bills responding to the pandemic fallout have not seen any movement beyond an initial hearing. Among the stalled bills are a proposal to provide pay premiums to essential workers, another to establish just cause protection against employment termination for essential workers, a paid sick leave law for gig workers, and a bill to create more street space for pedestrians and cyclists.
Only a few other meaningful bills that dealt directly with the pandemic were subsequently passed. The Council mandated the creation of an "open restaurants" program to create outdoor dining space – the mayor separately extended the program without a legislative push. Other bills require the city to build a database to track expenditures on the pandemic, establish a "city restart officer" and taskforce to oversee the reopening of city agencies, gave approval to e-scooters and e-bikes and mandated that the Department of Transportation create a pilot shared e-scooter program.
Like other years, the Council had just one full body meeting in July (as opposed to the two typically scheduled ten months per year), with few consequential bills passed. The Council changed the name of the Department of Consumer Affairs to the Department of Consumer and Worker Protection, required the Department of Cultural Affairs to publish to its website covid-related resources for arts and cultural institutions, required the Law Department to publish machine-readable copies of mayoral executive orders and local laws, mandated that the Department of Health report annually on heat-related deaths and neighborhood heat vulnerability, and ordered the Office of Emergency Management to publish an annual "cooling" plan to help residents during the summer.
In June, a significant package of police reforms was approved in response to the Black Lives Matter movement, including the criminalization of police chokeholds and other restraint methods, new oversight of NYPD surveillance technology, affirming the right to record police activity, creating an early intervention system for police misconduct, and mandating a new disciplinary matrix for police officers.
The budget, passed on July 1, came at a time when revenues had been decimated by the pandemic and the economy was at a standstill. While the mayor was proposing massive cuts to education and youth services, Black Lives Matter protesters were calling for a significant reduction in the NYPD's budget and for that money to fill gaps at other city agencies. The speaker had to fight back against the proposed cuts, while balancing the interests of divergent City Council members.
Even Johnson himself admitted that the process was tough and that he was disappointed with the result, which saw some cuts to the police budget but not to the degree that he or the activists wanted. He also acknowledged that part of why he hadn't pushed further was the position of several Black Council members who did not want to see major immediate reductions to the NYPD budget that would have meant layoffs and impacts on public safety in their neighborhoods.
Other mayoral contenders, Johnson argued in an interview with Gotham Gazette just after the budget deal, had nowhere near the same level of responsibility.
"I think that budget process was hard on a lot of Council members and being Mayor of New York City in the years to come is going to be even harder," said Rebecca Katz, founding partner at consulting firm New Deal Strategies and a former advisor to de Blasio, in an email.
"The next mayoral administration is going to be a lot less about dancing in parades and a lot more about making tough decisions," she said, alluding to Johnson's many public appearances at parades in the city, where he is known for his dancing. "I think he has to decide if he wants that."
The post-budget summer months are usually marked by little activity by the Council, a tradition that has remained this year even though circumstances are far different given the city's ongoing crises. Limited legislative action by the Council would be less conspicuous if not for Johnson's near full absence from the public discourse for six weeks.
The speaker has yet to reschedule his 2020 State of the City speech, which was planned for March 12 but he cancelled as the outbreak began accelerating. He did release a comprehensive climate change mitigation plan that was to be the focus of the speech and his legislative agenda if not for the pandemic, but it has sat idle as the cascading coronavirus crises have taken hold. Johnson hasn't yet come out with a housing plan that he had promised in January when he unveiled proposals to fight homelessness just one day after Stringer released his own affordable housing plan.
Stringer and Brooklyn Borough President Eric Adams, the other elected officials running for mayor, have been making far more public appearances the last two months.
Stringer has been consistently vocal on the city's planning to reopen schools, including a big push to encourage more use of outdoor space, and has also been calling out the mayor for a lack of a transit and streets plan, an issue that Johnson has been especially active on over the last few years. Besides the regular fiscal management and auditing functions of his office, Stringer has been hosting roundtables, addressing webinars, and giving regular interviews on TV and radio. At the same time, Stringer did not readily have clear answers for how he thought the city budget crisis should be solved and criticized the NYPD budget cut Johnson negotiated even though the comptroller's proposal was less aggressive than the speaker's.
Adams, a member of the NYPD for more than two decades before moving into elected office, was a constant presence amid the protests against police racism and held many press conferences and made many media appearances to address the need for police reform while also expressing support for the police and raising concerns about rising crime. In late June, he released a recovery plan for the city that included proposals to reform the police, reduce economic inequality, and to cut the city's budget gaps.
Besides his position as a possible mayoral candidate, Johnson effectively has citywide responsibilities somewhat similar, for instance, to Public Advocate Jumaane Williams. In the last few months, Williams has been effectively using his bully pulpit, acting as a leading voice in the police reform movement, a natural extension of his decades-long history of activism and his role as the public's ombudsman. At one point, after the mayor and speaker reached a budget deal that did not include $1 billion in direct NYPD cuts, he even threatened to block the collection of property taxes, an authority he claimed under the city charter.
According to Bruce Gyory, a political consultant and adjunct professor of political science at the University of Albany, Johnson faces the difficult prospect of having to propose solutions to city problems with little control over how to implement them. The city's fiscal situation is dire and promises to get worse – the governor has threatened cuts to local funding if the federal government does not come through with more stimulus dollars. "Post-budget, this summer is a time for kind of letting things settle and let's see where we are," Gyory said. Any plan that Johnson proposes could be undercut by developments at the state or federal level.
"I'm not surprised he's taking stock of the situation. I don't think that's necessarily a weakness. It may be a challenge to his mayoral profile, but it's fully in line with how to be an effective speaker," he said.
Williams, Gyory, and Jerry Skurnik, a political consultant and former aide to Mayor Ed Koch, also pointed out that voters may not necessarily be paying as close attention to every move that Johnson makes.
"I think the pundit class makes a mistake by trying to interpret everything Johnson does through the prism of his presumed run for mayor," Gyory said. "Sometimes, when you have an important government position, especially when you're a legislative leader, you have to basically do your job and get it done and that requires getting a consensus within the legislative body."
Skurnik noted that there is ample time till the June primary and that general news consumers don't pay attention to the ins and outs of the speaker's schedule. "My general feeling is that very little that happens a year ahead of time in a campaign, other than raising money, really matters," he said, noting that Johnson and his other competitors can't directly make policy on issues like reopening schools. "If I was advising someone, unless there was something really valuable to say or, being cynical, something really politically beneficial to say, I'd say there's no reason to do it."
But that may come to hurt Johnson too if he fails to make an impression on New Yorkers about his role during the pandemic. As Williams noted, all the candidates will be judged by how they responded to the crisis when they make their arguments about why they should lead the city through its next phases.
"From political circles and from political press circles, we obviously all know who the speaker is and what the speaker does," she said. "There's still a lack of name recognition and a lack of attention in terms of New York City voters because they don't have a choice in who the speaker is. There is that disconnect...I don't know that he's yet really defined the role particularly for New York City voters."
Ben Max contributed to this article.