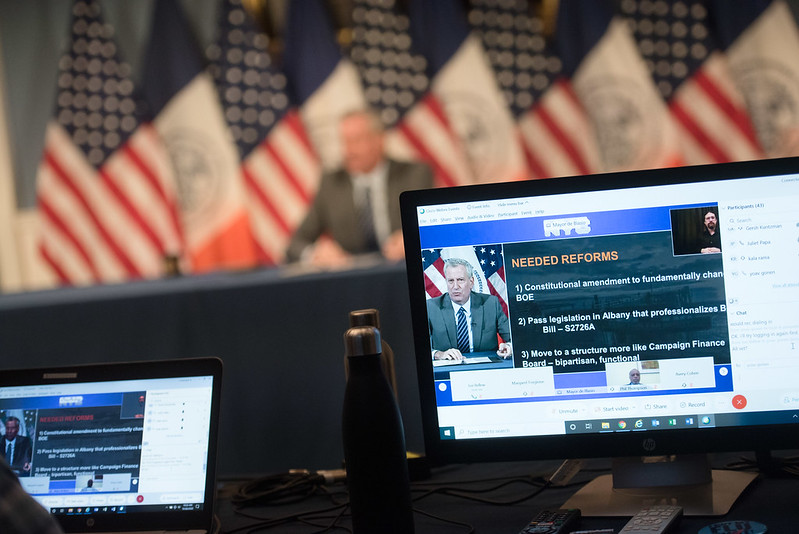 Mayor de Blasio's slow-moving internet promises (photo: Michael Appleton/Mayor's Office)
---
It took a global pandemic that brought the city to a grinding halt for Mayor Bill de Blasio to order that wi-fi be installed at every homeless shelter in the city housing children and to strike a deal to install high-speed broadband internet in every New York City Housing Authority public housing development.
More than six years after the mayor promised to create high-speed broadband networks across the city, nearly 20% of New Yorkers still lack access to the internet at home or by mobile device. While advocates have praised the mayor's recent efforts, which includes a long-awaited Internet Master Plan for citywide "universal broadband" he announced in January, they wonder why it took so long to address this glaring problem in one of the richest cities in the richest country on earth.
In May 2014, just a few months into his tenure, de Blasio gave the keynote address at the opening of Internet Week New York and, as is his style, made lofty promises that were not followed through on.
"Our approach is going to be bold and it's going to be decisive, because we simply haven't done well enough in this city," de Blasio said in the speech. "The goal is quite simple: We must have universal, affordable, high-speed internet access throughout this city. It's as simple as that. And broadband's essential for everything this community needs to do. It's essential for everything we need to do to be a fair and just city. Because we can't continue to have a digital divide that holds back so many of our citizens."
"We really believe in an inclusive economy, in an effective education system, in a vibrant democracy, it all runs through broadband access," the mayor said.
But the city has taken slow and faltering steps in achieving that goal. About 18% of New Yorkers, more than 1.5 million, do not have a broadband or a mobile internet connection, according to American Community Survey data from the U.S. Census Bureau. About 40% or 3.5 million people, only have one or the other. During the coronavirus pandemic, the lack of internet access for so many New Yorkers, especially poor people and people of color, including children living in shelters and public housing residents, has come into stark relief and been the source of controversy for the de Blasio administration.
On November 24, the mayor announced that the city had reached a settlement in a lawsuit with Verizon Fios which will require the company to provide high-speed broadband access to 500,000 more New Yorkers, including every resident of all NYCHA developments. "We've had a digital divide. We've had a huge disparity of who gets access to the internet and who doesn't, who gets reliable, fast broadband service, who doesn't, who can afford it, who can't," he said, "But more and more, we understand that we have to create a society in which everyone has equal access...It has taken a lot of work and there's been some real struggle here and some real challenges, but we've gotten to a point where something real and tangible is going to happen for people, particularly working people and folks who have been left out."
Among earlier achievements the administration has boasted is the LinkNYC program, which converted old payphones into free public wi-fi kiosks around the city. As of November 30, the city had set up 1,809 active LinkNYC kiosks since the program was launched in February 2016; 13 more kiosks have been installed but do not have wi-fi yet. The program, however, has been criticized for less presence throughout poorer communities than in areas of high commuter and tourist foot traffic, particularly in Manhattan. The administration also prides itself on having provided free internet service to the NYCHA Queensbridge Houses, the largest public housing development in the country with more than 6,000 residents, mostly Black and Hispanic families.
It was only in January of this year that the mayor released his Internet Master Plan, which aims to leverage city infrastructure and franchise agreements authorized by the city to provide affordable broadband access citywide. The plan would create competition where there currently barely exists any because of how private companies have been allowed to operate in the city so far. It entails creating an open-access fiber cable network across the five boroughs, prioritizing low-income communities, which can be used by multiple providers.
At a City Council hearing last month, the city's Chief Technology Officer John Paul Farmer said the administration is getting ready to release its Universal Solicitation for Broadband, which will encourage competition and therefore create more affordable options. Real initial progress on the plan will only be seen in 2021, de Blasio's final of his eight years as mayor.
[Read: De Blasio Administration Pledges to Finally Address City's Persistent 'Digital Divide' with Universal Internet Access]
The plan does promise boons for the city. In the best-case scenario, by 2045, it could create 165,000 jobs, increase personal income by $49 billion and create $142 billion in Gross City Product in that time, the plan predicts.
The need for equitable internet access has never been more dire. As the city closed its schools, thousands of children did not have the ability to access remote learning. Without the internet, families could not access health services which had transitioned online. The decennial Census was carried out mostly online this year for the first time. From public assistance application to rental benefits, government services are being provided through the internet en masse and those who required them most had the least access.
It's the school system, however, which really seems to have brought the digital divide to the fore. Remote learning required internet-capable devices, and the city set out to purchase hundreds of thousands of tablets when schools were first closed. Since then, the Department of Education has handed out more than 300,000 internet-enabled iPads to students and another 175,000 devices to schools. But nine months into the pandemic outbreak in the city tens of thousands of students still do not have either a device or access to the internet.
In interviews and news conferences, de Blasio has been defensive when pressed on that glaring problem.
"I appreciate that there are professional critics in this society, but I really think there has to be recognition of the work that people did to close the digital divide," he said in a November 19 news conference when presented with criticism from other elected officials and advocates, "to do something that had never been done before, back in April, as the pandemic was horrendous, to put these devices in the hands of kids. And I don't quite understand why the same question keeps being asked when in fact, the evidence is that immense work was done to provide devices, to address any problem with devices, to provide service if they need a different service. That work has literally been done now, family by family, for kids in shelters. Sometimes it's true that we don't have as many devices as we want to. But the bottom line is it's just been an endless effort to provide free technology to any family who needs it. And that's never stopped, and it's been consistent."
What rankles advocates like those at the Legal Aid Society representing homeless families and elected officials like Public Advocate Jumaane Williams is that the city had ample time and resources to address the digital divide, particularly by providing broadband access at city-funded and -run facilities like homeless shelters and NYCHA buildings. But the administration only took expedited measures after the pandemic made them absolutely necessary.
"This administration is littered with lost opportunities to bridge the digital divide," said City Council Member Ben Kallos in a phone interview last month. Kallos' main gripe with the administration is that it hasn't taken advantage of its power to approve franchise agreements with internet service providers. For instance, he pointed out, when the city and state approved the merger between Spectrum and Time Warner in 2016, he said the de Blasio administration should have insisted that the company provide free or low-cost internet to all public housing buildings in lieu of the nearly $150 million in franchise fees that the company pays every year. "At the time, we didn't need $150 million and I would still argue today that we still don't need that money. We can use that money in kind to get more low-income New Yorkers internet," said Kallos, who chairs the Council's contracts committee.
He also pointed out that the LinkNYC program, which held much promise, has been slow to realize its goals and the city has not held CityBridge, the consortium contracted to create the system, accountable for missing its target. By 2022, there were meant to be 7,500 kiosks across the five boroughs; there are less than 2,000 currently, and the system did not provide the revenue for the city that was projected.
"A revenue-first approach to the internet, whether through a franchise or a kiosk, is not the model we should have," Kallos said. "We should have a model that prioritizes connectivity." Kallos told Gotham Gazette that he is preparing a proposal that would use the city's zoning regulations to help expand broadband akin to how the de Blasio administration has implemented the Mandatory Inclusionary Housing policy to build affordable housing. His idea, which could be termed Mandatory Inclusionary Internet, would take advantage of the expansion of 5G networks in the city, providing companies that provide affordable broadband access with incentives in the form of favorable placement of 5G cell towers and antennas.
The de Blasio administration's Internet Master Plan deals with both short-term and long-term solutions for broadband access, and while providing universal broadband could be a years-long project, there are immediate steps the city could take. "I supported the plan then, I still support it now. I just don't know what the delay is," said Gigi Sohn, distinguished fellow at the Georgetown Institute for Technology Law and Policy, who served as counselor to former Federal Communications Commission (FCC) Chair Tom Wheeler from 2013 to 2016.
"They need to start on the shorter-term, like yesterday," she said, pointing to city-owned facilities that could easily be used to expand internet access. "You've got all these community anchor institutions. Those are universities, schools, libraries, hospitals, all over the city...So the connectivity is there. You've just got to harness it."
Robert Seamans, associate professor at New York University's Stern School of Business, analyzed the digital divide when he served as senior economist on President Barack Obama's Council of Economic Advisers between 2015 and 2016. In an interview, he expressed concerns about how the city's digital divide could end up having longer term effects, particularly for low-income students without internet access who will fall behind their wealthier counterparts. "I worry a lot about education and the resulting disparities in education that we're going to see coming out of this one-to-two-year period where there's some households that won't be affected that much and others where their kids are just gonna basically be two years behind where they should be," he said.
Seamans suggested several different means of tackling the problem, which address the causes behind it such as lack of consumer choice or the inability to afford access. "My belief is that there's not one single policy that we should believe would be a panacea of some sort," he said.
Besides creating more competition among providers, which the mayor's plan aims to do, he said the city could provide supply-side subsidies to companies to extend access to underserved areas and demand-side subsidies in payments to consumers so they can afford internet access.
But the best solution for both accessibility and affordability, on which there's broad agreement, is a municipal broadband option that can undercut the pricier options provided by private firms with a profit motive.
As Seamans noted, unlike other states, New York does not prohibit localities from creating their own public internet option. And a public provider would be successful in a densely populated city like New York. "You would imagine that you'd be able to sign up a lot of customers. And we observe that these types of public providers have been operating, and in some cases, operating very successfully in a number of other cities and areas throughout the U.S. So it sort of stands to reason that you could have the same thing here in New York City," he said.
Farmer, the city's chief technology officer, has said that building out a citywide system will require buy-in from private firms.
"One of my biggest criticisms of this administration is, while there is a passion to do it, and seemingly bridge the digital divide, it hasn't done so in a comprehensive and a centralized manner," said Noel Hidalgo, executive director of BetaNYC, a civic technology group. "It's had a number of different initiatives, all coming from different perspectives, but seemingly never really getting the complete attention of the mayor."
Hidalgo said the mayor should appoint a deputy mayor who can continuously lead programs that chip away at the problem. Though the mayor's former counsel, Maya Wiley, who is now running to succeed him, did make it a priority issue, the portfolio seems to have been largely ignored after she left the mayor's office in 2016. "It isn't something that just happens," Hidalgo said. "There needs to be incremental steps taken constantly to get us to building a concrete bridge over the digital divide."
Hidalgo said the city needs to invest in fiber-network infrastructure for all public facilities, which some agencies like the NYPD have already done. But it should also be vigilant in sustaining that infrastructure, he said, pointing to the failure of NYCWiN, an internal wireless network that cost the city more than $900 million since 2009 and which the administration decided to scrap after it crashed in 2019. The system was too expensive to maintain, the mayor said last year, and the city would switch over to a commercial provider.
That was yet another missed opportunity to expand the reach of broadband, Kallos said. "We should have flipped the switch on NYCWiN," he said, "and given it to the people."