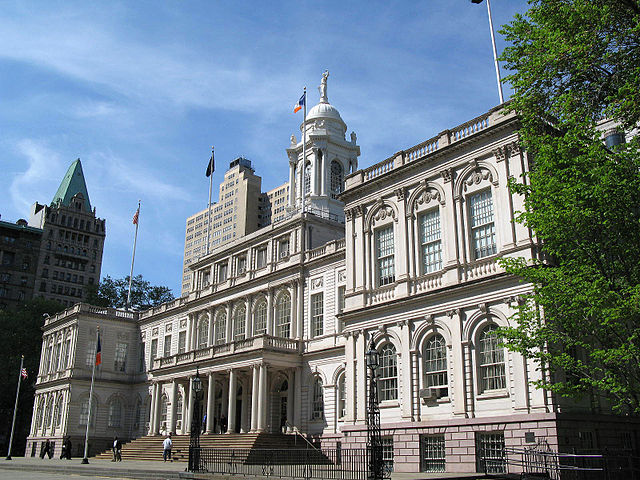 New York City Hall
---
What to look for this week, via the City and Albany:
U-S-A! U-S-what-the-heck-just-happened?! Despite the tie with Portugal, World Cup Fever is hot and spreading, especially with New Yorkers able to focus more attention on the tournament this weekend after so much came to a head at the end of last week politically. And what a week it was! No kicking the can down the road (well, some) as New York City Mayor Bill de Blasio and the City Council announced a deal on the Fiscal Year 2015 budget late Thursday night (about ten days before deadline), which happened to be the same night that the New York State Legislature was supposed to wrap it's 2014 session (though it wound up extending throughout Friday for the state Senate), with many significant outcomes regarding key bills, headlined by a score on medical marijuana. Thursday night also saw the announcement of a $40 million settlement in the case of the so-called Central Park Five. It was quite an end to the week.
Not to mention the ever-intensifying 13th Congressional District Democratic primary race between incumbent Rep. Charles Rangel and his main challenger, state Sen. Adriano Espaillat. If you haven't been paying attention, let's just say it hasn't been the most high-brow competition. With primary day this Tuesday, virtually all New York (City) political eyes have been on the race's final days - which have included the New York Times endorsing Espaillat, the Daily News coming out for Rangel, and Gov. Cuomo's 11th hour endorsement of the incumbent coming on Sunday. What will happen on Tuesday? No one knows. But, polling shows Rangel with a comfortable margin. Meanwhile, there are reasons to believe this could be Espaillat's year. Barring a too-close-to-call recount situation, we'll soon know.
After an action-packed week, the week ahead promises to be highlighted not only by the NY13 primary, but also by more fallout and analysis from the City budget deal and the end-of-session hits and misses from Albany. What we'll also see this week is the real shift toward the 2014 New York election cycle. Albany legislators are done in the capital for a while and, in most cases, will spend the summer pursuing re-election, some with more to worry about than others. Primay day for those elections is September 9 - just over two months away. Don't worry, we have you covered.
Meanwhile, there are the usual bunch of one-off events this week as well as some interesting things happening at the New York City Council. Details below.
But, since it is the first official week of summer and looking like a slower-than-previous-weeks week, here are five big questions we're asking:
What's in that budget? We're looking for all the final details of the New York City Fiscal Year 2015 budget deal announced Thursday evening.
Will the gov tell 'dem' Dems to get the band back together? Gov. Cuomo promised to work for Democratic control of the state Senate in his deal for the Working Families Party nomination, and because of the Legislature's failure to pass the governor's Women's Equality Act, he called the governing coalition a failure - so, what'll it be, Mr. Cuomo?
Who wins New York 13? Does Charlie Rangel get one more term? Can Adriano Espaillat unseat a legend? Will others on the ballot play spoiler? Tuesday night should be fun! Our page.
Are you ready to run? As attention turns to the state government races of 2014, leading up to the September primary, which incumbents, challengers, and candidates for empty seats are ready to hit the ground running and campaign effectively for the next few months?
What's next, Mr. Mayor? With the city budget deal and Albany legislative session both done, where does Mayor de Blasio set his sights now? What's on tap this week? Will a couple of key appointments be made? Any new pre-k news?
Speaking of the mayor, de Blasio is coming off a weekend trip to Texas where he took part in the U.S. Conference of Mayors (USCM) meeting. According to the mayor's office, "New York City Mayor Bill de Blasio and USCM President and Sacramento Mayor Kevin Johnson...announced the Cities of Opportunity Task Force. Chaired by Mayor de Blasio, the task force will bring together mayors from across the nation to leverage the power of municipal governments to advance a national, common equity agenda."
De Blasio starts his week with an 11 a.m. press conference at P.S. 152 in Queens near a recently redesigned intersection on the southeast corner of Northern Boulevard and 61st Street. He'll also sign eleven Vision Zero bills recently passed by the City Council. On Monday evening, "the mayor will deliver remarks at the Public Theater Gala 2014 in Manhattan," according to his public schedule.
More on Monday's activity and the rest of the week below.
(And here's your link to the World Cup schedule, because we know it's pretty important to many of you for the week ahead - BIG US-Germany match on Thursday at noon)
And, the non-fútbol run of the week in more detail:
New York City
Also on Monday
At the City Council on Monday morning, the Committee on Veterans will hold an oversight hearing examining the role of the Mayor's Office of Veterans Affairs (MOVA) in serving the city's estimated 200,000 veterans. This will be the first MOVA oversight hearing for Commissioner Terry Holliday, who was appointed by former Mayor Michael Bloomberg in 2010. The committee will look at how effective MOVA is with its coordination and outreach, and if MOVA would benefit from a bigger budget.
At 11 a.m. on Monday, Council Member Andy King and representatives of the Small Schools Athletic League (SSAL) will hold a rally on the steps of City Hall. Originally set to call on the mayor to fund the SSAL, it is now poised to be much more celebratory as the City Council announced that it will be funding SSAL with $825,000 coming out of the budget agreement.
On Monday afternoon-into-evening, "the Federation of Protestant Welfare Agencies (FPWA) will host its Annual Meeting of a membership network of 200 human service and faith-based organizations. This year's theme, "Building a City of Equal Opportunity: A Campaign for Upward Mobility in New York," will unveil FPWA's new strategic direction and refocused efforts to reduce poverty. The meeting will also feature a cross sector panel, bringing together city, business, and nonprofit leaders, to discuss effective policies and programs to promote upward mobility and economic equity." The panel includes Lilliam Barrios-Paoli, NYC Deputy Mayor for Health and Human Services.
On Monday evening, the city's Panel for Education Policy resumes it's busy slate of meetings with a "public meeting of the contracts committee of the panel for educaiton policy." The PEP is expected to sign off on the new UFT contract, thus finalizing the deal (and leading to the $1000 signing bonus check UFT members will receive).
And with the 2014 state legislature elections becoming more of a focus, Monday night features a fundraiser for Assembly candidate David Menegon at the home of "liberal lion" Bill Samuels. Menegon is one candidate in the crowded AD 76 race to replace Micah Kellner, who is not seeking re-election after revelations of sexual harassment.
Tuesday
As we've mentioned, Tuesday is decision day in the Democratic primary in New York's 13th Congressional District. Learn about the candidates at our page here and follow the returns here, via WNYC and the AP.
At the City Council on Tuesday, the Committee on Health will hear intro 0051 which would require the Department of Health and Mental Hygiene to issue an annual report regarding Hepatitis B and C.
Fittingly, on Tuesday morning City & State NY hosts an event, "Future of Healthcare in New York," which will feature elected officials, advocates, and health care professionals.
The Panel for Education Policy is back at it Tuesday evening with a general public meeting, this one in the Bronx and, as all others, to be kicked off by the chancellor.
Tuesday evening, good government group Citizens Union holds a public discussion on "Non-Citizen Voting in New YorK City," hosted by the New York City Bar Association: "Since 2010 the New York City Council has been considering a bill that would allow immigrants lawfully present in the city to vote in municipal elections. Now, with a mayor and city council touting a progressive agenda, the time may be ripe for enacting such a measure. Panelists will discuss issues raised by the bill, as well as the history of non-citizen voting." The panel will be moderated by Citizens Union Executive Director Dick Dadey (Citizens Union Foundation publishes Gotham Gazette).
Wednesday
The City Council Committee on Civil Service and Labor will hold an oversight hearing on the working conditions in the nonfiction and reality television industry. Sounds like a must-watch!
Back to the elections of 2014: State Sen. Gustavo Rivera holds a re-election campaign kickoff reception Wednesday evening. Rivera faces a primary challenge from current City Council Member Fernando Cabrera.
Thursday
The Council is scheduled to hold a Stated Meeting - at which the Council would officially adopt the FY2015 budget. This meeting could be moved to earlier in the week to speed up the budget adoption process.
Friday and the Weekend
Ever get a ticket while being inside your parked car on alternate side parking day? What about parking after the street has been cleaned but still during the alternate side window? The City Council's transportation committee will hear Intro 0020 that hopes to eliminate those parking tickets.
Sunday is the annual NYC Pride Parade, always a major event in the city, drawing thousands of New Yorkers, including many elected officials, advocates, activists, and citizens in general.
Not much else on our radar for the end of the week - stay tuned though! (And as always, feel free to send notice: This email address is being protected from spambots. You need JavaScript enabled to view it.)
And, more from Albany:
The Assembly completed this year's session in the wee hours of Friday morning while the Senate finished their business late Friday night. What did they get done? A deal on medical marijuana, a package of bills to fight heroin trafficking and addiction, a plan to delay common core-related high stakes in teacher evaluations and a key pieces to Mayor Bill de Blasio's Vision Zero plan that would reduce city speed limits to 25 M.P.H.
Gov. Andrew Cuomo told Susan Arbetter on the Capitol Pressroom Friday that it had been a "banner session." He later said that the IDC/Republican coalition that rules the Senate had been a "failure." Issues such as The DREAM Act, the Women's Equality Act, minimum wage increases, and laws protecting transgender individuals did not become law this year thanks to the Senate.
Legislators are back in their districts touting their accomplishments and preparing for re-election. Senate Democrats have put out feelers to the Independent Democratic Conference on a power-sharing agreement but as of now IDC Sens. Jeff Klein, Tony Avella and David Valesky face primary challenges. Diane Savino is likely to face competition as well. However, pundits say that Senate Democrats may have a hard time themselves because of a lack of campaign funds and the fact that this is not a presidential election year. Gov. Andrew Cuomo has pledged to support pushing the Senate to the Democrats' hands, but it is yet to be seen what he is ready to commit to doing to make it happen. He has made a number of hedging statements.
On Tuesday Sen. Liz Krueger will hold a Vision Zero town hall in Manhattan along with Council Members Dan Garodnick and Ben Kallos. The event starts at 6:30 p.m. at Hunter College. Members of the NYPD, mayor's office, community boards and the department of transportation will be in attendance.
***
Have events or topics for us to include in an upcoming Week Ahead in New York Politics? Email Gotham Gazette executive editor Ben Max any time: This email address is being protected from spambots. You need JavaScript enabled to view it. (use "For Week Ahead" as a subject if you can).
***
by Kristen Meriwether and Ben Max in New York City and David King in Albany
@GothamGazette