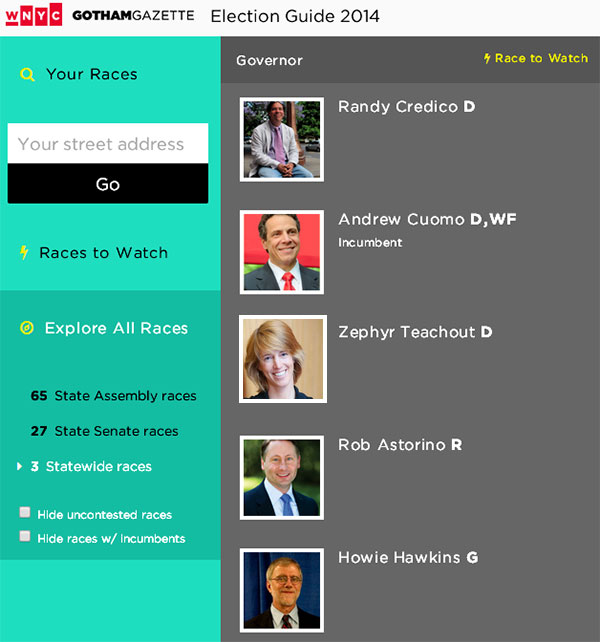 The Gotham Gazette-WNYC 2014 Election Guide (use it here)
---
New York - There are elections on Tuesday in New York! This year's political contests are for offices at the state level and Primary Day is Tuesday, September 9. As is always the case in New York City, Democratic Primary winners are exceedingly likely to carry through the general and take or retake office - some will not even have an opponent come November or only a nominal one if any. There are many hotly-contested primary races to be aware of. Thus, it is essential to be prepared for Tuesday and, as always, Gotham Gazette is here to help.
After 2013's New York City elections saw massive turnover in elected office, largely due to term-limits, this year's state elections have no such promise, partly because there are no term limits at teh state level. That does not mean that there won't be turnover, but the odds are against much as incumbency in New York, as elsewhere, is a very strong predictor of success in elections. This is good news for incumbent Democrats in the statewide elected positions of Governor, Comptroller, and Attorney General - only one of whom is facing a primary opponent (all three will face general election competition) - as well as many state Senators and Assembly Members running for re-election (many of whom are also unopposed in the primary). There are, though, a number of intense primaries happening, including to fill vacant seats in the Legislature, and plenty to know leading up to Tuesday.
[Visit the Gotham Gazette-WNYC Election Guide to see who will be on your ballot, explore races, and more]
Will the true Democrats please stand up?
That is the name of the game in the most high profile of next week's Democratic Primary contests. The marquee matchups include no less than the most powerful position in the state - Governor - as well as seats that could very well determine control of the State Senate.
There are also contests for several vacant Assembly seats and one vacant Senate seat; two seats currently held by indicted legislators who are being challenged from within their party; and a number of seats held by incumbents who are not seeking re-election.
Incumbent Gov. Andrew Cuomo has weathered a season of attacks on his credentials as a progressive Democrat. From his support of the coalition that kept Republicans and a breakaway group of Democrats (the Independent Democratic Conference or IDC) in charge of the State Senate, his fiscal policies that have angered unions, his non-decision on hydraulic fracturing (or fracking) that has left environmental groups on pins and needles for his entire term, his education policies that alienated a variety of interested groups, and his failure to pass campaign finance reform, much of the Left is frustrated with Cuomo.
Its unclear, though, if Cuomo's most outspoken Democratic opponent, Fordham law professor Zephyr Teachout, will amount to anything more than an annoyance to him. Barring any major last-minute developments in U.S. Attorney Preet Bharara's investigation into Cuomo's handling of the Moreland Commission most experts think Cuomo will cruise to a primary victory over Teachout and political satirist Randy Credico.
[Gubernatorial candidate profiles]
Nevertheless, the biggest legislative primaries in the city appear to be referendums on Cuomo's moderate legislative allies in the Independent Democratic Conference. IDC head Sen. Jeff Klein and recent IDC convert Sen. Tony Avella face tough challenges from veteran progressives in former City Council Member Oliver Koppell and former Comptroller John Liu, respectively. Pundits wonder whether the progressive surge that lead Mayor Bill de Blasio to victory might also drive turnout for these challengers. The Avella-Liu race could be among the closest of all the primary contests.
Ironically, Cuomo, Klein, and Avella would be facing far more potent opposition had New York City Mayor Bill de Blasio not helped broker a deal between Cuomo and the Working Families Party (which had groomed Teachout, Koppell and Liu to run) that saw Cuomo win the WFP ballot line and the IDC promise to create a governing coalition with Senate Democrats - which promises to put Democrats in control of both houses of the Legislature. All three challengers would have had far more financial resources and the backing of the WFP if such a deal had not been realized. And yet, in the case of Klein and Avella, both face politically-skilled veterans who are well versed in marshalling turnout and winning office.
In both those State Senate contests as well as the others in the Senate and those in the Assembly for seats representing New York City districts (of which there are many competitive ones), the Democratic primary result is all-but-certain to carry through the November general. Votes on Tuesday's primary day among Democrats are likely to decide the shape of the New York State government moving forward.
[Watch 2014 debates from a variety of races that have occurred on several TV networks]
Governor
Teachout was the WFP's choice to challenge Cuomo if he didn't bow to its pressure to support a progressive agenda which includes passing the Women's Equality Act, campaign finance reform, The Dream ACT, and a minimum wage increase. After last-minute negotiations, Cuomo capitulated to the WFP during its convention via an awkward video message. The governor also pledged to work against the IDC - but a deal was cut shortly thereafter that took the IDC off the hook as well, promising that IDC members would form a governing coalition with mainline Democrats come next legislative session.
In a surprise to many, Teachout decided to carry on her challenge to Cuomo and has been outspoken, available to the press, and actively campaigning all over the state. Cuomo meanwhile has mostly ignored Teachout, not mentioning her by name, other than his campaign's challenges to her residency status and eligibility to be on the ballot (which Teachout won). Cuomo has relied on his incumbency - holding no official campaign events - and his significant campaign war chest, which has funded TV ads and mailers. Cuomo has declined several opportunities to debate Teachout and only really referred to her campaign publicly after being peppered with many questions on the subject by reporters.
Teachout has attacked Cuomo as a backroom dealer, concerned with power and bereft of actual political ideals. She has repeatedly slammed Cuomo for his alleged interference in the Moreland Commission on Public Corruption and criticized his policies as being more fitting of a Republican than a Democrat. She is running on a platform of campaign finance reform, a ban on fracking, full-funding of public schools, and other more traditional Democratic values, as she says.
Cuomo's supporters say he has been a commanding governor who has controlled the wild state legislature while passing on time budgets, fiscally responsible policies, and major legislative achievements such as same-sex marriage, increased gun regulation, a property tax cap, and a measure allowing casinos in upstate NY.
Randy Credico, who also ran for mayor of New York last year, has campaigned by taking shots at other campaigns on Twitter, smoking marijuana in public, filming police officers making arrests, and getting arrested himself. Credico calls for police, prison, and ethics reform, as well as the full legalization of marijuana.
[Gubernatorial candidate profiles]
The Cuomo campaign has been managing expectations as of late about how well Teachout might do. They have labeled her a "protest candidate" and indicated she could win up to 30 percent of the vote - which would be a striking number and potentially damaging for Cuomo as he heads into a general contest against Republican Rob Astorino and beyond. Teachout has earned surprising endorsements from The Public Employees Federation, The New York City chapter of the National Organization For Women, and The Nation, among others.
Cuomo's notable endorsements include union heavyweights 1199 SEIU and the New York Hotel Trades Council, Transit Workers United, The Daily News, The Buffalo News, The Stonewall Democrats, and The Empire State Pride Agenda - along with a wide swath of elected officials including Mayor de Blasio.
The New York Times announced a non-endorsement in the race, but strongly criticized Cuomo for "failure" on ethics reform.
Lieutenant Governor
Cuomo's choice for Lt. Gov. is former Congresswoman Kathy Hochul, who hopes to replace retiring LG Robert Duffy. Hochul has been the face of the Cuomo campaign for most of the summer, leading Cuomo's Women's Equality Party ballot line initiative and making many appearances with Democratic legislators. Pundits point out, however, that not many New Yorkers know who Hochul is and the ones that do might know her for her rather conservative record in Congress. Hochul has bragged of her record of voting against "Obamacare" and had a strong rating from the National Rifle Association.
She has also touted opposition to allowing non-citizen immigrants acquiring drivers' licenses. The Cuomo camp has some concerns that Teachout's running mate and Columbia University law professor Tim Wu could win an upset - Governor and Lieutenant Governor are separate ballot lines in the primary, but not the general. Wu has focused on ethics and campaign finance reform during the campaign, but he is known for coining the term "net neutrality" and has a strong following for his work in keeping the internet free of corporate control.
Lieutenant Governor is generally a powerless and thankless position - just ask Duffy, who says he is leaving the post because of back problems incurred driving across the state (which he was doing more-or-less in support of Cuomo's record). However, Wu has said he would treat the position as a statewide version of the city's Public Advocate office and critique the governor's policies and programs.
Wu has been endorsed by The New York Times, among other individuals and entities, while Hochul has the support of Mayor de Blasio, the Rochester Democrat and Chronicle, 1199 SEIU, and others who are supporting both she and Cuomo.
[Visit the Gotham Gazette-WNYC 2014 New York State Election Guide to see who will be on your ballot and explore races and candidates]
34th Senate District, Bronx/Westchester
Incumbent Sen. Jeff Klein has been the target of ire from many left-leaning activists throughout this year as Klein and his IDC allies gained powerful positions in the Legislature and precious resources by agreeing to partner with Senate Republicans. By doing so, activists said Klein killed any chances of passing meaningful minimum wage increases, The Dream Act, campaign finance reform, and the Women's Equality Agenda.
Those activists and Senate Democrats began courting former Council Member Oliver Koppell to challenge Klein as early as last fall. Months went by waiting for a poll to be done to gauge Koppell's chances. Koppell was promised financial support from activists and Senate Democrats and finally after months of equivocation Koppell agreed challenge a man who is known to be one of the best fundraisers in the state and one of its most powerful politicians. However, Koppell found himself abandoned by many of the very people who asked him to run after a deal was cut for the IDC to form a governing coalition with Democrats. Activists in the WFP and Citizens Action who at one time seethed with loathing for Klein tucked away their feelings and lent him their support.
The full details of the deal are unknown and insiders say they simply won't exist until after the November elections when it is clear how many seats the Democrats hold. Despite losing the support of Senate Democrats and the Working Families Party, Koppell has stayed in the race decrying what he says is Klein's naked ambition and lust for power that is free of political ideology.
Klein has countered that Koppell isn't a true progressive because he voted for an extension of term limits put forward by former Mayor Michael Bloomberg.
Interestingly enough, Klein won his Senate seat in 2004 in a primary against fellow Assembly Member Steve Kaufman, who pledged to caucus with Republicans if elected. Klein made the race about who was the true Democrat and Koppell endorsed Klein and campaigned for him.
Klein insists that he supports the Women's Equality Agenda, campaign finance reform, and the Dream Act, but blames Senate Democrats for being home to members who stand against those issues. Klein, however, is allies with Sen. Ruben Diaz, Sr., who is the most outspoken Democratic opponent of the Women's Equality Agenda, gay rights, and campaign finance reform. Klein also encouraged conservative Council Member Fernando Cabrera to challenge incumbent Democratic Sen. Gustavo Rivera. Rivera supports all of the aforementioned issues while Cabrera is vehemently opposed to the Women's Equality Act and has worked with Family Research Council, which has been labeled a "hate group" by the Southern Poverty Law Center for calling for gays and lesbians to be imprisoned.
As a leader in the Senate Klein has been able to bring home major resources to his district and has the support of most of his district's leading community and political groups and unions. He also enjoys the endorsements of Cuomo and de Blasio. Koppell, however, was endorsed by the New York Times. Koppell would enter the Senate as a freshman, but he told Gotham Gazette that if he wins he expects to be part of the Senate leadership. He also pledged to fund primary challenges to any member of the IDC that did not return to the Democratic Conference.
11th Senate District, Queens
Incumbent Sen. Tony Avella of the Independent Democrats faces former Comptroller John Liu in a heated contest that is a referendum on who is truer to progressive values. Avella suddenly abandoned the Democratic Conference this year and joined the IDC - a move he says was aimed at making sure that he had a seat at the decision-making table and an ability to bring resources to his district. The shift angered a number of activists and unions, though, and Liu's candidacy was initially fueled by that. The WFP initially endorsed Liu but decided to remain neutral after the IDC cut its deal. But, Liu has retained the support of a number of Senate Democrats, has drastically outraised Avella, and appeared to get the indirect blessing of the Cuomo camp thanks to comments made by Hochul during a joint appearance.
Liu's progressive bona fides were on full display during last year's mayoral contest, but his campaign was crippled by an investigation into its fundraising practices. Two of his campaign aides were convicted of illegal practices last year and the Campaign Finance Board refused to give Liu matching funds during the final months of the campaign. Liu has seemingly had no trouble, though, convincing constituents to donate to his 2014 campaign.
Avella has seized on questions about Liu's fundraising practices and has hammered away at what he calls the "dysfunctional" nature of the Senate Democrats. Avella has been endorsed by a number of environmental groups who note his strong commitment to relevant issues and steadfast opposition to hydraulic fracturing. He also was endorsed by de Blasio.
Liu's major endorsements include The New York Times and Teamster Council 16, along with many elected officials from Queens.
33rd Senate District, Bronx
Incumbent Sen. Gustavo Rivera faces a primary from City Council Member Fernando Cabrera in what appears to be a contest sparked by Klein's animosity for Rivera.
But Klein isn't the only one mad at Rivera. Rep. Charlie Rangel endorsed Cabrera despite the fact that Cabrera is an extreme social conservative who has praised Uganda's anti-gay laws and is associated with a hate group.
Rangel has all-but-admitted his endorsement stemmed from Rivera's backing of Sen. Adriano Espaillat in Espaillat's challenge to Rangel. Rivera has focused on health issues in the Bronx and prisoner reentry issues. Cabrera has ignored requests for interviews and has basically run a stealth campaign.
31st Senate District, Bronx/Manhattan
Incumbent Sen. Adriano Espaillat lost his second challenge to Rep. Charlie Rangel in June's congressional primary and now he has to defeat former Council Member Robert Jackson if he wants to keep his job. Espaillat has focused on immigration issues during his time in the Legislature. Jackson has focused on campaign finance and education issues and has attacked Espaillat for focusing more on his congressional bid than his senate position, as well as for Espaillat's poor attendance record in Albany. Luis Tejada is also running to unseat Jackson.
[Watch a debate between Jackson and Tejada that Espaillat opted not to participate in]
14th Senate District, Queens
Incumbent Sen. Malcolm Smith was indicted on charges that he tried to bribe his way onto the Republican ticket for mayor last year, but that hasn't stopped him from running for re-election. He faces strong competition from former City Council Member and Deputy Queens Borough President Leroy Comrie. Munir Avery is also seeking to unseat Smith.
[Explore all of our Races to Watch]
19th Senate District, Brooklyn
Incumbent Sen. John Sampson went from being the head of the Democratic Conference to being indicted for embezzlement, but he still wants to keep his seat. The leading candidate to unseat Sampson is Dell Smitherman of 1199 SEIU. Smitherman has been endorsed by both Gov. Cuomo and Mayor de Blasio, among many others. Other candidates include Sean Henry, who has worked on homelessness issues for the City and served in the armed forces, as well as civic activist Elias Weir.
20th Senate District, Brooklyn
Not to be overlooked, the 20th Senate District seat is the lone New York City-based vacancy in the State Senate. This contest is for the seat formerly held by Brooklyn Borough President Eric Adams and features two strong candidates, each with a great deal of backing: Rubain Dorancy and Jesse Hamilton. Hamilton is Adams' hand-picked successor and has support from several other elected officials and organizations, while Dorancy is being supported by Mayor Bill de Blasio, among others many others. Guillermo Philpots is also on the ballot.
[Visit the Gotham Gazette-WNYC Election Guide to see who will be on your ballot, explore races, and more]
76th Assembly District, Manhattan
Four strong Democratic candidates are vying to replace Assembly Member Micah Kellner, who is not seeking re-election after a scandal-plagued final term. Rebecca Seawright has earned the large majority of support from elected officials, unions, and advocacy groups who have endorsed in this race, while Gus Christenson has been endorsed by the New York Times and other groups himself.
[Watch a debate with all four candidates participating]
79th Assembly District, Bronx
In another race to fill an empty seat where the former legislator had to leave office due to corruption, several Democratic candidates seek to head to Albany to represent one of the most poverty-stricken areas in the country. The district is also home to extremely low voter turnout historically, so it is unclear how many (or few) votes it will take to win this race. Marsha Michael has received the backing of much of the Democratic establishment, while Michael Blake has been backed by several unions, including 1199 SEIU, and advocacy groups.
54th Assembly District, Brooklyn
Rafael Espinal vacated this seat when he won his race for City Council last year. His former opponent Kimberly Council is vying to replace him against his ally Erik Martin Dilan, a former Council Member. Espinal is a protege of Sen. Martin Dilan and former Assembly Member Vito Lopez.
55th Assembly District, Brooklyn
Seven Democrats are vying to replace former Assemblyman William Boyland who was convicted of extortion and bribery this spring after successfully beating other charges during his time in the legislature. Lori Boozer is racking up many endorsements in the race, which could be won with quite a low vote total because of limited turnout and the high number of candidates running.
Assembly District 60, Brooklyn
Vacated by Inez Barron after her successful run for City Council this seat is now being contested by her husband and former Council Member Charles Barron and his opponent Christopher Banks, who lost to Inez Barron in two previous elections, one for Assembly and one for City Council.
[Explore all of our Races to Watch]
[Watch 2014 debates from a variety of races that have occurred on several TV networks]