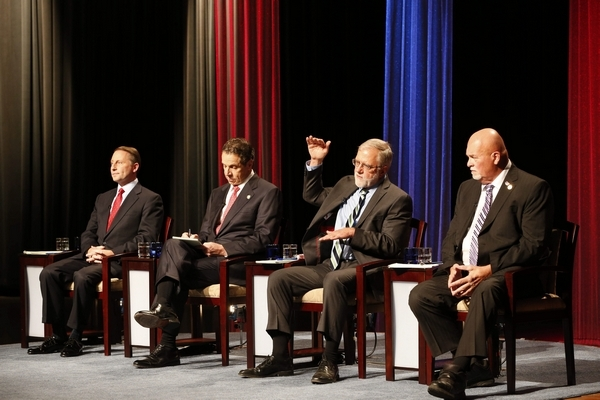 Howie Hawkins speaking at this year's gubernatorial debate (photo: AP)
---
Howie Hawkins has one man to thank for giving his campaign a boost: Governor Andrew Cuomo.
Hawkins, the Green Party's New York gubernatorial candidate, is not going to come close to winning the highest seat in Albany. But his polling numbers are strikingly good for a candidate who gets little press, is not from a major party, and has little money to run on. Cuomo's support for charter schools, tax cuts for the wealthy, and indecisiveness on hydraulic fracturing, or fracking, has fueled progressive discontent with his reign.
"Cuomo is my best campaign worker. His record is my best ad," the 61-year-old Hawkins quipped in an interview after an October 25 Manhattan fundraiser featuring Ralph Nader, the most famous Green Party member. Nader helped raise at least $5,000 at the event held at the Unitarian Church of All Souls for the Syracuse-based candidate.
Hawkins, a United Parcel Service (UPS) truck loader who believes in socialism and is running on a tax-the-rich and renewable energy platform, is trying to harness liberal anger over Cuomo, a Democrat—and he's having some success. An October Siena College poll showed that Hawkins had support from nine percent of voters, with Cuomo garnering fifty-four percent and the Republican candidate Rob Astorino getting thirty-three percent.
"I think those numbers could be real," said Grant Reeher, Director of the Campbell Public Affairs Institute at Syracuse University's Maxwell School. Reeher has watched Hawkins over the years as he repeatedly campaigned for various seats.
Historically, the number of votes for a third-party candidate is less than what polls predict. But Reeher added that Hawkins is seen by some voters as a candidate with specific, creative ideas, a posture that draws a stark contrast with other candidates. "That's what appeals to a lot of people. And then the question is do they carry that appeal with them into actually flipping the lever for him—I think in this case there's more of them that will."
If Hawkins gets anything approaching his polling levels at the ballot box—a tough task—he would make history and cut into Cuomo's margin of victory. Green Party gubernatorial candidates typically receive about one percent, give or take a few decimals, of total votes at the polls.
In 2010, Hawkins ran for the New York Governor seat and received about 60,000 votes, enough to secure his spot on this year's ballot early. Under New York laws, parties have to receive 50,000 votes in the previous gubernatorial election to receive a guaranteed spot on the ballot for the next race. (If a party fails to do so, they must collect at least 15,000 valid signatures on a petition.)
Hawkins' poll numbers reveal the depth of liberal anger at Cuomo. Progressives who would normally back the Democratic Party candidate say Cuomo is a pro-business leader whose backroom dealings represent the worst of Albany. The support for Hawkins from Democrats—he has received endorsements from six New York City Democratic clubs, some minor Democratic officials and a handful of teachers' unions—is the latest sign that liberals in the party are asserting themselves against centrists. The Siena poll had thirteen percent of Democrats supporting Hawkins.
Cuomo was challenged by Zephyr Teachout, a Fordham law professor who campaigned as a liberal populist, in the Democratic primary in September. The Working Families Party, an influential minor party that backs liberal Democrats, considered endorsing Teachout. But the party leadership decided to strike a deal with Cuomo in exchange for the governor's pledge to back Democratic control of the State Senate and a push to raise the minimum wage, among other issues.
Nevertheless, Teachout ran to Cuomo's left in the Democratic primary and received a little over a third of the vote, enough to chip off Cuomo's luster. Teachout has refused to endorse Cuomo for the general election, and Hawkins is making a direct pitch to voters who backed Teachout in the primary.
Hawkins said that Teachout backers were "telling us even before the primary: Teachout for the primary, Hawkins for the general. There's a lot of disaffection among progressive Democrats with Andrew Cuomo."
Still, the question is whether liberals will vote for Hawkins or for Cuomo on the labor-backed Working Families Party (WFP) line. Under New York's "fusion" laws, minor parties are able to back the same person that a major party is running. The Working Families Party is pushing supporters to vote on their line for Cuomo in the hopes of pressuring the governor to move left post-election. Cuomo will actually appear on four ballot lines: the Independence Party, Democratic Party, and WFP lines, as well as the Women's Equality Party line, for a new party Cuomo started this year to highlight his push for his Women's Equality Act. The creation of this party and Cuomo's major push to encourage supporters to vote for him on its ballot line has angered and worried some WFP loyalists - and even some who simply want the Democratic governor to run as a regular Democrat.
Hawkins' platform includes a call for public works jobs for the unemployed; a pledge to make New York run only on renewable energy sources by 2030; taxing the rich; a $15 an hour minimum wage; and publicly funded healthcare for everybody. But the two issues that have animated voters the most are fracking and education.
Hawkins has vowed to ban fracking—there is currently a moratorium on it in New York—and take aim at charter schools, privately run public schools that operate outside of state education regulations and are typically not unionized. His running mate, lieutenant governor candidate Brian Jones, is a former public school teacher who is strongly opposed to charters.
The term fracking refers to a process where companies, using water, sand and chemicals, drill deep into the earth into rock to extract natural gas.
Gas companies' rush to frack has sparked pushback from residents in communities around the country where fracking occurs. Environmental activists point to cases of fracking-linked water contamination and studies that warn of air pollution.
Cuomo says he is waiting for a state health department report on fracking to make a final decision. There is no timetable on when that report will be issued, though the governor said during the only gubernatorial debate it would be released before the end of the year. Hawkins is warning that Cuomo will allow fracking in at least some areas of the state, and has seized on a Capital New York article revealing that the Cuomo administration edited and delayed a key federal water assessment of fracking. "Some of the authors' original descriptions of environmental and health risks associated with fracking were played down or removed" after state officials weighed in on the report, Capital New York's Scott Waldman revealed.
Cuomo has also stoked anger from teachers for his pro-charter school stance—a stance that has intensified this year. Supporters of charter schools say they give parents more choice, hold teachers accountable, and perform better than traditional public schools, though detractors say they weaken public schools and unions, siphon off top students and, in fact, don't perform better than public schools.
Wall Street donors who are big backers of charter schools have given large sums to Cuomo's campaign. In the winter, Cuomo told pro-charter school activists to organize a rally, and they did, bringing thousands of people to the capitol in March to push for more money and space for charter schools. The New York Times reported in April that Cuomo was a driving force behind pro-charter school legislation passed in Albany that increased funding for charter school students and mandated that New York City give charter schools space in public schools or pay most of the cost for charters to operate in private facilities.
Cuomo's appearance at the pro-charter rally in March was the last straw for Mindy Rosier, a registered Democrat and teacher for seventeen years. Rosier, who plans on voting for Hawkins, teaches children at the Mickey Mantle School in Harlem, which caters to special needs students. The building where the school is located also provides space for another public school. Yet another school came to be located there in 2006, when the Harlem Success Academy, part of a charter network run by former City Council Member Eva Moskowitz, was granted space at the school. The new legislation has led to fears that students will be displaced by more Harlem Success Academy expansion (the network was approved recently to open over a dozen more schools in the next two years).
Teachers like Rosier say the charter school co-location has taken away resources from their students. Cuomo has "turned his back on our schools," she said in an interview after the fundraiser for Hawkins. "[The charter school] literally gutted my school, almost in half."
The Hawkins campaign is now hoping to capitalize on Rosier's and other voters' anger. Many credit Teachout's strong primary showing (she received over 192,000 votes to the governor's 361,000-plus) to those upset with Cuomo on fracking and education. A turnout for Hawkins that approaches his poll numbers could further boost the Green Party by displacing the Conservative Party's Row C ballot line for the next election.
If he gets close to what his poll numbers predict, "that would be an historic vote for an independent progressive party. It means we would be part of the political conversation going forward," said Hawkins. "We want to follow up in the wake of this campaign, win or lose the office, and organize our party and our movement so we can exercise the power that that vote demonstrated."
***
Alex Kane is a New York-based freelance journalist whose work has appeared in Mondoweiss, AlterNet, the Los Angeles Review of Books, Salon and more. Follow him on Twitter @alexbkane