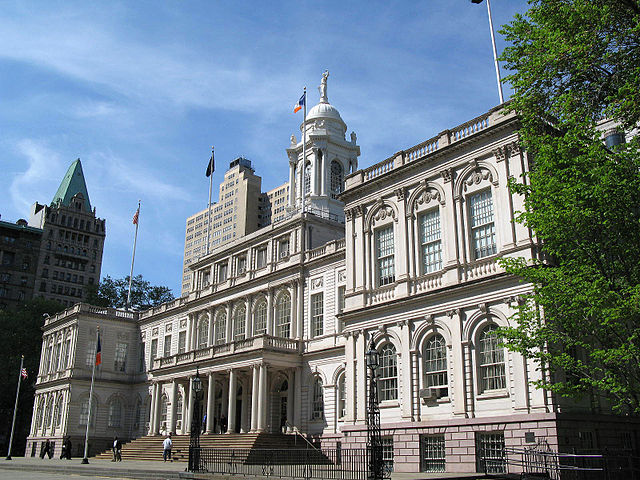 New York City Hall
---
What to watch for this week in New York politics:
Many New York government officials and politicos have spent a long post-Election Day weekend in Puerto Rico for this year's Somos El Futuro Conference. City Council Speaker Melissa Mark-Viverito has in many ways led the City's official business in her homeland, focusing on areas of need, participating in an event focused on bringing marriage equality to the island (one led by Council Member Rosie Mendez), and promoting causes like the DREAM Act. Mayor Bill de Blasio and Public Advocate Tish James, among many others, have also been in Puerto Rico, busy politicking at the annual conference that provides electeds, staffers, and others with a different setting for socializing, networking, and negotiating.
Over the weekend, New York elected officials took time to praise President Barack Obama's nomination of Loretta Lynch, U.S. Attorney for the Eastern District of New York, to become the country's new U.S. Attorney General.
As the week begins, New Yorkers are still wrestling with the results of last week's state and federal-level elections, which included Governor Andrew Cuomo being re-elected while appearing on four different ballot lines and stirring up plenty of controversy.
This week may be slightly slower than last, but there is still plenty happening in New York political and civic life - which includes several events centered around New York City's military veterans, including Tuesday's annual Veterans Day Parade.
Former Mayor Michael Bloomberg speaks in New York City on Monday, sure to be interesting on a variety of levels. Details below.
Also look for action this week at the City Council, including a full-body Stated Meeting, which will be Thursday, and several committee hearings - starting with Monday's veterans committee hearing on homelessness among New York City's military veterans.
We're also watching to see:
word from the special grand jury in the Eric Garner case on Staten Island
the latest developments around policing New York City and in the relationships among Mayor de Blasio, NYPD Commissioner Bratton, the police unions, and other stakeholders including other elected officials and advocacy groups
more from Mayor de Blasio and schools Chancellor Carmen Fariña on what will be done with the city's most-struggling schools
what the leadership structure of the New York State Senate is going to be now that Republicans have won an outright majority and the Independent Democratic Conference (IDC) recruits new members, tries to retain old ones, and seeks to remain powerful
further indication of the 2015 legislative priorities of Gov. Cuomo and Mayor de Blasio when it comes to state-level policy, especially given the aforementioned results of the state-level elections
As always there are many singular events scheduled for this week to be aware of; here's the run of the week in more detail:
Monday
Former Mayor Michael Bloomberg is being honored with the lifetime achievement award at Crain's Hall of Fame Luncheon on Monday afternoon. Bloomberg is among several honorees being inducted: "Join us to celebrate the achievements of this year's Crain's Hall of Fame honorees at a celebratory luncheon with the New York business community."
Current Mayor Bill de Blasio starts his week holding "a press conference with Police Commissioner Bill Bratton to make an announcement at 1 Police Plaza" on Monday afternoon. "Later, the Mayor will meet with D. Taylor, President of UNITE-HERE, at City Hall" and "Monday evening, the Mayor will speak at the 2014 Made in New York Awards in Brooklyn," according to his public schedule.
According to her public schedule, Chancellor Fariña's Monday is set to include two public events: she "will join New York State education leaders to announce a new agreement ensuring better outcomes for English Language Learners" at Instituto Cervantes in Manhattan and she "will attend a Community Education Council Town Hall meeting in Brooklyn" in the evening - District 14 CEC to be exact.
On Monday morning in Brooklyn, "L+M Development Partners in partnership with Bell Urban LLC and the City's Department of Housing Preservation and Development (HPD) and Housing Development Corporation (HDC), will celebrate the opening of Utica Place, a brand new 87-unit affordable rental building for low-income families and veterans in Crown Heights," according to a media advisory.
On Monday at the City Council: the "Committee on Health will hold a hearing on Int 0491-2014, a local law to amend the administrative code of the city of New York, in relation to amending sex designation on birth records and on Int 0492-2014, a local law to amend the administrative code of the city of New York, in relation to reporting and an advisory board on gender marker change requirement.
"The Council Committees on Veterans and General Welfare will hold a joint oversight hearing on Ending Veteran Homelessness and Hunger in New York City and will hear Res 204-2014, calling upon the New York State Legislature to pass and the Governor to sign legislation which would require the Division of Veterans Affairs to conduct a study regarding homeless female veterans in New York.
"The Subcommittee on Landmarks, Public Siting and Maritime Uses will hold a hearing on several land use items."
Before their joint council hearing, at noon on Monday Council Members Ulrich and Levin will lead a press conference to announce "a City Council Veterans Food Drive." The City Council Veterans Food Drive is in partnership with the Food Bank For New York City and sponsored by Speaker Melissa Mark-Viverito, Council Members Ulrich and Levin, and other council members from all five boroughs.
Also on Monday morning at City Hall, Council Member Vincent Gentile will announce a resolution at City Hall: "just in time for Veterans Day, Deputy Leader Councilman Vincent J. Gentile will hold an important press conference on the steps of City Hall to announce a Resolution calling upon the United States Congress to pass, and the President to sign, legislation allowing states and localities to grant disabled veterans access to high-occupancy vehicle lanes," according to a media advisory.
Monday evening, Council Members Bramer and Treyger will hold neighborhood assemblies to discuss participatory budgeting in their districts.
Also on Monday evening, City Comptroller Scott Stringer will appear on Bronx Talk TV at 9 p.m.
Tuesday
Tuesday is Veterans Day. Though it has reportedly not been a smooth process, the annual Veterans Day Parade will take place in New York.
Gotham Gazette has made reporting on veterans issues a focus area over the last several months. See our most recent reporting on politics and policy related to New York City's veterans here.
Also Tuesday, Public Advocate Tish James, in conjunction with City Council Members Maria Del Carmen Arroyo and Vanessa Gibson, and State Senator Gustavo Rivera will hold a "Free Veterans Day Job Fair" in the Bronx.
Wednesday
Wednesday evening, Manhattan Borough President Gale Brewer will host an Education Town Hall with NYC DOE Chancellor Farina at John Jay College: "to discuss new education initiatives, followed by audience Q&A and a brief presentation on getting involved with Community Education Councils (CECs). Topics for discussion include technology in schools, parent engagement, and the Struggling Schools/School Success initiative," according to Brewer's announcement.
Earlier, on Wednesday morning, ABNY will host the Public Advocate, Letitia "Tish" James, for a breakfast panel discussion regarding "her priorities for the Office of the Public Advocate and her efforts to fight for New Yorkers."
On Wednesday morning on the steps of City Hall, "City Council members and leading advocates for early childhood literacy will hold a news conference to announce new funding for a major literacy campaign." Those involved include "Council Members Stephen Levin and Antonio Reynoso, as well as the heads of the following advocacy organizations: Literacy Inc. (LINC), Reach Out and Read of Greater New York, Brooklyn Public Library, Jumpstart for Young Children, New York Public Library, Parent-Child Home Program, Queens Library, Video Interaction Project," accordiing to a media advisory about the initiative.
Wednesday's City Council schedule will include: a meeting of the Committee on Land Use; the Committee on Waterfronts will meet for an oversight hearing on: "One-Stop Permitting for Waterfront Projects"; and the Committees on Public Safety, and Fire and Criminal Justice Services, will meet jointly for an oversight hearing "Examining New York City's Emergency Planning & Preparedness for Terrorist Attacks."
Council Member Mark Weprin will headline the #CUNYmonth "Free Citizenship Assistance" event on Wednesday morning at Queensborough Community College.
The Manhattan Institute will hold its Social Entrepreneurship Awards Dinner on Wednesday: "the 14th annual presentation of the Manhattan Institute's awards for social entrepreneurship—a celebration of America's tradition of civil society and philanthropy as the means to address our common problems. This tradition, which has given us the Red Cross, Habitat for Humanity, and Teach for America, is at risk today from an expansive government which would dictate which charitable causes deserve support, even as it shows itself ill-suited to help uplift those in need. Our winners have done effective and impressive work throughout the country, from small-town Ohio to inner-city Detroit, from the schools of the Bronx to home-schools around the globe, and show the importance of preserving the spirit of voluntarism in our country. Please join us as they share their stories and receive well-deserved recognition."
The Manhattan Young Democrats will square off with the New York Young Republican Club in a "bipartisan-spirited" Trivia Night on Wednesday: "Now that the election season is over, it's time to set aside the partisan differences -- at least for one night -- and attend a trivia night. Join the members of the Manhattan Young Democrats (MYD) and the New York Young Republican Club (NYYRC) for this bipartisan-spirited event. Proceeds from this event will be donated to a charity, as selected by each group."
Council Members Torres, Vallone, Greenfield and Williams will hold neighborhood assemblies to discuss participatory budgeting in their districts on Wednesday evening.
Thursday
Thursday is expected to see the announcement of the New York State Public Service Commission's decision on the merger of Comcast and Time Warner Cable. Elected officials including Public Advocate Tish James and Council Member Ben Kallos have called on the commission to ensure vast public benefits if approving the merger.
The City Council schedule for Thursday includes a meeting of the Committee on Finance to address a bill relating to a "Fordham BID" and to review land use applications.
There will be a full-body City Council Stated Meeting on Thursday afternoon - as always, it will be presaged by a press conference led by Council Speaker Mark-Viverito.
Thursday evening, Citizens Union and the New York Immigration Coalition present a "Forum on Non-Citizen Voting" that will include an expert panel and address the current bill in the City Council to allow Non-US citizens to vote; 6:30 to 8:30 p.m. at Hostos Community College in the Bronx.
Also Thursday evening, Council Members Torres, Bramer and Menchaca will hold neighborhood assemblies to discuss participatory budgeting in their districts.
And, the Bay Ridge Democrats will hold a meeting Thursday evening that will host an expert panel including our Ben Max to discuss the outcomes of the recent state elections and where things head moving forward.
Friday and the weekend
The Murphy Institute at CUNY will hold a journalists roundtable analysis of the 2014 Midterm Elections. Participants include NY1's Errol Louis, Juan Gonzalez of the Daily News, and Michael Hirsch of POLITICO.
Also Friday morning, Fordham Law School will host "Bloomberg's New York: A Retrospective," a one-day conference that will "examine the accomplishments of the mayor and his executive team...In the course of 12 years under Mayor Michael Bloomberg, New York recovered from the devastation of 9/11, regained its footing, and eventually reclaimed its place as the world's preeminent metropolis. In the process, the Bloomberg administration worked to establish new standards in how municipal government can cut crime, grow jobs, raise the performance of schools, and improve the quality of life in America's largest and most diverse city.
And on Saturday morning, Chancellor Farina will resume holding her Parent Conference Series, this time centered on High School, at Tweed Courthouse.
Council Member Torres will hold a neighborhood assembly to discuss participatory budgeting in his district on Saturday at noon.
And, Council Member Ferreras will hold a free citizenship workshop on Saturday morning in Corona, Queens.
***
Have events or topics for us to include in an upcoming Week Ahead in New York Politics? Email Gotham Gazette executive editor Ben Max any time: This email address is being protected from spambots. You need JavaScript enabled to view it. (please use "For Week Ahead" as email subject).
***
by Rati Mukhuradze and Ben Max
@GothamGazette