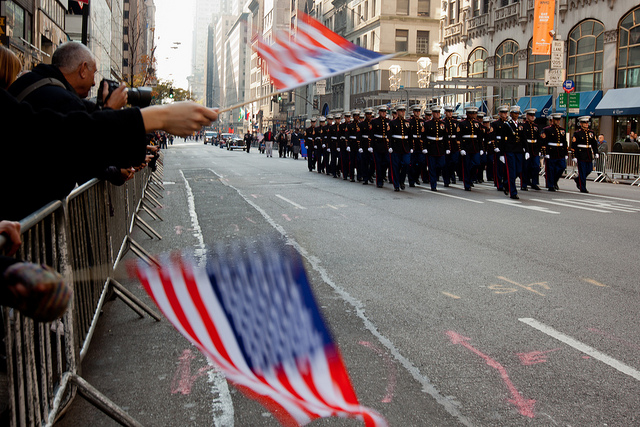 ---
Veterans Day, November 11, is again upon us. As veterans, servicemembers, elected officials, and others prepare to march down 5th Avenue on Tuesday, military veterans throughout the city continue to attempt navigating life as civilians. In New York, services for veterans have continually been called into question. Critics cite inadequate funding and staffing at the Mayor's Office of Veterans Affairs (MOVA). While there are proposed changes in oversight and the possibility of a new Department of Veterans Affairs, many veterans and advocates worry about resources to support the influx of returning veterans as servicemembers return from conflicts in Afghanistan, Iraq, and elsewhere and struggle with employment, housing, healthcare, and more. Throughout 2014, Gotham Gazette has carefully tracked veterans affairs in New York City, especially as they relate to city government.
Our most recent coverage of veterans issues in New York City:
11/10/2014, Kristen Meriwether
Military Veterans Seek City Business, Await Action on Contract Goals
New York City has not declared official goals for awarding a percentage of City contracts to veteran-owned businesses. A report on the subject is due soon, though, and action is expected. The City is behind a trend to do so that New York State is a part of as of the spring.
11/5/2014, Kristen Meriwether
City Earns Recognition for Reducing Veteran Homelessness
New York City was honored for reducing homelessness among its veterans, though much more still needs to be done to completely eliminate the problem as Mayor Bill de Blasio has said he plans to do.
10/29/2014, Kristen Meriwether
Despite Vital Function, Veterans Advisory Board Being Paid Little Attention by City Officials
"For our members who are aware of the group [Veterans Advisory Board], many believe that historically it has not been taken seriously and that it has not had the impact on the lives of veterans and their families that it should," said Jason Hansman, senior program manager for Iraq and Afghanistan Veterans of America.
10/27/2014, Kristen Meriwether
Council Hearing Reveals Transparency Gaps at Veteran Advisory Board
The Veterans Advisory Board, while playing a crucial role in supporting veterans, is criticized by veterans and advocates for lack of accountability, representation, and efficiency.
9/29/2014, Kristen Meriwether
Public Conversation on New Veterans Department Begins
The creation of a Department of Veterans Affairs is being deabted as MOVA Commissioner Sutton is not supporting the proposition - yet, at least.
9/28/2014, Kristen Meriwether
Council Looks to Improve Veterans Services with New Department
By turning the Mayor's Office of Veterans Affairs into the Department of Veterans Affairs, some say that veterans advocates and the Veterans Commissioner may be able to play a larger role in assessing services and maintaining effective oversight.
8/28/2014, Kristen Meriwether
Veterans Treatment Courts Offer Hope, But Only in Three Boroughs
In Brooklyn, Queens, and the Bronx, veterans can receive treatment for substance abuse through an extensive program that includes facilities tailored to veterans, benefits counseling, and mentoring from fellow veterans. But, in Manhattan and Staten Island, no such program exists.
8/21/2014 (opinion)
A Fall Agenda for the City Council's Veterans Committee
Joe Bello, veteran and founder of NY MetroVets, makes recommendations for bridging the communication gap among stakeholders and addressing issues of benefits counseling, homelessness, education, and unemployment.
8/19/2014, Kristen Meriwether
High Expectations, Limited Resources for Mayor's New Commissioner of Veterans' Affairs
Former Brigadier General Sutton, the newly appointed Commissioner of the Mayor's Office of Veterans Affairs (MOVA) is expected to lead key changes to improve veterans services that include housing, employment, education, and medical benefits. But, MOVA has limited staff and other resources.
8/18/2014, Kristen Meriwether
De Blasio Names New Commissioner of Veterans Affairs
Former Brigadier General Sutton, the highest ranking psychiatrist in the U.S. army, replaces outgoing Terrance Holliday as the Commissioner for the Mayor's Office of Veterans Affairs.
7/1/2014 (opinion)
Is The VA Ready For The Onslaught Of Returning Veterans?
Newly discharged veterans may pose additional problems for the federal Department of Veterans Affairs, as veterans and allies decry inadequate services and poor transparency.
6/26/2014 (opinion)
At A Hearing On Veterans Affairs, Missed Opportunities
"The Mayor's budget proposal, which offered a paltry few extra dollars to MOVA, sent a message about the priority of veteran's issues for this administration," commented Coco Culhane of the Veterans Advocacy Project.
6/25/2014, Kristen Meriwether
City Council Expands Funding Of Veterans Services
The City Council initially requested that Mayor Bill de Blasio boost funding for the Mayor's Office for Veterans Affairs (MOVA) by $400,000 and to allocate $1 million toward veterans support services. This request had not been fulfilled, leading the Council to use $400,000 of its own discretionary funding on veterans services.
6/24/2014, Kristen Meriwether
With City Budget Adoption Pending, Veterans Still Await Word On Funding
Funding for veterans benefits counselors, not included in the mayor's preliminary budget, was not mentioned in the announcement of the final budget agreement. The Mayor's Office of Veterans Affairs reports that the counselors will have to be let go if the additional $400,000 requested by the City Council is not allotted.
6/3/2014, Kristen Meriwether
Veterans Parade Precedent Makes 2014 Unlikely
A parade for veterans of the Afghanistan and Iraq wars, which some have called for in 2014, is unlikely to happen, hampered by the lack of a specific date on the end of combat. Talk of the allocation of parade funds continue, with the possibility of excess funds going toward veteran homelessness, scholarships, or service women.
5/30/2014 (opinion)
VA Scandal Demands Bold and Decisive Action
Amid reports of a Phoenix-based Department of Veterans Affairs (VA) scandal, Councilmember Eric Ulrich calls for more accountability in VA offices nationwide. VA hospitals across the country are warning of malpractice.
5/7/2014, Kristen Meriwether
Veterans Benefits Counselors at Risk in Budget
Veterans benefits counselors could help reduce the number of outstanding veterans claims, but the mayor's preliminary budget did not include funding for such counselors.
Stay tuned for more reporting on this important topic as the city looks to better provide services to militaty veterans.