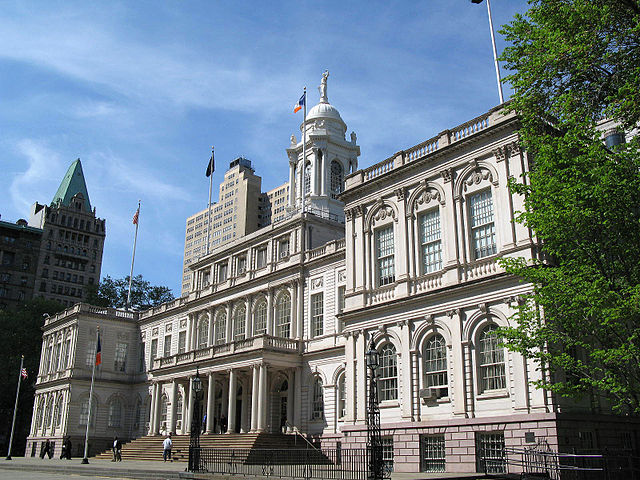 New York City Hall
---
What to watch for this week in New York politics:
This week will again be largely dominated by doings in the New York State Assembly. Weather permitting, Assembly Democrats are set to conference, during which they may hear from presumptive next speaker Carl Heastie, of the Bronx. Disgraced long-time Speaker Sheldon Silver has submitted a resignation letter making his twenty-plus year run leading the body over as of 11:59 p.m. Monday night. While Majority Leader Joseph Morelle, of Rocheser, is due to become interim speaker until a Feb. 10 vote, Heastie has all but locked up the speakership on a more permanent basis. Morelle has said he is no longer in the running, as have other one-time "candidates," with only Queens Assembly Member Catherine Nolan remaining in the "race." Heastie has been making promises of reform to the body and its rules, and he has said that we will not make any outside income if elected speaker. There is said to be a push to have the vote before that Feb. 10 date, so stay tuned as things develop.
We're also watching these other top storylines heading into the week:
Dean Skelos investigation: There was a report by NBC-4 at the end of the week that Senate Leader Dean Skelos, a Republican, is under investigation by U.S. Attorney Preet Bharara (whose work led to Silver's arrest on a variety of federal corruption charges). Skelos' office denied any investigation and nothing further has come of it thus far. Everyone is waiting for the next Albany shoe to drop as Bharara's office continues its investigations into Albany corruption.
Albany policy and budget: In close connection with all that is swirling and happening around corruption and changes in leadership in Albany is budget season, which began with Gov. Andrew Cuomo's budget presentation and State of the State speech on Jan. 21. Cuomo's agenda and budget have gotten far less attention than they might have if Silver had not been arrested the following day. Still, budget hearings will go on throughout February - including this week. Also look for the appearance of Mayor de Blasio and other city officials in Albany on Feb. 25.

The State Senate is also holding hearings on police and public safety, including one set for Wednesday in New York City. Cuomo included several criminal justice reforms in his proposals, there is likely to be quite a bit of negotiation around these issues in the coming months.
De Blasio's State of the City: The mayor will give his 2015 State of the City speech on Tuesday morning at Baruch College in Manhattan. He'll be touting New York City's hard left turn taken during his first year in office and the list of progressive policies put into place. De Blasio will be coming off a weekend that included another new initiative aimed at improving the lives of low-income New Yorkers: his administration's push to get more of those eligible to claim their Earned Income Tax Credit (EITC) - read our report on the push and event, including de Blasio's participation, here.

We're watching to see not just what de Blasio brags of, but what new policy he unveils. Many will be carefully listening to how he discusses police-community relations, of course.
Pantaleo grand jury info: Arguments will be made on Thursday in the push, being led by Public Advocate Letitia James and others, to unseal more information from the grand jury case in which Police Officer Daniel Pantaleo was not indicted in the death of Eric Garner.

We're also waiting to see when there might be word on the NYPD's internal investigation of Garner's death and the conduct of the officers involved as well as the federal inquiry into the incident.
DNC 2016 - NYC?: Could the Democratic National Committee's decision about which city will host the 2016 convention come down this week? It's possible. New York City, with the main site as the Barclays Center, is one of three finalists.
Also, it is Black History Month. Expect many events in celebration as February gets going. Obviously, with so much discussion around race and policing and criminal justice writ large, many discussions will be especially concrete and relevant to current events in New York and elsewhere. And, as always, this week there's a great deal happening at the City Council and all over the city, with many events to be aware of. See below for details.
***Do you have events or topics for us to include in an upcoming Week Ahead in New York Politics?
E-mail Gotham Gazette editor Ben Max: This email address is being protected from spambots. You need JavaScript enabled to view it.***
The run of the week in detail:
Monday
New York City will be sloshing through some more bad weather on Monday, so be aware that everything listed here is subject to cancellation/posteponement. We've already been getting notice of some. As of Sunday afternoon, schools are open in New York City on Monday, but alternate side parking and garbage collection are suspended.
Monday is Groundhog Day. Mayor de Blasio will attend the annual celebration at the Staten Island Zoo, but this year he won't be handling the groundhog. Here's why. But, expect the mayor to have a big smile on his face - he's a Patriots fan (and they won the Super Bowl Sunday night).
The Groundhog Day event is the only public one on the mayor's public schedule for Monday. The same goes for Public Advocate Letitia James.
Meanwhile, de Blasio's wife, Chirlane McCray also has one Monday event on her public schedule: "First Lady Chirlane McCray will give brief remarks at the New York State Health Foundation's launch of the Healthy Neighborhoods Fund, a new $2-million push that will help low-income neighborhoods become healthier, more active places for residents of all ages."
Comptroller Scott Stringer begins his week with an early, 6:40 a.m. appearance on Morning Joe on MSNBC.
As we mentioned, Sheldon Silver's resignation as Speaker of the New York State Assembly will become official at 11:59 p.m. Monday. He is to remain an Assembly member moving forward, as he faces corruption charges on which he was arrested two weeks ago. Carl Heastie is widely expected to be the next speaker after a brief interim period with Joseph Morelle in the role.
At noon on Monday at the state capitol building, good government groups are set to call for major reforms in Albany: "for ethics and rules changes as Assembly picks new speaker." They argue that "lawmakers should seize opportunity for meaningful reform to restore public's faith in state government." Speakers will include "Denora Getachew, Brennan Center for Justice, Dick Dadey, Citizens Union, Susan Lerner, Common Cause NY, Blair Horner, NYPIRG...Reform advocates will identify specific proposals by which the State Assembly can seize this historic opportunity to fight corruption and create a more transparent, participatory and publicly deliberative process, and be available for comment on the selection process for a new Assembly Speaker."
On Monday at 11 a.m., according to the city Department of Consumer Affairs, "all three levels of government (federal, state and local), including NYC Department of Consumer Affairs (DCA) Commissioner Julie Menin and representatives from the Office of U.S. Senator Kirsten Gillibrand, Internal Revenue Service (IRS), NYS Department of Taxation and Finance will kick off the tax season at a Volunteer Income Tax Assistance (VITA) site operated by Food Bank For New York City at Bedford-Stuyvesant Restoration Corporation, which offers numerous support services including financial counseling, debt management and financial literacy workshops, and is one of nearly 200 free tax sites in the City's expanded network. Representatives will encourage eligible New Yorkers to file their taxes for free and claim the Earned Income Tax Credit (EITC), as well as raise awareness of other financial empowerment resources available to low and moderate income families and individuals in New York City." Learn more about the EITC and the city's efforts to promote it here.
Monday's City Council schedule will include a meeting of the Subcommittee on Zoning and Franchises to discuss land use applications; a meeting of the Subcommittee on Landmarks, Public Siting and Maritime Uses to review Land Use Applications; and a meeting of the Committee on Education for an oversight hearing regarding "The Indirect Employment System for School Building Maintenance and its Effect on Workers."
The state Senate Standing Committee on Infrastructure and Capital Investment will meet jointly with the Senate Standing Committee on Transportation: "Metropolitan Transportation Authority (MTA) Budget and Finances: To examine the changes necessary to prevent annual operating deficits and stop the continuing cycle of increased fares and decreased services."
Manhatttan Borough President Gale Brewer, members of the New York City Council and New York Public Library President Tony Marx "will host an IDNYC press conference and town hall" at the midtown Public Library "to answer questions about the program, hear from constituents, and encourage New Yorkers across the borough to apply for a New York City Identification Card."
On Monday evening, Pace University will host NYPD Commissioner William Bratton for "A Conversation with the New York City's Top Cop." The Commissioner will address issues of crime, terrorism and other challenges facing "the city that never sleeps...In this candid interview and Q&A, learn how Commissioner Bratton leads America's largest police department, his predictions for the future of New York City, and how he succeeds in the ultimate high–profile job, where he's never off the clock."
Also Monday evening, Manhattan BP Brewer and civil rights attorney Norman Siegel host a forum in northern Manhattan bringing together members of the community, law enforcement, clergy, and nonprofit leaders to develop proposals for improving police-community relations. The event will feature opening remarks by NYPD Chief of Department James P. O'Neill. "This event's small-group discussion format will generate a raft of qualitative data, suggestions, and ideas from members of the community and law enforcement. In collaboration with the Borough President's office, Mr. Siegel will participate in the production of a report with policy recommendations grounded in the findings of these discussion groups."
On Monday evening a coalition of community based organizations, labor unions, tenant associations, legal support and political clubs, "Real Rent Reform," will host an event in Washington Heights: "2015 Year of the Tenant - We Demand Fair Housing Laws and Rent Freeze."
Moral Mondays comes to New York City: "There is an overwhelming amount of injustice in our society, from income inequality to racial disparity to climate inaction. Our elected officials continue to prioritize personal profit over people and planet. On January 21st, Governor Cuomo delivered his State of the State and Executive Budget Proposal in Albany, and it unfortunately does little to address these concerns. On Monday February 2, the people will respond, evaluating the Governor's plans within the framework of morality and the common good. Together, we'll call for equitable education funding, living wages, fair taxation and corporate accountability, and more."
Tuesday
Tuesday at noon, the Bronx Republican Party in collaboration with other organizations, will show support for the NYPD at an "NYPD Respect Rally," on the steps of the Bronx County Courthouse.
Former New York gubernatorial candidate and Associate Professor of Law at Fordham University Zephyr Teachout will headline the City Bar Public Affairs Luncheon on Tuesday afternoon, where she will speak to her recently published book "Corruption in America," as well as address current issues in New York state.
On Tuesday afternoon, Hostos Community College will host a community forum on New York's Medical Marijuana Reform. Co-sponsored by City Council Member Corey Johnson, chair of the Council health committee. "On January 1st, the Department of Health published draft regulations for the sale, production and distribution of medicinal marijuana in New York state as per the Compassionate Care Act. How will the new program work? Who will have access? Will there be a dispensary in my neighborhood? What will it cost? Come get your questions answered and make your voice heard."
Tuesday evening, there will be a tote bag giveaway event in the Bronx with City Council Member Andy King and CEO of Citizens Committee of New York Peter Kostmayer; Co-op City. "The City Council's Committee on Sanitation and Solid Waste Management is reviewing proposed legislation to reduce plastic bag waste in New York City. Under Bill 209-2014, New York City stores would implement a minimum 10 cent charge for every single-use bag (paper or plastic). Store owners retain the charge. Customers who bring their own bags will not be charged. Council Member King, who is a member of the committee, will informally poll commuters' response to the bill during the bag giveaway."
Tuesday evening will see the "February 2015 NY Tech Meetup" in Manhattan - "Join fellow technologists for an evening of live demos from companies developing great technology in New York."
"About 200 people are expected to attend an informational meeting on President Barack Obama's immigration reforms on Tuesday night at PS 20, in Port Richmond," Staten Island, according to the SI Advance. "City agencies, not-for-profits and legal providers will be sponsoring the free, large-scale meeting from 7 p.m. to 9 p.m. for those looking to learn about new immigration policies like the Deferred Action for Parental Accountability and the Deferred Action for Childhood Arrivals. New York City officials will also share information about the new municipal ID. Attendees will also have access to legal assistance and connections to a range of additional immigrant benefits."
Also Tuesday evening: "Local Climate Action in the Age of Big Fossil" is being hosted by Greater NYC for Change and partner organizations in Manhattan. "We're bringing together activists, private sector interests, and representatives of city government to join forces on this challenge. This is a fantastic opportunity for activists to learn how to advance the cause!" Panelists will include "Larry Schimmel, General Counsel for Investment and Operations at the NYC Public Advocate Letitia James' office, who will discuss government's role in divestment, and what municipal, state, and federal governments are discussing around environmental legislation" and "Beth Newcomer Legislative Analyst for NYC Council Member Helen Rosenthal (District 6, Upper West Side), who will discuss the Council Member's leadership on divestment," among others. "Sponsored by Greater NYC for Change with 350NYC, Manhattan Young Democrats, United for Action, and Village Independent Democrats."
Wednesday
"Everything You Need to Know: the Sheldon Silver Case" will be Wednesday, mid-day at Columbia Law School. "[The Center for the Advancement of Public Integrity] Executive Director Jennifer Rodgers will join CLS professors Richard Briffault and Daniel Richman to answer questions about the stunning arrest of long-time New York State Assembly Speaker Sheldon Silver. The event will focus on the details of the criminal complaint, and what the charges say about the culture of corruption in Albany."
Wednesday's City Council schedule will include a meeting of the Committee on Higher Education to discuss a new bill relating to "Information and city services to reduce college sexual assault"; a meeting of the Committee on Rules, Privileges and Elections consider the designation of the following persons to the following mayoral nominations: Wellington Chen, as a member of the Landmarks Preservation Commission; Kim Vauss, as a member of the Landmarks Preservation Commission; and Hank Willis Thomas, as the painter member of the New York City Art Commission, known as Public Design Commission; a meeting of the Land Use Committee to "consider all items reported out of the Subcommittees at the meetings held on Monday, February 2, 2015, and conduct such other business as may be necessary."
The state Senate Standing Committee on Crime Victims, Crime and Correction will meet jointly with the Senate Standing Committee on Civil Service and Pensions; the Senate Standing Committee on Investigations and Government Operations; and the Senate Standing Committee on Codes to examine "police safety and public protection in New York City."
On Wednesday evening, there will be an IDNYC town hall/community meeting in Queens.
Wednesday evening, City Council Member Helen Rosenthal will host her monthly Housing Clinic. This month's meeting will focus on "city-wide housing related campaigns" and "as always" will feature an appearance from "staff attorneys from the Urban Justice Center for people seeking specific legal advice."
"Digital.NYC Five-Borough Tour: #LowerManhattan" will be Wednesday evening: "This is Digital.NYC's inaugural Five-Borough Tour event! #DigitalNYC #LowerManhattan...Come hear from NYC's Tech Game Changers about how NYC's tech ecosystem is changing and what's on the horizon." Panelists will include: Colin O'Donell: Founding Partner, Control Group, LinkNYC; Aaron Holiday: Managing Entrepreneurial Officer, Cornell Tech; Lori Anne Wardi: Vice President, .NYC; Kyle Kimball: President, NYCEDC; David S. Rose: Founder & CEO, Digital.NYC, Gust
Sandy Carter: General Manager Cloud Ecosystem Development and Entrepreneurship, IBM; with moderator: Matthew Flamm, Senior Reporter, Crain's NY.
The New Leaders Council (NLC) is having a new year event in Manhattan. Several elected officials including new Bronx Assembly Member Michael Blake are likely to stop by.
Thursday
Parties are scheduled to return to court on Thursday in the push to see more documents in the Eric Garner/Daniel Pantaleo grand jury. From Public Advocate Letitia James' office: "On Wednesday, January 28, 2015, New York City Public Advocate Letitia James was joined at the offices of Legal Services NY by attorneys representing the Public Advocate's office as well as the Legal Aid Society and the New York Civil Liberties Union to discuss legal efforts to unseal the grand jury proceedings related to the death of Eric Garner on July 17, 2014. The Public Advocate has argued that there is no logical reason to maintain grand jury secrecy as the video tape that shows the circumstances of Mr. Garner's death has been made public, and the identities of those involved are not hidden. The Garner family has additionally joined the co-petitioners in asking the court to unseal the grand jury proceedings...Oral arguments for the special proceeding were originally scheduled for January 29th, but have been postponed until Thursday, February 5, 2015 in Staten Island."
Friday and the weekend
Bronx Community Board application deadline is February 6th (those for Brooklyn and Manhattan have passed).
On Friday, The General Contractors Association of New York presents "The Road to Investment: A Conversation on the NYS Department of Transportation Capital Program." The program begins with the "8:30 a.m. Keynote Address from NYS Department of Transportation Commissioner Joan McDonald" followed by a panel including "Mitchell Moss, Professor of Urban Policy and Planning and Director of the Rudin Center for Transportation, New York University, the Honorable Daniel Garodnick, New York Council Member, John Cortlett, Legislative Committee Chairman, AAA New York."
Queens Community Board application deadline is Saturday.
City Council Member Ben Kallos will give his State of the District address in Manhattan on Sunday afternoon. "A new year brings new hope, opportunity for growth, and the optimism that the next year will improve upon the last. Thank you for an incredible past year, and here's to an even better 2015 as we build on the progress already made. Please join me as I report to you on the "State of the District" on February 8, 2015."
On Sunday afternoon, Manhattan Borough President Gale A. Brewer will host a State of the Borough event at Columbia University: "With her first State of the Borough event for the public, Manhattan Borough President Gale A. Brewer is forgoing the traditional address format to instead hold an interactive community conversation on residents' most pressing concerns and the initiatives the MBPO is working on to address them...Borough President Brewer will welcome to the stage four Manhattan thought leaders to talk candidly about affordable housing, education, technology, development in the borough, police-community relations, and other issues topping her constituents' lists of concerns. Audience members will be invited to live-Tweet questions and comments for all to see onstage—feedback that the speakers will explore in their conversation." Read from our series on the borough presidents here.
***
Have events or topics for us to include in an upcoming Week Ahead in New York Politics? E-mail Gotham Gazette executive editor Ben Max any time: This email address is being protected from spambots. You need JavaScript enabled to view it. (please use "For Week Ahead" as email subject).
***
by Rati Mukhuradze and Ben Max
@GothamGazette