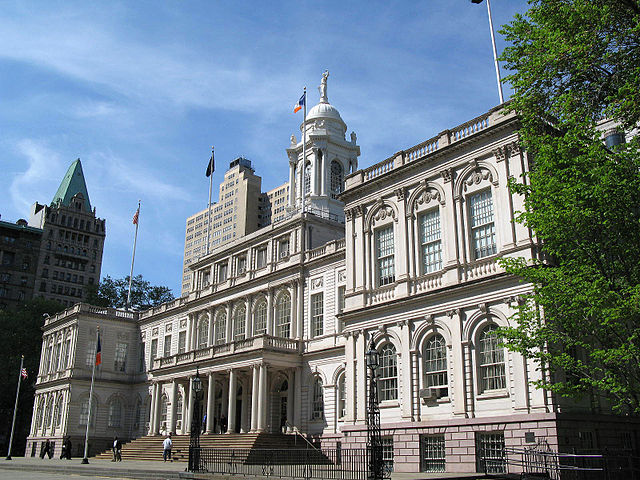 New York City Hall
---
What to watch for this week in New York politics:
As we look ahead, it appears this week will be dominated by Mayor Bill de Blasio's Wednesday trip to Albany to testify at a Joint Legislative Budget Hearing. Comptroller Scott Stringer and other city officials will be heading to the capital as well. In advance of this testimony, it has become clear that there are several significant policy areas on which the mayor and Governor Andrew Cuomo are at odds. It will be especially interesting to see what tack de Blasio takes in addressing the Legislature and talking with the media this week. On Friday, Cuomo released his 30-day budget amendments and took several bold steps to ensure that his demands around ethics and education reforms are met. While de Blasio is sure not to object to Cuomo's ethics plans, he and Cuomo are definitively opposed on key aspects of education policy.
Meanwhile, in backdrop news, former Assembly Speaker (and current rank-and-file member) Sheldon Silver was indicted on Thursday and will be arraigned on Tuesday. His replacement, Carl Heastie, has given more and more indication of his policy priorities and his leadership style and will be the focus of much attention as budget negotiations heat up. Heastie will be a key ally of de Blasio's, of course - at least to the extent that the mayor is able to ensure the new speaker helps push his agenda when Heastie whips his chamber and negotiates the budget with Cuomo and Republican Senate Majority Leader Dean Skelos.
Other storylines we're watching closely:
After a federal judget forced his hand, Gov. Cuomo set a date for the special election in New York's 11th Congressional District (a seat representing Staten Island and part of Brooklyn vacated by disgraced former-Rep. Michael Grimm) - May 5. We know that Staten Island District Attorney Dan Donovan will be the Republican candidate for the special election, but the Democrat has yet to be chosen by the county party heads (partly because a number of leading candidates took themselves out of consideration). Word is that Brooklyn City Council Member Vincent Gentile is the most likely to get the nod at this point. We should know more early in the week. May 5th will also be the special election to replace former Assembly Member Karim Camara, who stepped down from his Brooklyn seat at the end of last week to take a position in Cuomo's administration. Watch for news on that race too.
And few other interesting highlights before we give you the day-by-day rundown:
It's Social Media Week in New York City, "Reimagining Human Connectivity" is the tag line, #SMW15 the hashtag, and organizers want you to know that you can "Hear Over 300 Global Thought Leaders Share Industry Insights."
Public Advocate Letitia James is kicking off her five-borough town hall series on mayoral control of schools this week. The first event is on Wednesday evening in Brooklyn. Details below.
The state's gaming board siting committee is releasing its final report on the three casinos it already (recently) approved and reopening bidding for a Southern Tier gaming facility. Meeting is Friday.
A lot happening all over the city, with many events to be aware of, see our daily rundown below...
***Do you have events or topics for us to include in an upcoming Week Ahead in New York Politics?
E-mail Gotham Gazette editor Ben Max: This email address is being protected from spambots. You need JavaScript enabled to view it.***
The run of the week in detail:
Monday
Monday morning, 10 a.m., Governor Cuomo will discuss his 2015 Opportunity Agenda at the Malcom X and Dr. Betty Shabazz Memorial and Education Center in Manhattan.
At 11 a.m. at City Hall: Council Member Garodnick, Citizens Union, and Citizens Budget Commission "will announce a charter revision proposal to require that funds be set aside in the budget to pay for our known $90 billion in health care obligations for city workers. The City created the Retiree Health Benefits Trust in 2006 with the purpose of putting aside funds to tackle our long term obligations. Through the budget process, funds have been added and withdrawn sporadically since its creation, and today it has funds for only 2% of New York City's known health care obligations."
Also on Monday, at 12:30 p.m., "New York City Comptroller Scott M. Stringer will be joined by advocacy organizations and community leaders outside of Kings County Housing Court to discuss inequality issues in housing courts across all five boroughs." [Read our recent report on the push to provide legal representation to tenants facing eviction]
At 3 p.m. on Monday at City Hall, "Mayor de Blasio will host a Minority and Women's Business Enterprise Stakeholder Meeting," which will be closed to the press. "Following the meeting, the Mayor will hold a media availability."
Monday's City Council schedule will include a Committee on Juvenile Justice oversight hearing regarding "examining New York City's alternative to detention services"; and an oversight hearing of the Committee on Higher Education on a resolution to promote the "President's Free Community College Plan" and call "upon the New York State Legislature to pass and the Governor to sign legislation funding the State's obligation under the plan."
There will be a "Public Hearing on Queens Budget Priorities" on Monday morning at Queens Borough Hall: "Borough President Melinda Katz will chair an upcoming Borough Board public hearing on the Mayor's Fiscal Year 2016 Preliminary Expense and Capital Budgets...The purpose of the hearing will be to obtain the views and recommendations of the Community Boards, community stakeholders and the residents of Queens on the proposals contained in the Mayor's FY 2016 Preliminary Budget. This input will be used to develop the Queens Borough Board's budget priorities for FY 2016."
A new Safe Horizon Child Advocacy Center opens in the Bronx Monday: "Child Advocacy Centers respond to the most severe cases, striving to help children reclaim the hope and confidence taken from them."
"Lawmakers and advocates will observe court proceedings at the Varick Street Immigration Court, where immigrants who couldn't have afforded legal counsel will be provided attorneys through NYIFUP (New York Immigrant Family Unity Project)." Event will include Assembly Member Francisco Moya, advocates, and others.
TEDxBroadway 2015: Data analyst and civic technologist Ben Wellington, among other distinguished guests, will appear. "TEDxBroadway was founded on one central question: "What's the best Broadway can be?" Now in its fourth year, TEDxBroadway brings together some of the most interesting people in academics, entertainment, marketing, science and beyond to create, share and stimulate dialogue about the current and future state of the Broadway community."
Monday evening, Queens BP Melinda Katz is hosting a 2015 Black History Month Celebration: "you are cordially invited to celebrate Black History Month with Borough President Melinda Katz this Monday, where we will honor several distinguished New Yorkers and present the winners of this year's African American Heritage Scholarship Awards."
At 6 p.m., "former New York City Police Commissioner Ray Kelly speaks at the Citizens Committee 40th Anniversary gala, Gotham Hall", Manhattan - according to City & State NY.
Also Monday evening Comptroller Stringer will appear on PBS Nightly Business Report at 6:30 p.m.
Tuesday
At 11 a.m. on Tuesday, Comptroller Stringer will give his analysis of Mayor de Blasio's preliminary FY2016 budget.
Also on Tuesday morning at Greater Allen AME Church of New York in Jamaica, "NYPD Commissioner Bill Bratton will be the keynote speaker on police relations with the African-American community at the Press of Southeast Queens and Metroplus Health Plan Black History Awards Breakfast. New York State's first African-American Governor, David Paterson, will be among those receiving an award and delivering remarks. Congressman Gregory Meeks will also be among the speakers."
Tuesday's City Council schedule will include a meeting of the Subcommittee on Zoning and Franchises to review and consider land use applications; a meeting of the the Subcommittee on Libraries jointly with the Committee on Finance and the Committee on Cultural Affairs, Libraries and International Intergroup Relations, for an oversight hearing on "supporting Public Libraries in the City's Ten-Year Capital Plan"; a meeting of the Committee on Consumer Affairs regarding a bill relating to "Signs, posters or placards that advertise gas prices"; a meeting of the Subcommittee on Landmarks, Public Siting and Maritime Uses to consider proposed land use applications; a meeting of the Committee on Contracts with the Committee on Housing and Buildings for a joint oversight hearing regarding "The Mayor's Housing Plan: Contractor Employment Practices and Accountability"; a meeting of the Committee on Aging for an oversight hearing regarding "Strengthening NORCs and Exploring New Models for NORCs in New York City."
Tuesday morning, "Join Senator José M. Serrano and Congressman José E. Serrano for their Annual Black History Month Celebration!" 10 a.m., The Bronx Museum of the Arts.
"Beyond the Rage - Strengthening Police-Community Relations" will be Tuesday afternoon at The New School. "Angry protests of the grand jury "no bill" in a police chokehold death on Staten Island; officers turning their backs in protest against Mayor de Blasio at the funerals of two officers gunned down in Brooklyn; the mayor's first year in office ended with emotions high and good will in short supply in the vital area of public safety and police-community relations. Now can the mayor and the police department find the reset button? Can stronger police-community relations be achieved as part of keeping the city safe? Join a thoughtful panel discussion that seeks to chart a path forward." Panelists: First Deputy Commissioner Ben Tucker, NYPD; Bob Gangi, director and founder of the Police Reform Organizing Project; Peter Moskos, associate professor at John Jay College of Criminal Justice; Chris Watler, project director, Harlem Community Justice Center; A Representative from the Civilian Complaint Review Board; moderated by: Jeff Smith, assistant professor of politics and advocacy, Miano School for International Affairs, Management and Urban Policy.
Tuesday night will be a Lunar New Year Celebration with the City Comptroller, Scott M. Stringer - 6 p.m., Surrogate's Courthouse.
Tuesday evening, Brooklyn Council Member Laurie Cumbo and State Sen. Jesse Hamilton host "Know Your Rights Housing Forum" - "The Housing Forum is an opportunity for tenants to learn more about rent stabilization rules, HPD building code enforcement, housing court, rent protections for seniors, new rental lotteries, Section 8, tenants' rights and much more."
Council Member Andy King and The Safety Net Project will host their fourth in a series of "Know Your Rights" trainings on Tuesday evening in the Bronx. "Legal staff will be on hand to answer questions regarding NYCHA tenant rights, accessing SNAP (food stamp) benefits and public assistance."
Tuesday evening will also see "A Caregiver's Forum" with Council Member Deutsch and Council Speaker Viverito.
Also on Tuesday evening, Manhattan Borough President Gale Brewer will attend the Urban Assembly Annual Benefit Dinner at the New York Public Library Celeste Bartos Forum.
Wednesday
As we mentioned, Mayor Bill de Blasio and other city representatives will be in Albany on Wednesday to testify at joint legislative budget hearing: Joint Legislative Public Hearing on 2015-2016 Executive Budget Proposal: Local Government.
Senate Session on Wednesday, 11 a.m.; and committees: a meeting of the Senate Standing Committee on Veterans, Homeland Security and Military Affairs at 11:30 a.m. will consider a variety of bills; a meeting of the Senate Standing Committee on Judiciary also at 11:30 a.m. on several bills; a meeting of the Senate Standing Committee on Insurance at 12:30 p.m. on a variety of bills; a meeting of the Senate Standing Committee on Children and Families at 1:00 p.m. on a variety of social services laws; a meeting of the Senate Standing Committee on Corporations, Authorities and Commissions 1:30 p.m.
Wednesday's City Council schedule will include a meeting of the Committee on Contracts jointly with the Committee on Fire and Criminal Justice Services, the Committee on Public Safety, the Committee on Oversight and Investigations and the Committee on Technology for oversight: "Examining the New York City Department of Investigation Report on the City's Program to Overhaul the 911 System"; a meeting of the Committee on Health to consider a new bill relating to animal shelters and to evaluate "Animal Care and Control: Recent Progress and Opportunities for Improvement in the NYC Animal Shelter System"; a meeting of the Committee on Transportation for an oversight hearing "examining the State of the Port Authority's New York City Bus Stations, Progress of Renovations, and Impacts on Surrounding Communities"; a meeting of the Committee on Education for oversight on "ensuring English Language Learners Receive Appropriate Educational Services" and to consider a "Resolution in support of the New York State Education Department's Elementary and Secondary Education Act Waiver Renewal request that newly arrived English Language Learners be exempted from participating in the English language arts assessments for two years"; and a meeting of the Committee on Veterans jointly with the Committee on Courts and Legal Services and the Committee on Mental Health, Developmental Disability, Alcoholism, Drug Abuse and Disability Services for an oversight hearing "evaluating the City's Veterans Treatment Courts" [Read our report on the fact that veterans treatment courts only exist in three boroughs].
"Adam Clayton Powell IV will kick off his congressional campaign with a fund-raiser on Feb. 25, at the Poet's Den Theater and Gallery, at 108th Street in Manhattan, he said in an email to supporters," via Capital New York.
Part of Social Media Week: Rev. Jesse Jackson: Why Diversity in Tech Matters, Wednesday morning: "Civic rights leader, Reverend Jesse Jackson, founder and president of the Rainbow PUSH Coalition, is tackling diversity at notoriously homogenous tech giants such as Google, Facebook, Twitter and eBay to publish reports detailing their employee demographics, encouraging them to be transparent about their workforce diversity and most importantly, fix it by find new ways to create inclusion...Interviewing Reverend Jackson will be Anil Dash, who is cofounder and CEO of ThinkUp, a new app that offers deeper insights into our social networks.
Wednesday evening: "Please join the New York League of Conservation Voters for its Annual PAC Fundraiser in Albany" with Assembly Majority Leader Joseph Morelle.
Wednesday evening will see an MTA Second Avenue Subway Public Workshop: "The MTA is hosting a workshop regarding the construction of the Second Avenue Subway. The goal of this workshop is to maintain an open dialogue between the MTA and the community at large. Attendees will have the opportunity to engage project representatives about current construction activity and the initiatives implemented by the MTA as a direct response to community input from previous public workshops." [Read our new report on the effects of 2nd Avenue Subway construction]
Public Advocate Letitia James will host the first in a series of Mayoral Control Forums: "Our Schools, Our Voices - Town Hall on Education, Mayoral Control and Parent/Community Engagement" on Wednesday evening in Brooklyn. "New Yorkers are encourage to come and share their thoughts about mayoral control and how modifications to the law can help to improve our education system. This is an opportunity to discuss what real community and parent engagement should look like moving forward."
Wednesday evening in Albany: a "Why She Ran" event: "Women make up half the population -- but only 24% of our state legislature. In fact, women are underrepresented as elected officials at all levels of government. Join a panel of women in office for a discussion about the challenges we face in politics and the importance of tackling those challenges head on. And don't be surprised when we suggest that you run too!" Event is sponsored by the Working Families Party and co-sponsored by WFP affiliates Capital District Citizen Action and 1199SEIU.
Digital.NYC Five-Borough Tour continues in the Bronx: "Panelists will discuss their experiences, highlighting the challenges and triumphs of startup business in the City." Panelists include: Majora Carter: Co-founder, Startup Box; Pedro Torres Picón: Founder, Quotidian Ventures; Kathryn Finney: Founder & Managing Director, DigitalUndivided; Keith Klain: CEO, Doran Jones; Issie Lapowsky: Staff Writer, Wired."
Part of Social Media Week, at Civic Hall on Wednesday evening: "Political Connection: Does the Internet Really Change Power Politics?" - "At the end of the day, no discussion about the power of connection is complete with how it alters the interaction between the upwardly mobile, their governments and their leaders. In the United States in particular, there is a sense of an increasing gulf between elected representatives – responsive to money and special interests – and an increasingly connected, vocal, but marginalized citizenry. Political Connection takes a deep dive into the roots of American voter apathy, our byzantine political culture and the levers of power in the U.S. David Moore and Benjamin Yee will lead a group discussion, using attendees' experiences with, and perceptions of American politics to illuminate both the problems facing our democracy and the practical underpinnings for collective action in the 21st century."
Citizen Schools' education event Wednesday evening, a Google Tech Talk: "Join us to hear how the New York City public school system works and the important issues that affect our schools, students, and families. Through a moderated conversation and Q&A format, Ben Shuldiner, Distinguished Lecturer of Education Leadership at Hunter College, will share straightforward explanations of topics such as the landscape of public school options in New York City, the middle school and high school choice processes, and an overview of the students and communities served by the Department of Education."
On Wednesday evening, Manhattan BP Brewer will attend and make remarks at the Northside Center for Child Development annual Harlem Jazz Nite celebration.
Wednesday evening will see the city Panel for Educational Policy (PEP) vote on Mayor de Blasio's lifting of the student cell phone ban.
Thursday
Thursday's City Council schedule will include a meeting of the Committee on Finance to consider a new bill in relation to "Establishment of the South Shore BID, Staten Island" and the second City Council Stated Meeting of the month, beginning at 1:30 p.m.
According to Assembly Speaker Heastie and Senate Majority Leader Skelos, Thursday is the deadline for the Senate and Assembly Economic / Revenue Reports to be released and will be the Joint Revenue Forecasting Conference.
There will be a Joint Legislative Public Hearing on 2015-2016 Executive Budget Proposal: Topic "Public Protection."
State Senate Session is scheduled for 11 a.m. on Thursday. Thursday's State Senate hearings will include a meeting of the Senate Standing Committee on Cultural Affairs, Tourism, Parks and Recreation will consider a variety of legislation, including "An act to dedicate and designate Jerome Park as parkland of the city of New York, and to establish a working group for such park to enhance use thereof." There will be a meeting of the Senate Standing Committee on Local Government to consider a variety of legislation.
A meeting of the Senate Standing Committee on Education is scheduled for Thursday: "Acting Commissioner Beth Berlin of the State Education Department and Senior Deputy Commissioner Ken Wagner of the State Education Department will be appearing at the Education Committee Meeting to speak and answer questions."
Also: A meeting of the Senate Standing Committee on Investigations and Government Operations to consider a variety of legislation including "An act to amend the legislative law, in relation to requiring that committee and floor votes be made available online and that session and committee meetings be live webcast and archived." A meeting of the Senate Standing Committee on Transportation to consider a variety of legislation. A meeting of the Senate Standing Committee on Health to consider a variety of legislation including "An act to amend the public health law, in relation to a physical fitness and activity education campaign" and "An act to amend the public health law, in relation to the safe disposal of unused controlled substances."
Manhattan Borough President Gale Brewer and Brooklyn Borough President Eric Adams are each hosting a Black History Month celebration Thursday evening. Brewer is hosting "a networking reception honoring six African American leaders in Manhattan's technology community"; and Adams is hosting an event to honor Brooklyn business owners.
Thursday evening in Harlem, "Newark, New Jersey Mayor Ras Baraka is the keynote speaker at the "We're Not Going Back" Black History Month Celebration...he will discuss his administration's struggle to tackle problems plaguing many cities, including the need for a living wage, community-centered policing, restoring local control over public schools, immigration reform and more. The theme of the upcoming Black History Month event, which is sponsored by a coalition of New York's elected officials, labor and community leaders, is: "Support City Officials who fight for Equality, a Living Wage and Against Racism." The host committee includes Gale Brewer, Kirsten Foy, Richard Gottfried, Bill Perkins, Ydanis Rodriguez, Keith Wright, and many others.
There will be a "public discussion of the labor movement's role in racial justice and policing reform issues in New York City" on Thursday evening, presented by The Left Labor Project (LLP).
Thursday evening, City Council Member Chaim Deutsch will host the first part of his Community Symposium on "Counter-Terrorism and Safety Awareness," at Madison High School in Brooklyn (In collaboration with the NYPD Intelligence Bureau; NYPD Counter-Terrorism Unit and the Fire Department of New York City).
On Thursday, Assembly Member Latoya Joyner and Council Member Vanessa Gibson will host an African American History Month Celebration event at the Bronx Museum of the Arts.
Thursday, 6:30 p.m. in Queens will be an information session on the City's new municipal identification card program for the Korean-American community, given in Korean.
Citizens Union is hosting its annual Founders Day Reception on Thursday evening, an event held to Honor Citizens Union's 118 Years. Gerald Benjamin will be the keynote speaker.
Thursday evening will also see The Municipal Arts Society of New York's annual members meeting: "Deputy Mayor Alicia Glen will join Justin Davidson of New York Magazine and Brooklyn Public Library President Linda Johnson on our roster of speakers. Deputy Mayor Glen will speak with MAS President Vin Cipolla about the de Blasio administration's economic development and housing priorities."
Friday and the weekend
Friday in Albany there will be a Joint Legislative Public Hearing on the 2015-2016 Executive Budget Proposal: Topic "Mental Hygiene" and a Joint Legislative Public Hearing on the 2015-2016 Executive Budget Proposal: Topic "Workforce Development/Labor."
Friday's City Council schedule will include a meeting of the Committee on Economic Development jointly with the Committee on Waterfronts for an oversight hearing "examining the use of mitigation banking for waterfront restoration"; the Committee on Environmental Protection will hold an off-site hearing at CUNY Advanced Science Research Center regarding "Site-Sourced and Stored Renewable Energy Conference"; a meeting of the Committee on Governmental Operations jointly with the Committee on Civil Service and Labor for the second in turn oversight hearing regarding "Examining the Civil Service System"; a meeting of the Committee on Immigration for an oversight hearing on "Labor Trafficking in the Domestic Worker Industry- Resources for Victims in New York City"; a meeting of the Committee on General Welfare for an oversight hearing in relation to "Interagency Coordination Between DHS and ACS to Protect Homeless Children"; and a meeting of the Committee on Parks and Recreation on a new bill relating to "Annual report on compliance with the Americans with disabilities act by the department of parks and recreation."
Friday, mid-day, will be a Lunar New Year Celebration hosted by City Council Speaker Melissa Mark Viverito.
The State Gaming Facility Location Board will meet to release its final report on its three casino picks and to reopen bidding on a casino in the Southern Tier.
Saturday: Latino Leadership Institute presents "Women in Politics: The Importance of Voting and Electing Women to Public Office" - "featuring a panel of female activists and community leaders who will be speaking on the topic of Women in Politics: The Importance of Voting and Electing Women to Public Office."
On Sunday, March 1, Council Member Laurie Cumbo will give her first State of the District Address: "You are cordially invited to attend my First Annual State of the District Address. It will be held on Sunday, March 1, 2015 from 3PM – 5PM at the Brooklyn Museum...During my address, I will highlight our many accomplishments throughout 2014 and my vision moving forward to support the upward momentum of the 35th Council District. As a key stakeholder and community partner, your participation would be greatly appreciated."
***
Have events or topics for us to include in an upcoming Week Ahead in New York Politics? E-mail Gotham Gazette executive editor Ben Max any time: This email address is being protected from spambots. You need JavaScript enabled to view it. (please use "For Week Ahead" as email subject).
***
by Rati Mukhuradze and Ben Max
@GothamGazette