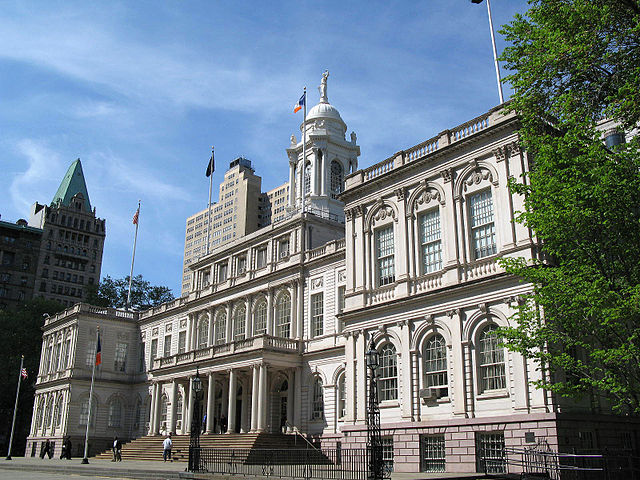 New York City Hall
---
What to watch for this week in New York politics:
This week will again be dominated by budget negotiations - especially in Albany, where a budget is due by the end of the month, which is rapidly approaching. In New York City, City Council hearings will continue on Mayor Bill de Blasio's preliminary fiscal year 2016 budget - once those hearings wrap up at the end of the month, the Council will craft its response to de Blasio, negotiations will continue, and the mayor will present his Executive Budget, leading to another round of council hearings. Key portions of the city budget are, of course, dependent upon the state budget, so much anticipation (and lobbying) surrounds negotiations in Albany, where Governor Andrew Cuomo is attempting to push through his spending plan, with major education and ethics reforms, despite significant disagreement from both Democrats (who control the State Assembly) and Republicans (who control the State Senate). Cuomo is also right in the middle on the minimum wage increase he's pushing and other issues.
While there will be a lot of action in Albany this week, this weekend is the annual Somos el Futuro Conference in Albany, at which there is always plenty of networking, negotiating, and more.
Speaking of budget negotiations, Brooklyn Borough President Eric Adams (a former State Senator) launched a petition on Sunday to put additional pressure on the governor and other legislative leaders to include Senate Minority Leader Andrea Stewart-Cousins in budget negotiations. "Despite comprising over half of New York State's population, no woman has ever had a seat in statewide budget negotiations," it begins.
As for de Blasio, he made his case in Albany a few weeks ago and continues to lobby behind the scenes, while also praising the Assembly and its new Speaker, Carl Heastie of the Bronx, for its one-house budget outline. A key aspect of state funding for de Blasio is that for his universal pre-kindergarten program. On Sunday de Blasio held an event to kick off enrollment for pre-K for the 2015-2016 school year - enrollment officially opens on Monday. The City is hoping to expand pre-K enrollment from year one's 53,000-plus to all 73,000-or-so four-year-olds in the city. Monday is the start of pre-K enrollment and the end of the application period to be on one of the city's Community Education Councils. CECs are the local representative bodies that help inform education policy decision making and have been highlighted during the "Mayoral Control Forums" held by Public Advocate Letitia James in recent weeks.
James held a rally at City Hall on Sunday to call on the State to fully fund city schools in line with the Campaign for Fiscal Equity and to criticize Gov. Cuomo's education reform policies. She starts her week with one event on her public schedule: a Howard University alumni affair.
Along with James, environmental activists and others, Comptroller Scott Stringer begins his week at a City Hall press conference to voice opposition to the Port Ambrose liquefied natural gas export facility.
The mayor starts his week with a busy Monday: he'll "host a breakfast for City Council Leadership in Manhattan...meet with Congressman Jerry Nadler and Congresswoman Nydia Velázquez in City Hall," host an afternoon press conference with NYPD Commissioner Bill Bratton to make an announcement; and, at 11 p.m. "appear on Tavis Smiley" on PBS, according to his public schedule.
On Thursday evening, the mayor is expected to speak at a fundraiser in Manhattan to support City Council Member Vincent Gentile's congressional campaign. By the way, if you want to register to vote in that special election or the other one (Assembly District 43) happening May 5, you have until April 10 to register.
On Monday evening, Attorney General Eric Schneiderman will speak at a Citizens Union event on solving Albany's corruption probably. He is expected to unveil new plans to expand his role in doing so and new proposals pushing state lawmakers further in ethics reforms. Details below.
As always, there's a great deal happening at the City Council and all over the city, with many events to be aware of. See our day-by-day rundown below.
***Do you have events or topics for us to include in an upcoming Week Ahead in New York Politics?
E-mail Gotham Gazette editor Ben Max: This email address is being protected from spambots. You need JavaScript enabled to view it.***
The run of the week in detail:
Monday
Monday in Albany, National Organization for Women NYC will rally to end human trafficking: "For the last three years NOW-NYC has been fighting for the Trafficking Victims Protection and Justice Act (TVPJA). Consensus is growing that the problem of trafficking can be tackled by legislators ensuring survivors-especially children-get help not punishment. TVPJA does that and more, and its passage would make New York a national leader in the fight against human trafficking." [Related: read Manhattan DA Cy Vance's recent op-ed on the need to strengthen New York's sex trafficking laws]
On Monday afternoon, Assembly Speaker Heastie will hold a "news conference announcing comprehensive legislation to combat human trafficking. He will be joined by members of the Assembly Majority and advocates," according to his public schedule.
Both the State Senate and the State Assembly are in session in Albany on Monday afternoon.
Monday's City Council schedule will include a meeting of the Committee on Civil Rights for its preliminary budget hearing and a meeting of the Committee on Oversight and Investigations for its preliminary budget hearing.
On Monday morning, "New York Law School hosts "A Bold Step for New York's Children: A Symposium on Raising the Age of Criminal Responsibility" featuring Jeremy Creelan, Soffiyah Elijah, Jacqueline Greene, Sheriff Allen Riley, Joel Copperman, Richard Aborn, Laurie Parise and others," according to City & State NY. [Related: read our report on Governor Cuomo's much-praised effort to "Raise the Age"]
Also according to City & State NY, on Monday at 11:30 a.m. "State Sen. IDC Leader Jeff Klein, state Sens. Diane Savino and Adriano Espaillat, New York City Councilman Ritchie Torres and others gather for a rally calling for funding in state budget to repair and upgrade NYCHA developments, Million Dollar Staircase, State Capitol, Albany."
The City Department of Health and Mental Hygiene is holding a TB Day of Action on Monday, in which Manhattan Borough President Gale Brewer and others are participating to raise awareness.
Monday at 5:30 p.m., New York City Council Speaker Melissa Mark-Viverito and Council Member Brad Lander will host a "Celebration of Bangladesh Independence," at the Council Chambers inside City Hall. Other Council Members in attendance will include Rafael Espinal Jr., Rory Lancman, Daniel Dromm, I. Daneek Miller, Annabel Palma, Mark Weprin, Jimmy Van Bramer, among others.
On Monday evening, BP Brewer will attend the opening of the new Hunter College faculty/laboratory research space at Weill Cornell Medical College.
Also Monday evening, NYCHA will host its Manhattan town hall meeting at Johnson Houses CC, in East Harlem.
Monday evening, good government group Citizens Union will host "Can New Yorkers Fix Albany's Corruption Problem?" - its first Civic Conversation of the year, featuring Attorney General Eric Schneiderman and an esteemed panel. "Join Citizens Union for our first Civic Conversation of the year. This educational forum will bring expert panelists and the public together to discuss why there is a crime wave of corruption in Albany and what can be done to fight back and change the capitol's ethics." After Schneiderman delivers remarks, panelists will include Richard Briffault, Professor of Legislation at Columbia Law School, Chair of NYC Conflicts of Interest Board and Former Moreland Commissioner; Richard Brodsky, Senior Fellow at Demos, Adjunct Assistant Professor of Public Policy at NYU Wagner Graduate School, and Former NYS Assemblymember for the 92nd District; Jennifer Rodgers, Executive Director of the Center for the Advancement of Public Integrity, Former Assistant US Attorney for the Southern District of New York. The panel will be moderated by Dick Dadey, Executive Director of Citizens Union.
Tuesday
Tuesday morning, "Join Crain's and New York real estate's most impressive players to explore the next stage in the city's development. Chairman of the NYC Planning Commission Carl Weisbrod will unveil the de Blasio administration's latest zoning policies and urban-planning initiatives. A panel of experts will assess City Hall's ambitious efforts to create and maintain 200,000 units of affordable housing. The conference will conclude with the sharpest minds in the business debating how best to reform a broken tax system that must pay for it all."
Also Tuesday morning, the Young Women's Christian Association of New York will host a discussion on Leadership and Generosity: A Call to Action: "We will look at 'Young Women Leaders' featuring Aissata M.B. Camara, Elizabeth Plank, Carmen Perez, Maria Naggaga, Yuh-Line Niou, and Candace Simpson."
Tuesday's City Council schedule will include a meeting of the Committee on Juvenile Justice, jointly with the Committee on General Welfare and the Committee on Women's Issues for a preliminary budget hearing.
Tuesday at noon, The Brennan Center for Justice will present Democracy's Problems and Prospects: A Book Talk with Douglas E. Schoen: "America's democracy is floundering, Congress is hopelessly gridlocked, and millions remain without gainful employment. Despite all this, longtime political strategist and polling expert Douglas E. Schoen remains optimistic."
Tuesday evening, CUNY Institute for Education Policy (CIEP) will host a one-on-one conversation with the President of the United Federation of Teachers (UFT), Michael Mulgrew: "This unscripted conversation will cover a wide range of pressing issues facing New York State's teachers and their students." Mulgrew will be speaking with CIEP Director David Steiner, who is also Dean of the Hunter College School of Education and former State Commissioner of Education.
[Explore the latest original reporting from Gotham Gazette for something you may have missed]
Wednesday
Wednesday morning in Albany, Capital New York will host "Medical Marijuana: Is N.Y. Doing it Right?", an in-depth conversation on the topic of New York's medical marijuana law "covering regulation, accessibility, barriers to entry into the local market, program costs and more." Featured speakers will include the incoming Counsel to the Governor of New York, Alphonso David; Assembly Member Richard N. Gottfried; State Senator Diane Savino; and others.
On Wednesday, City Council Member Andy King and the Riverbay Corporation will host the "2015 Veterans Job and Resource Fair" in Co-op City in the Bronx. "Employers as well as non-profit resource organizations and city agencies will be present, including JP Morgan Chase & Co., which, with other founding corporations, launched the 100,000 Jobs Mission in 2011 with the goal of hiring 100,000 military veterans by 2020."
Wednesday afternoon, the Graduate Center at CUNY will host another public lecture in the Immigration Seminar Series: "Everyday Illegal: When Policies Undermine Immigrant Families." Among the speakers will be Joanna Dreby, Associate Professor of Sociology at University at Albany, SUNY.
Wednesday evening, "Albany Capital Pro Trivia Night!...Albany Bureau Chief Jimmy Vielkind tees up questions on all things policy, politics and media."
Also Wednesday evening, Beta NYC is hosting a Civic Hacknight in Queens with Coalition 4 Queens.
Wednesday at 6:30 p.m. at MoMA PS1, New York City Council Majority Leader Jimmy Van Bramer will host a Cultural Town Hall event featuring special remarks from the Cultural Affairs Commissioner, Tom Finkelpearl.
Also in Queens Wednesday evening, BP Katz is hosting a "parent advisory board meeting on common core" that will include reps from the city DOE.
Thursday
All day Thursday, the Association for Neighborhood and Housing Development will host its Annual Community Development Conference. The morning keynote speaker will be Thomas J. Curry, Federal Comptroller of the Currency. The afternoon keynote speaker will be Melissa Mark-Viverito, Speaker of New York City Council.
Thursday morning, Manhattan BP Brewer hosts a meeting of the Manhattan Borough Board.
Thursday at City Hall, there will be a Student Voter Registration Day press conference held by elected officials, advocacy groups, and school representatives.
Also Thursday morning, Queens BP Melinda Katz will hold a land use meeting at Queens Borough Hall.
Thursday's City Council schedule will include a meeting of the Committee on Governmental Operations for its preliminary budget oversight hearing; a meeting of the Committee on Veterans to consider a resolution "calling upon the New York State Legislature to pass and the Governor to sign S.752, the Veterans' Education Through SUNY Credits Act"; and a meeting of the Committee on Education to consider multiple resolutions, including one "calling upon the New York State Legislature to reject any attempt to raise the cap on the number of charter schools," one "calling upon the Department of Education to amend its Parent's Bill of Rights and Responsibilities to include information about opting out of high-stakes testing and distribute this document at the beginning of every school year, to every family, in every grade," and one "calling upon the New York State Legislature to eliminate the Governor's receivership proposal in the executive budget for New York City."
Thursday, Mayor Bill de Blasio is set to speak at a fundraiser for the Democratic candidate in the special election to fill the vacant 11th Congressional District seat, Brooklyn City Council Member Vincent Gentile. Democratic activist Bill Samuels and Manhattan Council Member Ben Kallos will host the event at Mr. Samuels' Manhattan home.
Also Thursday evening, the Department of Transportation and the MTA are hosting a town hall to unveil plans around the Utica Avenue B46 SBS Project, according to Riders Alliance, which is encouraging its members to attend and make their voices heard.
Thursday evening, at 6:30 p.m., Housing Preservation and Development will host a Owner Outreach and Education Forum with Council Members Inez Barron and Rafael Espinal and Cypress Hills Development Corporation in East New York, Brooklyn.
Also Thursday at 6:30 p.m., Manhattan Borough President Gale Brewer will host East Side Coastal Resiliency Project's Community Engagement Session: "Following on HUD's Rebuild by Design competition, New York City is working to reduce the risk of extreme weather and climate change, as well as improve quality of life. This project focuses on neighborhoods near the East River between Montgomery and 23rd Streets."
Thursday at 7 p.m., the NYC Young Republican Club will host its monthly meetup at the Women's National Republican Club.
[Explore the latest original reporting from Gotham Gazette for something you may have missed]
Friday and the weekend
All day Friday, Common Cause NY, Citizens Union, the New York City Council, and other partners will host Student Voter Registration Day "to increase youth voter registration and excite young people about being involved in the democratic process. Through interactive discussion SVRD encourages youth to see how issues at the polls affect their everyday lives."
Friday's City Council schedule will include a meeting of the Committee on Cultural Affairs, Libraries and International Intergroup Relations, jointly with the Subcommittee on Libraries, for a preliminary budget hearing.
Friday morning, Amnesty International USA will have its weekend-long 2015 Human Rights Conference and Annual General Meetings, in Brooklyn: "The 2015 Annual General Meeting will bring over a thousand human rights activists from around the world together to engage in networking opportunities, human rights actions, inspiring plenaries, outstanding key notes, and hands-on workshops." Speakers will include Harry Belafonte, Ann Burroughs, Rosa Alicia Clemente, Nusrat Durrani, Steven Hawkins, Thomas Jagow-Schultz, Benjamin Jealous, Linda Sarsour, Ciara Taylor, Vincent Warren, Jesse Williams, and Jie-Song Zhang.
Friday afternoon, Assembly Member Rebecca A. Seawright will host a Women's History Month celebration, at which the Assembly Member is also set to give out Women of Distinction Awards to recognize "remarkable women and their efforts to improve our community."
On Friday at 5:30 p.m., to commemorate women's history month, Council Members Laurie Cumbo and Jumaane Williams "will host the second annual Shirley Chisholm Women of Distinction Celebration & Award Ceremony" at Brooklyn Public Library-Central Branch. "This event will honor seven extraordinary women from New York City who are making tremendous strides in their fields by using their skills and expertise to strengthen our communities. Two young community leaders will also be honored during the event and New York City Council Speaker Melissa Mark-Viverito will serve as the event's keynote speaker."
Friday evening in Albany, City & State NY will host a Somos Albany Kickoff Cocktail Reception. The event will feature New York State Assembly Speaker Carl Heastie and New York State Assemblyman & Somos el Futuro Chair Marcos Crespo.
Saturday morning, The Office of Manhattan Borough President, Gale Brewer, together with the Department of Health and Mental Hygiene will host "Tuberculosis Awareness Walk and Rally."
Also Saturday morning, the New York City Mayor's Office of Immigrant Affairs (MOIA) will host a CUNY Citizenship Application Assistance Event in Brooklyn.
On Sunday afternoon, City Council Member Ydanis Rodriguez will give his State of the District speech at George Washington Educational Campus.
[Explore the latest original reporting from Gotham Gazette for something you may have missed]
***
Have events or topics for us to include in an upcoming Week Ahead in New York Politics? E-mail Gotham Gazette executive editor Ben Max any time: This email address is being protected from spambots. You need JavaScript enabled to view it. (please use "For Week Ahead" as email subject).
***
by Rati Mukhuradze, Marco Poggio, and Ben Max
@GothamGazette