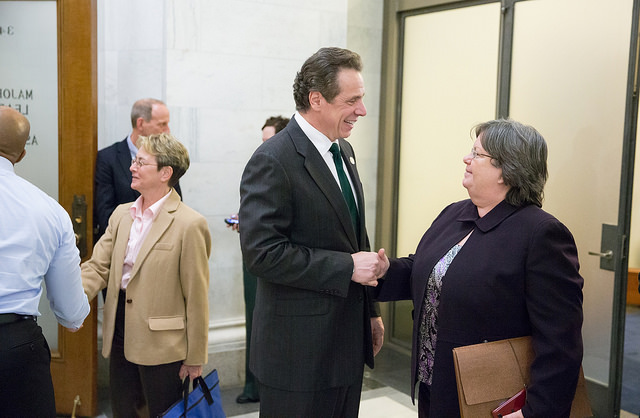 Gov. Cuomo & AM Nolan shake on an ethics deal (photo: the Governor's Office via flickr)
---
The arrest of former Assembly Speaker Sheldon Silver was supposed to spark the moment for true reform in Albany. It felt to many a simultaneously shocking and galvanizing event, strong enough to splinter, if not destroy the dam, allowing the flow of real discussion about regulating lawyer-legislators, loopholes allowing unlimited LLC donations to candidates, and conflicts of interest. It was a time for bold leadership.
"There was no appetite for incremental change," said Dick Dadey, executive director of Citizens Union, of good government groups, legislators, and others rejecting Governor Andrew Cuomo's ethics reforms as "tinkering around the edges."
"The governor could have challenged the Legislature by imposing on himself restrictions that would have bolstered his efforts and shamed them by leading by example," Dadey added, expressing the general sense of regret that many have around what is being called another missed opportunity to drastically reform the culture in state government.
Cuomo did come out swinging after Silver's arrest, loudly proposing a five-point ethics reform plan he said he was so committed to that he would hold up passage of the budget if necessary. But as the governor engaged in discussions with leaders of the state Legislature, the proposals that many had originally called too weak became even less bold and the final compromise included in the budget deal landed with less than a thud.
Reform-minded legislators and good government groups say that as ethics reforms were molded they were shut out by the Cuomo administration, which has become increasingly standoffish. It is said that good ideas went unused because Team Cuomo refuses to entertain anything it doesn't come up with first and in the end what could have been a transformative moment resulted in more of the same, Cuomo's third incremental ethics reform package in four years (see timeline below), revealed to most legislators with a heap of voluminous budget bills only hours before they came to a vote up against the final deadline.
A number of legislators were expecting much more drastic reform after Silver's arrest. They feel that the ethics discussion should focus on preventing legislators from earning any outside income, or at least disallowing lawmakers from practicing law in the private sector. Silver is charged with using his power as a legislature to advance the interests of a law firm that paid him for referring cases.
Some lawyer-legislators are leading by example.
Sen. Brad Hoylman, a Democrat and non-practicing attorney, said that a new commission included in the budget to study legislative pay raises could answer some objections that legislators aren't paid enough not to have outside income. Legislators currently make a base salary of $79,500 a year, a rate that has not been increased in more than fifteen years.
Sen. Jeff Klein, head of the Independent Democratic Conference, broke with his Republican allies, saying the ethics plan doesn't go far enough because it fails to ban outside income. Klein divested himself from his law firm following Silver's indictment. "During this crisis we need to win back the voters' trust," Klein said. "I think the way we do this is to not have any potential conflicts at all moving forward. I think this is sort of a clarion call for all. If you want to earn outside income, you shouldn't be in public service," Klein told State of Politics in February.
Republican Majority Leader Dean Skelos is reportedly under investigation related to his outside income. He is of counsel at Ruskin, Moscou & Faltischek. Senate Republicans appear to be steadfast against banning outside income and at least one Republican lawmaker was insulted by questions about conflicts of interest. As part of a sweeping set of reforms he unveiled in a speech at a Citizens Union event, Attorney General Eric Schneiderman, a former state senator himself, called for an all-out ban on legislators' earning outside income.
During the budget debate, Hoylman, insisted that lawyers should not be allowed to be legislators, citing their loyalty to clients that comes from cash retainers. He advocated banning outside income completely. Republican State Sen. John DeFrancisco, chair of the finance committee, objected, calling Hoylman's comments "out of line" and "discrimination" against lawyers.
DeFrancisco also challenged Democrats' characterization of the law that allows donors to use LLCs to donate unlimited funds as a "loophole." Sen. Daniel Squadron, a Democrat, introduced a hostile amendment to end the LLC loophole, and quoted a series of newspaper editorials that suppot its end in his argument that the amendment was germane to the budget discussion. He and his amendment were shot down. Then, DeFrancisco challenged Squadron's use of the word "loophole" and said it was simply part of the law.
The new ethics package - being hailed as transformative by the governor and some legislative leaders - includes increased financial disclosure requirements for legislators, gives the Joint Commission on Public Ethics (JCOPE) much-needed funding, and forces legislators to use a swipe card to check in at the Capitol to get their travel reimbursements. As Capital New York reported, the changes do not address the types of corruption Albany has seen most over the years. There is one other reform in the works that could take legislators' pensions away if they are convicted of corruption.
The changes come with loopholes. Lawyer-legislators can apply to two agencies to keep their disclosures private (while JCOPE is already controlled by legislative and gubernatorial appointees and has proved generally ineffective).
Never on the table, it seems, was closing the massive LLC loophole. Cuomo is the largest beneficiary of the system that allows corporations and individuals to funnel unlimited campaign funds to candidates through various LLCs.
John Kaehny of Reinvent Albany said it does not generally behoove good government groups to attack reform measures. "You quickly become the boy who cried wolf," said Kaehny. "You hit a single this year, and another next year, but that just isn't happening." Kaehny said that with lawyer-legislators protected from full disclosure the package lacks any real meat.
"What are you left with? A swipe card system that can be easily defrauded," said Kaehny, who notes the standard in the corporate world is biometric ID systems that are not easily cheated and are relatively inexpensive.
Dadey said that the reforms are not insignificant but that they should have come much sooner. "These changes were significant but would have been more significant in 2011. This is what we wanted to see in 2011," said Dadey. "This ethic reform is bigger than what we got in 2014 but it is not as big as it needed to be to battle corruption in Albany. We always suspected corruption bigger than we knew and the speaker's arrest blew it up. This was a huge opportunity to change Albany's ethics."
Dadey and representatives of other good government groups say that in past years they were included in discussions on ethics reforms early in the process but this year were only consulted when a deal was in place.
Kaehny said that the he believes the administration needs to start leading by example to sway the debate. But, he said he doesn't have a great deal of faith that that is going to take place as, for example, Cuomo has not taken unilateral action to end his administration's 90-day email deletion policy, saying, "The governor has absolutely not led by example on this - he has led backwards."
Rather than ending the policy (as Schneiderman did in his office) that good government groups have called "devastating to transparency," Cuomo defended the policy, then attacked the Legislature for not being open to the Freedom of Information Law, and proposed an email summit to occur before the end of March. That deadline has passed and good government groups and stakeholders including the offices of the attorney general and the comptroller say they have not been contacted.
"Its disappointing because we have a strong decisive governor," said Kaehny. "The proof is in his actions, but here he is trying to mislead, distract, and throw up smoke and mirrors. To this day we haven't gotten a response - not acknowledging our letter [requesting an update on the summit], not saying: 'we disagree and we are gonna yell at you.' So we are exasperated and disappointed in this lack of leadership."
Reform-minded legislators and good government groups agree that it is likely that a discussion about a new ethics reform package will start again before end of the upcoming legislative session, which will run from April 21 to mid-June. "This ethics fight isn't over," said Dadey. "We will need to be talking about it again very soon when the U.S. Attorney comes out with a new set of indictments," he added, referring to Preet Bharara, who has brought charges against Silver and others. "We peeled off one layer of the onion this time," Dadey continued, "but we will get to the core, if only because the public will demand it."
A look at Cuomo's attempts at reform:
2011: The Clean Up Albany Act established The Joint Commission on Public Ethics to investigate corruption in the legislative and executive branches. Labeled "independent," the agency is actually headed by gubernatorial and legislative appointees with deep connections to those elected officials. It only takes three votes out of 14 members to stop an investigation. A required review of JCOPE's effectiveness in 2014 was not undertaken and the latest ethics law extends the deadline for such a review.
Cuomo's quote: "This bill is the tough and aggressive approach we need. It provides for disclosure of outside income by lawmakers, creates a true independent monitor to investigate corruption, and spells out tough, new rules that lobbyists must follow. Government does not work without the trust of the people and this ethics overhaul is an important step in restoring that trust."
2013: After a slew of legislators are indicted, Cuomo announces a package of reforms that good government groups call "watered down," but legislators balk. Cuomo threatens to convene a Moreland Commission to investigate corruption in the Legislature and makes good on the promise in June. Moreland began holding hearings and taking testimony across the state but was quickly hampered by interference from the Cuomo administration when it began investigating major Cuomo donors.
Cuomo's quote: "Since the Legislature has failed to act, today I am formally empanelling a Commission to Investigate Public Corruption pursuant to the Moreland Act and Section 63(8) of the Executive Law that will convene the best minds in law enforcement and public policy from across New York to address weaknesses in the State's public corruption, election and campaign finance laws, generate transparency and accountability, and restore the public trust."
2014: Cuomo goes into details of a budget deal on a Saturday press conference call with reporters and reveals he has shuttered The Moreland Commission in exchange for a set of reforms that he sought the previous year. Those reforms include stronger bribery laws, a trial campaign finance system that only applied to the 2014 Comptroller's race, and a new enforcement position at the Board of Elections. Good government groups slammed the move and U.S. Attorney Preet Bharara launched an investigation into Cuomo's involvement in the commission.
Cuomo's quote: "It's not a legal question. The Moreland Commission was my commission. It's my commission. My subpoena power, my Moreland Commission. I can appoint it, I can disband it. I appoint you, I can un-appoint you tomorrow. So, interference? It's my commission. I can't 'interfere' with it, because it is mine," Cuomo told Crain's.
2015: After Silver's arrest Cuomo gives a speech at the NYU School of Law where he discusses major reforms like a full-time legislature and a public campaign finance system. He says he is willing to have a late budget if it means getting his proposed reforms. However, a following statement from his office indicates the bigger reforms are not part of his ultimatum. When the budget deal is finally reached it includes more funding for JCOPE, a swipe card system for lawmakers to prevent per diem fraud, and a set of new rules he calls "The nation's toughest diclosure laws."
Cuomo's quote: "I said I would not sign a Budget without real ethics reform, and this Budget does just that, putting in place the nation's strongest and most comprehensive rules for disclosure of outside income by public officials, reforming the long-abused per diem system, revoking public pensions for those who abuse the public's trust, defining and eliminating personal use of campaign funds, and increasing transparency of independent expenditures."
Unlike years past, Cuomo and leaders of the Legislature did not hold a press conference to discuss the budget or the ethics reforms.
***
by David King, Albany editor, Gotham Gazette
@DavidHowardKing