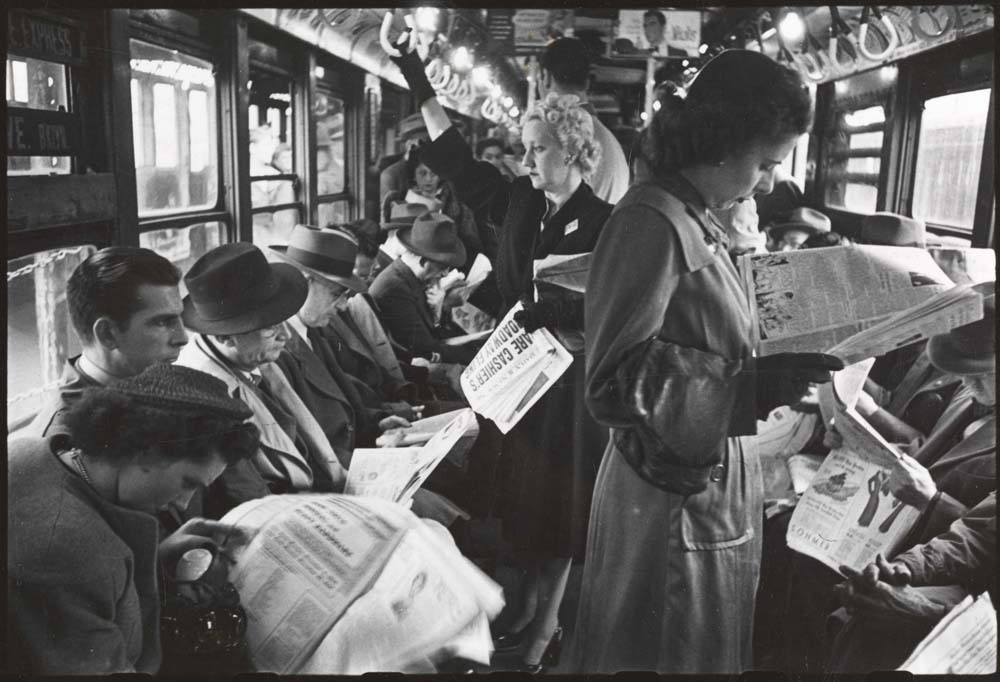 photo: Stanley Kubrick via Museum of the City of New York
---
Gotham Gazette's Week in Review, Friday August 21
PHOTOS OF THE WEEK: Mayor de Blasio at a Thursday ground-breaking for what will be affordable housing for low-income seniors and Mayor de Blasio on Thursday evening at the site of an explosion, both via the Mayoral Photography Office on flickr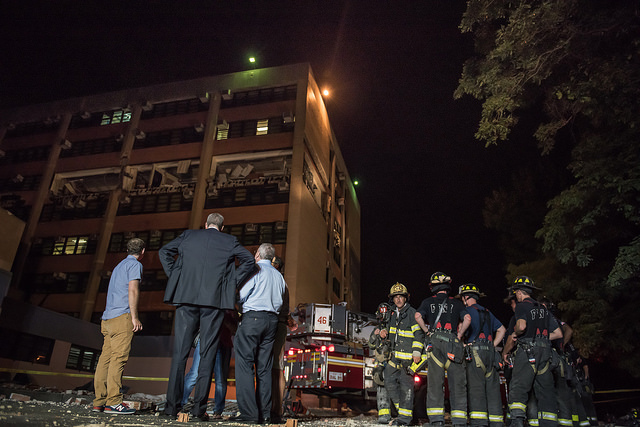 TOP FIVE STORIES OF THE WEEK:
1. De Blasio Toplessness Task Force: On Thursday Mayor de Blasio announced that a multiagency task force will be studying the "legal and oversight issues with regulating topless individuals and costumed characters." The task force will be co-chaired by Police Commissioner Bratton and City Planning Commissioner Carl Weisbrod, it will also include representatives from the Manhattan District Attorney's office, the Mayor's Office of Criminal Justice, the Department of Consumer Affairs, the Law Department, and more. The issue, mostly focused around topless women working for tips in Times Square, led to much controversy over the idea, presently forcefully by Bratton, that the city could undo the pedestrian plazas in Times Square.
[IS IT TIME FOR THE MAYOR TO DO TOWN HALLS?]
2. State Emergency System: On Monday Governor Cuomo announced the "NY Responds" initiative, which will "coordinate and strengthen the State's emergency preparedness," in large part due to a new universal emergency management software system. Every county will have access to this software at no personal cost and will allow vital "disaster-related" information to be shared and dispersed.
[ASSEMBLY TRANSPARENCY GROUP OPERATES IN SECRET]
3. Legionnaires' Outbreak Over, Source ID'd: An AC unit from a historic Bronx hotel, the Opera House Hotel, had strains of legionella that matched the strains from patients infected in the outbreak that killed twelve. The Opera House stated that its cooling system is only two years old and that it will go beyond new regulations and test the cooling tower every 30 days (instead of every 90 days now required). Over 18 buildings with cooling towers tested positive for the bacteria.
4. Hudson Tunnel Meeting Without Cuomo: Governor Cuomo has said repeatedly that the Hudson Tunnel, which is used by New Jersey Transit and Amtrak, is not "his tunnel." He declined to attend a meeting with federal and NJ officials earlier this week, saying he's happy there is progress being made, but that NY will not be paying for a new tunnel. Even though New York doesn't own the tunnel, the passengers who use it are key to the New York economy.
5. Public Advocate Sues City Again: Public Advocate Letitia James is suing the city, again, this time saying that the Department of Education is violating a law that requires air conditioned buses for children with disabilities when temperatures are above 70 degrees. James first complained to the city last summer and even though reps assured her that the problem had been fixed, she continued to hear from parents and students, in some cases about temperatures reaching 90 degrees on the buses. [ Read our in-depth look at James' use of the public advocate's office and her use of a bigger budget to hire lawyers and sue the city at a rapid pace ]
THIS WEEK'S NUMBERS:
THE FLASH:
GOTHAM GAZETTE HIGHLIGHTS OF THE WEEK:
MORE FOR THE WEEKEND:
***
NOTE TO READERS: we hope you enjoy this new Gotham Gazette weekly feature - please share it if you do; on Twitter, use our handle @GothamGazette.
If you have feedback on this feature for us, you can email editor Ben Max: This email address is being protected from spambots. You need JavaScript enabled to view it.
Watch Sunday evening for our latest Week Ahead in New York Politics, which gives you a preview of key issues and events to be aware of for the week about to start. In the meantime, catch up on the latest original reporting from Gotham Gazette here. And have a great weekend!
***
by Erika Wang and Ben Max