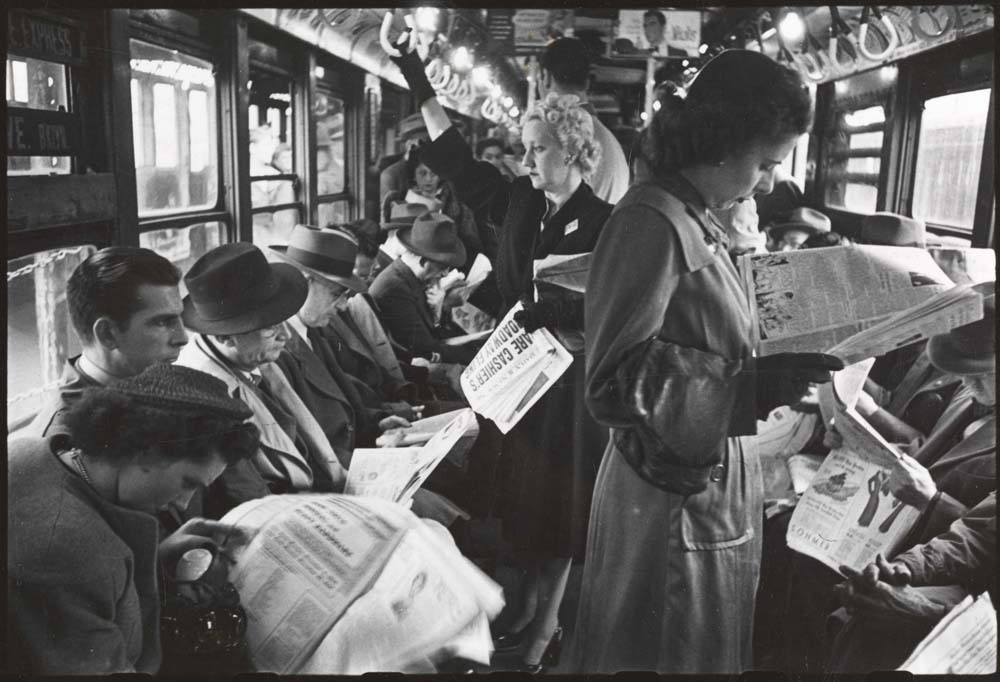 photo: Stanley Kubrick via Museum of the City of New York
---
Gotham Gazette's Week in Review, Friday September 11
PHOTOS OF THE WEEK: NYPD Commissioner Bill Bratton surveys Times Square, via @CommissBratton; Mayor de Blasio & First Lady McCray greet a family on the first day of school, via @NYCMayorsOffice; and a 9/11 rememberance, via Ben Max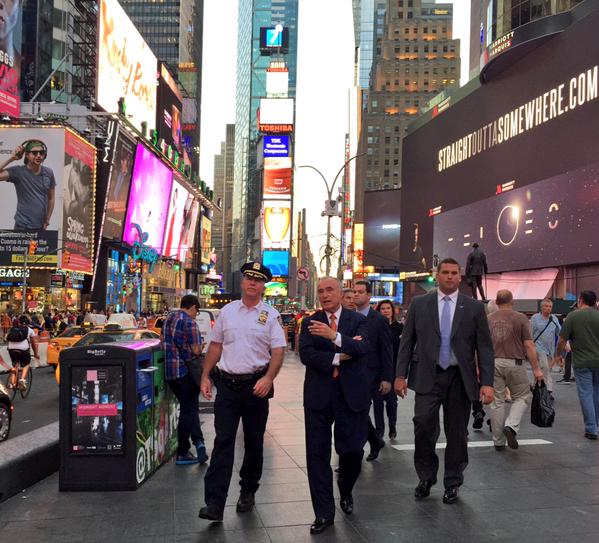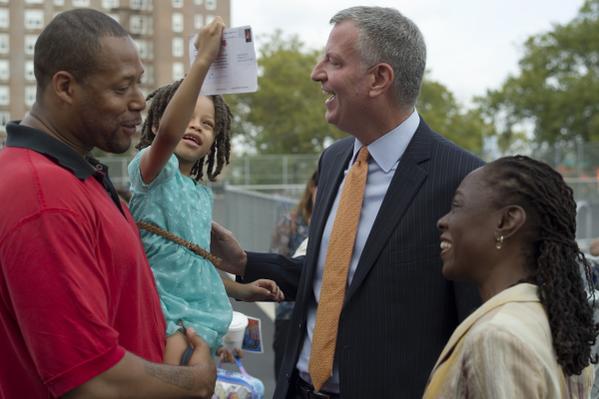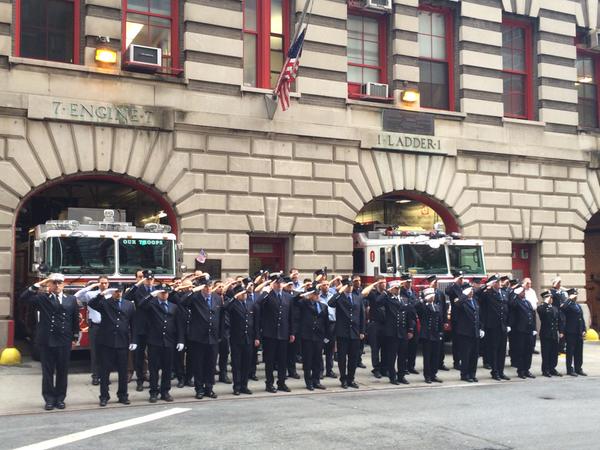 TOP FOUR STORIES OF THE WEEK:
1. Primary Election Results: It was a rare Thursday election day and a year with lower-profile races on the ballot and thus even lower voter turnout, but there were still ballots being cast. In one of the higher-profile races, Barry Grodenchik emerged from a crowded Democratic primary in a Queens City Council race to fill a seat vacated by Mark Weprin, who left to work for Gov. Cuomo (Grodenchik is heavily favored to also win the November general). Read about other results around the state here, via Politico NY. And, read our look at the many voting opportunities for New Yorkers in 2015 and 2016.
2. De Blasio Celebrates Expanded Pre-K: Mayor Bill de Blasio went on a five-borough school tour Wednesday to celebrate the first day of the 2015-2016 academic year and the initial success of his universal pre-kindergarten program, now enrolling more than 65,500 children. If there is one thing that de Blasio promised on the 2013 campaign trail, it was "UPK," as it is often called, and in a short time he has devoted unseen resources to increase the number of New York City four-year-olds in school - up from about 20,000 full-day pre-K students in 2013-2014. De Blasio also defended his larger education agenda Wednesday and previewed the argument he'll make for another extension of mayoral control of city schools.
3. Cuomo Pushes $15/hr Minimum Wage: On Thursday, Governor Cuomo called for an across-the-board increase in the minimum wage to an eventual $15 per hour for all workers in New York State. He'll seek passage of a phased-in increase during the next legislative session in Albany, but is sure to face fierce Republican opposition.
4. Cuomo Announces New York Aid for Puerto Rico: On Tuesday, Governor Cuomo concluded a brief "solidarity mission" to Puerto Rico with a promise to offer advice, technical assistance, and other aid to the island territory facing some $72 billion in debt. In part, though, Cuomo is calling on the federal government to help Puerto Rico through a restructuring of its debt and systems.
THIS WEEK'S NUMBERS:
50 first days of school as an educator for city schools Chancellor Carmen Fariña as of this week's opening day.
45% of excessive force allegations made against police were substantiated with video evidence in the first six months of 2015 – as opposed to 34% in 2014, according to the CCRB's semiannual report.
About 500 units of affordable housing to be built on public land at NYCHA developments in Wyckoff Gardens in Boerum Hill, Brooklyn, and Holmes Towers on the Upper East Side, officials said Wednesday.
THE FLASH:
14 years ago, on September 11th, 2001, terrorists attacked New York City and other U.S. locations
2 years ago around this time, on September 10, 2013, then-mayoral candidate Bill de Blasio took the lead in the primary, just attaining more than 40% of the vote to claim the nomination
44 years ago around this time, on September 9, 1971, prisoners seized control of the maximum-security Attica Correctional Facility near Buffalo, N.Y., beginning a four-day siege that claimed 43 lives.
GOTHAM GAZETTE HIGHLIGHTS OF THE WEEK:
Pre-K Pillar in Place, De Blasio Must Build Rest of His Case for Mayoral Control, by Ben Max
In Battle with Local Bronx Media, Klein Publishes Own Newspaper, by David Howard King
McCray Set to Unveil 'Mental Health Roadmap,' Signature De Blasio Plan, by Kaela Sanborn-Hum
Proposed Rikers Visitation Rules Stir Debate, by Meg O'Connor
MORE FOR THE WEEKEND:
Dr. Sonia Angell, Deputy Commissioner for Prevention & Primary Care at the New York City Health Department, talks about new menu salt warnings, on WNYC's The Brian Lehrer Show.
***
NOTE TO READERS: we hope you enjoy this new Gotham Gazette weekly feature - please share it if you do; on Twitter, use our handle @GothamGazette.
If you have feedback on this feature for us, you can email editor Ben Max: This email address is being protected from spambots. You need JavaScript enabled to view it.
Watch Sunday evening for our latest Week Ahead in New York Politics, which gives you a preview of key issues and events to be aware of for the week about to start. In the meantime, catch up on the latest original reporting from Gotham Gazette here. And have a great weekend!
***
by Meg O'Connor and Ben Max