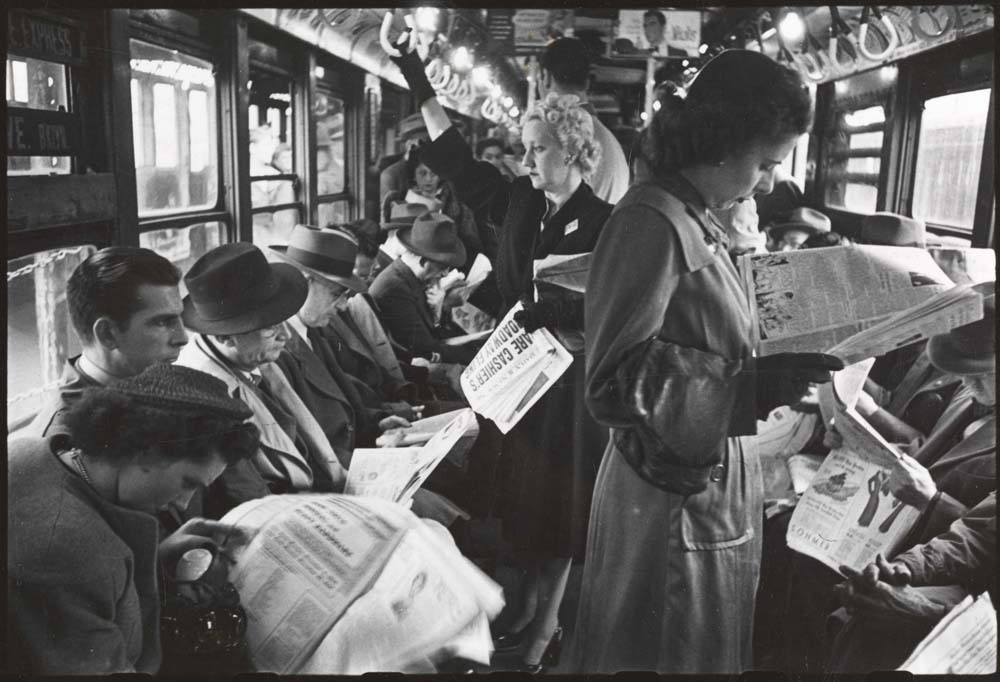 photo: Stanley Kubrick via Museum of the City of New York
---
Gotham Gazette's Week in Review, Friday September 25
PHOTOS OF THE WEEK: Mayor de Blasio greets Pope Francis, via @BilldeBlasio; Pope Francis at the 9/11 memorial, via Ben Fractenberg.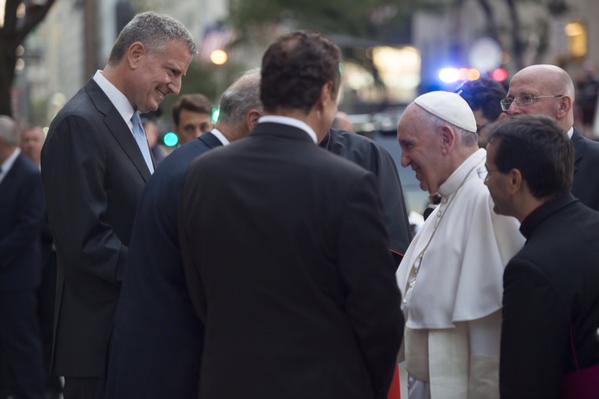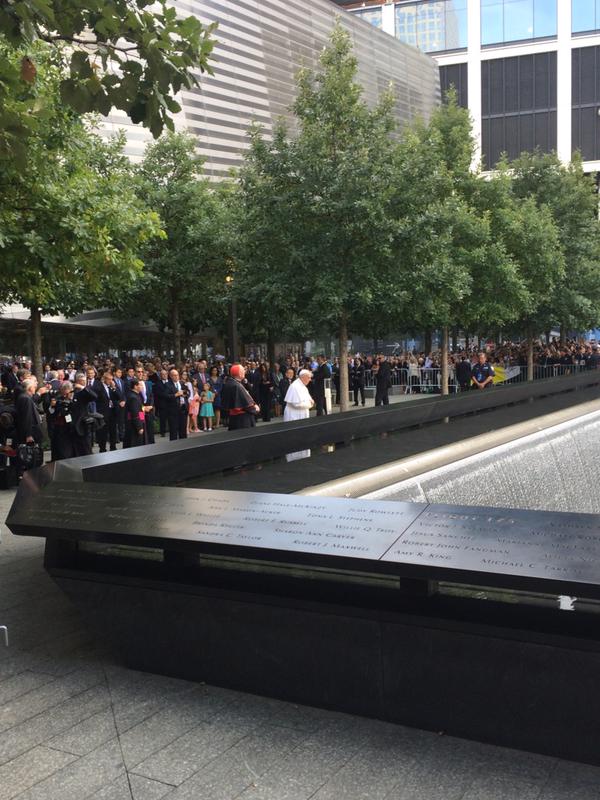 TOP STORIES OF THE WEEK:
1. Pope Francis Visits NYC: Pope Francis was greeted by New York's top elected officials when he arrived at St. Patrick's Cathedral for evening prayers Thursday, his first public appearance in New York after addressing Congress in Washington, D.C. Mayor Bill de Blasio and Governor Andrew Cuomo both greeted Francis and each has expressed admiration for the pope's messages of justice and compassion.
In New York, Francis also addressed the UN General Assembly and spoke at an interfaith ceremony at the 9/11 memorial on Friday morning. Friday afternoon, the pontiff is set to visit a school in East Harlem, proceed through Central Park, and give mass at Madison Square Garden. Mayor de Blasio sees the pope's message as similar to his and cites the pope in support of his mission to combat inequality, calling Francis the "leading moral voice on this earth."
2. Bratton Responds to Comptroller, City Council: NYPD Commissioner Bill Bratton hit back at Comptroller Scott Stringer this week for comments he made about the city's use of crime statistics. At a press conference on Monday in Brooklyn near the site of several weekend murders, Stringer said the city's crime statistics were "politicized" and called for a "real" discussion on how to curb violence in New York City. Bratton defended the police force and stated once again that overall major crime has decreased. Bratton also stated again this week that he sees the City Council as overreaching in its attempts to legislate NYPD-related policy. This time, Bratton was spurred to speak out against the Council about a new bill to implement warnings when a police officer may be a frequent user of excessive force.
3. Legal Moves in the Bronx: Bronx District Attorney Robert Johnson has secured a nomination for an open state Supreme Court judgeship. Johnson waited until just after he won the primary for his DA position with no one running against him to announce that he wanted to seek a judgeship. Now, Democratic party leaders are handpicking his replacement on the November ballot. Bronx Democratic leaders are being criticized for a variety of machinations involved that make it appear they are subverting the democratic process and largely leaving voters out of the equation. They have defended themselves, in part, by saying that there is nothing illegal they are doing. Several Bronx leaders have remained silent on the moves.
4. First Homeless Shelter/Affordable Housing Development: The new $62 million "Landing Road Residence" project in the Bronx marks the first time the city has attempted to tackle two major issues - homelessness and affordable housing - under one roof. The project will feature 135 units of housing alongside a 200-bed shelter for homeless working adults.
THIS WEEK'S NUMBERS:
150 beds will be provided for homeless people through a partnership between the Roman Catholic Church and New York City, Mayor de Blasio and Cardinal Timothy Dolan announced this week.
#83479-053 is former Staten Island Rep. Michael Grimm's prisoner number as he entered a medium-security federal prison in Lewis Run, PA, for his eight-month sentence.
2 million packets of K2 were seized by the NYPD after a raid in the Bronx.
About 80,000 people were set to gather in Central Park on Friday to see Pope Francis after securing tickets in a city-sponsored lottery.
THE GLORY AND THE GOAT:
It was a good week for Mayor Bill de Blasio as he met with Pope Francis during his first visit to New York City. In Pope Francis, the mayor has found a powerful validator of his fight against inequality, aligning his own efforts to fight inequality with Francis' messages of economic, environmental, and social justice.
It was a bad week for Bronx Democrats, as Bronx District Attorney Robert Johnson is stepping down to become a state Supreme Court justice, enabling Democratic Party leaders to bypass voters and handpick his replacement.
THE FLASH:
Around this time 239 years ago, on September 21, 1776, Trinity Church on Wall Street was destroyed when a fire swept through colonial Manhattan, leaving a quarter of the city in ruins. The British suspected arson, but the cause of the fire was never determined.
Around this time 226 years ago, on September 25, 1789, the first U.S. Congress met in New York and adopted twelve amendments to the Constitution. Ten of them went on to become the Bill of Rights.
Around this time last year, on September 23, 2014, Mayor Bill de Blasio addressed the United Nations, speaking briefly about climate change and efforts to combat it.
GOTHAM GAZETTE HIGHLIGHTS OF THE WEEK:
In Pope Francis, De Blasio Finds Ultimate Validator, by Ben Max
Combatting New York's Enduring Quality-Of-Life Problem: Litter, by Cole Rosengren
Newest Prison Sentences Remind Of Limited Movement On Even Agreed Upon Reforms, by David King
Inmate Bill Of Rights Among New Wave Of Rikers Reforms, by Meg O'Connor
And, Gotham Gazette's David King appeared on WAMC's The Capitol Connection radio program to discuss the latest moves by Governor Andrew Cuomo, listen here.
MORE FOR THE WEEKEND:
The Wall Street Journal looks at Emma Wolfe, a key aide to Mayor de Blasio, and her role in brokering the relationship between de Blasio and Governor Cuomo, among others
The Observer profiles Mark Peters, the commissioner of the city's Department of Investigation
DNAinfo with a fun look at the many gifts that get sent to Mayor de Blasio
***
NOTE TO READERS: we hope you enjoy this new Gotham Gazette weekly feature - please share it if you do; on Twitter, use our handle @GothamGazette.
If you have feedback on this feature for us, you can email editor Ben Max: This email address is being protected from spambots. You need JavaScript enabled to view it.
Watch Sunday evening for our latest Week Ahead in New York Politics, which gives you a preview of key issues and events to be aware of for the week about to start. In the meantime, catch up on the latest original reporting from Gotham Gazette here. And have a great weekend!
***
by Meg O'Connor and Ben Max