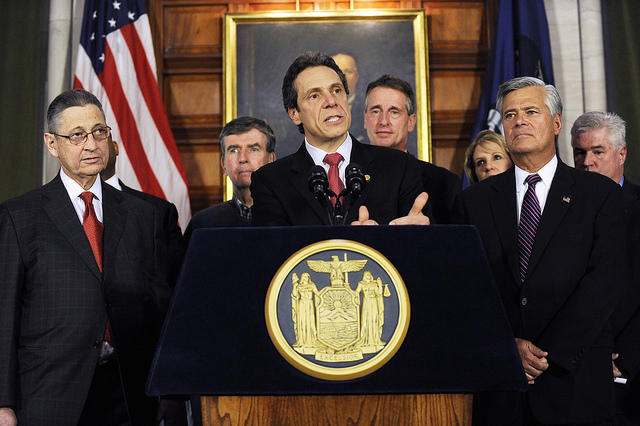 L-R: Silver, Cuomo & Skelos in 2011 (photo via the governor's office)
---
New York's leading good government groups gathered at Manhattan's Foley Square Wednesday to call on the New York State legislature and the governor to take immediate action to reform public ethics laws. The press conference, held in the shadows of a federal courthouse where one of New York's most powerful politicians is being tried on corruption charges, came as other recent developments also shine a bright light on the state's insufficient handling of ethics and corruption.
Not only has the trial of former Assembly Speaker Sheldon Silver begun, but the trial of former Majority Leader Dean Skelos is set to begin next week; and, there was the recent release of a report by a state ethics review commission calling for changes as well as a national study assessing state government accountability and transparency giving New York a "D-" grade.
So on Wednesday, Citizens Union, Reinvent Albany, Common Cause NY, the League of Women Voters of New York State, and the New York Public Interest Research Group sent a letter to Governor Cuomo and the two new legislative leaders, Assembly Speaker Carl Heastie and Senate Majority Leader John Flanagan, urging them to come together to enact comprehensive and significant reforms in five ethics categories. To bring further attention to their calls for reform, the groups held a press conference.
"This news conference is the first of many actions our groups are going to be taking in the months to come to really push this front and center, because we can no longer tolerate the current state of affairs," said Dick Dadey, executive director of Citizens Union. "We want to urge immediate action and if possible even a special session."
"New Yorkers are so disgusted, they've just come to accept that this is part and parcel of how state government operates, and it should not be," Dadey said. "With the convergence of all these events, there is no better time than now to enact these reforms."
The reforms the groups are calling to be enacted either in a special end-of-year session or in early 2016 include:
Change legislative compensation through upcoming recommendations by a recently appointed pay commission, considering increased salaries and greater limits on outside income.
"Limit the influence of dark money campaign contributions and end government spending that takes place in the shadows' through measures such as closing the infamous LLC loophole.
"Reform ethics oversight and enforcement" by making changes to JCOPE's structure, scope, and voting procedures to increase transparency and independence.
"Strengthen financial reporting disclosure requirements for public officers to allow the public to more easily spot conflicts of interest."
"Streamline and standardize disclosure of lobbying activity for better analysis and easier evaluation by the public."
While the Silver and Skelos trials come just two months after the Senate's second-highest-ranking Republican, Tom Libous, was convicted of lying under oath to FBI agents during an investigation into his son's hiring at a politically connected law firm. New York City just elected two new state legislators to fill vacant seats vacated due to corruption charges.
Silver, charged with five federal counts of theft of honest services, mail fraud, wire fraud, and extortion for improperly using his public position to obtain nearly $4 million in illicit payments, and Skelos, charged with six federal counts of conspiracy, extortion, wire fraud, and soliciting bribes in connection with exploiting his public position in order to secure a lucrative no-show job for his son, have both declared their innocence, with Silver's legal team attempting to paint its client's dealing as par for the course in Albany.
It is the pervasive culture of corruption - both legal and illegal - in state government that has undermined public trust and yet failed to spur truly meaningful reform, good government advocates and many legislators and other stakeholders say.
"For far too long, state legislators in particular have used their public posts for private gain, and have lined their pockets," Dadey said Wednesday. "Much of what is happening here in the Silver trial and in the Skelos trial shows how one hand washes another, and we want to see that practice end."
Decrying a system that is akin to "a perfect storm that would encourage corruption by state lawmakers," Dadey said "Citizens Union believes we should raise the pay significantly, limit outside income, eliminate stipends, and overhaul the way in which [legislators'] daily expense reimbursements are handled."
In the past decade, 27 legislators have left office due to criminal or ethical issues. "So far, there is no sign that the arrests of the legislative leaders has changed how Albany does business," John Kaehny, executive director of Reinvent Albany, said in a statement. At the press conference, Kaehny added, "One big step toward changing that is to see where the money is going. No more secret spending. No more spending in the shadows. Let's see transparency for state spending, and let's end the pay-to-play and legal bribery that are on trial here."
On the same day that Silver's trial began, the New York Ethics Review Commission released an evaluation the current ethics oversight system and recommended reforms to improve the functioning of the Joint Commission on Public Ethics (JCOPE) and the Legislative Ethics Commission (LEC).
The recommendations include eliminating the veto power JCOPE commissioners have over investigations, among several others.
Citizens Union has advocated for all of the aforementioned reforms, and while the changes recommended by the Ethics Review Commission are certainly seen as a welcome first step by good government groups, the recommendations failed to include other reforms advocates have called for, such as making commissioners more independent.
"We want to ramp up the capability and the independence of ethics oversight," Susan Lerner, executive director of Common Cause NY said at Wednesday's press conference. "Reform JCOPE, give it more independence, give it more teeth, give it the ability to investigate, and reform the actual number of commissioners so that they don't deadlock and are not beholden to the people who appoint them."
Saying that he believes JCOPE can be essential in improving public ethics and integrity, Dadey added, "Let's not lose sight of the fact that Dean Skelos and Sheldon Silver were two of the three architects that created JCOPE. And they created some of the protections that JCOPE is hindered by right now in terms of the voting procedures. With the two of them on trial, and both of them having been authors of this Public Integrity Reform Act that created JCOPE, we have an opportunity to strengthen JCOPE in the coming months."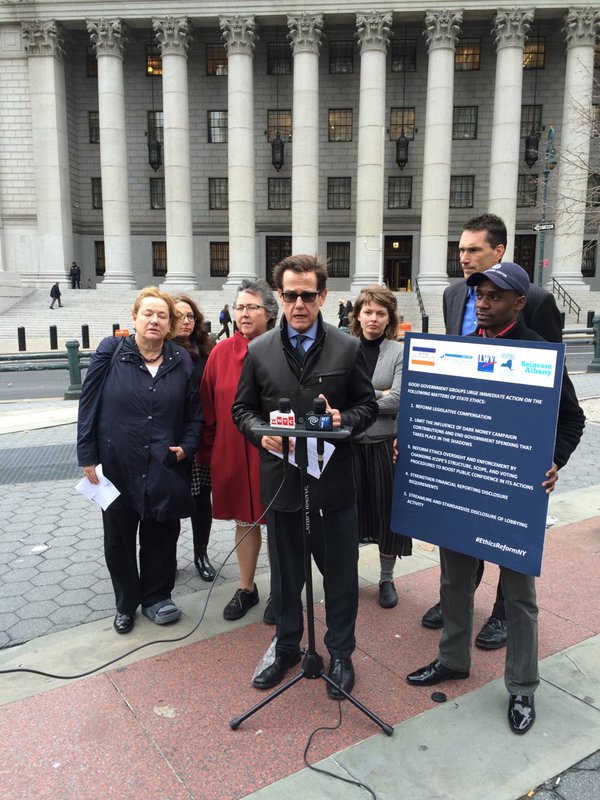 (Dick Dadey, center; photo by Zack Fink of NY1)
On Monday, the Center for Public Integrity and open-governance group Global Integrity released the 2015 State Integrity Investigation, a comprehensive, data-driven assessment of the systems in place to deter corruption in state government, and gave New York a D- grade, a drop from the previous 2012 State Integrity Investigation, when New York received a D.
Ranking 30th among 49 states, New York failed miserably in several categories, receiving an F on public access to information, electoral oversight, judicial accountability, state budget processes, procurement, and ethics enforcement agencies.
The reforms proposed by good government groups would go a long way in preventing a repeat of New York's dismal performance on those measures.
"We need absolutely clarity in terms of who [legislators] are getting paid by and what they are getting paid for," Lerner said Wednesday. "So that someone can't say 'I'm a lawyer, I represent ordinary people,' and then it turns out that his law partners say he doesn't do any legal work and is solely gaining money from referrals" (as was the case with Silver and is the case with other lawyer-legislators who are "of counsel" at law firms).
"There is something wrong with our disclosure system if that kind of misstatement can exist for years and years and years and it takes a criminal trial to really show what the true situation is," Lerner added.
New York's failing grade on state budget processes - for which New York ranked dead last in the nation - comes as no surprise, given New York's reputation for"three men in a room" (the governor, Assembly Speaker, and Senate Majority Leader) deciding on the details of the state's $142 billion budget behind closed doors.
"The governor can't reform the legislature by himself," Kaehny said, "but the governor can lead by example. And right now, we have billions of dollars in spending that are secret, that the public cannot see."
"Is it corrupt?" Kaehny asked. "We don't know. But we should know. So can the governor do something about that by taking a lead? Absolutely, yes. The governor could have complete transparency on budget matters - he proposes the budget, he can reveal the budget, that's up to him."
The recent release of these two reports and the ongoing corruption trials of two legislative leaders have put the spotlight on New York's dire need for state action on ethics reform, yet as Bob Hardt wrote in a recent NY1 column on the issue, "Never aggressively pushing campaign finance reform or transparency, Governor Cuomo seems content to play the master of Albany's current political game rather than rewriting its rules. A government of one is naturally threatened by an open door."
When pressed as to whether Cuomo has done enough to fix Albany's corruption problems, Dadey said, "The governor has been a leader on many of these ethics reforms," but added, "I wish that he was a more vocal leader on some of these issues that are still left on the table, like legislative compensation, like restructuring JCOPE so that it has a greater authority and stronger voting structures to pursue corruption."
In 2013, Governor Cuomo established the Moreland Commission on Public Corruption to combat the systemic corruption in Albany. Yet less than a year later, in a deal involving Silver and Skelos, Cuomo disbanded the commission - reportedly just as the commission was preparing to issue subpoenas to several state Senate campaign committees.
Governor Cuomo could, as good government groups have suggested, compel the legislature to return for a special session to overhaul ethics laws, though the governor has made it clear in the past that he has no intention of doing so. "A special session to do what? I mean, we've proposed every ethics law imaginable," Cuomo said in an interview on The Capitol Pressroom in July.
Attorney General Eric Schneiderman, meanwhile, has previously advocated for a convening a special session on ethics reform, in addition to pushing his "End New York Corruption Now Act," a sweeping ethics reform package which seeks to drastically reform how business is done in Albany.
"One of the requests that Citizens Union has made for a long time is to give the Attorney General the power to pursue corruption," Dadey said of one of the elements in Schneiderman's plan. "He can only pursue corruption right now if the governor consents to granting him that authority."
"It's a strange thing that when the current governor was Attorney General, he asked for that same authority when Governor Spitzer was in office, and when he became governor, he was not willing to give that authority to Attorney General Schneiderman," Dadey pointed out.
A July 15 poll by the Siena Research Institute found 90 percent of New York voters felt state government corruption is a serious problem. An October 26 Siena poll found 74 percent of those surveyed believed Governor Cuomo was doing a poor to fair job reducing corruption in state government.
"New Yorkers have lost faith in state government to make decisions without using the interest and influence of those who do business with the state," the good government groups said in a statement. "In light of this storm of two trials and two reports, the groups call for immediate action on these widely-supported reforms, and in a special session if possible."
***
by Meg O'Connor, Gotham Gazette
@MegOConnor13
@GothamGazette
Note: Gotham Gazette is an independent publication of Citizens Union Foundation, sister organization of Citizens Union.