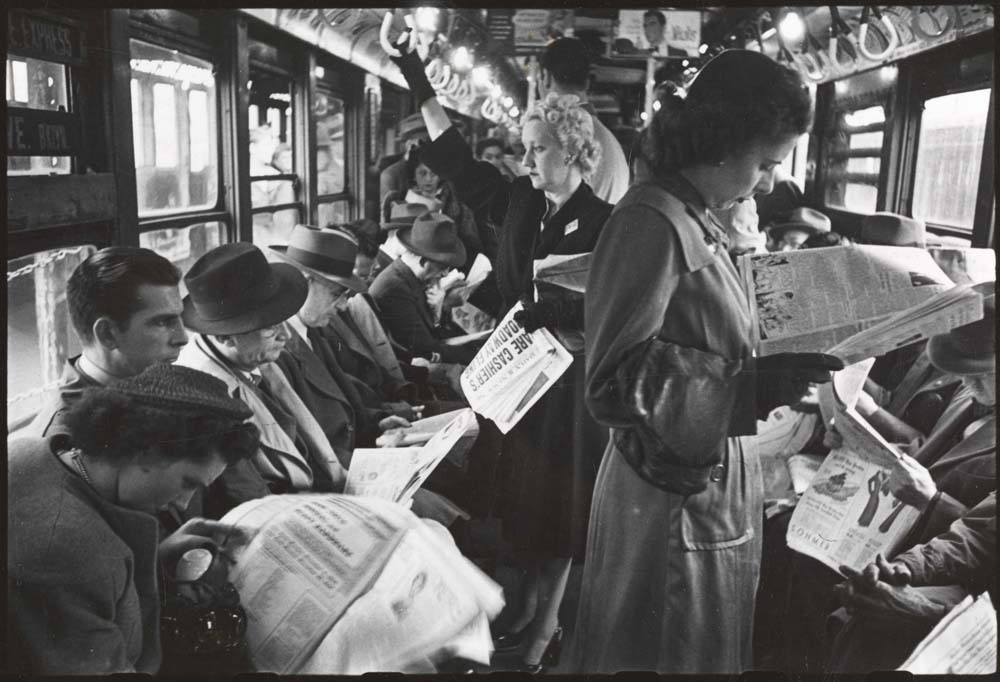 photo: Stanley Kubrick via Museum of the City of New York
---
Gotham Gazette's Week in Review, Friday November 13
PHOTOS OF THE WEEK: NYPD Commissioner Bratton addresses the media after a shooting Monday morning near Penn Station, via @NYPD1Pct; City Council Members-elect Barry Grodenchik (left) and Joe Borelli (right) with CM Jumaane Williams, via @JumaaneWilliams; Veteran and veterans advocate Joe Bello at City Hall for a celebration of the newly approved Department of Veterans Services, via William Alatriste; Gov. Cuomo announces plan for eventual $15/hour minimum wage for state employees, via @NYGovCuomo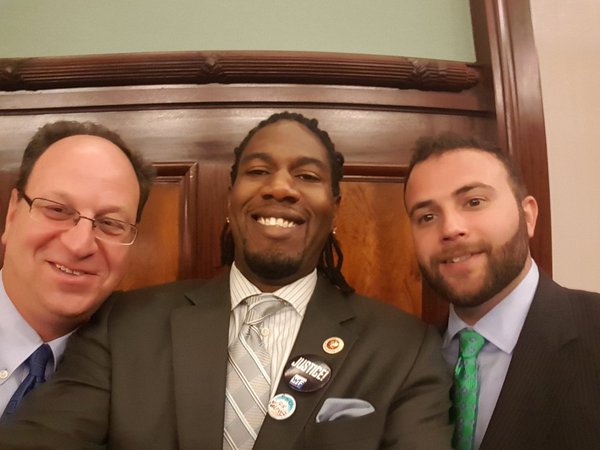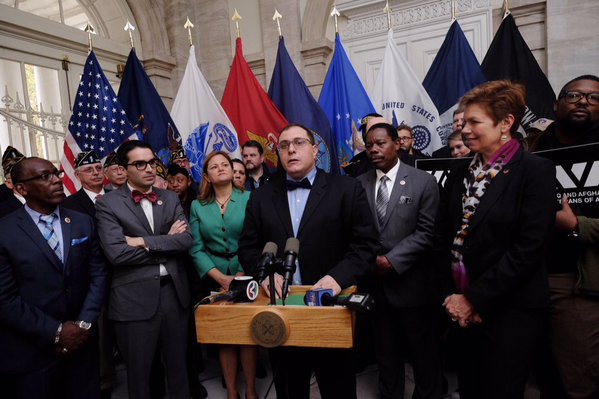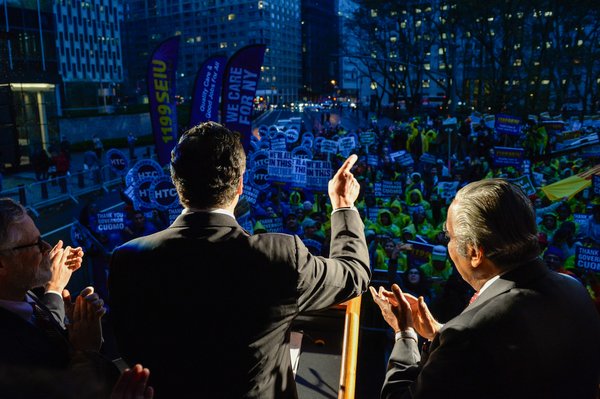 TOP FIVE STORIES OF THE WEEK:
1. Veterans: Wednesday was Veterans Day, and in New York City, the week was full of parades, resource fairs, and events to honor and aid veterans. Mayor Bill de Blasio held a breakfast reception to honor military veterans Wednesday morning, and on Thursday, the City Council held a hearing on veteran homelessness - all after the mayor and the City Council agreed last week to create a new Department of Veterans Services, which was celebrated Tuesday at City Hall. [Read: First Report Under New Law Will Give Key Data to Coming Veterans Department]
2. Bratton, De Blasio Defend NYPD Approach: On Monday, three people were shot near Penn Station. At a news conference shortly after the shooting, NYPD Commissioner Bill Bratton reiterated, "The city is very safe and getting safer all the time," pointing to data that shows such crimes have gone down this year. This decrease in total arrests, as well as in other "negative interactions" between police and civilians, is symbolic of what Bratton calls a "peace dividend," an approach the commissioner said will continue, as it allows the NYPD to "move resources where the need is greatest," Mayor de Blasio said. [Read: 'Peace Dividend' Approach Continues, Bratton and De Blasio Say]
3. Spotlight on Corruption: Amid corruption trials of two legislative leaders and the release of two reports highlighting the inefficiency of New York's public ethics laws, good government groups gathered on Wednesday to call on the New York State legislature and the governor to take immediate action to reform public ethics laws. [Read: Good Government Groups Point to New Evidence of Need for Major Ethics Reform]
4. Fight for $15: On Tuesday, amid nationwide 'Fight for $15' rallies to raise the minimum wage, Governor Cuomo announced that he would use his executive authority to raise the minimum wage for all state employees to $15 an hour over the next several years (with a faster timeline in NYC than elsewhere). After initially referring to a $13 minimum wage as a "nonstarter" this past spring, Governor Cuomo has been pushing for a $15 minimum wage across the board in the state. [Read: Progressive Critics Largely Convinced by Cuomo's Wage Push]
5. Mayor's Media Approach: After a lengthy question-and-answer session with members of the press last week, Mayor de Blasio has continued his efforts to make himself more available, but in slightly different fashion, including holding an education town hall in Queens on Thursday. At the town hall, the mayor fielded questions often asked through a critical frame on school overcrowding, a major issue in Queens, as well as charter schools, parent engagement, and school safety policies. Mayor de Blasio also made an appearance on WNYC on Friday, during which time he answered questions from listeners on a variety of topics. [Read: The Mayor's Media Blitz and De Blasio Attempts to Undo Negative First Impressions]
THIS WEEK'S NUMBERS:
THE GLORY AND THE GOAT:
It was a good week for medical marijuana advocates, as Governor Cuomo signed two bills on Wednesday that will provide expedited access to medical marijuana for qualified patients.
It was a bad week for the Patrolmen's Benevolent Association, which "lost" on its gamble, led by President Pat Lynch, to get a larger-than-pattern raise for rank-and-file NYPD officers through abiration, which the PBA chose rather than negotiation with City Hall.
THE FLASH:
Around this time 97 years ago, on November 11, 1918, New Yorkers celebrated the end of World War I, parading from City Hall to Columbus Circle. Three years later, November 11th was declared Armistice Day, a national holiday, now called Veterans Day.
Around this time 61 years ago, on November 12, 1954, no longer needed as the nation's primary immigration station, Ellis Island closed after processing more than 20 million new Americans since opening in New York Harbor in 1892.
Around this time 20 years ago, on November 12, 1995, New York City commuters deal with the first day of a mass transit fare hike, which raised the single-ride fare from 25 cents to $1.50. In return, the MTA promised no more increases for the rest of the century.
GOTHAM GAZETTE HIGHLIGHTS OF THE WEEK:
Warnings Cuomo Must Not Declare Premature Victory on Women's Equality, by David Howard King
Council Hearing Will Amplify Calls for More Supportive Housing, by Meg O'Connor
'Peace Dividend' Approach Continues, Bratton and De Blasio Say, by Ben Max
First Report Under New Law Will Give Key Data to Coming Veterans Department, by Samar Khurshid
Labor Leaders Declare State of Unions Strong, At Least in New York, by Ben Max
Good Government Groups Point to New Evidence of Need for Major Ethics Reform, by Meg O'Connor
City Set to Hit Functional Zero Veteran Homelessness, Though Challenges Remain, by Ryan Brady
Game Changers for JFK International, by Nicholas D. Bloom and Philip M. Plotch (opinion)
Reality TV Has No Place in Emergency Rooms, by Council Member Dan Garodnick (opinion)
Sheldon Silver Trial Recalls Earlier Legislative Leaders Accused of Corruption, by Bruce W Deartsyne (opinion)
Creating the Department of Veterans Services, by Joe Bello (opinion)
MORE FOR THE WEEKEND:
Mayor de Blasio appeard on WNYC's The Brian Lehrer Show on Friday morning
In New York Magazine, Chris Smith looks at how Governor Cuomo's push to clean up Albany 'backfired.'
Politico New York's Azi Paybarah recaps his interview with Congressional Rep. Hakeem Jeffries discussing Jeffries' take on city, state, and federal issues as well as his political future.
***
NOTE TO READERS: we hope you enjoy this new Gotham Gazette weekly feature - please share it if you do; on Twitter, use our handle @GothamGazette.
If you have feedback on this feature for us, you can email editor Ben Max: This email address is being protected from spambots. You need JavaScript enabled to view it.
Watch Sunday evening for our latest Week Ahead in New York Politics, which gives you a preview of key issues and events to be aware of for the week about to start. In the meantime, catch up on the latest original reporting from Gotham Gazette here. And have a great weekend!
***
by Meg O'Connor and Ben Max