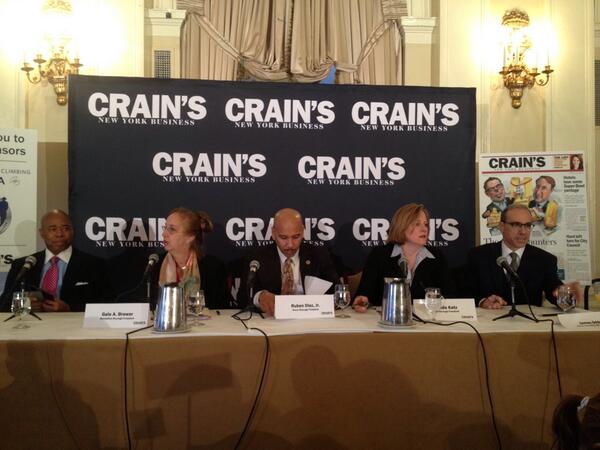 The five borough presidents at a Crain's New York event (photo: Ben Max)
---
They used to be some of New York's most powerful elected officials, but their roles have changed over the last 25 years. The job of today's borough presidents has become more about creativity than clout.
Recent borough presidents have found ways to stay relevant. And the current crop of five, which includes four borough presidents just a year into their tenures, shows how much flexibility the position allows. Ruben Diaz Jr. is currently far outside of the Bronx leading a delegation of Latino leaders on a weeklong trip to Israel and Eric Adams' work on police-community relations has taken a national stage, resonating beyond Brooklyn. Yet, while there are moments like Adolfo Carrion ousting several Bronx community board members after they rejected plans for the new Yankee Stadium in 2006, the borough president office doesn't carry the same concrete weight it once did.
The position was established in 1898 to give each of the five boroughs equal representation after New York's municipal consolidation created the city in its present form. The mayor, comptroller, president of the Board of Aldermen (later City Council president) and borough presidents sat on the Board of Estimate -- once the most important body in local politics -- to vote on land use, review legislation, control the city budget, and more.
"They had real power, they had to approve everything that went on with all major policy issues," said Joseph Viteritti, chair of the Urban Affairs and Planning Department at Hunter College, of borough presidents in a bygone era.
In 1989, The U.S. Supreme Court ruled that the Board of Estimate was unconstitutional because each borough president got one vote even though they represented vastly different numbers of people. A commission re-worked the city's charter and created New York's current system of municipal government, which corrected the representation issue by making the City Council more powerful, expanding it from 35 to 51 members and setting district population requirements. Voters ratified the charter on Nov. 7, 1989, eliminating the Board of Estimate and diminishing the borough presidents' power.
"I don't think the people on the commission fully appreciated the importance of borough identity," said Viteritti. Albeit with less power, in the years since borough presidents have continued to push borough-specific needs and promote their home turf.
Since 1989, the duties of modern-day borough presidents have included making land use recommendations, allocating a shared five percent of the city budget to local projects, overseeing community and borough boards, introducing legislation, and maintaining an accurate topographical map of their borough. Otherwise, the position is open to interpretation.
"It's a good position for political experimentation," said Gregory Perotta, author of the article "A Case For and Against the Borough President in Twenty-First Century New York City."
When successful, this experimentation can help raise borough presidents' profiles and lead to greater things. Scott Stringer started a program called Bank On Manhattan that helped low-income residents open bank accounts and avoid steep fees for check cashing and money order services. It became a model and he ran on the success of that and other efforts to become the city's current comptroller. In Brooklyn, Marty Markowitz was an energetic supporter of the borough's revitalization, including a push to bring in the Barclays Center. Term-limited, he was rewarded by fellow Brooklynite Mayor Bill de Blasio with a top job at NYC & Co., the city's marketing and tourism agency, and a $20,000 raise.
While borough presidents have racked up plenty of accomplishments over the last 25 years, some people still want to get rid of the position altogether. David Casavis, a local professor, has campaigned to become Manhattan's borough president multiple times on the sole platform of abolishing the office if he won.
"This is a retirement prize for senior politicians," said Casavis. "The sad thing is the money of the borough presidencies could be spent on so many other things."
Borough presidents can serve for a maximum of eight years. They currently earn $160,000 per year and each employ staffs ranging from approximately 30 to 60 people. According to the Independent Budget Office, the combined cost of all five offices exceeded $22 million in 2014.
These numbers may seem high, but a common justification is that each borough is the size of a city in its own right and deserves specific representation. Brooklyn and Queens each have more than two million residents.
"The more people who are watching and the more people who are acting as stewards for those areas, I think the city as a whole is better for it," said Perotta.
Four of the five current borough presidents (BPs) have just completed their first year in office, in which they began to establish long-term priorities. All five appeared active in 2014 and begin this year eyeing greater accomplishments. Soon, New Yorkers will get to hear from their borough president as those from the Bronx, Manhattan, Queens, and Brooklyn deliver "State of the Borough" addresses and the Staten Island borough president, James Oddo, hosts an open house.
The Bronx
Bronx Borough President Ruben Diaz Jr., in office since 2009, has been especially active.
"I'm trying to keep with the spirit of not just having the borough presidents cut ribbons and give out proclamations," he said on NY1's Inside City Hall while promoting new legislation to require health inspection grades at nail salons and barber shops.
One of Diaz's main accomplishments was advocating for a law that now requires developers who receive taxpayer funding for their projects to pay employees a living wage. He also played a large role in mediating disputes over development plans for the Kingsbridge Armory and has started multiple programs to help stimulate the Bronx economy.
"A lot of it is what you make of it. I think that we've done a very good job of keeping this office vibrant, important, and relevant," said John DeSio, Diaz's director of communications, in a recent phone interview.
On what he has called the borough's top priority, Diaz is pushing hard to get funding for four new Metro-North stations on the Bronx's east side. Governor Andrew Cuomo indicated plans to comply in a speech this week.
Manhattan
In Manhattan, Gale Brewer has carried on with many issues she fought for as a member of the City Council. On the Council Brewer helped pass paid sick leave legislation, focused on the use of technology and data to solve problems, encouraged composting in schools, and tried to get city agencies to purchase more goods locally. Renowned for her availability and constituent services, Brewer will soon open a second office uptown on 125th Street so residents can walk in for help - her main office is in the Municipal Building downtown.
Brewer's team has organized numerous training sessions for community board members on how to understand city data, land use procedures, Robert's Rules of Order, and more. She brought in students from the CUNY Service Corps program to help community boards better utilize the city's open data portal and other technology. With a variety of major land use decisions coming up in Manhattan, such as East Midtown Rezoning and redevelopment of the South Street Seaport area, Brewer wants her constituents to be prepared.
"Giving the real capacity to community boards -- technology and everything else -- that's not sexy stuff, but it absolutely has to get done," she said in a recent interview with Gotham Gazette. "People need this kind of expertise."
Queens
New Queens BP Melinda Katz facilitated a dramatic shake-up at the Queens Library. She fired six people from the board of trustees, survived a lawsuit that they subsequently filed against her, and helped pass transparency reform legislation through the City Council. "Sunlight is the best disinfectant, and the dark days of this saga are finally behind us," Katz said in a recent statement.
The Queens borough president also co-led the World's Fair Anniversary Committee, hosted commemorative events, and helped get funding to restore the New York State Pavilion in Flushing Meadows-Corona Park.
Staten Island
On Staten Island, James Oddo set himself apart by holding a private swearing-in at his parents' house for a fraction of the cost of his colleagues' inauguration events. And, he's the only one of the five BPs holding an open house instead of a "State of the Borough."
Oddo's focus has been constituent services and community activism, his mission is to make the office more accessible and transparent.
"I hope you've figured out by now that we at the Borough President's office are not government bureaucrats," Oddo wrote in his December newsletter.
Oddo started an anti-litter campaign and is working on multiple health and fitness initiatives. His office's new phone app, BP Assist, helps Staten Islanders report issues such as potholes and graffiti. He has also played a major role in continued Sandy recovery efforts, most recently calling for the new Staten Island Sandy Task Force to include more local input.
Brooklyn
In Brooklyn, Eric Adams has billed himself as "a tough cop" and "a tender borough president." This year the former NYPD officer has established a new tradition by hosting a New Year's Eve celebration on Coney Island. He's worked to update technology in local schools, including a program that will give some students iPads.
Improving police-community relations has become a main priority for Adams in light of recent events and current tensions. As a former NYPD captain, he brings a different perspective to the divide, especially in some Brooklyn neighborhoods. In a Martin Luther King Day speech at the Brooklyn Academy of Music, Adams spoke frankly about his position on the dispute between Mayor de Blasio and police unions.
"Unions should always fight for their members, but they should never get it twisted. When it's time to determine what policies are going to impact the people of the City of New York, I did not elect the PBA. I elected the mayor," he said.
The Year Ahead
While they may have different styles, the borough presidents can still come together on certain issues. Collaboration among the borough presidents can be expected going forward - in early 2014 they held several meetings and public appearances all together. Most recently, they opposed the new LinkNYC payphone Wi-Fi proposal until changes were made to ensure equitable speeds across the city.
"In today's world, the borough presidents -- all five of us -- get along very well," Brewer said.
Though that camaraderie may only last until it's time to compete for higher office.
A borough presidency can be a springboard, as was the case with Stringer. Adams has made no secret of his intention to run for mayor and some believe Diaz plans to do the same. Many borough presidents have run for mayor before, but Robert Wagner Jr. and David Dinkins are the only ones to ever win.
Now, the borough presidents are preparing for their various "State of the Borough" events. Katz will speak at Queens College on Thursday, Jan. 22. Oddo is having an open house at Staten Island Borough Hall on Sunday, Jan. 25. Brewer will host a discussion with "four Manhattan thought leaders" at Columbia University on Feb. 8. Diaz will be speaking at the Mall at Bay Plaza on Feb. 19. And Adams hasn't announced plans for a speech yet.
***
by Cole Rosengren, Gotham Gazette
@ColeRosengrenNY