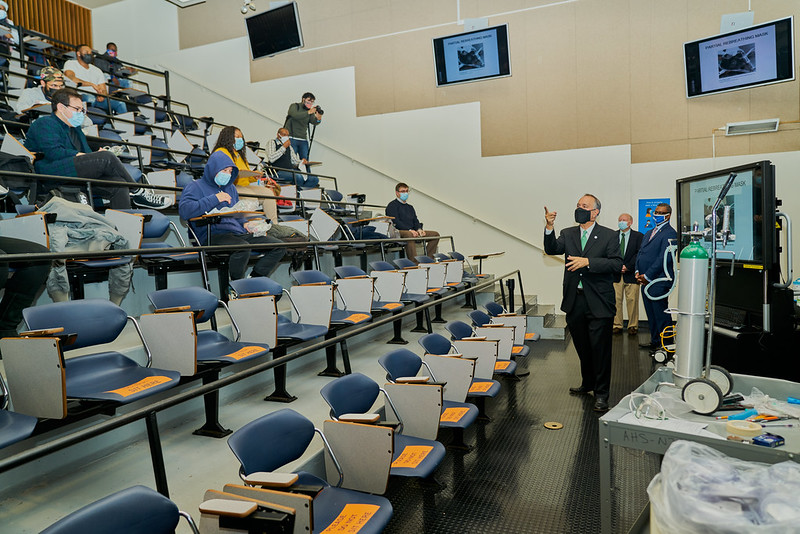 CUNY amid COVID (photo: Chancellor Félix V. Matos Rodríguez)
---
On the second Thursday of March in 2020, all City University of New York campuses closed their doors to students indefinitely, following an announcement the previous day from CUNY Chancellor Félix Matos Rodriguez that the university would transition to a remote format due to the coronavirus pandemic.
This Thursday — April 1, 2021 — is the first day of New York State's 2021-2022 fiscal year, when a new state budget is due, though it may be slightly late as in several other recent years. The new state budget will answer some key questions about the future of CUNY and the hundreds of thousands of students, professors, staff, and others who are part of the massive university system or rely on it in some way. The budget comes amid great uncertainty due to the ongoing pandemic and its extensive damages, but also as massive federal aid is flowing to New York, including hundreds of millions of dollars directly to CUNY, vaccinations are moving ahead, and the economy is reopening.
Schools across New York are eyeing a full return to in-person classes for the fall. As the state budget is being negotiated among Governor Andrew Cuomo and legislators from the State Senate and Assembly, there is a push being made by some lawmakers, advocates, and others -- including PSC-CUNY --, for the deal to include passage of large tax increases on the wealthy and corporations in order to fund, among other priorities, the "New Deal for CUNY," which would eliminate undergraduate tuition for New Yorkers and raise adjunct salaries to match those of full-time professors, among other things.
State funding covers about 60% of CUNY's operating budget for its senior colleges and their entire capital budgets, while student tuition provides about 40%, according to the Professional Staff Congress — CUNY's faculty and staff union. The New York City government contributes more toward the community colleges, though the state provides about a third of their operating budgets. And the state also "helps students through the Tuition Assistance Program, subsidized loans, and specialized scholarship and grant programs," as well as "the Education Opportunity, SEEK and College Discovery programs which benefit many low-income minority students at CUNY," according to the PSC analysis. Sever al of those programs have faced recent funding cuts.
Amid the pandemic and its ensuing economic crisis, CUNY had already been under a hiring freeze due to state-imposed budget cuts while it was also being pushed to increase pay for adjunct professors, who work part-time and on contract.
In December 2019, the CUNY Board of Trustees voted to raise tuition and fees by $320 per student per year during a monthly meeting at Baruch College, as student- and professor-led protests erupted in the meeting room and, after the meeting was closed to only board members and press, in the halls and lobby of the college. On February 3, 2020, shortly before the pandemic hit New York and forced the state into a near-shutdown, the central CUNY administration and the PSC ratified a new salary contract, which included pay increases for adjuncts and back pay to 2017.
COVID-19 pushed the university to transition fully online on March 11, 2020, spelling unforeseen and immense change for CUNY and its many stakeholders, including to the university's financial situation.
In March 2020, the federal government passed the Coronavirus Aid, Relief and Economic Security Act, or CARES Act, which included a Higher Education Emergency Relief Fund. As part of this fund, money was allocated to universities to provide grants to students in financial need due to losing their jobs because of the pandemic and for institutional costs, such as paying professors and making up for lost tuition revenue. CUNY received just under $237 million from the CARES Act, which was then reallocated among the individual campuses.
In June 2020, CUNY laid off over 400 adjunct professors by either cutting their classes or not sending them reappointment notices. Not only did the fired faculty members lose their salaries, but many also lost health insurance, during a pandemic, as a portion of adjunct professors receive insurance from the university.
Additionally, CUNY failed to begin implementing a 2% salary increase for staff and an equity pay increase for assistants to higher education officers, full-time but low-level positions, by its February 1 deadline. After protests were planned to take place outside of Matos Rodriguez's home, CUNY decided to reverse its decision to postpone these pay increases.
Now, as the state budget is about to be passed — with the city budget due July 1 — it remains to be seen whether state funding for CUNY will be cut, especially as more federal funds come in. Governor Cuomo has in the recent past used federal funds as rationale for pulling back state funds.
On March 18, U.S. Senator Chuck Schumer of New York, the Senate majority leader, announced that more than $2.6 billion will be allocated to New York colleges and universities as part of the recently passed American Rescue Plan. Of this amount, approximately $836 million will go toward CUNY colleges. For public colleges and universities, half of their allotted American Rescue Plan funding has to go to emergency financial aid grants to help students with housing, food, and healthcare. The other half will go to institutional costs and additional student support services.
"As New York's colleges, universities, and students face over a year of unprecedented hurdles, they do so at a steep cost that it is our responsibility to address and overcome," Schumer said. "In prioritizing the health and safety of students, faculty, and staff, New York's higher education institutions have ripped massive holes in their budgets and are now facing down financial devastation – and we simply can't let that happen. As Majority Leader, I was proud to make funding for New York's higher education institutions and students a top priority, and the American Rescue Plan will deliver this much needed $2.6 billion in assistance to help our world-class institutions through the crisis, get students safely back to classes, and get campuses across the state back to 'normal.'"
"Increased CUNY funding and the New Deal for CUNY legislation are critical to building an inclusive economy and a stronger university," Bowen told Gotham Gazette in a new statement. "New York is on the cusp of reversing the pattern of planned poverty for CUNY that has systematically denied students the resources and support they need. To reverse that pattern — and to address the structural underfunding of New York State — the final budget must include at least the $7 billion in increased revenue supported by both the Senate and the Assembly. Revenue is the key; the pandemic revealed the damage that has been done by decades of racialized austerity. History will judge us on whether we had the political will to undo that damage."
Schumer's announcement of additional federal funding for CUNY came after a February 4 state legislative budget hearing on higher education that included testimony from Matos Rodriguez, Senior Vice Chancellor and Chief Financial Officer Matthew Sapienza, and PSC President Barbara Bowen, and questions from members of the State Senate and Assembly.
At the hearing, Matos Rodriguez asked for additional state funding for construction projects and information technology systems, as well as the money to continue offering the Accelerated Study in Associate Programs, or CUNY ASAP, which help students adapt to and succeed in college.
On March 15, the State Senate passed a one-house budget resolution, which included emergency aid for schools and colleges. The resolution provides an additional $174 million for the Tuition Assistance Program to raise the maximum award to $6,165 from $5,165; $4 million to CUNY for mental health supports; an additional $13.6 million for CUNY community college base aid; $148 million to close the TAP gap at public city and state universities; and a 20% increase to opportunity programs and for establishing a new Diversity in Medicine program at CUNY and the State University of New York. The Assembly also had significant CUNY investments in its one-house budget.
"CUNY applauds the State Senate and Assembly budget proposals that strongly support public higher education and most importantly would help us continue to provide much-needed opportunity to our students, particularly in the aftermath of the Covid-19 pandemic," Matos Rodriguez said in a statement. "We are grateful for the proposed increase in capital investments to support facilities improvements and critical maintenance and for additional operating supports. We welcome aid for childcare services, students with disabilities, mental health initiatives, and the CUNY School of Labor and Urban Studies. We are pleased to see additional supports for community colleges that would enable CUNY to expand workforce training in response to the pandemic, train workers for green energy jobs and continue our acclaimed Accelerated Study in Associate Programs (ASAP)."
Throughout the state's 2021-2022 budget process, however, the CUNY Rising Alliance advocacy coalition has been calling for funding for its proposed "New Deal for CUNY" legislation, which has been sponsored by Brooklyn State Senator Andrew Gounardes and Bronx Assemblymember Karines Reyes.
"I've fought hard to include funding to jump start the CUNY New Deal," Gounardes told Gotham Gazette in a statement just ahead of the budget deadline. "The CUNY New Deal has always been a multi year plan, but it's crucial we get the initial investment this year to not set us back any further."
The legislation, if adopted, would increase the amount of full-time professors to meet the national average ratio of 1-to-14 full-time faculty to full-time students, raise adjunct salaries to equal full-time professor salaries, and significantly increase the number of mental health counselors and academic advisors at the university. Possibly the most notable aspect of the plan, however, is that the New Deal for CUNY would make CUNY tuition and fees free for all in-state undergraduate students. Advocates stress that this would be a return to a tuition-free CUNY given that the university was free for city residents for much of its existence until the late 1970s.
"I'm proud the Senate's budget plan restores the Governor's cuts to @CUNY, closes the TAP Gap, freezes tuition & increases funding. But students need more profs & counselors, adjuncts need pay parity & it's time for free higher ed. Let's #InvestInOurNY & pass the #NewDeal4CUNY," Gounardes tweeted on March 22.
So far, it doesn't look like all the parts of the New Deal for CUNY that Gounardes and others have been pushing for will be included in the adopted state budget, but nothing in Albany is really known until a deal is reached and bills are printed.
In terms of city funding to CUNY, there is more time before the City Council and Mayor Bill de Blasio must finalize the budget, but the Council's Committee on Higher Education held a hearing on CUNY funding on March 3 as part of its series on de Blasio's preliminary spending plan. It included testimony from Sapienza, CUNY Executive Vice Chancellor and Chief Operating Officer Hector Bautista, and University Director of Capital Budget and Finance Gwen Perlman. The hearing was led by Committee Chair Inez Barron of Brooklyn.
Barron explained early in the hearing that the City Council is waiting to see what money is coming down from the state before making decisions on its own funding for CUNY.
"It has been my honor to sit as chair of this committee since fiscal 2015, and in those 11 — and now 12 — separate budget hearings, I have made clear just how important faculty and upper management diversity is, tuition increases and those impasses on affordability and accessibility for students are and childcare supports and increases in the base aid for the state are," Barron said. "Today, I am re-emphasizing my position in these areas."
During their testimonies, Sapienza and Bautista said that the CUNY budget asks of the city are to fund the university's construction projects on its campuses, IT support and solutions for distance learning, technology for students, mental health counselors, a diverse faculty and a nursing pipeline program.
Not included in the preliminary CUNY budget, as pointed out by Barron during questioning, were the Peter F. Valone Merit Scholarship, the remediation program, and the ASAP program, which has faced cuts in the past year. Sapienza explained that the university wants funding restored for these programs, but just chose not to include them in the budget out of respect to the fiscal constraints of the pandemic that the Council has to contend with when making allocations.