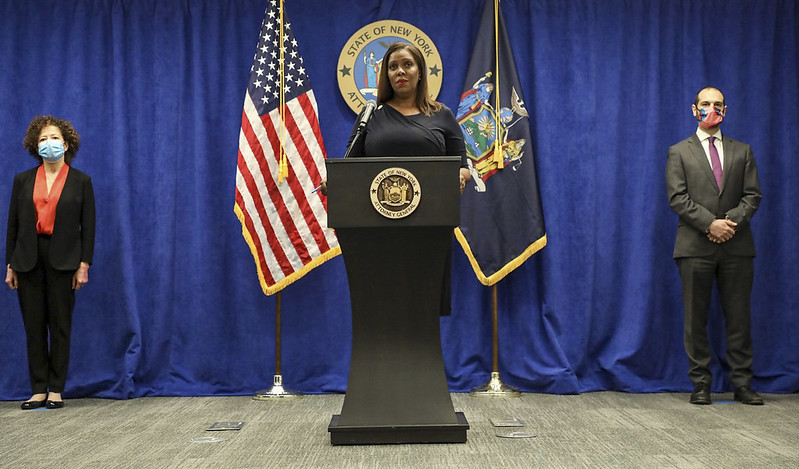 NY AG Letitia James is vacating the position to run for Governor (photo: AG's office)
---
UPDATE: On December 9, 2021 New York Attorney General Letitia James dropped out of the race for Governor and announced her intention to seek reelection as Attorney General in the 2022 election.
*****
With current New York Attorney General Letitia James launching a campaign to be the next governor, the race to fill her seat is attracting a growing swell of candidates.
James, a Democrat elected in 2018, was planning to run for reelection and would have been heavily favored to win, but Andrew Cuomo's resignation created a new playing field for the governor's race and James decided to jump in.
With another "open" race for Attorney General, candidates from across the state and political spectrum with a wide variety of resumes are either declaring or exploring candidacies to become the state's top legal officer. The New York Attorney General is the attorney for the State of New York, representing the state in legal proceedings of all kinds, and leads a large and powerful office that is also responsible for handling criminal appeals, influencing a state's approach to law enforcement, enforcing federal and state laws, and acting as a representative of the public interest. 
There is a lot of discretion involved in being Attorney General as well, and different officeholders have had varied priorities, including how much they take on issues of national importance, Wall Street, climate change, political corruption, and more.
The next New York Attorney General will be chosen by voters across the state through party primaries set for June and the general election in the fall of 2022. The winner will take office January 1, 2023.
As of November 20, three Democrats and two Republicans have officially declared their candidacies for Attorney General, though several others are exploring possible runs. New York has not elected a Republican statewide since Governor George Pataki won a third term in 2002 and has not elected a Republican state Attorney General since Dennis Vacco won in 1994. Democrats retain a massive voter enrollment advantage, but Republicans are hopeful about 2022.
Below is a brief initial rundown of the active and pending candidates for New York Attorney General, which Gotham Gazette will update periodically as the field develops:
DECLARED DEMOCRATS
Shelley Mayer
State Senator Shelley Mayer announced her Attorney General campaign in early November. Mayer has represented the 37th Senate District, a Westchester district that includes Yonkers, White Plains, New Rochelle, Rye, and their surrounding areas, since 2018. Mayer is currently the chair of the Senate education committee but has a background in legal work, having served as an Assistant Attorney General from 1982-1994. From 2013 to 2018, Mayer also served as a member of the New York State Assembly, representing the 90th district covering Westchester county.
In an interview with Spectrum News' Capital Tonight on November 9, Mayer said that she views the position of Attorney General as having "incredible authority and power to make changes in ordinary people's lives," citing former Attorney General Bob Abram's used-car lemon law.
"I think it's several things," said Mayer, when asked what specific areas she would focus on as Attorney General. "Consumer protection, particularly as we recover from COVID. Ensuring that, in terms of credit cards, insurance, all the issues that people deal with, that we have all the protections [required]."
Zephyr Teachout
Zephyr Teachout, a progressive professor at Fordham Law School, author, and former candidate for several political offices, announced her bid for Attorney General on November 15.
Teachout is a star of New York's left for her legal work, including calls for corporate regulation, trust-busting, government ethics and campaign finance reform, as well as her campaign against then-Governor Andrew Cuomo in 2014, 2016 congressional bid, and 2018 run for Attorney General.
After coming in second to James in that hard-fought 2018 Democratic primary for AG, Teachout is trying to make 2022 her year. In a four-way primary in 2018, Teachout got 31% of the Democratic primary vote.
"As Attorney General, I will defend poor, immigrant, and working class New Yorkers from corporate abuse," Teachout tweeted on November 17. "We must make it too costly to break the law. I'll bring big, creative, cutting edge lawsuits to stop corporate monopolists."
Daniel S. Goldman
The lead prosecutor in Donald Trump's 2019 impeachment, Daniel S. Goldman, announced his campaign for New York AG on November 16. Before acting as counsel to the House Intelligence Committee for Trump's first of two impeachments, Goldman worked as a trial lawyer, legal analyst, and federal prosecutor in the Southern District of New York, where he prosecuted the Genovese crime family as well as various white-collar criminals.
"I think most importantly we need to have one standard of justice and everyone needs to play by the same rules," Goldman said on MSNBC's Morning Joe where he first made his campaign announcement. "But I think there are bigger fights out there that relate to both New Yorkers and to the nation: voting rights are being restricted around the country, reproductive rights, climate change is a massive problem, civil rights, criminal justice reform and holding the wealthy and well connected accountable."
Maria Vullo
Maria Vullo, the former Superintendent of the New York State Department of Financial Services, entered the 2022 Attorney General race in November as well.
As the state's top financial regulator from 2016 to 2019, Vullo was appointed by former Governor Cuomo to protect markets and consumers from fraud and to oversee financial services regulation.
Vullo, a Brooklyn native, also served as the chief of the Economic Justice Division in the Attorney General's office in 2010 under then-AG Cuomo, and otherwise worked from 1988 to 2015 at the law firm Paul, Weiss, Rifkind, Wharton & Garrison LLP, where she was a partner.
After leaving the Department of Financial Services in 2019, Vullo has been running a private financial advisory firm, directing a life insurance company, and is an adjunct professor at Fordham Law School, according to her LinkedIn account.
During her governmental and legal career, Vullo's new campaign website says, she passed cyber-security legislation, reclaimed money on behalf of New York State from big banks, and represented sexual assault survivors in court.
EXPLORING DEMOCRATS
Eric Gonzalez
Brooklyn District Attorney Eric Gonzalez has been eyeing a run for Attorney General and openly discussing the possibility, including during several events in Puerto Rico for the annual Somos conference that occurred just after Election Day 2021.
Gonzalez is the first Latino District Attorney in New York City history and would be seeking to become the state's first Latino Attorney General.
Starting in 2016, he filled the role of DA in an acting capacity upon the death of District Attorney Ken Thompson, then won the seat outright in 2017, followed by his reelection in 2021. He has built a reputation as a progressive reformer and is being encouraged to run by a variety of allies including Bronx Borough President Ruben Diaz Jr., in part because he could be the first Latino to become New York Attorney General while bringing the only Latino representation to a statewide or citywide elected position in the state or New York City.
Michael Gianaris
State Senate Deputy Leader Michael Gianaris, who represents the 12th Senate District that covers parts of western Queens, has been testing the waters for a possible 2022 Attorney General bid as well. Gianaris has a powerful role in the Senate and a reputation as a progressive legislator who has championed causes such as bail reform. He is also known as the leading elected official who helped torpedo the deal to bring a massive Amazon campus to Queens.
Reportedly, Gianaris has $3 million ready for a potential race. Earlier this year, Gianaris told Gotham Gazette that he hoped Attorney General James would run for Governor but said until she made her decision it was too early for him to speculate on whether he would run for Attorney General. He said he would not run against James for AG, but with her in the Governor's race, Gianaris has since said he's considering the run.
Melinda Katz
Queens District Attorney Melinda Katz is also preparing for a run for Attorney General, sources told The City. Before she was elected as Queens DA in 2019, Katz was a City Council member, a State Assembly member, and then Queens Borough President from 2013 to 2019.
Running for Queens DA, Katz emphasized criminal justice reform, pursuing hate crimes more intensely, boosting workers' rights, tackling housing fraud, and other issues. As the district attorney in Queens, Katz launched a review of potential wrongful convictions, as she had previously promised. In her first year as DA, Katz established a review unit for criminal cases that may have been improperly handled, leading to four exonerations, and halted prosecution on certain low-level, non-violent crimes.
Clyde Vanel
Representing District 33 in Southeast Queens, Assemblymember Clyde Vanel is also openly looking into joining the race to be the next New York Attorney General. Vanel has served as the Chief of Staff for New York State Senator James Sanders Jr. and owns the Vanel Law Firm, which focuses on intellectual property, business, and estate law.
Recently, Vanel opened a campaign committee and has said that, if elected, housing security would be a key issue to tenure.
DECLARED REPUBLICANS
Michael Henry
Commercial litigation attorney Michael Henry officially announced his Attorney General bid in August, getting an early start on the campaign. The Astoria, Queens resident is vying to win the Republican nomination then general election to become the state's first Republican Attorney General since Dennis Vacco's term finished at the end of 1998. Henry has not held or sought public office before this run.
Henry has thus far been running on criticism of Democratic politicians and championing issues such as justice for families of nursing home residents who died of COVID-19 amid decisions made by the Cuomo administration, taking on government corruption, reversing bail reform, reducing violent crime, and supporting law enforcement officials.
"Letitia James surprised no one by living up to becoming an 'AG' or 'aspiring governor,'" said Michael Henry in an October 29 press release. "In anticipation of this move, radical Democrats, like Zephyr Teachout, want to take her leftist legacy further. Others who supported, wrote and promoted bail reform and so-called criminal justice policies, have also floated their names as potential candidates for Attorney General, with zero embarrassment about the crime crisis they created. These radicals also remained silent during the worst of the pandemic as COVID ravaged nursing homes and their corrupt party head made millions off of a book."
Joseph Holland
Joseph Holland, currently the managing principal at Kingdom Partners real estate group, has also entered the Attorney General race. Holland has run for Attorney General in 1994 and 2018, where he won 25% of the primary vote before supporting Republican nominee Keith Wofford in the general election.
In 1995 and 1996, Holland served as Commissioner of the New York State Department of Housing and Community Renewal. He has had an extensive career outside of politics, where he has worked as an attorney, writer, entrepreneur, and ordained minister. Holland has worked at the Wilson, Elser, Moskowitz, Edelman & Dicker law firm, served as Vice-President of the Harlem Business Alliance, and co-founded the Beth Hark Christian Counseling Center.
According to his campaign website, Holland has three main platform points in his Attorney General run: economic recovery, crime and public safety, and enforcing the rights of New Yorkers. To help fuel covid recovery efforts, Holland says he plans to create a new bureau, the "Economic Development Bureau," to assist small businesses from the AG's office. He also says he will combat gun violence by working with clergy and civic leaders to form new crime prevention initiatives. Holland says as AG he would provide a "new focus on the rights of victims in three critical areas: victims of gun violence; victims in high-crime communities; and victims of hate crimes."
John Sarcone
John Sarcone, Principal Attorney of the Sarcone Law Firm in White Plains, announced his Attorney General campaign in November. Sarcone has served as the Town Attorney for the Town of Eastchester and Deputy Town Attorney for the Town of Cornwall. As an attorney, Sarcone has provided legal counsel to businesses, municipal governments and labor unions and his firm focuses primarily on small business and family-owned corporations, construction arbitration and litigation, insurance defense, and federal/state court commercial litigation, according to his website. When announcing his entrance into the race, Sarcone said public safety is key to his campaign.
"Our state has seen better days - with rampant crime and a revolving door built into our judicial system letting violent criminals back on the streets after they're caught," said Sarcone in his campaign announcement in front of the Westchester County Courthouse earlier this month. "I'm running for AG not to focus on just a few high-profile cases to raise my personal profile, but to bring common sense back to our justice system."
Potential Wild Card
Andrew Cuomo
According to reporting in ABC News 10BC News 10 and the New York Post, former Democratic Governor Andrew Cuomo has been looking into a possible 2022 Attorney General bid as a comeback. Cuomo held the Attorney General's office from 2007 through 2010, when he was elected governor for the first of three times.
Though public opinion of Cuomo remains low following his fall from power amid revelations of sexual misconduct and other scandals, he still has millions of dollars in his campaign account that could be used to run for Attorney General or another office.