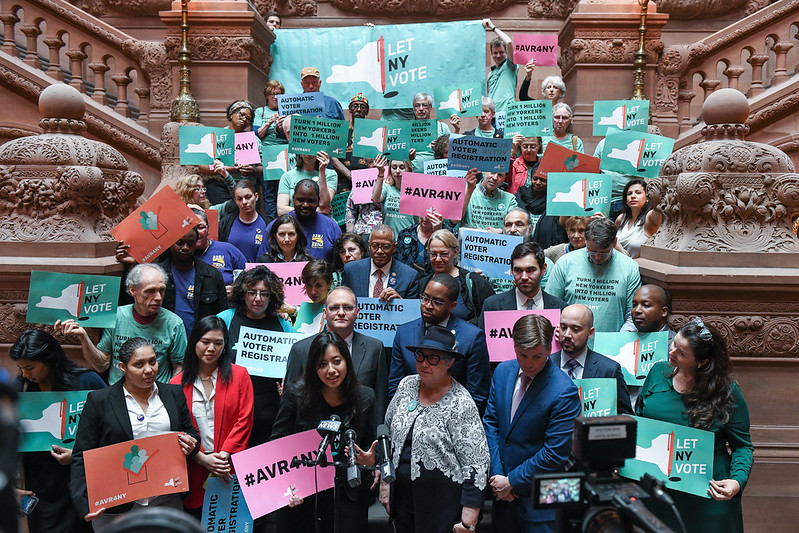 An Albany rally for voting reform (photo: Senator Michael Gianaris)
---
When New Yorkers voted down two state constitutional amendments this fall that would make it easier to vote they put a stunning stop to a three-year deluge of major statewide election reform.
Voting rights advocates and Democratic state lawmakers are licking their wounds and looking ahead to the next legislative session, beginning in January, with a list of changes to election rules and operations, including some of the measures that just failed.
Had they been passed by voters after having been passed by two consecutive classes of the Democrat-led State Legislature, the amendments would have enshrined or paved the way for universal absentee voting – a pandemic-era provision with a year-end expiration date – and "same-day voter registration," which allows people to register and cast a ballot on the same day.
Despite support among New York City voters, they failed statewide after a well-funded campaign by conservatives in the suburbs and upstate stoked unfounded fears of voter fraud, one that unfolded against a national backdrop of unproven election claims by former President Donald Trump. It caught Democrats flat-footed: the Conservative Party spent roughly $3 million, about ten times what State Senate Democrats spent, in advertising to defeat the two proposals and a third related to state and federal reapportionment and redistricting.
Voter turnout on the two ballot proposals in New York City, where the amendments were popular, was just 16% of registered city voters, compared to 28% of registered voters outside the five boroughs.
"They cannot have won without attracting 'blanks,' or independent voters, as well as even Democrats to their side," said Democratic Party Chair Jay Jacobs, in an interview on WCNY's The Capitol Pressroom shortly after the amendments lost, adding later, "It's something we ought to pay attention to."
Facing criticism for the defeat, Jacobs blamed the lawmakers who had pushed the amendments in the Legislature, mostly progressive Democrats, for not enlisting the party machinery. "From the state party's standpoint, we didn't hear much from the stakeholders on the issues so there wasn't any direction really to engage to a large degree on these amendments."
Since Democrats took full control of the State Legislature in 2019 by winning a Senate majority to match their long-standing Assembly one, lawmakers have passed a slew of reforms to change the voting landscape.
They attached a nine-day preamble of early voting to every election and moved state and local primaries to June to align with Congressional elections. They shortened the party enrollment deadline, made voter registration "portable" around the state, and authorized 16- and 17-year-olds to pre-register to vote. They passed requirements to make ballots easier to read and enabled poll workers to use electronic poll books instead of cumbersome paper rolls.
Beginning in 2023, eligible New Yorkers will be automatically registered to vote when they go to the DMV and a handful of other state agencies, unless the potential voter opts out. This year, state lawmakers passed a bill to automatically restore the voting rights of people when they leave prison.
Many of these changes were considered nonstarters before 2019, when Republicans controlled the State Senate with the help of a breakaway faction of Democrats.
When the pandemic hit, lawmakers enacted temporary no-excuse absentee voting and later changed the rules for counting and correcting flawed ballots. They also passed (to the chagrin of voting advocates) a law letting voters apply for absentee ballots earlier but restricting the deadline to request them.
In New York City, a voter-approved city charter amendment in 2019 enacted the new ranked-choice voting system in municipal elections. This month, the New York City Council passed legislation allowing green card holders and immigrants with legal work authorization to vote in local races.
Supporters say these measures have and will expand access to the ballot box and modernize New York's elections, which for years have suffered from low turnout, long lines, and administrative blundering. The changes have not been without challenges to local election boards that have had to devise numerous new systems to implement them.
The backlash against the state constitutional amendments this fall has echoed in opposition to the city's new immigrant voting law. Last week, Senate Minority Leader Rob Ortt, Assembly Minority Leader Will Barclay, and other Republican legislators issued a joint statement calling the amendments "Democrats' transparent political power plays and un-American electoral 'reforms'" and promising "a swift, Constitutionally-sound, and ultimately successful legal challenge" if immigrant voting is enacted in New York City. Mayor Bill de Blasio has said he would not veto the bill and City Council lawyers and other legal authorities believe it will survive a battle in the courts.
While this fall's defeat has given reformers some pause, Democrats and voting rights advocates say they will continue to push for changes to the state constitution and election law.
State Senator Leroy Comrie, a Queens Democrat, sponsored the no-excuse absentee voting amendment and told Gotham Gazette he would reintroduce it next session.
"We were surprised," he said. "I had no idea there was such a rabid campaign against it. The Democratic Party on the state level was caught with its pants down and they were totally unprepared to respond to it and never put together a campaign to even promote it."
"I don't anticipate having any problems with reintroducing it and getting it passed," he added, and said he was also working on bills "to increase voter participation, voter awareness, and also transparency."
Assembly Member Robert Carroll of Brooklyn also said he would reintroduce the same-day registration amendment he sponsored. "A hundred percent, I'm undeterred. We're going to get this done and we're going to get it back on the ballot and I'm convinced it will pass," he said recently on Manhattan Neighborhood Network's Represent NYC.
The two amendments could be back on the ballot for voters as soon as fall 2023 if passed by both houses of the Legislature in 2022 and when a new class is seated in 2023.
Comrie, Carroll, and other supporters say they do not view the loss as a break in the momentum of election reform nor cause for Democrats to reevaluate their aggressive approach to the issue.
"I don't think it indicates that at all," said Assembly Member David Weprin, a Democrat who represents a conservative section of Queens. He thinks his party needs to continue pushing the measures with better public advocacy and a "more organized support mechanism."
"A very low turnout election with an extraordinary amount of dark money spent to try and defeat pro-democracy measures. I think it's a unique situation that I do not expect to see repeated," said Susan Lerner, executive director of the good government group Common Cause New York, in an interview with Gotham Gazette.
"That's indicative of what a corrosive use of money can do. I don't think it's indicative of how people think about democracy upstate at all," she added.
In a recent report on the state of New York's elections, State Senate Elections Chair Zellnor Myrie, a Brooklyn Democrat, wrote, "The message is clear: without aggressive action to reform our elections and a full-throated defense of voting rights, opponents of expanding democracy can and will prevail."
The report comes after a tour of public hearings where voters and poll workers across the state voiced concerns and hopes for future elections. Without identifying specific legislation, Myrie recommends a host of causes for legislators to pick up when they return to Albany next month: restructuring the New York City Board of Elections; enhancing the capacity of other local boards; strengthening the oversight role of the State Board of Elections; adding professional requirements to election commissioner selections; and improving poll worker training and recruitment.
Advocates at places like the Brennan Center for Justice support many of these goals. The Brennan Center published a report this week, "How to Fix Election Administration in New York State," with a roadmap for state officials to make effective changes. It suggests adding a fifth party-unaffiliated commissioner to the four-member, bipartisan State Board of Elections and changing state law to allow boards to hire nonpartisan staff, including a single executive director at the state-level, rather than co-executive directors from both major parties.
The report also recommends a more transparent commissioner selection and staff hiring process for local boards, with public jobs postings and merit-based standards, and giving the State Board and, in some cases, local elected officials the power to remove commissioners for good cause after review by the courts. Brennan Center and other advocates have also suggested more resources for local boards, including more funding from counties and more centralized procurement by the state. They also want better reporting of voting data by county and state boards in order to better monitor the implementation and efficacy of election reforms.
Myrie is the prime sponsor of the New York Voting Rights Act, an omnibus bill that gives the State Attorney General the authority once held by the U.S. Department of Justice under the federal Voting Rights Act of 1965 to pre-clear elections changes that could discriminate against a protected minority group. It would also cover attorney's fees for winning voting rights cases. The bill includes the creation of a statewide database of election results and voter information and language assistance at more locations.
Another bill, that lawmakers have been working on for several years and is echoed in Myrie's report, would set minimum professional standards for New York City Board of Elections commissioners and delineate the responsibilities of board management. The City Board has been criticized for patronage hiring and nepotism and has been responsible for major election bungles over the last decade. The bill has undergone some revision since it was first introduced and while the bill's Senate sponsor, Manhattan Senator Liz Krueger, has indicated it has a good chance of advancing this session, its Assembly sponsor, fellow Democrat Assembly Member Nily Rozic, has said it will be "an uphill battle" in her chamber, where reform is generally less popular.
Common Cause New York supports the Krueger-Rozic bill, along with one sponsored by Myrie and Assembly Member Amy Paulin to require voting machines use voter-marked paper ballots and other security measures. The group also supports prolonging a pandemic-era extension on the nominating petition deadline and reduction of signature requirements for candidates to get on the ballot. Another bill would extend the temporary allowance for no-excuse absentee voting into 2024.
"I think if that were not to pass people will be shocked that they are unable to get absentee ballots," Lerner said. She also said legislation that would move the 25-day voter registration deadline back to the constitutional minimum of ten days "will have a significant impact in correcting the misinformation" around voter fraud that helped kill the same-day registration amendment.