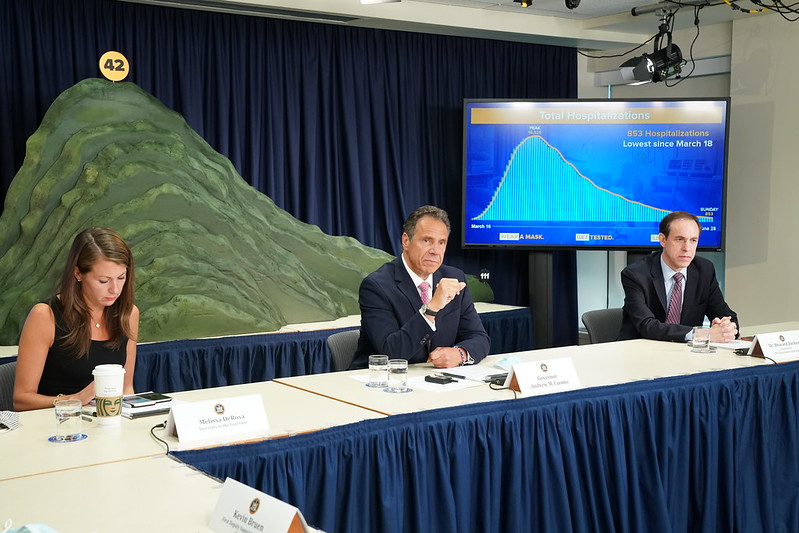 Gov. Cuomo holding a covid briefing (photo: Governor's Office)
---
In 2018, a sight-seeing helicopter crashed into the East River near Manhattan's Upper East Side, killing five passengers. A year later it happened again on the roof of a skyscraper in midtown. The pilot died. After the second crash, Senator Chuck Schumer called for the FAA to require helicopters be equipped with "black boxes," like airplanes, so officials could examine what goes on in the cockpit before a wreck and avoid future tragedies.
Two years after the first recorded COVID-19 deaths in New York, facing the threat of a new strain and on the heels of another deadly winter surge, public health experts, legislators, and survivors are asking why there hasn't been a similar black-box review of the government's pandemic response and the decisions of those in charge – why New Yorkers experienced one of the most concentrated waves of coronavirus fatality in the world and why city and state emergency response plans failed them.
COVID-19 has killed 70,000 people statewide since March 2020, including 40,000 in New York City and more everyday. More than half the city's deaths occurred in the chaotic ten-week period after the virus was first detected in New York, over a month after international health organizations sounded the alarm.
At the time, the state faced shortages of critical medical supplies like ventilators and surgical masks. Thousands died in nursing homes and a disproportionate number in Black, Latino, and immigrant communities where health-care resources are relatively scarce. Then-Governor Andrew Cuomo was making daily addresses urging New Yorkers to take up protective measures and blaming the Trump administration for a lack of leadership and support.
On March 2, a day after the first case was discovered in Manhattan, Cuomo and then-Mayor Bill de Blasio assured New Yorkers that the state and city were prepared, having known for weeks that the virus would spread in New York and with the experience of past disease outbreaks that, according to Cuomo, were "frankly more frightening than this."
"Excuse our arrogance as New Yorkers – I speak for the mayor also on this one – we think we have the best health-care system on the planet right here in New York," Cuomo said that day at a rare joint press conference with de Blasio. "We don't even think it's going to be as bad as it was in other countries. We are fully coordinated, we are fully mobilized."
The decisions state and city officials made in those first weeks and in the years preceding them – to wait to limit public activity, to stockpile or not to stockpile equipment, to defund hospitals in low-income communities – all came with trade-offs, and directly shifted the balance of life and death during the pandemic.
"A fundamental principle of emergency response is to have an after-action report, a good, comprehensive, transparent analysis of what went right and what went wrong during any type of response," said Dr. Jay Varma, de Blasio's top health advisor during the pandemic, in an interview with Gotham Gazette.
"The single most important mission of a commission should be, how do we prepare New York State to be resilient against future pandemics," he said of a hypothetical review panel, which he supports assembling at the state level. Varma, an international expert on disease control and prevention, joined the administration in April 2020, only after the city had become inundated with the virus.
There are a number of forms a comprehensive study could take. It could be conducted by a commission created through legislation at the city or state level, or through executive order by the governor or mayor. It could also be carried out by government watchdogs like the state attorney general or comptroller, or by a private academic institution.
The administration of Governor Kathy Hochul has given mixed signals about backing a pandemic response study, but the governor recently indicated she would conduct one when the crisis is over. Hochul, a Democrat, took over in August 2021 after Cuomo, facing several scandals including two related to his handling of the pandemic, resigned.
Spokespeople for Mayor Eric Adams, a Democrat who took office in January, pointed to new research institutions and public health initiatives to respond to the pandemic (efforts that originated under de Blasio), but no government-wide probe.
The approach of officials in other branches of government – like the State Legislature, comptroller, and attorney general – has been sporadic, uncoordinated, and narrow.
Experts studying the government's response to the pandemic say that along with reckoning with decisions by top government officials, any examination should look at the state's involvement in the medical supply chain, hospital capacity, and the regulatory framework governing public and private healthcare systems. It could also shed light on the cost-efficiency, in terms of lives and funding, of the allocation of resources from hand sanitizer to vaccines.
"This would be a mid-stream effort to understand what's been happening over the last two years…to say this is where we are and where we go from here," said Dr. Irwin Redlener, director of the Pandemic Resource and Response Initiative at Columbia University (not to be confused with the new Pandemic Response Institute, also at Columbia, and supported by city government).
"It's important because there are a lot of things that happened in the beginning that were not, by any stretch, perfect and are things that we should document and try to understand the dynamics of," he told Gotham Gazette.
Some of those include the corollary problems associated with inundated hospitals and a buckling health-care system, particularly in poor and underserved parts of New York, Redlener said. "We knew for a fact that many people were experiencing long waits and there was probably excess morbidity and mortality with those excess waits," he said. These same communities were known to disproportionately rely on emergency rooms for primary care and have higher incidences of underlying conditions. Those residents were also more likely to live in overcrowded housing and work in fields deemed "essential" during the pandemic, meaning they were unable to work from home.
Hospital surge plans and ventilator allocation guidelines were developed after the SARS and H5N1, or avian flu, outbreaks in the mid-aughts, and refined after MERS and Ebola a decade later.
Bill Hammond, a health policy fellow at the Empire Center for Public Policy, believes a review should scrutinize the details of those plans, whether they were germane, up to date, and followed. It should also interrogate the group of Cuomo administration officials in and out of the state health department who led New York's response, he argues.
"Why isn't anyone in the health department, in the legislature, in the governor's office jumping on this as just a basic duty of state government," asked Hammond of a systematic review.
Hochul's After-Action?
After Hurricane Ida flooded downstate New York and drowned 13 people last summer, the Hochul administration produced a 140-page study of each responding agency's actions, in some cases down to the half-hour, in the days before and after the storm. While the scale of the pandemic response is massive, experts say the underlying principle is the same.
In mid-March, after a State Comptroller's audit found Cuomo's Health Department "misled the public" about covid deaths among nursing home residents, Hochul hinted at the possibility of launching a full-scale governmental review at some point in the future.
"Once we get through the urgency of dealing with the pandemic at hand, I do want to look back," she told reporters at an unrelated press conference at the Javits Center in Manhattan, which in the last two years had been a field hospital, a mass vaccination site, and the scene of the city's first known Omicron-variant case.
"I want to continue working with the comptroller and find out every aspect of the pandemic, what was done right, what was done wrong, and make sure that we're positioned to deal with this should we be in that same situation again," she said in response to questions about the nursing home report. "That's the responsible thing so we're going to continue to be transparent, continue to release data, continue to work with anyone, whether it's the comptroller or legislators, to get to the bottom of information but make sure that we never make mistakes again."
"That's my commitment," the governor added.
The remarks were a departure from her health commissioner, Dr. Mary Bassett, who riled some lawmakers at her Senate confirmation hearing in January when she said she was not going to review the decisions of her predecessor, Dr. Howard Zucker, related to nursing homes, where over 15,000 residents have died. "I decided when I took up this post that I wasn't going to try to unravel what had happened in the nursing homes under the previous commissioner, but simply look forward," she told lawmakers.
Advocates for and relatives of nursing home residents have vehemently criticized Cuomo and Zucker for a March 25, 2020 order forcing nursing homes to receive covid-positive patients from cramped hospitals and for under-reporting the number of residents who died. The matter became part of a raft of corruption allegations against Cuomo, including serial sexual harassment, that led to an attorney general investigation, Assembly impeachment probe, and his ultimate resignation. Zucker stepped down weeks later as part of a slew of management changes under Hochul and after weeks of pressure related to his handling of the pandemic.
The governor's office wouldn't say what form the future review would take or what its scope would be. "As Governor Hochul said publicly, she is exploring all options to review our pandemic response and protect New Yorkers from future public health crises," wrote spokesperson Avi Small in an email.
Mark Johnson, a spokesperson for Comptroller Tom DiNapoli, would not comment directly on Hochul's statements but said the office "welcome[s] any suggestions about how we can be of assistance to the state in the future."
"Our team will do a risk assessment to determine what areas to audit. Our objective is not to overlap what the federal government and other independent monitors are examining," Johnson wrote in an email when asked about conversations with Hochul about a full-scale review.
Review Models
A number of models have been proposed for the after-action. Public health experts have suggested government committees along the lines of the federal 9/11 Commission, formed after the September 11 terrorist attacks, and public-private partnerships with research institutions conducting the study. There have been proposals for more granular bodies to look at individual aspects of the pandemic response like a bill in the State Legislature to establish a bipartisan commission to examine deaths in nursing homes.
If passed, that commission would be able to subpoena witnesses and documents to examine the effectiveness of nursing home precautions and the state and federal regulations that were in place. It would be appointed by the Legislature's majority and minority leaders and chaired by an appointee of the New York Attorney General, currently Democrat Letitia James. Hiring investigators and administrative staff would require funding (the fiscal impact is "to be determined," according to a memo from the bill sponsors).
"People think this is about going after Andrew Cuomo but it's not, this is about bad policies and making sure, whoever the governor is moving forward, we know what not to do," said Assembly Member Ron Kim, a Queens Democrat and sponsor of the bill.
Kim, an outspoken critic of Cuomo, chairs the Committee on Aging in the Assembly where the bill has bipartisan support. But he told Gotham Gazette it looked like a "stalemate" in the state Senate. In the upper chamber, the bill is sponsored almost entirely by Republicans, with the exception of Senator Julia Salazar, a Brooklyn Democrat and another vocal critic of the former governor.
The bill's prime Senate sponsor, Senator Jim Tedisco, an upstate Republican, said he was pushing the legislation in part because he was "shocked and dismayed" by Dr. Bassett's remarks at her confirmation hearing. "We owe it to the memories of all those who lost their lives from COVID-19 in our nursing homes and their families to thoroughly investigate what happened in 2020 and for the state Health Department to develop and recommend an action plan to prevent a terrible tragedy like this from ever happening again," he wrote in a statement.
Spokespeople for Senate Majority Leader Andrea Stewart-Cousin, a Westchester Democrat, and Assembly Speaker Carl Heastie, a Bronx Democrat, did not respond to requests for comment on the legislation. A spokesperson for Hochul said the governor would review the bill if it passes both houses.
There are no similar proposals at the city level in the New York City Council, according to a spokesperson for Speaker Adrienne Adams. Council Member Lynn Schulman, a Queens Democrat who chairs the Council's health committee, declined to comment for this article through a spokesperson.
Government Pandemic Oversight
Government watchdogs like the city and state comptrollers and state attorney general have assessed parts of New York's pandemic policy. But there has been no broad investigation on the "whole-of-government response" city and state officials frequently reference.
DiNapoli is currently auditing the actions taken by the Office for People With Developmental Disabilities, as well as mental health services at the city and state education departments, according to his office. He has conducted a number of other health-related probes over the last two years. Attorney General James has conducted her own investigations into nursing homes and other public and private health practices, first shedding light on the Cuomo administration's cover-up of the nursing home death toll in January 2021.
While piecemeal legislative oversight hearings and investigations have deposed executive branch officials, few have exercised subpoena power to compel decision-makers to provide records and answer questions. Some areas have never been the subject of a hearing or probe, like preparations in state-run psychiatric hospitals, where COVID-19 deaths among residents are disproportionately high. Federal-level covid commissions have been floated but have failed to gain momentum.
Spokespeople for James, Stewart-Cousins, and Heastie did not return requests for comment about an after-action commission or study on the pandemic response.
The Legislature "hasn't had a hearing on the stockpile [of ventilators and PPE], it hasn't had a hearing on the pandemic plan and whether that was adequate. It hasn't had a hearing on why the state was blind to the existence of a virus," said Hammond, of Empire Center, who has written extensively on the state's missteps.
Despite having systems in place, much of the state's response was reactionary, coming only after cases were detected – something that depended largely on delayed federal approval for the state to do its own testing, which took six weeks after the first COVID-19 case was discovered in the United States. Only after the first case was detected in New York's Wadsworth Lab and the first death in the state was confirmed on March 10 – six weeks after the World Health Organization declared COVID-19 a "public health emergency of international concern" and 18 days after Italy, experiencing its own healthcare system on the verge of collapse, issued a nationwide shutdown order – did Cuomo ban large gatherings and shutter major indoor tourist attractions like Broadway.
The WHO declaration, on January 31, 2020 stated "all countries should be prepared for containment, including active surveillance, early detection, isolation and case management, contact tracing and prevention of onward spread of 2019-nCoVinfection." It did not, however, recommend any "travel or trade restriction."
"So much of decision making was what is the least bad choice," said Dr. Varma, who joined the de Blasio administration in April 2020 after several years fighting infectious diseases abroad. "Every choice was awful."
"What would be clear very early on is that the state and city were caught off guard," he said of an after-action survey. "I'm not saying that to assign blame," he added. "There was an expectation that the federal government would step in and address these problems."
The state's pandemic response was a massive operation involving virtually every city and state agency, federal agencies like the CDC, FEMA, and the national guard, and major private health institutions like Northwell Health and the Greater New York Hospital Association.
"There are interests out there who feel like they might be burned by the process and they don't want the boat to be rocked," Hammond observed.
Learning the lesson of self-reliance, Varma said, the state should focus on how it can shore up its supply chain, underserved communities, and health-care infrastructure. "In my mind those would be kind of like three areas that I think a commission could focus on in a way that doesn't generate too much finger-pointing and blame and also leads to a productive outcome in the future," he said.
New York City
After the first covid wave in 2020 and on the campaign trail a year later, Mayor Adams (then the Brooklyn Borough President) criticized City Hall, Albany, and Washington for not being prepared.
In a May 2020 letter to the Department of Justice, Adams, Public Advocate Jumaane Williams, and other elected officials nationwide called for an investigation into the causes of covid's disparate impact on communities of color. Adams referenced the letter on the campaign trail.
"Why did we have a drive-through testing center on Staten Island before Brooklyn? We treated Black and brown people differently," he said at one candidate forum in 2021. He criticized de Blasio's response at another, saying, "we have a reactive plan, not a proactive plan."
The Adams administration would not say whether the mayor or city health departments supported forming a commission to study the city's pandemic preparedness at the height of the pandemic.
In response to Gotham Gazette inquiries, officials in the mayor's office, Department of Health and Mental Hygiene, and the city's public hospital system, NYC Health + Hospitals, pointed to a number of institutions established to respond to health issues related to and revealed by the pandemic.
One of them is the Pandemic Response Institute, a research facility launching in Columbia's Mailman School of Public Health and seeded with a $20 million capital grant from the city last September. Its mission is to "develop and deploy locally tailored health solutions, information, and capacity to prevent, prepare for, respond to, and recover from future health crises," according to a press release.
"A full recovery from this pandemic must include learning from our response and strengthening our public health infrastructure to prepare for the next one," wrote Kate Smart, a spokesperson for Adams, in an email. "That's why we invested in the Public Health Corps and the Pandemic Response Institute, which, in addition to constantly monitoring COVID-19, is preparing New York City for future health emergencies and epidemics in a more effective and equitable manner."
But the institute is not the type of government-sanctioned retrospective and investigatory body needed to publicly account for the state's response, said Dr. Redlener, the Columbia pandemic specialist.
"I'm not holding my breath about what that will do or won't do," he said.