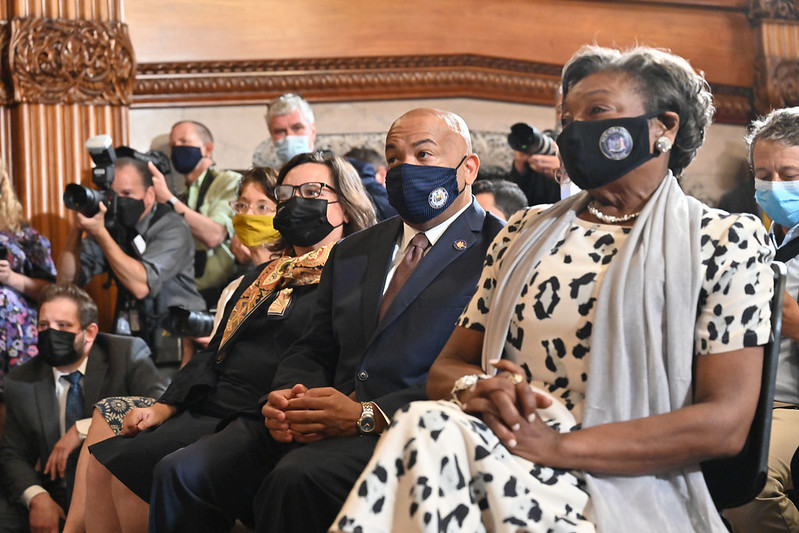 Legislative leaders Stewart-Cousins and Heastie (photo: Kevin P. Coughlin/Office of the Governor)
---
With a whopping $220 billion state budget approved, Governor Kathy Hochul and the State Legislature now move on to the post-budget legislative session with a long list of issues to address. The governor and two legislative majorities, all Democrats, have their own priorities, and New York City Mayor Eric Adams also has unfinished state business that he is hoping to accomplish before the session is over.
But the clock is ticking, with the legislative session scheduled to end June 2, just ahead of the June 18 start of early voting in this year's primaries for statewide and state legislative seats. Primary day is June 28.
The governor had several measures in her executive budget plan that didn't make it into the final budget agreement, including awarding Mayor Adams a four-year extension of mayoral control of schools, replacing the soon-to-expire 421-a housing tax credit with a new 485w program, banning gas and oil hookups in new buildings, passing the Clean Slate Act, and more. And though Hochul has a more cordial relationship than her predecessor with Senate Majority Leader Andrea Stewart-Cousins and Assembly Speaker Carl Heastie, the legislative leaders haven't been shy about flexing their political muscle, which means Hochul may have to make concessions to her colleagues to achieve her goals.
Stewart-Cousins, Heastie, and their conferences have their own agendas they will pursue. In both houses, progressive members have been vocal in their critique of the budget deal as they continue to press unmet policy demands. There is opposition to the proposed 485w program, clamor to pass a "good cause" eviction bill to expand housing regulations, and debates over a number of other housing-related policies being offered by stakeholders across the Democratic political spectrum. While the Senate made its policy priorities more clear in its one-house budget resolution, the Assembly did not, making a point of trying to limit the amount of policy in the budget agreement that Heastie said his conference wanted to try to keep more focused on fiscal decisions.
Here are roughly a dozen issues to watch in the post-budget session:
Benjamin on the Ballot
Every statewide and state legislative seat is on the ballot this year. Many current officials, including Hochul, must first make it through the June primary. The governor is running for a full term as governor after taking over from Andrew Cuomo after his resignation in August 2021. Until last week, Hochul had her chosen Lieutenant Governor, Brian Benjamin, running alongside her, though the two would appear on the ballot separately in the primary. But in a seismic turn of events, Benjamin was indicted on corruption charges and resigned last week.
Benjamin is likely to remain on the primary ballot, though Hochul and her allies appear to be exploring ways to remove him as she also starts vetting governmental replacements. State election law only allows a candidate to be removed from the ballot if they die, move out of state, or are nominated for another position. While there is some discussion of Benjamin relocating as he fights his charges, Democratic Assemblymember Amy Paulin is reportedly planning to introduce a bill that would allow that to happen, with little time to waste. Under state law, the Legislature cannot make any changes to election rules within 53 days of an election and the state Board of Elections is required to certify the primary ballot by May 4.
"If we could get it done very quickly, it could address the current quagmire that we're in," Paulin told The New York Post. "If we can't hit that deadline, it should be for future elections."
But the Senate majority has called the bill a nonstarter. "We are not introducing or taking up this bill," said Mike Murphy, a Senate spokesperson, in an email.
Mayoral Control of New York City Schools
Governor Hochul proposed a four-year extension of mayoral control of the New York City school system, which expires June 30, a more generous offer for Mayor Adams than his predecessor ever received from former Governor Andrew Cuomo or legislators.
Adams welcomed the proposal and has insisted that the regular cycle of renewing it more regularly is necessary to hold the mayor accountable. "I need to be held responsible for improving our schools and it's challenging to do so without having a four-year period that's needed," he said in testimony before the state Legislature in February (though a year prior, during a campaign forum, he had said he believed mayoral control should only be extended for two years at a time).
But neither legislative chamber included a mayoral control extension in their one-house budgets and the adopted budget ultimately did not deal with the issue at all. Though there's little doubt that it will be extended, questions remain about the strings that legislators will attach to it including about the structure of the city's Panel for Educational Policy and increasing parent input.
"We will get mayoral control done by the end of the session, when it expires," Hochul said in a PIX-11 interview after the budget passed. "No doubt about it."
Also on education, the issue of the cap on charter schools in New York City could be revisited, though there is apparently little appetite among Democrats to raise the cap, which has been reached. During his legislative budget testimony, Mayor Adams suggested the compromise position of legislation to allow the reissuing of so-called zombie charters, where a charter school license has been revoked or returned by a school that no longer operates, but the governor and Legislature took no action in the budget.
Building Gas Ban
In her executive budget, Hochul proposed a ban on gas and oil hookups in all new buildings starting in 2027, mimicking legislation passed in New York City in order to cut emissions from the city's largest buildings, which are its largest polluters.
But legislators and climate activists had called for the passage of the All-Electric Building Act, which would institute the ban starting in 2024, three years earlier. The governor's proposal, they say, doesn't address the urgency of the climate crisis.
Neither proposal was approved in the budget but the concept remains a priority for many officials.
421a
The state's 421a housing tax exemption, which is meant to encourage the creation of affordable housing, expires on June 15. Proponents of the decades-old exemption say it is a valuable tool for residential development in New York City while opponents argue that it is a giveaway to big real estate developers that has exacerbated the city's housing crisis. According to an analysis from Comptroller Brad Lander, the program will cost the city as much as $1.8 billion in lost revenue in the current fiscal year.
Hochul proposed replacing 421a with a new 485w program, which mandates deeper levels of affordability and extends the tax break to condominium developments, but was otherwise little-modified from the current program. Mayor Adams supported the broad concept of Hochul's proposal. "I'm a supporter of the governor's plan. I think that we need to do it strategically," he said in his budget testimony before state legislators. "It should not be just a blanket anywhere. There's certain areas we need to continue to promote development and do so with affordable housing."
But many legislators opposed the new program or dealing with it in the budget. It remains to be seen what, if any, form of new housing development tax break may be approved in the next two months.
Good Cause Eviction
A top priority for progressives this year is passing the "good cause" eviction bill, which would prevent tenants from being evicted or non-renewal of leases without good cause. It also limits how much rent can be increased while allowing landlords to raise rents for repairs.
The bill has broad support among progressive Democrats who say it is urgently needed, particularly as the pandemic has led to concerns of an eviction crisis. But the powerful real estate and landlord lobbies have been ardently opposed to it, arguing that it places an undue burden on property owners and over-regulates the private marketplace. Moderate and conservative Democrats have mostly thus far cast a skeptical eye on the legislation.
None of the governor's or legislative budget proposals included the good cause eviction bill, leaving it to be considered in the legislative session. State Senator Julia Salazar, a Brooklyn Democrat who is the lead sponsor of the bill, said it's her "top priority for post-budget" in an April 13 interview with the Max Politics podcast.
Accessory Dwelling Units and Basement Apartments
Mayor Adams had called on the state to legalize Accessory Dwelling Units and basement apartments, as part of his plan to address the city's lack of affordable housing.
Assemblymember Harvey Epstein co-sponsored a bill legalizing basement apartments, while the governor proposed allowing ADUs in neighborhoods zoned for single-family housing and an amnesty program for existing ADUs in the city. But neither were approved in the budget. Legislators from suburban districts in particular expressed concern about the ADU proposal, which they said could override local zoning regulations, and Hochul balked. She also did not push her proposal to lift the cap in New York City on floor-area ratio, a move Adams also supported, that would allow for more dense development.
These housing policies may continue to be a priority for Adams, who is facing pressure from housing and homelessness advocates to present a comprehensive housing plan and to dedicate more funding to affordable, supportive, and public housing.
Property Tax Reform
Adams' predecessor, Mayor Bill de Blasio, spent years promising to reform the city's property tax system, which is widely considered to be inequitable and burdensome. But reforms require state legislation and a commission that de Blasio created to explore any changes only released final recommendations on his penultimate day in office. 
"It is my desire to get this resolved within the first year. Let's put together a task force that sits down and comes up with real recommendations and solutions," Mayor Adams said in an October interview on Bloomberg Television.
But it's unclear whether the new mayor will try to make anything happen this legislative session, with little time to operate. Adams has yet to present his own plan and there have been no other comprehensive proposals at the state level from the governor or Legislature.
In the city, Comptroller Brad Lander and City Council Members Tiffany Caban and Pierina Sanchez, among others, have called for structural property tax reform, including scrapping the 421a program. "Tinkering around the edges may be what developers want, but it's not what New York City needs," Lander said in a statement in March. "It's time to let 421-a sunset — and take our best shot to build a fair and stable property tax system that eliminates disparities, facilitates rental development, and focuses our scarce affordable housing resources on genuinely affordable housing. Today, we are laying out the path to do it."
Clean Slate Act and Parole Reform
In her executive budget proposal, Hochul included the Clean Slate Act, which would automatically clear a person's conviction record once they have finished their sentence and become eligible based on additional criteria. The legislation is also backed by a coalition of labor unions, criminal justice advocates, law firms, faith groups, business leaders, and more.
But Hochul and legislators disagreed on provisions of the law and it was left out of the budget deal. Under both the governor's proposal and the legislative proposal, an individual's felony conviction record would be sealed seven years after they complete their sentence, and misdemeanor records would be sealed after three years. But the governor's proposal involves a different method of calculating that time, which proponents of the law say will significantly increase waiting periods.
"Despite tremendous statewide support, the Governor missed the opportunity to bring relief to 2.3 million people by insisting on unworkable waiting periods that would have rendered the promise of Clean Slate meaningless," the Clean Slate New York coalition said in a statement. "It is past time to remove barriers to employment, housing and education, and give people the opportunity to fully contribute to their communities and provide for their families. The ball is now in the Legislature's court. We call on the Assembly and Senate to pass the Clean Slate Act on the first day back to session and for the Governor to make good on her word to get the bill done."
There are also two bills to reform the state's parole system that activists and legislators are still pursuing – the Fair and Timely Parole bill, sponsored by Senator Salazar, which allows for parole eligibility based on good behavior and merit; and the Elder Parole bill, sponsored by Senator Brad Hoylman, which gives parole eligibility to incarcerated individuals 55 years and older who have served at least 15 years of a sentence. Neither bill has passed committee and could be taken up before the legislative session is over.
Also under criminal justice reform, Mayor Adams has said he plans to pursue further changes to the state's bail and other laws, but it is unclear if there will be any appetite at all among more than a few legislators to make additional changes after a series were included in the state budget after significant negotiation.
Voting, Elections, and Redistricting
In the lead up to the budget, the State Senate passed a raft of bills making changes and reforms to election and voting laws, including increases in poll worker pay, professionalizing election boards, and more, but the Assembly didn't pick them up. 
A Senate source said all the bills aren't likely to move ahead in the post-budget session but at least one will be the main priority, the New York State Voting Rights Act. The bill was introduced after Congress failed to restore protections of the federal Voting Rights Act, which has been diluted over the years, particularly in a 2013 Supreme Court ruling. The bill will be on the Senate election committee agenda by the end of the month, the source said.
While the Senate has been leading on election reform, advocates say the Assembly has been a roadblock. "The way that the state has made voting policy is not ideal," said Jarret Berg, an attorney and co-founder of VoteEarlyNY, an advocacy group. "And what we'd like to see is the two houses and the governor's office work together to modernize and professionalize New York's elections."
"What I don't like about the way these folks are lawmaking is you get a lowest common denominator of policy…the Senate passes a dozen bills the first day of session, they pass a dozen bills a month later, and now the Assembly gets to sort of cherry pick which ones they may or may not do," he added.
With the primary election around the corner, lawmakers will have to move quickly to enshrine any new voting laws if they are going to apply. But on one major issue, they will have to simply wait and see. The future of New York's state and federal legislative district boundaries is up in the air, with courts currently examining whether the state's redistricting process after the 2020 Census was fair or not.
Last month, a lower court judge rejected the new congressional and state legislative district maps, which was created by the Democrat-led Legislature after a purportedly independent commission failed to come to an agreement on new district lines. The ruling was soon put on hold by an appellate judge and the issue remains unresolved.
"The challenge before the courts now is whether the Legislature has that right or not" to create new district lines, said Jeff Wice, a senior fellow at New York Law School's Census and Redistricting Institute. Even if the court should find that the Legislature acted legally in creating the lines it already drew, there's also a legal challenge on the alleged partisan gerrymandering of congressional districts. 
The decisions in those cases could potentially delay the primary, though Wice noted that other courts have allowed elections to go forward even after finding redistricting plans to be illegal or improper, at times mandating new maps for subsequent elections. "Courts usually try not to interfere with an election cycle that's already started," he said. "But here we have a situation where not only did the cycle start, but petitioning and qualifying will have been completed by the time the court rules."
Home Rule on Speed Cameras
Mayor Adams called on the Legislature to give the city home rule over speed cameras and its speed limit, in order to tackle recent spikes in traffic deaths. "[We] believe that if we get this home rule message, and have control over our speed cameras and our red-light cameras, we can make a difference," Adams said at a March 25 event at the site where Isaiah Benloss, a Lincoln High School student, was struck by a speeding driver. Benloss later died of his injuries. "Since the pandemic 59% of traffic fatalities occurred during hours when the city speed cameras are turned off. Just doesn't make any sense," Adams said.
He also insisted that the speed camera program was not revenue-focused. "This is not about dollars and cents, this is about common sense," he said. "A common sense approach to stopping the culture of speeding in our city."
Adams' request wasn't approved in the budget and he is likely to keep advocating for it in the weeks ahead, though Albany lawmakers traditionally show little appetite for relinquishing power to the city.
Still More
There are many other issues and bills that legislators may prioritize in the legislative session, such as protections for freelancers or items sought by climate advocates like a clean fuel standard or extended producer responsibility for packaging waste, and many others.