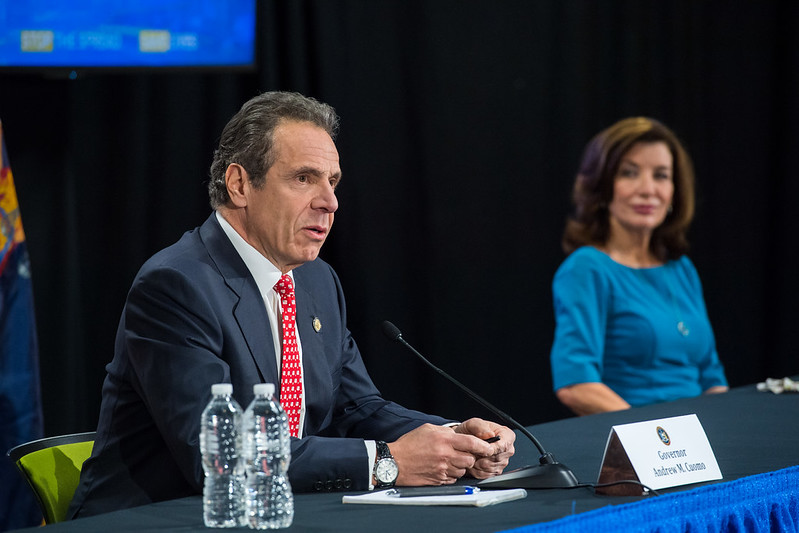 Then-Gov. Cuomo & then-Lt. Gov. Hochul (photo: Darren McGee/Governor's Office)
---
An internal review of New York State's response to the COVID-19 pandemic is quietly "underway," a spokesperson for Governor Kathy Hochul has confirmed, though what stage it is in remains unclear.
The governor's office has been tight-lipped about its scope and timeline but acknowledged that a review is being discussed, at least among top administration officials, in response to Gotham Gazette inquiries. Those questions followed Gotham Gazette reporting last month on the possibility of an investigatory commission into the state's response, which experts say should be convened, and recent New York Times reporting that Hochul had ordered top officials to undertake a thorough examination.
"Governor Hochul is committed to restoring trust in government, and that includes holding ourselves accountable for what works and what we can do better," wrote Hazel Crampton-Hays, a spokesperson for Hochul, in an email to Gotham Gazette.
At the height of budget negotiations last month, Hochul convened top administration officials to consider how they could approach such a study, according to the governor's office. She wanted to know what its purview would be and who, if anyone, from outside the administration should be involved.
"While we remain focused on addressing recent subvariants of COVID-19 and keeping New Yorkers safe," Crampton-Hays wrote, "the Governor and her team have been exploring a pandemic response review to determine what went right, what went wrong, and ensuring we are prepared to deal with whatever comes our way." She later clarified that the review was "underway," but would not say what its mandate was, what procedures it was following, or who was conducting it.
The comments followed Gotham Gazette inquiries on the somewhat shifting messages about whether the administration would launch a full-scale inquiry into the government's pandemic response, including decisions and mistakes made under the administration of Governor Andrew Cuomo. Hochul was Cuomo's Lieutenant Governor until he resigned in August 2021 amid several scandals, including related to his handling of covid in nursing homes and a self-promotional and -enriching memoir about his management during the pandemic.
The review organized by Hochul -- who had limited responsibility in the state's pandemic response under Cuomo, but was said to be monitoring and coordinating developments in her native Western New York -- comes after two years of criticism of how New York State and City handled the coronavirus outbreak. The revelation follows questions from public health experts and transparency advocates about why Hochul, the New York City mayor, and city and state lawmakers haven't systematically investigated it.
"One of the most tragic lessons from this pandemic is that New York cannot assume that Federal government systems—from the national stockpile to evidence-based public health guidance—will be sufficient," wrote Dr. Jay Varma, a top architect of New York City's public health response for much of the pandemic, beginning in April 2020, in an email to Gotham Gazette.
"New York needs to do a critical assessment of how it can maintain back-up and independent systems and supplies for future pandemic response," Varma said, adding, "a thorough, inclusive after-action report can help provide the guidance for that."
After-action reports are typical following disaster emergencies to help officials and the public understand the factors that contribute to catastrophe – from the system-level down to the decisions of individual policy-makers – and how to prepare for the future. A number of models have been suggested for New York, like a legislative commission or outside investigator, or even an executive commission under the state's Moreland Act. Experts say the most important element is the public's trust in the process and the ability for investigators to compel responses from the people involved.
Hochul's health commissioner, Dr. Mary Bassett, raised some legislators' hackles at her confirmation hearing in January when she indicated she wanted to "look forward" but not rehash the policy decisions of Cuomo's health commissioner, her predecessor, Dr. Howard Zucker.
But on March 16, after a blistering comptroller's audit of the health department's handling of COVID-19 in nursing homes, Hochul committed to taking a comprehensive look at the state's actions "once we get through the urgency of dealing with the pandemic at hand." Two days later, a spokesperson told Gotham Gazette the governor was "​​exploring all options to review our pandemic response."
Shortly after, around the time Gotham Gazette was inquiring and reporting on the possibility of an official after-action commission, the governor told Bassett and members of her inner circle that she wanted a complete examination of the COVID-19 response, reportedly within two weeks, according to a brief anecdote in a recent column on Hochul in the New York Times.
According to the Times' Jessica Bennett, the order was made in late-March to a group that included Bassett, Homeland Security Commissioner Jackie Bray, Labor Commissioner Roberta Reardon, Transportation Commissioner Marie Therese Dominguez, Director of Operations Kathryn Garcia, and Hochul's counsel, Elizabeth Fine. It is unclear if other officials were also present or what took place thereafter.
Crampton-Hays, the governor's spokesperson, said the review was "ongoing" in an email to Gotham Gazette on April 19. The governor's office has not released any other details about Hochul's order or what she hopes to accomplish with it.
"There's definitely value in the Governor hearing from each of her agencies about the lessons learned during the COVID-19 pandemic, and I can understand why a high-level summary completed over 2 weeks would benefit the administration as it plans the 2022-2023 budget," Varma said in response to the New York Times reporting.
"At the same time," he added, "this was an all-of-society event, and a more thorough and inclusive after-action report is needed."
The ideal after-action, according to Varma, would seek input from the most impacted communities, businesses, and sectors that played a role in the pandemic response.
"These sectors need to advise on what government should do better next time and what they themselves should be doing better," he said.
Mark Johnson, a spokesperson for State Comptroller Tom DiNapoli, welcomed the idea of an after-action but would not comment whether the Hochul administration has discussed the ongoing review with the comptroller's office. "A review of how New York state responded to the COVID-19 pandemic is important, considering the findings of our audit of the Department of Health's actions in the first few months of the pandemic," he wrote in an email. "Our office will review what the Governor's office produces, but we'll continue to hold government accountable and conduct our own independent work."
The state and city comptrollers, the state attorney general, and State Assembly have each conducted sporadic investigations into individual aspects of the pandemic. But there have been no broad investigations and few, if any, involving the coordination of multiple levels of government and the private sector to combat COVID-19.
"At some level it's encouraging that they're recognizing the need for something like that, but just based on that [New York Times] article it's hard to know exactly what she meant," said Bill Hammond, a health policy fellow at Empire Center who has been writing about the state's pandemic response throughout the COVID-19 crisis. "It's kind of a contradiction in terms to say, I want a deep dive in two weeks. A deep dive would involve much more than two weeks."
"It sounds like an entirely internal process," Hammond continued, "something that members of her cabinet and top advisers are putting together instead of everyone involved in the response at a rank-and-file level, let alone the public or the Legislature."