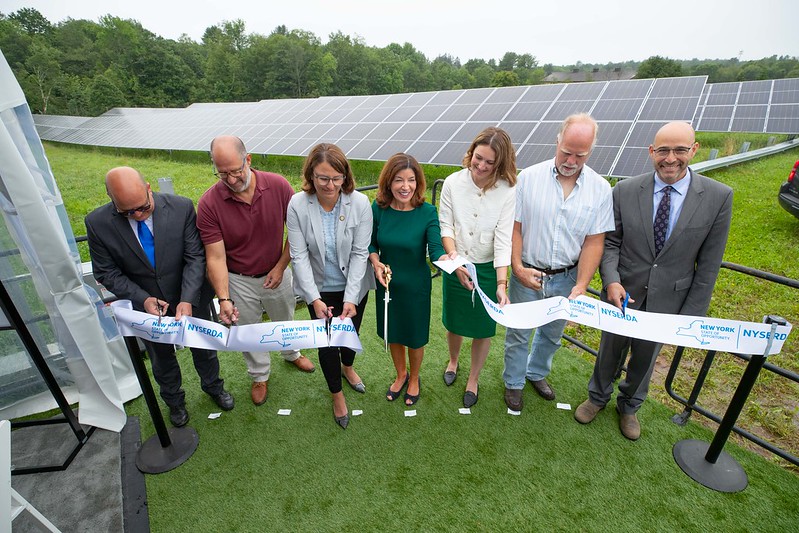 Gov. Hochul cuts a solar farm ribbon (photo: Philip Kamrass/ New York Power Authority)
---
Elected and appointed officials, candidates for office, and environmental activists in New York  were reenergized to fight against climate change locally in the wake of a June Supreme Court ruling that limits the power of the federal Environmental Protection Agency.
The decision in West Virginia v. Environmental Protection Agency released June 30 impacts the EPA's power to regulate carbon emissions, holding that the EPA needs congressional approval to take such action. Many legal experts expect that the Court's argument in the ruling could be extended to other federal agencies, hindering their regulatory authority to act without specific permission from Congress.
For the first time, the Court explicitly invoked the "major questions doctrine," a legal principle requiring Congress to give clear authorization before a regulation is imposed. The decision held that the EPA exceeded its jurisdiction when it created a rule that shifted power plants to renewable energy under the Clean Air Act. In practice, this signals that the "major questions doctrine" could be applied by the conservative majority on the Supreme Court to other EPA regulations and other federal agencies, potentially undoing regulations of major significance where Congress has not explicitly legislated regulatory authority.
The EPA ruling, while not unexpected, sent additional shockwaves across the country after the conservative Supreme Court majority's rulings overturning Roe v. Wade federal abortion rights and New York's concealed carry gun regulations.
In some ways, the EPA ruling flew under the radar given how much attention has been on Roe especially. But many in New York took notice and highlighted efforts underway or in the offing to take additional measures to fight or adapt to climate change.
"By limiting the Environmental Protection Agency's ability to protect our environment, the Court is taking away some of the best tools we have to address the climate crisis," Governor Kathy Hochul said in a statement. "New York is once again in the familiar, but unwelcome, position of stepping up after the Supreme Court strikes a blow to our basic protections. But as always, New York is ready. We will strengthen our nation-leading efforts to address the climate crisis, redouble efforts with sister states, build new clean energy projects in every corner of the state, and crack down on pollution harming the health of many New Yorkers. After this ruling, our work is more urgent than ever."
Implications for New York
State Department of Environmental Conservation Commissioner Basil Seggos told Gotham Gazette that while the Supreme Court's decision is "devastating," the "good news is that New York is ready." 
The ruling reinforces the important role that the states have in addressing climate change, said Seggos, who oversees New York State's environmental protection and regulatory agency.
New York's Climate Leadership and Community Protection Act, signed into law in July 2019 by then-Governor Andrew Cuomo, is commonly touted as the most aggressive and comprehensive climate legislation in the nation. Among other requirements, the law mandates that New York reduce its greenhouse gas emissions by at least 85% by 2050 from 1990 levels and creates the Climate Action Council to create the full plan to make it happen.
A group of 22 members, the Council is in the process of developing the Scoping Plan to reach the goals set in the CLCPA.
"Ultimately, the Supreme Court decision doesn't impact us from a regulatory perspective. We have our own state laws that are not subject to their decision-making," said Seggos, who serves as Co-Chair of the CLCPA's Climate Action Council. "I think what we now see is a heightening degree of responsibility that the states will have to ensure that the country is addressing the climate crisis."
The decision also increases the importance of the state Department of Environmental Conservation working in coordination with the EPA, Seggos said.
"Our relationship with the EPA has never been stronger," he said, referencing outreach, communication, and accessible EPA leadership. "This ruling underscores just how important that relationship is and that we are going to continue to be a committed partner with the federal government to find creative ways to help them achieve their goals and, of course, seek help from them for reaching our goals."
The Supreme Court EPA ruling increases New York's obligation to respond to climate change, said City Council Member James Gennaro, a Queens Democrat who chairs the Council's Committee on Environmental Protection.
"This ruling will inevitably place more pressure on New York City and other local governments.
New York City in particular, being very climate conscious, will be left to fill the gaps," said Gennaro. "But while New York City has been a global leader in climate efforts, there is very little motivating other states to follow suit. And that is the biggest problem we face from this ruling."
With fewer federal standards, companies may look to move their operations out of New York and into states with weaker environmental regulations, according to Peter Iwanowicz, executive director of Environmental Advocates New York, a nonprofit advocacy group.
"If we have national standards that are level with New York, then everybody's in the same playing field," said Iwanowicz, who serves on the CLCPA's Climate Action Council. "Leveling the playing field is a really important part of pollution reduction initiatives." 
Still, Seggos assured that the EPA continues to have an "extraordinary amount of authority" with regard to its regulatory abilities.
"In spite of the Supreme Court ruling, the EPA still has powerful tools to reduce greenhouse gas emissions," wrote Seggos and his Climate Action Council co-chair Doreen Harris, who is the CEO of the New York State Energy Research & Development Authority (NYSERDA) in a recent lohud op-ed. "Chief among them is its authority to require every coal- and gas-fired power plant to utilize the best advanced technologies available to meet stringent emission limits or cease operation. The EPA should follow the lead of California, New York, and other states and adopt aggressive vehicle emission standards that drive vehicle manufacturers to produce and sell the zero-emission cars, trucks, and buses using well-established electric and fuel cell technology."
Seggos told Gotham Gazette that the main issue he sees with the Supreme Court EPA ruling is that the "trend is worrying," referring to setbacks on climate change, though the interview took place before news broke of a deal reached between U.S. Senate Majority Leader Chuck Schumer of New York and West Virginia Senator Joe Manchin on potentially massive climate action in a federal budget bill being further negotiated in Washington.
Still, Seggos' concern remains, as he put it, that while the EPA still has authority and there is still a strong relationship between current federal and New York leadership, the Supreme Court ruling "setbacks a critical initiative, which is the regulation of power plants from a national perspective and pushing ultimately the power sector into renewables."
Others expressed concern that the generalities in the ruling will impact the EPA's jurisdiction further and have more far-reaching implications.
"This is a major setback in our fight against climate change," Gennaro said. "This ruling curtails the EPA's authority and poses 'major questions' about the EPA's authority to regulate emissions should this decision be applied more broadly."
Eddie Bautista, Executive Director of the New York City Environmental Justice Alliance, said he fears the potential for the Supreme Court to further implement regulatory restrictions in the future, especially because many New York state programs have been enacted in order to show compliance with federal regulatory and legal mandates.
"The wording of the decision is so troubling," Bautista said. "It's not impossible to see a right-wing attempt to use that ruling to try to go after New York laws."
Since the Supreme Court decision, Bautista said he has been careful in his approach to his advocacy, determined not to invite "similar attacks" in New York.
"We can't adopt a more cautious approach especially since the federal government's hands have been tied," he said. "But we also have to be mindful…If they've come after the federal government's ability to protect human health and the environment, what will it look like when they come after us at the city and state level?"
Legislation in Place
"New York State has the ability to always act more aggressively than federal environmental standards," Iwanowicz said. "Nothing that the Supreme Court decided under West Virginia v. EPA will impact New York State's efforts to zero out our greenhouse gas emissions."
While experts like Iwanowicz contend that New York's ability to enforce the landmark Climate Leadership and Community Protection Act of 2019 (CLCPA) is not currently threatened in light of the ruling, some like Bautista are worried about future suits targeting the CLCPA and many advocates and elected officials insist the state should be doing more.
"The CLCPA is absolutely not enough," said Pete Sikora, senior advisor for nonprofit advocacy group New York Communities for Change, where he leads climate organizing. "It is too weak and has no enforcement mechanism. The very limited positive steps the state has taken are wholly insufficient. They must do the big, hard stuff. Fast. They need to break the pattern of making big promises to act, but not following through."
Sikora is referring to the lack of a full plan from the Climate Action Council to fund, implement, and enforce the CLCPA, as well as related budgetary, legislative, and regulatory steps. There have been other climate- and environment-related bills that have become law in recent years but also a number of major proposals that have not made their way through Albany. The former group includes bills recently signed by Governor Hochul such as The Advanced Building Codes, Appliance and Equipment Efficiency Standards Act of 2022 and The Utility Thermal Energy Network and Jobs Act; while the latter group of unpassed climate bills includes the Build Public Renewables Act and a proposal to ban gas hook-ups in newly-constructed buildings. 
Following the Supreme Court decision, Hochul moved swiftly to sign that legislative package of three climate-related bills, targeting energy efficiency and lowering greenhouse gas emissions. The legislation supports the goals set in the CLCPA.
"Now more than ever, the importance of a cost-effective green transformation is clear, and strengthening building codes and appliance standards will reduce carbon emissions and save New Yorkers billions of dollars by increasing efficiency," Hochul said in a statement. "This multi-pronged legislative package will not only replace dirty fossil fuel infrastructure, but it will also further cement New York as the national leader in climate action and green jobs."   
The United States Climate Alliance, created in response to former President Donald Trump's withdrawal from the Paris Climate Agreement, is a coalition of 24 states including New York pledging to uphold the goals set forth in the original agreement. The member states, representing 59% of the U.S. economy and 54% of the U.S. population, according to the Alliance, pledge to achieve overall net-zero greenhouse gas emissions no later than 2050. 
"New York has an opportunity to demonstrate what it means to be a true global leader on addressing the climate emergency," Iwanowicz said of implementing the CLCPA. "Knitting together the coalition of the willing states is going to be really important, but it's always been important."
"We really need to double down on our draft plan," he said of the Climate Action Council's scoping plan.
In alignment with the agreement to limit global temperature rise to 1.5 degrees Celsius – a goal originally established in the Paris Agreement – New York City has pledged to reduce its own greenhouse gas emissions by 80% by 2050.
New York City Comptroller Brad Lander recently unveiled a Climate Dashboard to document the city's progress in reducing emissions, as well as other climate goals.
"This dashboard tangibly assesses the danger our inaction poses towards our city and keeps us accountable to moving the needle on both mitigation and adaptation," Louise Yeung, Chief Climate Officer for the New York City Comptroller, said in a statement. "Meeting our emissions reduction and resiliency goals is not an option for New York City – the future of our neighborhoods depends on the collective actions we take now."
New York City's Local Law 97, passed in 2019, is a nation-leading law that targets greenhouse gas emissions from existing buildings. The law, which has some major implementation questions of its own, calls for reducing building-based emissions by 40% by 2030, and by 80% by 2050.
Advocates and some elected officials have called on Mayor Eric Adams to ensure the full implementation of the law via appropriate funding and the regulations that his agencies are currently crafting. Implementation is an area where some see a greater role for the City Council, but the mayoral administration will nonetheless have significant say in whether the law has the kind of teeth its supporters thought it would.
"We're forced to play defense to try and make sure he fully implements and enforces the law," Sikora said of the new mayor. "He needs to move forward, not threaten forward progress."
One of the "most ambitious" laws in the country, Gennaro called Local Law 97, in addition to the "Gas Ban Bill," which prohibits the use of fossil fuel infrastructure in most new buildings in New York City starting in 2023, sets "a historic precedent for the country."
Proposed Legislation and Advocacy Efforts
Some New York environmentalists are demanding stronger action by the state, calling on elected officials to ensure that New York reaches its goals set in the CLCPA, in part by passing the Build Public Renewables Act and the All-Electric Buildings Act. 
"These are vital actions that should have passed in the last state legislative session," Sikora said. "Governor Hochul needs to get it done and Speaker Heastie should stop doing the bidding of the oil and gas lobby by blocking these vital bills."
The All-Electric Buildings Act is in essence the state version of New York City's gan ban bill. It would amend the state energy construction code, prohibiting "infrastructure, building systems, or equipment used for the combustion of fossil fuels in new construction statewide no later than December 31, 2023 if the building is less than seven stories and July 1, 2027 if the building is seven stories or more."
The Build Public Renewables Act, which passed the State Senate but not Assembly this past session, would require the New York Power Authority to phase out its fossil fuel power plants by 2030 and provide renewable energy to customers, enhancing the state authority's mandate and ability to produce renewable energies instead of largely being a procuring entity to buy such power from private providers.
"The Build Public Renewables Act is instrumental to the Democratic Socialists of America's vision of a national Green New Deal," reads a statement from the New York City chapter of the Democratic Socialists of America, which says it wrote the BPRA. "If passed, it would provide a model for other states to build renewable energy at the speed and scale that the country - and human civilization - needs to prevent catastrophic climate crises."
Assemblymember Robert Carroll, a Brooklyn Democrat and prime sponsor of the BPRA, continues to call for its passage, including at a hearing this past week on the bill. 
"Without the NYBPRA, New York is unlikely to meet the goals set forth by the Climate Leadership and Community Protection Act of 2019," Caroll said in a press release earlier this year. "Governor Hochul has a unique opportunity to use NYPA's strong bond rating to create desperately needed renewable energy projects. Projects that will create good jobs and be revenue neutral. Relying solely on the private market is not only insufficient for our needs, it would also result in an environmental justice catastrophe, where renewable infrastructure will be built for affluent communities downstate, while poor and upstate communities will continue to be forced to rely on dirty energy from fossil fuels."
Despite the alarming Supreme Court ruling, Seggos said he has confidence in the determination of New Yorkers to respond to climate change.
"New Yorkers are never hopeless," Seggos said. "We get upset, but I think we have a can-do spirit here in New York, that when you see setbacks like this, it just renews our sense of ability to create fixes for big problems."