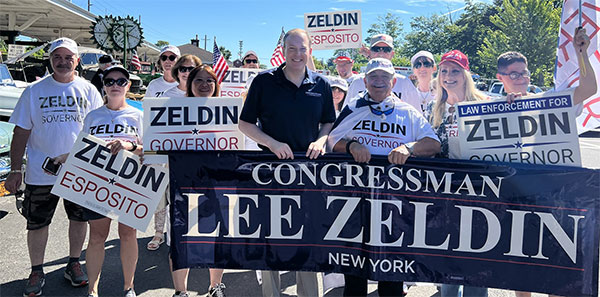 Rep. Lee Zeldin on the campaign trail (photo: @leezeldin)
---
U.S. Rep. Lee Zeldin, the Republican nominee for New York Governor in this year's election, is focusing his campaign on public safety, the economy, and cost of living.
Representing the 1st Congressional District on Long Island, Zeldin is a conservative with close ties to former President Donald Trump trying to accomplish a feat no New York Republican has over the last 20 years: win a statewide election.
Zeldin's campaign often appears more about attacking Democratic control of state government and Governor Kathy Hochul, who is seeking her first election to the position after taking over upon Governor Andrew Cuomo's 2021 resignation, than it does on solutions to the problems facing New Yorkers and ideas for moving the state forward.
But Zeldin does have a campaign policy platform, with a heavy focus on his "law and order" plans for reducing crime and his calls to reduce taxes and regulations while increasing economic activity.
Yet he has not provided plans to address the state's affordable housing crisis, healthcare system, public universities, mass transit, climate and resiliency, and more. That trend continued as the campaign declined to respond to several requests from Gotham Gazette inquiring into Zeldin's policies and positions on those issues.
Hochul, meanwhile, has not offered insights into new future priorities or a policy agenda for what a full next term as governor would include, instead indicating that she would continue to implement and deepen policies and programs already underway. The governor has also indicated she may pursue several items from her 2022 agenda that she was not able to pass through the Legislature in her first state budget and legislative session as governor, such as a replacement for the 421-a program that offered tax breaks to developers that include some affordable housing in their projects. But she has run her 2022 race almost exclusively focused on the accomplishments of her first year as governor.
Still, Zeldin and Hochul have both made clear where they stand on a long list of policies and priorities, with glaring contrasts on a large number of issues, including the hot-button items of abortion rights and gun control that have been the focus of much recent attention given the U.S. Supreme Court's spring rulings.
In what he calls a dire battle to "save our state" where "losing is not an option," Zeldin — who gave up his seat in Congress to run for Governor — is undoubtedly facing an uphill battle given New York's Democratic tilt. Initial polling shows him at a significant disadvantage and Hochul is all but certain to outspend him by many millions of dollars, in part because she has been able to raise large sums of money from people with state interests (something Zeldin and others from both major parties have criticized her for).
But Zeldin's politics, including his congressional voting record, are also clearly not aligned with the majority of New York voters on most issues. He is hoping, however, that his focus on pandemic era increases in crime, the state's high taxes, and the rising cost of living amid record inflation will help overcome that and other deficits. In those areas, his focus is clearly aligned with voters' concerns.
Zeldin will appear on the Republican and Conservative Party ballot lines for the general election, while Hochul will be on the Democratic and Working Families Party lines. Zeldin was denied a spot on the Independence Party line in the general election after submitting thousands of apparently faulty ballot petition signatures, an ongoing scandal hanging over his candidacy.
"We will secure our streets. We will make New York more affordable again. We will fight for our kids and our schools. We will fight to preserve freedom for our families to stay here and be strong. We are all in, and will take absolutely nothing for granted in all 62 counties of our state," Zeldin said in his primary victory speech on the night of June 28. "No county is too large. No county is too small. Kathy Hochul, we are coming for your job."
The four-term congressman entered the governor's race early and quickly became the Republican Party favorite as he racked up county leader endorsements. He then won the party's designation by a wide margin over his three primary opponents at the Republican state convention and though it was a competitive primary, he prevailed by a large percentage of the vote for a race with no incumbent and several legitimate candidates.
Zeldin emerged from the primary having to appeal to not only Republicans, but millions of New York's independent and Democratic voters who he will need to pull off the upset. Not only do Zeldin's stances on guns and abortion not match what polls show most New York voters believe in, his close ties to former President Trump, while helpful in a GOP primary, could also hurt him in the general election given Trump is hugely unpopular in the state overall.
Zeldin was among those in Congress who voted against certifying President Joe Biden's victory on the night of January 6, 2021, even after the riot at the U.S. Capitol by Trump supporters who the then-president sent there to stop that very process. When Trump was president, Zeldin voted with his agenda 88.8% of the time, according to a FiveThirtyEight analysis. 
Zeldin has laid out somewhat detailed policy plans for crime, education, political reform, fracking and gas production, and military veterans. And he has made a centerpiece of his campaign an all-out promise to end any remaining covid mandates, of which there are few, though he is also promising to rehire any state government workers who lost their jobs after refusing to be vaccinated against COVID-19.
At the same time, Zeldin is yet to provide detailed plans for a variety of issues and challenges, including the state's economy, though he often rails about its problems. Many of the campaign promises he has made are vaguely summed up in bullet points or phrases on his website. Despite multiple requests from Gotham Gazette asking the campaign to clarify the gaps in Zeldin's policy platform, no response was provided.
Following public uproar over the Supreme Court's two recent decisions overturning Roe v. Wade federal abortion rights and a century-old New York state law that required applicants for a concealed carry gun permit to provide "proper cause" distinguishable from the general public,  abortion rights and gun control are likely to be key issues among voters in the general election. Hochul is banking on it, while Zeldin is attempting to focus the conversation elsewhere. 
As a member of Congress and former New York state senator, Zeldin protested New York's Reproductive Act of 2019, which codified Roe v. Wade abortion protections into state law, and he has indicated during the Republican primary that he would like to appoint an anti-abortion health commissioner.
Zeldin has been more vocal on his pro-gun stances – which include a promise to repeal the New York SAFE ACT, a 2013 gun regulation package that banned the sale of most assault-style weapons in the state, and do away with gun-free zones.
He has also repeatedly spoken out against the new state law passed by Hochul and the Democratic Legislature in response to the Supreme Court gun-case ruling, whereby New York now has more stringent gun permitting and concealed carry license requirements in terms of training and background checks, as well as many "sensitive locations" where concealed carry will still be prohibited.
Likely recognizing his political vulnerability on both issues in a state like New York, Zeldin has described the issues as something of a distraction from things he believes New Yorkers are more concerned about, like crime and inflation. He's even noted that the state's abortion laws would be unlikely to change if he was governor given the certainty of at least one house of the Legislature, the Assembly, remaining in Democratic hands.
"No matter how hard Kathy Hochul tries changing the subject, the top 2 issues of this campaign for Governor are Crime & the Economy," Zeldin tweeted July 2. "She would rather talk about anything else because she's in over her head, doesn't have any solutions, & the state is going in the wrong direction."
"New Yorkers in every corner of our state are hitting their breaking points," Zeldin said in a statement in late June. "They're tired of the attacks on their wallets, safety, freedom, and kids' education. The reality is Kathy Hochul doesn't want to talk about these issues that matter most to New Yorkers. Instead, she's busy pandering to the far left and she's going to pay a price for that at the ballot box in November."
Zeldin is particularly focused on crime: making promises to repeal bail reforms passed in recent years, fire district attorneys who are not prosecuting alleged crimes the way he would like, and increasing funding to police. He has released a "Secure Our Streets" plan that provides detail on how he would reform correctional facilities, increase penalties, reform parole, and more. 
While he also frequently discusses inflation and the state's high cost of living, Zeldin's plans to bolster the economy are not fleshed out in detail. He has promised to allow and accelerate fracking and natural gas extraction and loosely said he would cut taxes and deregulate businesses. But while he has sometimes expanded on these ideas in debates and interviews, he has not offered substantive details. 
Zeldin has otherwise broadly outlined plans to reform the state's education system, including increasing parental oversight and curtailing conversations about race, sexuality, and gender identity in classrooms. He also has proposed ways to increase transparency during the state legislative and budget processes and improve government ethics, including through term limits.
A lieutenant colonel himself in the United States Army Reserve and former second lieutenant in the United States Army from 2003 to 2007, perhaps his most detailed policy agenda is to increase protections for military veterans, including by combatting veteran homelessness, expanding health care opportunities and veterans services, and more. 
Guns and Public Safety
Zeldin has zeroed in on addressing crime, which has consistently been a top concern for voters since it began to rise across the state and country during the pandemic. Almost all major crime categories have seen spikes over the past two-and-a-half year, including shootings and murders.
Zeldin has released the "Secure Our Streets" plan, which is focused on making bail and parole processes stricter, increasing police funding and support, removing District Attorneys who Zeldin believes are not enforcing the law strictly enough, reopening correctional facilities, increasing criminal prosecutions, and more.
Unlike Hochul, Zeldin does not see new or additional gun regulations as important to curbing gun violence. He instead argues that it is the illegal use of firearms that is the problem and says he does not want to infringe on the Second Amendment rights of law-abiding citizens.
The congressman frequently emphasizes that he plans to repeal "cashless bail," referencing a 2019 package of changes to the state's bail laws that eliminated the possibility of requiring money bail for most cases involving alleged non-violent felonies and misdemeanors, allowing most defendants for those offenses to be free from jail pre-trial. Zeldin, other Republicans, and some Democrats have claimed the bail law — which has been tightened twice since its passage, including this year — has driven up crime rates, despite evidence to the contrary.
 "The data is stories," Zeldin said as he announced his crime plan, referencing anecdotes of incidents involving individuals released without having to pay bail who went on to (allegedly) commit more serious crimes.
Hochul and legislators made significant changes to the bail law in the April state budget this year, allowing for a far more stringent approach to alleged repeat offenders and giving judges more factors to consider when setting bail. Hochul has said that the new law is not being implemented properly by judges and that New Yorkers must give it time to see the impact of the new changes. But Zeldin insists the governor and lawmakers have not gone far enough: he wants judges given even more discretion when setting bail – including allowing them to weigh dangerousness, flight risk, and more – and to remove the ban on requiring money bail for many lower-level offenses. Bail reform is a key pillar of a new platform Zeldin announced in early October called "Pathways Up."

"She's settling for absolutely nothing," Zeldin said on 1010 Wins in late June. "The fact is, we still have cashless bail on the books right now in New York. No matter how much Kathy Hochul is trying to give a spin-job to New Yorkers otherwise, it's still there and causing a lot of issues."
To improve public safety, Zeldin is offering a much tougher stance in virtually all areas and with regard to all (alleged) offenders, including adolescents, many of whom he says need "to learn their lesson." He proposes "overhauling" the state's Raise the Age law passed in 2017 — which increased the age of criminal responsibility to 18 for most offenses, sending many alleged youth offenders to Family Court and giving more discretion to judges in cases involving adolescents — but has not explained how.
Zeldin also wants to reverse the Less is More Act, which Hochul signed into law in September to alter some of the state's strict parole laws, but he says simply "keep[s] criminals on the streets who instead belong behind bars." The law changes when people can be jailed for minor parole violations, like missing an appointment, something New York has done more than any other state in the country.
He additionally pledges to end the HALT Act, which limits the amount of time an inmate can spend in solitary confinement to 15 days in a row or 20 days over two months. State correctional officers have opposed the law, unsuccessfully attempting to challenge it through litigation, but advocates say it is a necessary protection against the inhumane treatment of those who are incarcerated, and many say it does not go far enough. Zeldin has alleged that these limits on the use of solitary confinement have led to an increase in attacks on correctional officers.
Zeldin has focused a lot of his campaign rhetoric on the notion that if elected he would "fire" Manhattan District Attorney Alvin Bragg on his first day in office for failing to prosecute some low-level offenses and seeking lesser charges for a variety of other crimes. Zeldin's rhetoric about Bragg has not been supported by any data showing the policies of Bragg, who took office in January of this year, have had any negative impact on crime rates. Zeldin's talking points also belie the fact that the procedure for a governor to seek the removal of an elected official like a district attorney, clerk, and sheriff involves a lengthy process including an appointed investigator and hearings. 
"He's refusing to enforce the law across the board," said Zeldin, speaking of Bragg in an interview with NY1. "If you believe that 'DA' stands for Defense Attorney instead of District Attorney, then go be a defense attorney."
Zeldin says he would also increase penalties for looting businesses and hire additional police officers statewide, but he has not specified how he would do so in any detail. He also opposes any effort to "defund the police" or replace police officers with social workers in situations involving people experiencing mental health crises, and he supports qualified immunity, which protects police officers from civil liability when they are acting in the line of duty. 
To further protect and support law enforcement officers, Zeldin would enact a "Law Enforcement Bill of Rights" – which he outlined in a 2019 press release from his government office. The bill of rights would protect law enforcement officers from being prosecuted for using force in cases of self-defense and give them special privileges in the course of a criminal investigation, including allowing them to have a counsel or union representative present at any law enforcement interview. 
Zeldin also offers a series of proposals related to correctional facilities. He wants to reopen closed correctional facilities – such as Ogdensburg prison, which closed in March because of declining prison populations – and provide economic assistance to communities that have been affected by closures, while also hiring more correctional officers at prisons that remain open, while not closing additional prisons. 
Zeldin also promises to commission a study of violence in prisons to identify any additional improvements that should be made to correctional facilities. He says that under his leadership prison populations would be based on crime rates instead of what he calls "political calculations," apparently in reference to Democratic efforts to reduce the prison population. 
"Our prison population isn't being reduced because people are not committing crimes," he said as he announced his Secure Our Streets plan. "Prison population is being reduced because of political calculation – because of crimes that are not being enforced; people who are being let out of prison who shouldn't be."  
Also included in Zeldin's plan are several measures aimed at "supporting victims" that toughen the state's parole process. He suggests overhauling the Board of Parole and parole hearing process: requiring unanimity for the state board to grant parole, instead of a majority as currently required, establishing a process for victims and their families to appeal parole decisions, and providing more notice of parole board hearings. 
He suggests replacing members of the parole board who have "expressed poor judgment," but he does not say how he defines "poor judgment" or how it would be determined. Zeldin says he would also enact reforms to the composition of Board of Parole commissioners to make it more "fairly structured" – including by requiring victims' advocates and law enforcement to be included more directly in parole hearings. 
Boasting an 'A' rating from the NRA, Zeldin opposes new gun restrictions and wants to repeal others that have been put on the books in New York.
Despite somewhat retracing his steps, he has also been critical of red flag laws – which allow courts to keep firearms away from people deemed a risk to themselves or others — and said that he opposes raising the age necessary to buy and own semi-automatic rifles to 21, a requirement that Hochul has signed into law.
"Going after crimes committed with illegal firearms is very different than going after law-abiding citizens and denying them the right to be able to safely and securely carry their personal self-defense,"Zeldin said in a June 28 interview with 1010 WINS. "That is a right that I agree with, I support, I defend."
Zeldin has depicted endemic gun violence in part as a mental health issue, and he has pledged to invest in prisons to address mental health patients and addiction instead, though he doesn't offer any specifics.
Economy and Jobs
With inflation at 40-year highs, Zeldin has outlined skeletal plans to bolster the state economy through tax cuts and business regulation, increased natural gas extraction, and more. When pressed to offer a more substantive outline of those plans, Zeldin's campaign did not provide a response. 
He has proposed a three-part plan to lower energy prices, which loosely involves allowing the extraction of natural resources in the Southern Tier and some other unspecified locations via fracking, new pipeline construction, and a suspension of the gas tax, according to a March announcement in Buffalo.
Fracking – which poses a plethora of risks to the environment and potentially public health – was initially banned under then-Governor Andrew Cuomo in 2015, a decision that was later codified state law. Zeldin has often stressed that he would reverse this ban, in addition to introducing more opportunities for natural gas and oil drilling and approving new pipelines to help lower gas prices. Despite multiple requests for comment from Gotham Gazette, Zeldin has not responded to questions about the potential pollutive impacts of these plans or offered any commitments toward protecting the environment or working to combat climate change.
As a member of Congress from Long Island, where environmental concerns are relatively ubiquitous, Zeldin has focused on some related issues such as increased federal funding for the EPA Long Island Sound Program and National Estuary Program, and he has campaigned to keep dredge waste from being dumped in the Long Island Sound, according to his website. But according to the New York League of Conservation Voters, an environmental advocacy group, he has the worst record on environmental issues in the New York congressional delegation.
"If New York would reverse the Cuomo-Hochul ban on the safe extraction of resources under many parts of the state, jobs will be created, energy costs will go down, communities will be revitalized, and our state can prosper again," Zeldin tweeted on March 6. "Let's make New York energy independent!"
"By safely extracting natural resources and approving new pipelines, new jobs would be created, our state would become energy independent, new revenue would be generated, communities would be revitalized, and energy costs would be reduced," he states on his campaign website. 
Hochul passed a temporary state gas tax holiday starting June 1. Zeldin says that he too would suspend gas taxes, but go further than Hochul, and he has been critical of some of Hochul's other energy initiatives, such as her decision to abandon the Albany Loop pipeline, a project that activists rallied against, and energy plans included in the $220 billion state budget. He is among the conservatives who have railed against the state's Climate Leadership and Community Protection Act of 2019 that set the state on a path for major reductions in greenhouse gas emissions and increases in renewable energy production over the coming years.
To repair the state's economy, Zeldin says he plans to "slash job-killing regulations" and create "good-paying jobs," but he has not outlined specifically how he proposes to do that on his campaign website. Despite Gotham Gazette inquiries, Zeldin has not elaborated on these promises and priorities.
In his "Pathways Up" platform, unveiled in October, Zeldin said he would establish public-private small business incubators, starting in Harlem, and build more partnerships between public universities and employers to create stronger education-to-career pathways.
He also proposes "cutting taxes across the board" – supposedly by reducing income and property taxes, which he has mentioned in debates and interviews, but – but he does not include any specific details or plans on his campaign website and his campaign did not respond to requests for more specifics. He does note that he proposes to instate "automatic inflation indexing," which adjusts tax brackets proportionately to keep up with inflation.
Zeldin has also opposed the planned congestion pricing program for charging vehicles to enter the central Manhattan business district below 61st Street, which Hochul has supported due to its potential reductions in traffic and emissions and increase in revenue for mass transit. 
Education 
Zeldin has made several pledges to alter the state's education system, including by enhancing parental purview over students' education, lifting the cap on charter schools, expanding options for technical schools, banning certain teaching on race, sexuality, and gender, rolling back any existing covid mandates and vaccine requirements, and more. 
He released a "Students First Plan" in May that explains how he would reform education across the state. He says he would "end all indoctrination and brainwashing," including by banning a "divisive curriculum that pits children against one another based on race and other factors," in what is seemingly a nod to Critical Race Theory – the academic concept that is not part of the state's K-12 education standards but has become a buzzword for virtually any culturally relevant race education or focused teaching about racism.
Zeldin also says that he would ensure "age-inappropriate sex education material is not taught in school," that he would promote civics education in schools and "educate kids more about their great nation," and that he would teach students about the Holocaust. He provides few specific details on any of these changes.
He has repeatedly emphasized that he would like to increase parental involvement in student education, outlining it in his education plan and releasing an advertisement entitled Parents' Rights. He does not explicitly specify how he would increase parental involvement, however, though he appears to be largely concerned with increasing parental oversight of teaching around race, gender, and sexuality in the classroom. 
One of Zeldin's major education promises is to remove the cap on charter schools, which has been hit in New York City and for which parental demand far outstrips supply. Charter schools, which are privately run public schools not beholden to teacher or principal labor union contracts, have found far more support among Republican than Democratic politicians even as they are in high demand in heavily-Democratic New York City, among other places.
"Why I'm running for Governor against Kathy Hochul reason 6,342: She won't lift the cap on charter schools because she's bought off by the teachers union," Zeldin tweeted on February 1. "I support lifting the cap, because students stuck in multi-generational poverty deserve opportunity, school choice & success."
The charter school cap and parental choice was also in his October "Pathways Up" platform, along with a promise to add more technical and trade curricula in grade schools.
Before the lifting of statewide mask mandates in schools and daycares across the state, Zeldin campaigned vigorously on lifting the requirements. He has said that he is committed to "ending all COVID-19 mandates" and is against requiring covid vaccination for school children or anyone else.
Students in New York City are currently required to receive several immunizations – such as those for the poliovirus, measles, Varicella, and Hepatitis B. As a state-wide measles outbreak occurred in 2019, the state banned students from avoiding any of those immunizations on religious grounds. Zeldin says on his website that he would reverse that rule and restore religious exemptions for childhood vaccinations.
Zeldin supports mayoral control of New York City schools.
He says he would also achieve unfunded mandate relief when it comes to education, though he does not provide specific details.
And Zeldin promises to protect and expand advanced and specialized education, expand and improve technical job training, improve school safety, and support home-schooled children, though he has not released detailed plans to achieve those goals.
Transparency and Government Ethics
When Hochul took over for Cuomo after he resigned in scandal last year, she vowed to change the culture in Albany toward more collegiality, transparency, and ethics. While she has been credited for following through in some ways, in others she has come up short. And Zeldin is seizing on the latter as he attacks Hochul, including based on her attachment to Cuomo from her time as his lieutenant governor.
Hochul's first pick for her own lieutenant governor, Brian Benjamin, resigned over federal corruption charges. Critics also continue to say she has fallen short of her reform promises and good government groups have called the budget process one of the most secretive in history, including the massive Buffalo Bills stadium deal.
Zeldin has a 10-point "Reform Albany" plan that would establish term limits on statewide offices, appoint a special prosecutor to investigate the Cuomo administration covid nursing home scandal, end the "3 persons in a room" approach to governance, and more. 
He has also launched a website, TermLimitAlbany.com, where he asks voters if they support his plans and pledges to "term limit myself" to two four-year terms, which he believes should be the law for statewide elected officials (Hochul has also expressed support for this but did not get it passed in her first legislative session as governor).
"Now more than ever, it's clear Albany needs reform and a key step is enacting a 2 term limit on the highest office in the state," Zeldin said in a campaign announcement. "As Governor, I would term-limit myself to 2 terms regardless of whether the state legislature takes this action."
Zeldin promises to increase transparency and participation in decision-making processes, including by increasing the power, input, and participation of rank-and-file legislators and expanding what information is automatically disclosed to the public. He specifically notes that he would push the Legislature to more actively utilize the conference committee process between the Senate and Assembly to allow more transparency into the budget process, and that he would allow the state budget director and other high-level officials to testify in front of the committee during the that process.
While the much-maligned JCOPE is being replaced, thanks to a push by Hochul, by the new Commission on Ethics and Lobbying in Government to act as an ethics watchdog over state officials and lobbyists, Zeldin had his own plan on the subject that would be slightly different and he may pursue changes if elected governor.
Zeldin also wants to create the "Empire State Budget Office," which he says would be modeled on the independent Congressional Budget Office and responsible for providing nonpartisan, objective, and impartial analysis of prospective legislation.
Zeldin also says that he would raise state agencies' responsibility to answer requests under the Freedom of Information Law (FOIL), specifically by introducing stricter response timelines, requiring more detail in cases when requests have been denied, and setting a "strong presumption of approval." He also pledges to improve state websites through a redesign for usability and combining them into a service that resembles congress.gov. 
And Zeldin has also said that he would pursue a voter identification law, something studies from the Brennan Center for Justice and other think tanks suggest may disproportionately hinder voters of color. Zeldin is also against extending voting rights to non-citizen legal residents, as New York City is attempting to do for municipal elections (that new law was struck down in court, but the city is appealing).
Covid Mandates
Zeldin has been a vocal opponent of government mandates related to limiting the spread and impact of COVID-19, such as those around vaccinations or masks. He has pledged to end any remaining covid mandates if elected governor and to rehire any state workers who were let go after refusing to get vaccinated against covid.
He also said he would end New York's covid-related state of emergency, which Hochul has repeatedly extended during her time as governor. 
Veterans
An officer in the United States Army Reserve and former officer in the United States Army, Zeldin has several plans to bolster the support available for military veterans in the state. He says that he would eliminate veteran homelessness, expand health care opportunities and veterans services, and create a new protected class for veterans under Human Rights Law, among still more programs detailed on VeteransForZeldin.com.
There are an estimated 705,924 military veterans in New York, of which approximately 1,251 are homeless, according to data compiled by Housing Assistance Council and gathered between 2015 and 2020. 
Zeldin says that he would completely end veteran homelessness through an initiative that establishes private and public partnerships to increase housing opportunities, modeled after Ulster County's "Patriot Project." He also suggests expanding the number of Veterans Treatment Courts, which are modeled after drug and mental health courts, offering veterans 
a specialty court with supportive services that provide an alternative to incarceration if they have (allegedly) committed low-level crimes and have mental health or substance abuse issues. Zeldin says that only 35% of New York's counties offer such treatment courts and he wants to ensure it becomes 100%.
Zeldin offers his support for an act proposed by Jake Ashby, New York Republican Assemblyman for the 107th district and a former US Army Reserve Officer, the "New York's Own Combat Veterans Healthcare Choice Program Act," which would would create tax-free savings accounts to pay the healthcare costs of certain combat veterans until covered by the federal government. He says would take steps to implement the program, given that the legislation has not yet become law.
Ashby has also proposed creating a green alert system for missing veterans and military service members, similar to the amber and silver alerts for children and senior citizens, which Zeldin says he would bring to fruition.
Zeldin would also create a stand-alone Department of Veterans and Military Affairs, modeled after those in New Jersey, Connecticut, Pennsylvania, and other states. In New York State, there is currently a Division of Veterans Services and a Division of Military and Naval Affairs that operate under the jurisdiction of the New York Executive Department. Zeldin says devoting an entire department to veterans would show necessary appreciation.
Zeldin also plans to expand peer support, community services, and employment opportunities for veterans and enhance online efforts to help veterans more easily identify what benefits they are eligible for and better connect them to an advisor. He wants to offer veterans more workforce training programs and scholarships for technical colleges and the creation of a "New York State GI Program" that would go beyond the state's existing college assistance programs veterans are eligible for, including the Tuition Assistance Program and Veterans Tuition Assistance.
Reproductive Rights
A long-time opponent of abortion, Zeldin protested New York's Reproductive Health Act of 2019, indicated during this year's primary that if elected governor he would look to appoint an anti-abortion health commissioner, and praised the Supreme Court's overturning of Roe in a campaign statement. He supports increasing adoption opportunities across the state and the need for parental consent or informed consent when abortion care is being sought.
"The reality is, we're gonna have a balance of power in January. The State Assembly is going to be Democrat," he said in May when pressed by reporters about how he would change the state's abortion laws, referring to the potential power structure in Albany if he wins and Republicans possibly re-take the State Senate, which is unlikely any time soon. "The Democratic control of the New York State Assembly is not going to be sending me a bill that is going to be rolling this stuff back," he added of abortion protections.
When subsequently pressed on how he might use the governor's immense powers in the state budget process to influence issues like abortion, same-sex marriage, and more, Zeldin did not directly provide an answer. Meanwhile, he has promised to use budget process leverage to change the state's bail laws.
This month as a member of Congress, Zeldin voted against the Women's Health Protection Act of 2022, which prohibits restrictions on abortion services, and the Ensuring Access to Abortion Act of 2022. He also voted against the Right to Contraception Act, which would federally protect access to birth control – but while all three bills passed a House vote, they will almost certainly fail to overcome the 60-vote threshold to overcome a filibuster in the Senate.
Zeldin was among those who voted against New York's Marriage Equality Act of 2011 when he was in the State Senate. While some Republicans voted for it and others who opposed it then, like Rep. Nicole Malliotakis, have since said they regret their "no" vote, Zeldin has not changed his position.
Housing
Though he has touched on the subject in some interviews and debates, Zeldin has not released a plan to address the state's affordable housing crisis or explained why he has avoided the subject, despite several requests from Gotham Gazette for comment.
He was among the vocal critics of Hochul's accessory dwelling unit proposal when the governor released it early this year. He also told The New York Times that he thinks the longstanding tax break to promote affordable housing, 421-a, should not have expired in the Democratic Legislature and that he does not support "good cause" eviction legislation, which would cap rent increases and make it harder to evict tenants.
But Zeldin does not provide any substantive housing policies at a time when population growth downstate – specifically in New York City and its suburbs – has continued to significantly outpace residential development over the past decade. The resulting housing crisis has squeezed renters, kept vacancy rates at emergency levels, increased homelessness, hurt overall the quality of life, and reduced homeownership opportunities. While Zeldin has repeatedly railed against Democratic leaders for New York losing residents to other states, he has not addressed housing costs beyond property taxes as a cause.
His "Pathways Up" proposals include expediting affordable housing production, auditing the New York City Housing Authority, and providing permanent housing for shelter residents, though the plan lacks detail.
MTA & Public Transit 
As a State Senator, Zeldin notably led the effort to repeal the MTA Payroll Tax for 80% of employers. But while he has touched on the subject in some interviews, Zeldin has not released any plans to address public transit or management of the MTA, despite multiple requests from Gotham Gazette for comment on the subject.
When asked to comment on the ​​Metropolitan Transportation Authority, which runs the New York City subways and buses as well as the commuter rails to Long Island and the Hudson Valley, Zeldin told The New York Times that the biggest problem to address was public safety. 
"The security concerns are the biggest factor I'm hearing," he said. "The more people who feel safe and choose to ride it, that helps to stabilize the finances of public transit."
Health Care
As a state senator, Zeldin introduced and passed Adult Day Health Care legislation for disabled and elderly veterans and opened a new health care clinic for veterans, according to his website. But aside from promises to increase options for veterans, Zeldin has remained muted on the subject of health care during his campaign, despite multiple requests from Gotham Gazette for comment about his platform.
In his "Pathways Up" platform, Zeldin called for the state to "fully fund" mental health services and create diversion programs for people involved in the criminal justice system as a result of mental illness or substance abuse. Zeldin also called for Kendra's Law -- which allows court-ordered mental health treatment -- to be made permanent and for unspecified reforms to the state Office of Addiction Services and Supports (OASAS).
Public University System
While Zeldin is an alum of the state's public university system – graduating from SUNY Albany before attending Albany Law School – he has not yet provided any plans for the State University of New York or City University of New York (CUNY) systems. His campaign did not respond to Gotham Gazette inquiries about his plans for the university systems.