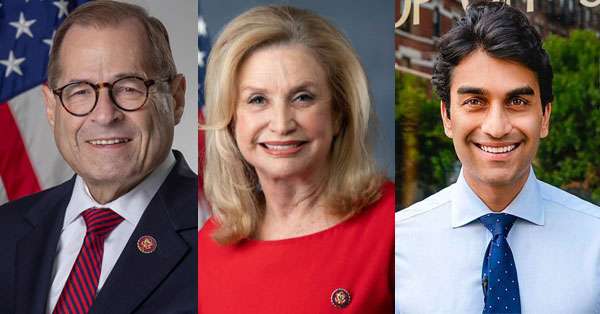 (l-r) Jerry Nadler, Carolyn Maloney, Suraj Patel
---
Once allies in Congress, Representatives Jerry Nadler and Carolyn Maloney have become fierce competitors as they both run in the new 12th Congressional District of New York in this month's Democratic primary. The two long-time House members were each first elected to Congress in 1992, but a chaotic redistricting process led to both their bases being drawn into the same new district, which includes much of both the East Side and West Side of Manhattan from about 18th Street to the north end of Central Park.
That election is set to come to a conclusion on primary day, Tuesday, August 23, with the winner all but certain to win the general election and be in Congress come January given the district's immense Democratic tilt.
Also in the race is attorney Suraj Patel, who has challenged Maloney the past two primaries, almost defeating her in 2020, and Ashmi Sheth. While Patel has raised significant campaign funding and polled relatively well, Sheth has not garnered any apparent momentum.
Patel, who is running on "generational change," "fresh ideas," and being an "Obama Democrat," appeared alongside Nadler and Maloney in two televised debates, where he sought to contrast himself to the veteran lawmakers, each of whom has chaired a powerful House committee this term. Nadler and Maloney are running on their power in Congress and accomplishments over their decades there.
Nadler has contrasted his and Maloney's voting record (particularly on the Iraq War, Patriot Act, and Iran nuclear deal) while both he and Patel have questioned her past skepticism about childhood vaccines.
Maloney has questioned Patel's commitment to the communities of the district and Nadler's ability to get a priority rail freight tunnel built while touting her ability to move the Second Avenue Subway ahead. She has also stressed the importance of female leadership amid the battle over reproductive rights.
Patel has said both veteran lawmakers have been unable to effectively lead in the most important fights of recent years against Republicans and that they are not offering new ideas to solve problems, pointing to his own extensive policy platform.
Polls have shown Nadler as a heavy favorite in the primary, but experts warn it and others happening this month are very difficult to predict given the timing and expected low voter turnout.
"I didn't want to run against my good friend Jerry Nadler," Maloney said in a NY1/WNYC debate. "We have been good friends and allies for years. Unfortunately we have been drawn into the same district. I would have much preferred to have the old district that I had."
If the low-voter turnout in the June gubernatorial primary is any indicator, it is expected that the confusion of a second primary, along with many voters leaving the city for August vacations will lead to relatively few ballots cast, though the communities of NY-12 include some of the highest turnout areas of the city.
"Someone joked that many West Side voters will be upstate while the East Side voters will be in the Hamptons," said Basil Smikle, director of Public Policy at Hunter College and former executive director of the New York State Democratic Party. "That's not far off."
Those factors have made absentee ballot programming seen as a potential difference-maker in this and other primaries this month for U.S. House and State Sente seats.
"I think the media interest and the close competition between two highly-respected veteran members of the House, plus a robustly self-funded vibrant young candidate in Patel, could create the kind of horse race that has traditionally generated higher than expected turnout," said political consultant Bruce Gyory.
Nadler is banking on his Upper West Side base staying true to its typcal highest-turnout-in-the-city showings. The Upper West side has a large population of politically engaged public school parents who have a long record of voting for Nadler, Smikle said. Meanwhile, Maloney may see some of her East Side base eaten into by Patel, who is in his third run to represent the area (in its new form the 12th district has gained much of the West Side while losing parts of Queens and Brooklyn where Patel did well in 2020 especially).
Nadler has sought to cement himself as the progressive in the race based on his voting history, which even Patel has acknowledged is difficult to assail. He pointed in the NY1/WNYC debate to his votes against the Iraq War and Patriot Act and for the Iran nuclear deal, while Maloney took oppositve stances.
In hindsight, Maloney said in an interview with Gotham Gazette that she stands by her decisions to support the Patriot Act and oppose the Iran nuclear deal, but regrets voting for the Iraq War.
"The classified briefings said they had weapons of mass destruction and could come in and blow up Times Square in my District," Maloney said of the Iraq War vote on the Max Politics podcast with host Ben Max, editor of Gotham Gazette. "Now, it turned out to be not true, but that's retrospect. At the time, I did not know. And if they were saying they were going to hurt the people I represented, I was obviously very concerned. But I regret that vote now."
Maloney also expressed regret about her history of questioning childhood vaccines, which became a focus for her about a dozen years ago and has been a source of intense criticism from Patel, Nalder, and others.
Both are among the judgment calls that Patel has used against Maloney, and part of his larger argument for change.
"We need people with new ideas and energy," Patel said during the NY1/WNYC debate. "It's 2022. It's time to turn the page on 1992."
Nadler and Maloney have pushed back. "What have you done?," Maloney has repeatedly asked Patel during debates or, rhetorically, during the podcast.
They both argue that a long tenure of experience should be seen as a strength.
"With seniority comes clout and the ability to get things done," Nadler said. "Both Carolyn and I have used that clout very effectively."
"Both campaigns have made this race about their roots and personal history," said Camille Rivera, Partner at New Deal Strategies, a progressive political consultancy, about Nadler and Maloney. 
In Maloney's own words, when asked during the debate how she is different from Nadler, Maloney said "in many ways we're similar," but that "when you compare our records of accomplishment, my record speaks for itself."
But during the interview with Gotham Gazette, Maloney had a different answer. "And I didn't quit on the Second Avenue Subway, which I went to Congress to build, and I've now built it," she said when asked to differentiate herself with Nadler. "I think a major difference between me and Mr. Nadler is he came to Congress wanting to build his rail freight tunnel, it's still not built."
Also, as Rivera said, Maloney is "running as a feminist champion," and portrays Nadler as "just another white male who needs to get out of the way." Nadler, on the other hand, "has leaned into his record and his progressive bonafides" and is "running on [Trump] impeachment, voting rights, and anti-corruption, painting Maloney as wealthy and out-of-touch."
Both Nadler and Maloney have used 'identity politics' as leverage for their campaigns. Nadler, raised Orthodox in Brooklyn, is the last remaining Jewish lawmaker in New York City's delegation to the House of Representatives. Maloney serves as one of the House's 123 female members, representing just 28.3% of the 435 seats.
"It's not lost on either campaign that there will be a loss of federal representation no matter who wins. Jerry Nadler is the last Jewish member of the New York delegation, and Carolyn Maloney is a woman running in a post-Roe environment," Rivera said. "Identity may well be a difference-maker, but they are also well-established, well-respected politicians."
Gyory said he foresees the possibility of female voters favoring Maloney and Jewish voters favoring Nadler, but the way Jewish women vote this election could be of utmost interest.
"Jewish women in this district will feel cross-tugged," Gyory said. "Thus how Jewish women break in this district between Maloney and Nadler will be a key, perhaps the key, to the outcome."
Meanwhile, many  elected officials, advocacy groups, labor unions, and other typical political campaign endorsers have had to make difficult choices between Nadler and Maloney. For some longtime close allies the choice has been easy, but others that have consistently endorsed both, the race has pitted two Democratic stalwarts.
"Major endorsers, who have historically endorsed both candidates when they ran in separate districts, have either stayed out, been forced to pick sides, or co-endorsed, which is an awful place to be in," Rivera said.
The New NY-12
In addition to the Upper West Side, Nadler's current district, NY-10, also covers the west sides of Midtown and Lower Manhattan, as well as parts of Brooklyn, including Borough Park and Bensonhurst. Maloney currently represents NY-12, which includes the East Side of Manhattan, Greenpoint in Brooklyn, western Queens, and Roosevelt Island. 
New York's modified 12th District, altered as a result of redistricting, will only encompass Manhattan neighborhoods. It and other new districts will take effect come January in terms of representation in Congress, thus forming the election boundaries in these races. The new NY-12 includs the Upper West Side, the Upper East Side, all of Midtown, and a smattering of neighborhoods just to the south.
Voters in the new 12th district voted overwhelmingly for Joe Biden in the 2020 election, at 86.1%, according to Redistricting & You from the CUNY Mapping Service. According to the director of that service, Steven Romalewski of the CUNY Graduate Center, Nadler's current district is more Democratic than Maloney's, with Democrat making up 72% of the registered voters compared to 62%.
Representing some of New York City's wealthiest areas, the median household incomes in both Nadler's and Maloney's current districts are both well above $100,000, according to Census Reporter. They are among the richest congressional districts in the nation.
Jerry Nadler
Nadler's interest in politics can be traced back to his time at Stuyvesant High School in Manhattan, when he was elected president of his senior class. Assemblymember Dick Gottfried, Nadler's former classmate, confidante, and fellow New York Democratic politician, helped Nadler with his class presidential campaign. 
"If you knew Jerry Nadler when he was 14, nothing about him today would be a surprise," Gottfried told Columbia College Today. "Almost everything you would say about Jerry today, you would say when he was a teenager."
Nadler has been a progressive leader for many decades. He was one of the founders of West Side Kids, a Democratic reform group, advocating for liberal and anti-war candidates in New York City politics, according to the Columbia profile. On his House website, Nadler touts being the first member of Congress from New York to openly support marriage equality. 
Before he was elected to Congress, Nadler represented the Upper West Side in the New York State Assembly for 16 years. He is seen as an Upper West Side institution, associated with other icons of the area, like Zabar's, one of his frequent haunts.
"It would be very unfortunate if there was no Jewish representation from New York," Nadler told the Washington Post. "As it would if there was no Latino representation or no Black representation."
As the chair of the House Judiciary Committee, Nadler gained national attention for leading the first impeachment trial of Donald Trump. He was one of the seven House Managers appointed to lead the prosecution of the sitting president, and helped to introduce and pass the articles of impeachment in the House. 
"If the President puts himself before the country, he violates the president's most basic responsibility. He breaks his oath to the American people," Nadler said in his opening statement of the House Judiciary Committee's impeachment inquiry hearings. "Even if the president is unwilling to honor his oath, I am compelled to honor mine."
Unlike Maloney and Patel, Nadler declined to participate in an in-depth interview with Gotham Gazette on his candidacy for Congress this year.
Carolyn Maloney
Maloney has a long history of activism and resume as an elected official. She started her career as an ESL teacher in East Harlem, and successfully advocated to restore funding for the program, according to her campaign website. She then worked as for the Department of Education and as an aide in the State Legislature.
Maloney soon pivoted to politics and was elected to New York City Council in 1982. As a City Council member, Maloney introduced New York's first LGBT equality bill. She was the first woman to give birth while serving in the Council and Maloney tried to pass inclusive paid family leave.
Ten years after she was first elected to the City Council, Maloney ousted Republican incumbent Bill Green from his Manhattan Congressional seat. Green had served in the district for 14 years, and Maloney won despite being outspent by Green by $380,000. "Ms. Maloney campaigned with puppy-dog energy, shaking hands, pushing through crowds to introduce herself, always smiling," The New York Times wrote of Maloney following her 1992 victory. She has held the seat since despite several challenges.
"I'm running to win," Maloney said on Max Politics. "I've never lost an election and I don't intend to start now."
Maloney is often hailed as a staunch fighter for women's rights and as been a leading voice in the effort to pass the Equal Rights Amendment to the Constitution, which would prohibit discrimination based on sex. 
"It is long past time to cement gender equality in our nation's most important text, the Constitution, once and for all. With the ERA, we secure equality under the law for women and all marginalized genders. While the last four years have shown us that we may not be able to control who is on the Supreme Court, in the White House, or in charge of Congress and local government, we can control the document they interpret and the legal parameters under which they operate," Maloney, who served as the lead House sponsor of the ERA, said in a 2021 statement.
In Congress, Maloney became the first woman to chair the House Committee on Oversight and Reform. In the role, she authored the CARD Act, which provided consumer protections through a credit cardholder bill of rights, and the Debbie Smith Act, which created a grant program to provide law enforcement with the resources to oversee the forensic testing of DNA rape kits. She has also chaired a long list of oversight hearings on many pressing issues, including gun violence and reproductive rights, the 2020 Census, and more.
During the interview with Gotham Gazette, Maloney touted her work on consumer protection, bringing infrastructure funding back to the district, and more. She became especially defensive around questions about her past vaccine skepticism and touted bringing covid vaccination centers to her district.
After some back and forth that included an apparent reference to cutting the interview short, Maloney said she regrets having asked questions about vaccines.
Patel is not the only candidate highlighting Maloney's past vaccine views. Nadler's campaign website says Maloney "has been a leading anti-vaccine voice in Congress."
"I think I'm unfairly attacked. [Nadler] knows it's a lie. He knows that I support vaccines," Maloney told Gotham Gazette, but when asked did not explain what about how her past has been presented is untrue.
"I regret any statement I ever made asking a question about vaccines," Maloney eventually said.
Suraj Patel
Patel — an attorney and adjunct professor of business ethics at NYU who has also worked in his family's hospitality business — is running for the third consecutive time to represent the 12th congressional district. If elected, he would be the first Indian American from New York to serve in Congress.
During his recent appearance on Gotham Gazette's Max Politics podcast, Patel said he has talked to thousands of NY-12 residents on the streets who have led him to believe that they are ready for a change in national leadership. He also emphasized the need for a younger generation of Democrats with new ideas, values, and energy to fight against Trumpism and "win back the rights we've lost over the last few months," in reference to the Supreme Court overturning Roe abortion rights.
"The status quo has failed New York and it's failed the Democrats and it's failed in Washington," Patel told Gotham Gazette. "After a combined 60 years of incumbency, 1990s Democrats like Carolyn Maloney and Jerry Nadler have lost every major battle to Mitch McConnell and the Republicans, whether it's on abortion, gun control rights, and securing our democracy or climate change."
Patel added that Democrats have had control of the state's three branches of government, yet have not codified abortion protections or other important civil rights into law (those based on Roe v. Wade, Griswold vs. Connecticut, Obergefell v. Hodges, and Loving v. Virginia), which he said is "an indictment" of "misplaced priorities."
At the same time as he's criticized Nadler and Maloney, Patel has been an ardent supporter of another '1990s Democrat' in President Joe Biden. Patel worked on the Obama-Biden campaigns and worked briefly in the Obama administration.
Patel is offering himself as the candidate with ideas for solving problems, and he has released an extensive policy platform. His main priorities if elected would be to improve public safety, control the cost of living, and protect civil liberties, as outlined on his campaign website alongside many other categories.
To increase affordability of the city and beyond, Patel's "Abundant Society" plan calls for driving down inflation and the cost of healthcare, housing, and higher education. His proposal includes building at least five million new homes by consolidating the House Supply and Affordability Act, YIMBY Act, and HOME Act; repealing the Faircloth Amendment, which limits the number of public housing units that federal authorities can create; reintroducing the Services for Ending Long-Term Homelessness Act; passing Build Back Better and the Green New Deal for Public Housing Act; protecting existing tenants through the Eviction Crisis Act; and implementing the Biden-Harris Administration Housing Supply Action Plan.
His other recent omnibus plan, "Dynamic Society," argues that "America is meant to build, invent, and create." The proposal advocates for reinvesting in science and technology by spending 2% of GDP each year on research development, including funding for public universities, the National Institutes of Health, the National Science Foundation, and more, as well as seed funding into a national green infrastructure and investment bank to modernize infrastructure and prioritize loans and equity to public science and technology.
Among other pieces, the plan also aims to guarantee an advance market for commercialized technology, increase funding to a variety of government research initiatives, and reform the National Environmental Policy Act to make it more difficult to block environmental projects.
During the podcast, Patel explained that his plans are national but also relate to the district, which is home to many research institutions, especially public health. He said the two plans are a "long-term, new economic" argument to strengthen the "manufacturing and middle-class capacity of this economy" through "the dynamic ingenuity" of the district for research development technologies and innovation.
Patel calls himself a "pro-growth" candidate, arguing that there needs to be a "new economic argument" that does not denounce growth, but aims to build in abundance to combat rising prices and scarcity when it comes to housing and much more.
While speaking on the podcast, Patel said cities including New York are facing a "livability crisis," and many people have had to choose between living in the city or raising a family.
"When I say we need to make a new argument for New York values, it means understanding the mediums by which we can change the conversation and message a new economic argument for Democrats and for the middle class and for this country," Patel said on the podcast. "And it's not standing up in front of a podium with Carolyn Maloney and Jerry Nadler, an easel, talking about on C-SPAN something that's irrelevant to people's lives. My campaign and I have sprung into action so many times just in the last three months to make change."
In their two past match-ups, Maloney has criticized Patel for his campaign's deceptive use of dating apps to lure political supporters and past "creepy" Faceboook comments he made about meeting a young gymnast. In those and this campaign, she has repeatedly questioned Patel's commitment to the district, asking what he has done for the communities between his congressional runs.
While Patel has critiqued Nadler at times, most of his criticism has gone toward Maloney, especially a focus on her past vaccine skepticism. He has posted a one-minute campaign video alleging Maloney was a "committed anti-vaxxer" and noting Nadler exercised his "good judgment" in endorsing her during the 2020 NY-12 congressional race.
According to both Patel's and Nadler's campaign websites, Maloney has introduced or sponsored nine anti-vaccine bills, held anti-vaccine hearings, and spoken at anti-vaccine rallies, repeatedly raising questions about the debunked theory that childhood vaccines can foster autism in kids.
"Her voting record is completely out of step with this district," Patel said of Maloney during the podcast. "On top of everything, she was the leading anti-vaxxer in Congress for 15 years…​​if you want to be a representative from a district like this, you should be pro-science and pro-democracy, full stop."
When Maloney's history of vaccine skepticism and Nadler's support for her in the past came up at the NY1/WNYC debate, Nadler said to Patel, "I endorsed Carolyn despite her unfortunate record on vaccines, because in the contest between you and her, I frankly thought she was the better candidate." Patel then asked where he stood now, and Nadler replied, "I still think so."
State of the Race
Polling has shown Nadler as the favorite in the race, with some surveys indicating he could run away with the election.
"Whether Patel takes more votes from Maloney's base on the East Side or from Nadler's base on the West Side" will largely determine the outcome of the election, Gyory said.
While Nadler has not faced serious challenges to his seat, Maloney has, including most recently from Patel.
Patel challenged Maloney in the old District 12 in 2018 and in 2020. In his first attempt, Patel ran as a progressive and campaigned with then-candidate Alexandria Ocasio-Cortez. Patel lost by roughly 20 percentage points, receiving 41.2% of the vote. 
Patel's second run against Maloney was a much tighter race, decided by a difference of only 3,300 votes and Patel losing by only 4%. But, significant areas of success for him in Brooklyn and Queens are no longer in the 12th Congressional District.
"This time around, it looks as though the Patel strategy is run on a 'generational change' message, but it's hard to say how successful that will be, given both neighborhoods' decades of loyalty to both Maloney and Nadler," Rivera said of the Upper East and West Sides.
This race has also taken a strange twist around the candidates' support, or lack thereof, of Democratic President Joe Biden.
During the NY1/WNYC debate, when asked if Biden should run again in 2024, the three candidates gave three different answers. Patel responded first with a simple and resounding "yes," while Nadler and Maloney were not so sure.
Nadler said it was "too early to say" and that it "doesn't serve the purpose of the Democratic Party to deal with that until after the midterms," while Maloney casted doubt on Biden's potential candidacy, even though the president has said he intends to seek a second term.
"I don't believe he's running for reelection," she said.
Two days later, Maloney went on national TV to apologize to Biden but then doubled-down.
"Mr. President, I apologize. I want you to run," Maloney said on CNN. "I happen to think you won't be running, but when you run or if you run, I will be there 100%." 
Maloney then gave a different response to Gotham Gazette.
"It was silly of me to conjecture on President Biden's decision to run, and there should be no question whether I support him," Maloney said on Max Politics. "I have before, and I will do it again."
When asked if she thought Biden would run again, Maloney responded in the affirmative: "Yes, I do," she said, changing her stance. It then became public that Maloney had also previously told the New York Times editorial board that she didn't think Biden would run, during interviews as part of the endorsement process that ultimately yielded the board's support for Nadler.
Nadler and Maloney have both received many high-profile endorsements in the race, though none may be as powerful as The Times.
Nadler has also been endorsed by Senator Chuck Schumer, the left-wing Working Families Party, Massachusetts Senator Elizabeth Warren, many New York elected officials including Comptroller Brad Lander, and many West Side electeds like State Senator Brad Hoylman, Assemblymember Linda Rosenthal, and City Council Member Gale Brewer; among many other endorsers.
Maloney has won the support of women's rights icon Gloria Steinam and groups like Planned Parenthood Action Fund, many East Side elected officials including Assemblymembers Harvey Epstein and Deborah Glick and City Council Member Keith Powers; among many other endorsers.
Patel's most notable public endorsement is from former presidential and mayoral candidate Andrew Yang, though Yang left the Democratic Party last year. Former Mayor Michael Bloomberg apparently told a Patel campaign volunteer that he voted for Patel in the primary.
Maloney, one of the richest members of Congress, recently came under fire for loaning her campaign $900,000. She then had the most money in the race to spend, with Nadler second and Patel third, but all had significant resources.
"On the money front all three candidates have the funding to get their message out," said Gyory. "Maloney putting in $900,000 from family money gives her an advantage but not a prohibitive advantage. I don't think money will drive the outcome in this contest."