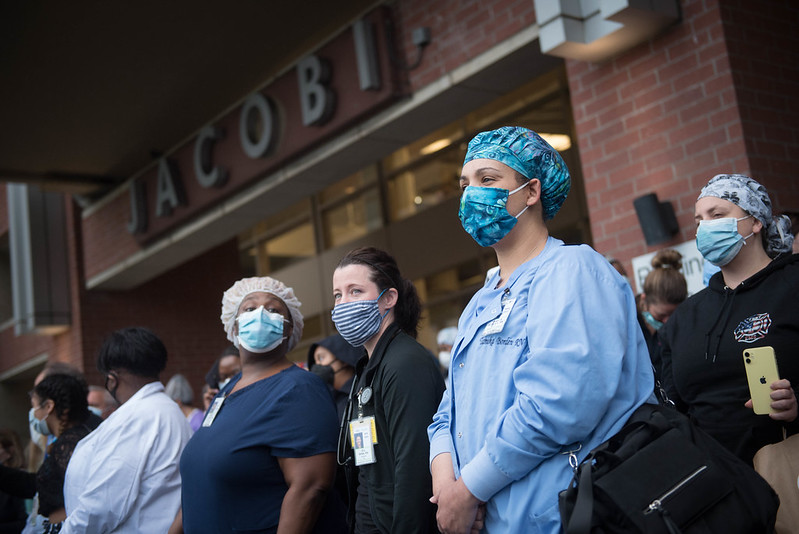 Hospital staff (photo: Michael Appleton/Mayoral Photography Office)
---
New York State has made little progress bringing 1,000 shuttered psychiatric beds back into service after they were closed during the covid pandemic, raising questions about a signature element of the mental health and public safety agendas of Governor Kathy Hochul and Mayor Eric Adams.
In the April budget, Hochul and the Legislature allocated $27.5 million in state funding, matched by federal dollars, to restore the roughly 1,050 psychiatric beds shifted at the height of the pandemic when hospitals scrambled to make room for the swell of COVID-19 patients. Since then, only about 200 psychiatric beds have come back into use, according to the state Office of Mental Health (OMH) – a number that has not moved since June. OMH did not provide a breakdown of where the 200 beds are located.
According to OMH, nearly half the 850 defunct psychiatric beds are in New York City, where 415 remained offline as of September. Another 435 of the beds are closed outside the city, including 94 on Long Island, 141 in the "Hudson River Region," 61 in Central New York, and 139 in the western part of the state. ​There are currently roughly 5,800 licensed psychiatric beds in 97 hospitals across the state, and 3,300 more in New York's state-run psychiatric hospitals.
The state expects New York City to add another 200 psychiatric beds "in the coming months," according to the Office of Mental Health. In response to Gotham Gazette inquiries, the governor's office did not comment on the apparent lack of progress since June.
The beds have been central to the street safety plans Hochul and Adams have touted since January, policies aimed at beefing up police and mental health services, particularly underground, amid a string of high profile attacks committed by people with reported psychosis. According to the two leaders, psychiatric beds are a complement to their efforts to flood the city's public spaces with police officers, and to a lesser extent social workers – offering a helpful destination for those in severe need, who have often wound up on the streets and subways or in jail.
Part of a larger formula backed by and enacted in partnership with Mayor Adams, the psychiatric beds were announced alongside increased police and outreach worker patrols. In the state budget deal of April Hochul also toughened the state's bail and discovery laws and expanded Kendra's Law – a statute that enables officials to obtain court-ordered outpatient mental health treatment.
When announcing the state budget agreement on April 9, Hochul said, "There's an obligation on our part to not just make those kinds of changes, but to balance the other side of the equation as well. Invest in resources for those who need it most. Invest in the mental health structure infrastructure to give people what they need."
"We are going to make sure that there are over 1,000 psychiatric beds available because there are people that need care, they need attention, they need to be on a path to recovery," Hochul continued. "And they can't get it as long as there's beds that are not available in a place that can be helpful to them."
The psychiatric beds had been part of Adams' broader state budget ask when he testified before the Legislature in February, just before releasing his own preliminary budget.
"It is urgent that we request the state's immediate assistance in expanding the number of beds for those in critical need of mental health care, and funding for the medical and support staff they require," Adams told state lawmakers in February.
"Too many of our fellow New Yorkers are cycled through temporary care and released before they are ready, often due to the limited availability of long-term support and housing," he testified.
"That's crucial for us," Adams had said of restoring the psychiatric beds when he made his preliminary budget announcement in February, which included more funding for police officers and homeless-encampment clearing.
"We're ending the era of tents. We're ending the era of sleeping on our subway system, with all your belongings, that era has ended in the city," Adams said. "But at the same time, we want to have additional help and giving people the mental help that they need."
The $55 million total state and federal allocation would fund higher Medicaid reimbursement rates for psychiatric beds that would bring them to the same levels as general medical beds.
"Let's make up that differential," Hochul said at another subway safety announcement with Adams in October. "That's what our money from the state went towards. So there's not an incentive to have fewer psychiatric beds."
But the higher reimbursement rates require federal approval, which is still pending, according to James Plastiras, a spokesperson for the state's Office of Mental Health. None of the state allocation has been spent as of early November, meaning 200 psychiatric beds were restored at the existing Medicaid rate. Plastiras told Gotham Gazette the higher Medicaid reimbursement rates will be retroactive to April 1 once they receive federal approval.  
"Under Governor Hochul's leadership, we are fully committed to providing a comprehensive array of services for any New Yorker experiencing a mental health crisis — including the unhoused," Plastiras wrote in a statement to Gotham Gazette.
"We are embracing innovative approaches to help these individuals address their mental health issues in meaningful ways that will allow them to transition into stable housing in independent settings," he said, noting investments in community-based mental health services and a $12.5 million budget allocation to add 500 scatter-site supportive units, which include on-site services, to the state's housing portfolio.
As of October, the state had not issued a request for proposals to initiate the supportive housing development, which includes services to support formerly-homeless individuals. According to Plastiras, one would be issued by the end of the year.
The state was also slow to complete the rollout of Hochul's Safe Option Support outreach teams, part of her first subway safety announcement with Adams in January, and it is unclear whether they have been effective in helping homeless individuals into permanent housing (after this article was published Plastiras told Gotham Gazette the teams have enrolled 500 individuals in some kind of service). And despite amending Kendra's Law, the new language was not used as the basis of any court orders in its first four months in effect, raising questions about implementation across the state.
It is not a simple matter to open a psychiatric bed in a hospital. It requires unique configurations of space and staff. In the case of repurposing medical beds, there can be construction costs and capital needs to make them safe and appropriate for psychiatric patients.
"All of this stuff they built into these rooms to take care of the [COVID-19] medical emergency needs to be undone," said Alison Burke, the vice president of regulatory and professional affairs at the Greater New York Hospital Association, which represents 280 member hospitals, in an interview.
Hospitals are also contending with staffing shortages that have become drastic during the pandemic. The state budget allocated another $9 million to recruit psychiatrists and psychiatric nurse practitioners with loan forgiveness. After a series of Gotham Gazette inquiries for this story, the governor's office put out a press release on Wednesday, November 23 announcing the opening of applications for the program.

"Community-based mental health care providers continue to be impacted by the nationwide shortage of healthcare workers, and the demand for psychiatrists and psychiatric nurse practitioners continues to grow," said New York State Office of Mental Health Commissioner Dr. Ann Sullivan, in the press release. "The Community Mental Health Loan Repayment Program will help our partners meet this growing demand by helping to attract and retain these essential professionals." 
"We're confounded by the fact that we have workforce challenges," Burke of Greater New York Hospital Association told Gotham Gazette. 
The commitments to higher Medicaid rates and staffing retention were welcome to hospitals, even if they have been slow to materialize. "We're moving in the right direction. It's a very welcome and necessary investment," Burke said.
As pandemic era crime increases came to define the 2022 election, as they had 2021 races in New York, Hochul emphasized the mental health funding she secured in the state budget alongside changes to the state's bail and outpatient treatment laws. In October, she joined Adams, and the heads of OMH, the MTA, and the NYPD to announce another phase in their subway safety strategy that she dubbed, "Cops, Cameras, and Care."
The plan included dispatching 1,200 more police officers to subways, installing surveillance cameras in every subway car, and opening up 50 new psychiatric beds, dedicated to homeless individuals with severe mental illnesses. Even with ridership up, Hochul, Adams, and their appointees said the public perception of danger is high, driven by unstable passengers and fare-beaters who they claim have a propensity for more serious offenses.
"It's not just stats. We can give you stats all day. The question is how do New Yorkers feel? We must match the actual impacts with how New Yorkers feel on the streets and in the subway system," Adams said.
"That's why the omnipresence of police officers and the removal of those who are dealing with mental health issues is crucial to our second phase of this important plan," the mayor said.
Asked to respond to the halting restoration of psychiatric beds despite the state budget allocation and promise of 1,050 beds back into service, a spokesperson for Adams referred Gotham Gazette to the city's Department of Health and Mental Hygiene (DOHMH).
"All of us – federal, state, city and service providers – are working day and night to improve our system of care for people living with mental illness. We are introducing new and innovative strategies to ensure that we can overcome decades of underinvestment and neglect to meet the incredible needs of the moment," DOHMH spokesperson Patrick Gallahue said by email.
The 50 psychiatric beds are separate from the 1,000 accounted for in the state budget, funded with $10 million from the state's general fund, Crain's New York reported. The first of two new 25-bed "Transition to Home" units opened on November 1 at the Manhattan Psychiatric Center, according to OMH. The office also plans to seek contract bids for a $7.3 million residential step-down program that will offer short-term housing with services to help individuals transition to more independent living.
At the time of the announcement, Adams said the NYPD had removed 1,500 "emotionally disturbed persons" from the subway during the calendar year "to prevent some form of incident from taking place." It is unclear whether those individuals were charged with a crime or where they ended up; a series of city agencies did not respond to inquiries other than to refer Gotham Gazette to another city agency.