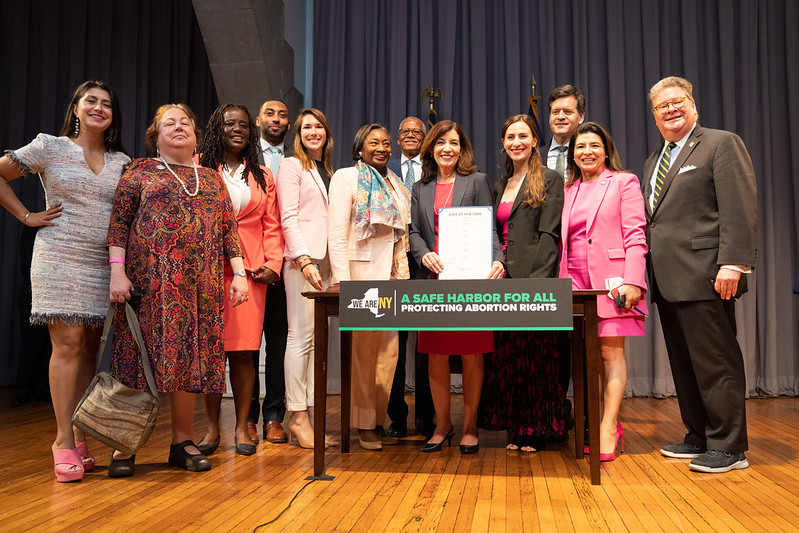 Gov. Hochul signs abortion rights legislation (photo: Governor's Office)
---
Voters in the fall of 2024 will have a chance to enshrine civil rights protections for women, LGBTQ people, and abortion access into the state constitution after lawmakers on Tuesday pass the New York State Equal Rights Amendment for the second time.
If approved by voters, the state constitution will for the first time prohibit discrimination on the basis of ethnicity, national origin, disability, and sex, "including pregnancy and pregnancy outcomes, sexual orientation, gender expression." The amendment's sponsors say those protections include reproductive rights, which would add New York to the minority of states that include access to abortion in their highest governing documents.
Though there is that final step to go, the victory for women's and LGBTQ rights advocates comes just after the 50th anniversary of the Supreme Court's Roe v. Wade decision and 100 years after Congress first introduced the Equal Right Amendment for women to the U.S. Constitution, which has never been ratified
New York would be part of a growing number of states to adopt an ERA in recent years. The amendment saw renewed interest last year, after the U.S. Supreme Court struck down Roe and made abortion a top issue in state and federal elections across the country. The court's conservative majority opinions have also raised concerns that the body may be open to reconsidering other established rights, including marriage equality and obtaining contraception. Twenty-two states have adopted some form of ERA, according to the Brennan Center for Justice, double the number in 2019.
The amendment would go further than the federal Equal Protections Clause by protecting against actions that have a discriminatory effect, regardless of intent, "thus providing a critical legal tool to dismantle acts that in effect perpetuate and/or result in inequality," according to a memo from State Senator Liz Krueger, a Manhattan Democrat and the resolution's sponsor. The amendment would be "self-executing," meaning it wouldn't require further implementing legislation in order to enforce it, if it is passed by voters this fall. That was a point of contention in previous iterations of the resolution and one of the reasons the State Senate and Assembly failed to agree on an ERA before 2022.
"On what would have been the 50th anniversary of Roe v. Wade, the Senate Majority is delivering on the promise to pass for the second time the Equal Rights Amendment to ensure that New Yorkers get the opportunity to codify abortion in our state Constitution, and afford equal protection from discrimination to women, LGBTQI+ individuals and many more New Yorkers," said Senate Majority Leader Andrea Stewart-Cousins, the first woman and first Black person to lead the chamber, in a statement.
"We will continue to focus on protecting our reproductive rights and enhancing protections for our abortion providers while expanding access to the full gamut of reproductive health services," Stewart-Cousins added.
The resolution is part of a reproductive rights package to pass in the Senate, which includes an abortion access grant fund called the Reproductive Freedom and Equity Program. With the exception of the ERA, the bills in the package either have yet to be introduced in the Assembly or remain in committee.
"Today, we passed the Equality Amendment for the second time, which, if approved by the people, would enshrine in our constitution expanded protections for the civil rights of New Yorkers and ensure that no one is denied the opportunity to fully participate in society on the basis of their identity," Assembly Speaker Carl Heastie said in a statement.

"Women have waited far too long to be included in our State Constitution," Senator Krueger said in a statement, "but so have LGBTQ people, people with disabilities, Latinos, and everyone who has faced discrimination based on characteristics that are beyond their control."
Assembly Member Rebecca Seawright, another Manhattan Democrat and the resolution's prime sponsor in her chamber, echoed that sentiment. "We are closer than ever to enshrining a woman's right to choose and equality protections against discrimination in the most important governing document of our state," she said in a statement to Gotham Gazette.
"While New York has a robust set of anti-discrimination statutes, our state Constitution is inadequate when it comes to ensuring equality," said Donna Lieberman, executive director of the New York Civil Liberties Union (NYCLU), in a statement to Gotham Gazette. "Next November, New Yorkers will be able to demand the lasting protections of a constitutional amendment that would prohibit discrimination against groups who have been historically targeted."

The fervor that erupted last year around the overturning of Roe and other rulings by the conservative Supreme Court pushed the Legislature's Democratic supermajorities to act quickly to come to an agreement on its provisions in the waning days of legislative session last year.
State constitutional amendments must be passed in two consecutive legislative terms and then be approved by voters in a referendum. Tuesday's vote marks the ERA's second passage. New Yorkers casting ballots in the fall of 2024 will be able to vote to approve or disapprove the ERA.
Democrats' have had a mixed record on ballot questions in recent years with the passage of recent environmental protection measures but failure of high profile electoral and redistricting amendments. Lawmakers are expected to put the question on the ballot in the fall of 2024, seeking to avoid leaving the ERA's fate up to voters in the off-year 2023 election, where there will be few races on the ballot, turnout will be lower and approval less certain.
2024 will be a high-turnout presidential election year, with many other races on the ballot as well.
"We will enshrine these rights, not just in law, but in the Constitution of the State of New York with ERA, and we're going to do it again," Governor Kathy Hochul said at a press conference organized by Planned Parenthood in the Legislative Office Building in Albany ahead of the vote Tuesday. "We're not going to finish until we get that over the finish line. We're not going to stop."
Hochul, New York's first female governor, included passing the ERA in her State of the State agenda this year along with other protections for people seeking abortions. Those would include personal data protections for abortion seekers, authorizing pharmacists to prescribe abortion medication and contraception, and allowing SUNY and CUNY health care centers to provide medication abortions.
"Here in New York, we will continue to take bold measures to protect the rights of New Yorkers, and I applaud the New York State Legislature for taking another crucial step toward enshrining the Equal Rights Amendment into the state constitution," the governor said in a statement after the resolution passed Tuesday. "Last year, I was proud to convene an Extraordinary Session of the legislature that led to first passage of this historic amendment, and I am grateful the amendment is on its way to being presented to voters next year."