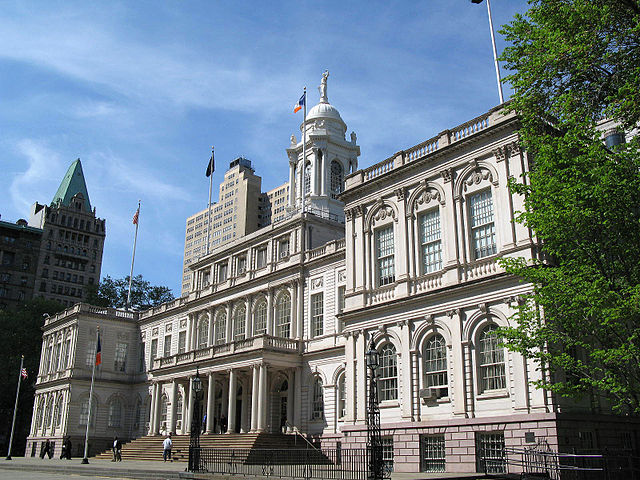 New York City Hall
---
What to watch for this week in New York politics:
March madness in Albany has been quite a ride, and word Sunday night is that a fiscal year 2016 budget agreement is in place. At about 9:30 p.m., the governor's office announced that Cuomo is now five for five in on-time budgets as governor - not a small feat: "The Budget agreement includes landmark education reforms and investment, an ethics package with the nation's strongest disclosure laws for legislators with outside income, and new investments in rebuilding and growing the state's economy, including $1.5 billion for the Upstate Revitalization Initiative and $500 million to make New York the first in the nation to have statewide broadband. The Budget agreement holds spending growth below two percent for the fifth consecutive year, continuing a record of fiscal discipline that has reversed decades of state budgets where spending grew at a higher rate than inflation or personal income growth." Full details will be released on Monday.
As negotiations continued the governor has admitted that more and more of the policies that he attempted to include in the budget were being pushed to the legislative session to follow - which has frustrated some fellow Democrats. Policies the governor has said he included in his budget but will be taken up in the legislative session (which runs until mid-June) include the Dream Act, an education tax credit, and 'Raise the Age' juvenile justice reform. Also likely: minimum wage. Education policy and ethics reforms continue to be the big ticket items that the governor has said he is committed to movement on. Over the weekend many rallied outside the governor's New York City office in protest of his education policy reforms; while others rallied at City Hall in support.
In quite the well-timed release, a new unauthorized biography of Cuomo is due out on Tuesday: Michael Shnayerson's "The Contender."
Meanwhile, in New York City, the City Council has just wrapped its month of preliminary budget hearings, calling in city agencies to discuss expenditures, policies, and needs. Mayor Bill de Blasio and City Council members are eagerly awaiting a final deal in Albany, of course, to see how state policy and funding decisions will impact the city. A city budget is due by July 1. [Read our new look at how the City Council defines "women's issues" when it comes ot the budget and otherwise]
Mayor de Blasio begins his week with a 3 p.m. event: "On Monday, Mayor de Blasio will hold public hearings for and sign Intro. 685, in relation to extending rent stabilization laws; Intro. 435-A, in relation to reporting of special education services provided by the Department of Education; and Intro. 485-A, in relation to requiring the Department of Consumer Affairs to provide outreach and education for young adults."
May 5 is not so far away. It is the date of the special election for New York's 11th Congressional District (and the 43rd State Assembly District). The race in NY-11 between Democrat Vincent Gentile and Republican Dan Donovan is heating up, and the two will meet Tuesday night for a debate in Bay Ridge, Brooklyn, along with Green Party candidate James Lane. See below for details.
There's a great deal happening at the City Council this week, including a full-body Stated meeting on Tuesday; and plenty of events all over the city, see our day-by-day run below.
***Do you have events or topics for us to include in an upcoming Week Ahead in New York Politics?
E-mail Gotham Gazette editor Ben Max: This email address is being protected from spambots. You need JavaScript enabled to view it.***
The run of the week in detail:
Monday
City Council Speaker Melissa Mark-Viverito's public schedule on Monday includes preparing and distributing kosher for Passover meals with other Council Members, Masbia Soup Kitchen, Queens; and remarks at the Council's Women's History Month celebration.
At 8:15 Monday morning, City Comptroller Scott Stringer will appear live on 91.1 FM's "JM in the AM."
Manhattan Borough President Gale Brewer will be a guest on WNYC's Brian Lehrer Show this morning, discussing help for small business owners.
Monday's City Council schedule will include a meeting of the Committee on Civil Service and Labor calling upon the United States Congress to pass, and the President to sign the James Zadroga 9/11 Health and Compensation Reauthorization Act; a meeting of the Committee on Civil Rights to discuss the powers and duties of the Commission on Human Rights, as well as establishing a housing discrimination testing program and an employment discrimination testing program; a meeting of the Committee on Education on a resolution calling upon the New York State Legislature to reject any attempt to raise the cap on the number of charter schools, a resolution calling upon the Department of Education to amend its Parent's Bill of Rights and Responsibilities to include information about opting out of high-stakes testing and distribute this document at the beginning of every school year, to every family, in every grade, and a resolution calling upon the New York State Legislature to fully implement the education funding requirements for New York City resulting from the Campaign for Fiscal Equity v State of New York case.
At 11 a.m., Attorney General Eric Schneiderman "will detail his agreement with retail giant GNC to implement landmark reforms in the authentication, testing and public information and transparency of herbal supplements," from his Manhattan office.
Also Monday morning at 11 a.m., "as part of the city's unprecedented tax season outreach cmapaign," an event in Flushing "to promote free tax filing" is being put on by the Department of Consumer Affairs, Rep. Grace Meng, Community Tax Aid, and the Flushing YMCA. DCA Commissioner Julie Menin, Meng and others "are hosting Volunteer Income Tax Assistance (VITA) Awareness Day to promote free tax preparation services available in Flushing."
On Monday at noon, schools Chancellor Carmen Fariña "launches literacy program in 20 Family Shelters with DHS Commissioner Gilbert Taylor" from HELP Bronx Crotona Park North.
Monday afternoon at 2 p.m., U.S. Congressman Hakeem Jeffries will speak at New York Law School: "Jeffries will speak about innovation in New York and his work in Washington developing policies to further innovation nationally."
Also at 2 p.m. Monday, Deputy Mayor for Housing and Economic Development Alicia Glen and city Economic Development Corporation President Kyle Kimball announce two major initiatives to further New York City's life sciences sector, at Rockefeller University - according to City & State NY.
At 3 p.m. Mayor de Blasio will hold his aforementioned bill-signing event.
On Monday at 4:30, "Manhattan Borough President Gale A. Brewer will host a Technology & Education Mixer at Civic Hall, the newly-opened community for civic technology...bringing public school principals seeking partnerships with technology organizations..." Brewer: "With passage of the New York State Smart Schools Bond Act, as well as recent changes to E-Rate funding streams at the federal level, New York City schools stand to receive significant capital funds to invest in education technology. Our event will help both tech organizations and schools prepare." Present will be Hal Friedlander, Chief Information Officer, NYC Dept of Education; over 40 Manhattan Public School principals and staff; Civic & Educational Technology organizations, including Citizen Schools, The LAMP, and others.
Monday afternoon, City Council Speaker Melissa Mark-Viverito; Public Advocate Letitia James; Council Women's Issues Committee Chair Laurie Cumbo; and the City Council Women's Caucus will host The Second Annual Women's Herstory Month Celebration at the Council Chambers in City Hall: "This year we recognize Women With Vision, trail blazers who embody the entrepreneurial spirit in pursuit of greatness in the public, political, or private sectors by harnessing opportunities through their vision that transform all of our lives for the better."
At Brooklyn Borough Hall there will be a Women's History Month celebration hosted by Borough President Eric Adams and Council Member Laurie Cumbo. It will feature an expo of women-owned businesses and then an awards ceremony. Rikki Klieman is the highlighted guest speaker.
Council Member Andy King will hold a "Town Hall" meeting in Eastchester Heights: "New York City Council Member Andy King will be speaking at the meeting as a part of an ongoing series to bring constituent services directly to 12th Council District residents, listen to concerns and answer questions from members of the community."
Also Monday evening, the Queens Library will host an open budget hearing in Flushing: "The public is invited to find out what the library's funding priorities are, and to give the library their input."
Tuesday
On Tuesday, Comptroller Scott Stringer will attend the Council of Institutional Investors 2015 Spring Conference and 30th Anniversary Celebration in Washington D.C.
As mentioned, Michael Shnayerson's Andrew Cuomo biography "The Contender," is slated for release Tuesday.
Tuesday is the last day of the state's 2015 fiscal year. A new fiscal year 2016 budget is due by midnight.
Tuesday morning at 8 a.m., City & State will host Real Estate, Construction & Housing Awards Breakfast to "honor outstanding professionals from New York's Real Estate, Construction and Housing Industries." Attendees will include Adolfo Carrion, Executive VP of Stagg Group, former Bronx Borough President; Alicia Glen, Deputy Mayor for Housing and Economic Development; and others.
Also Tuesday morning, there will be a Crain's New York Business breakfast forum with New York City Council Members Julissa Ferreras, Brad Lander, Mark Levine, and Jumaane Williams. The council members will discuss how the Council is changing the playing field for businesses, land-use priorities in their districts and citywide, and what they would like from the de Blasio and Cuomo administrations.
Tuesday at 9 a.m., Chalkbeat will present a community schools conversation with Nancy Zimpher and Jeff Edmondson, moderated by Motoko Rich of the New York Times: "SUNY Chancellor Nancy Zimpher and Jeff Edmunson, co-authors of "Strive Together" about their work in developing community schools in Cincinnati, discuss early lessons for other cities hoping to replicate the model."
Tuesday's City Council schedule will include a 10 a.m. meeting of the Committee on Finance to review a resolution calling on the New York State Legislature to pass a law that would provide a property tax exemption for privately-owned vacant land while such property is being used for the public benefit; and a City Council Stated Meeting at 1:30 p.m. It's the Council's second full-budy Stated meeting of the month. Bills will be introduced and others previously introduced will be voted on - one that will be introduced is from Council Member Dan Garodnick and would require the NYPD to publish its patrol guide.
Tuesday evening, Educators for Excellence will host Manhattan Policy Roundtable: Teacher Evaluation and Tenure.
Also Tuesday evening, Queens College will host Women in Leadership: Economic Justice in 'UnBankable' Communities: "Shared Interest, a non-profit social investment fund, provides access to credit and mentorship for microenterprise and small business owners, farmers and cooperative members. The majority of these business owners are women, who would otherwise be considered 'unbankable.'Donna Katzin, Executive Director of Shared Interest, will highlight themes related to community and international development, impact investing, women's leadership, and strategies to promote social and economic justice."
Tuesday at 5 p.m., NYU Wagner and NYU's Leadership Initiative will host All Things Being Equal: Reflections of a Social Justice Leader: "Join us for a fascinating discussion with one of America's most influential public service leaders, Darren Walker, President of the Ford Foundation. Melody Barnes, NYU's Vice Provost for Global Student Leadership Initiatives and Senior Fellow at NYU Wagner, will engage him in discussion about his journey in leadership - from his birth in a charity hospital in Louisiana to becoming President of the second largest philanthropy in the United States."
Tuesday evening, New Yorkers Against Gun Violence will host its spring meeting: "You'll get an update from Executive Director Leah Gunn Barrett and others about pending state and federal legislation and other NYAGV activities and find out how you can help advocate to reduce gun violence." [Read a recent op-ed by Barrett on the need to pass Nicholas' Law]
Tuesday at 6 p.m., The Center For New York City Affairs at New School will host Low-Down on Pre-K from Insideschools: "If your child turns 4 this year, he or she is eligible for free pre-kindergarten, either in a public school or at a site run by a community organization. The de Blasio administration gets an A for effort in its rapid expansion of pre-kindergarten, with more than 30,000 new seats last fall and another 20,000 planned for this coming fall. But what is the quality of these new programs?"
There will be a meeting of the National Women's Political Caucus New York City chapter, at which Manhattan BP Brewer will speak.
And also Tuesday evening, a debate in the 11th Congressional District race: 8:15 PM at Guild for Exceptional Children's headquarters in Brooklyn. Staten Island Advance: "Republican District Attorney Daniel Donovan, Democratic Councilman Vincent Gentile and Green Party candidate James Lane will debate on March 31 at an event held by the Bay Ridge Community Council. The three men are facing off in a special election on May 5 for the vacant seat in Congress, left empty by Michael Grimm's resignation in January."
[Read the latest reporting from Gotham Gazette on New York City and State politics and policy]
Wednesday
Wednesday is the first day of the New York State 2016 fiscal year.
Wednesday's City Council schedule will include a meeting of the Committee on Housing and Buildings; a meeting of the Committee on Civil Service and Labor jointly with the Committee on Finance for an oversight hearing regarding examining health care savings under recent collective bargaining agreements; a meeting of the Committee on General Welfare jointly with the Committee on Health for an oversight hearing on examining health and safety at ACS-funded Head Start Programs; a meeting of the Committee on Waterfronts jointly with the Committee on Environmental Protection to discuss a resolution calling on Governor Andrew Cuomo to veto the application by Liberty Natural Gas, LLC to construct the Port Ambrose liquefied natural gas terminal off the coast of New York.
Wednesday at 1 p.m., School of International and Public Affairs at Columbia University will present Dean's Seminar Series On Race and Policy: At the Intersection of Tech and Social Impact: "Benjamin Jealous, former president and CEO of the NAACP and current partner at the Kapor Center for Social Impact, will discuss technology and its relevance to social policy."
Also at Columbia University mid-day Wednesday, Manhattan BP Brewer will speak at Columbia University School of International and Public Affairs "One Billion Rising" event raising awareness to end violence against women.
Wednesday at 5:30 p.m., BetaNYC will present NYC Department of Transportation Open Data Forum: "We're joining up with our friends at NYC's Department of Transportation for the third open data forum. Join NYC DOT staff for a town hall-style meeting to discuss open data formatting and access. Bring your questions about DOT's data!!"
Also Wednesday at 5:30 p.m., City Council Members Costa Constantinides and Paul Vallone, in conjunction with Speaker Melissa Mark-Viverito, will celebrate the anniversary of Greek Independence: "The celebration will honor Greek-Americans who have dedicated themselves to serving their communities."
Thursday
Thursday evening, Big Apple Coffee Party, Common Cause/NY, Public Citizen and Occupy Wall Street Special Projects Affinity Group will hold a Rally to Shine a Light on Corruption in Our Democracy: "Join a national campaign to encourage President Obama to sign an Executive Order requiring federal contractors to disclose their campaign activities and contributions."
Also Thursday evening, the Digital NYC Five Borough Tour will return to Manhattan for a session in partnership with General Assembly and Flatiron BID. Panelists will include Jake Schwartz, Co-Founder & CEO of General Assembly, Hagos Mehreteab, Senior Director of Talent Acquisition at AppNexus, Madison ("Maddy") Maxie, Creative Technologist, and Kristen Titus, Founding Director at NYC Tech Talent Pipeline.
Friday and the weekend
Friday is Good Friday and Passover begins at sundown on Friday, so things will be quiet at the end of the week and into the weekend - we think, at least.
***Read some of the latest original content from Gotham Gazette - explore our stories or recent op-eds***
***
Have events or topics for us to include in an upcoming Week Ahead in New York Politics? E-mail Gotham Gazette executive editor Ben Max any time: This email address is being protected from spambots. You need JavaScript enabled to view it. (please use "For Week Ahead" as email subject).
***
by Rati Mukhuradze, Marco Poggio, and Ben Max
@GothamGazette