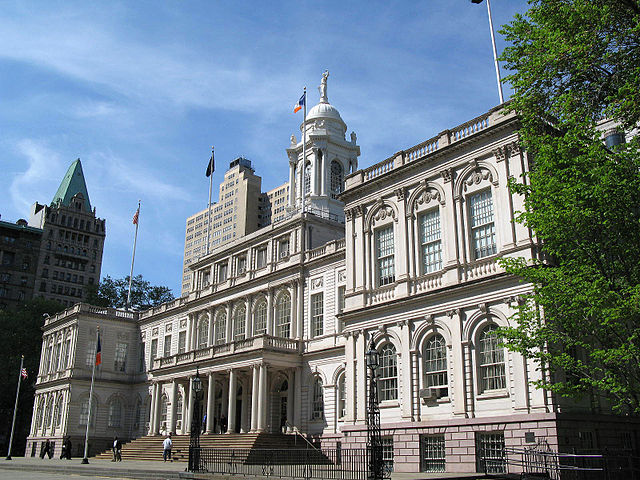 New York City Hall
---
What to watch for this week in New York politics:
This week will be dominated by the World Series, we know that. The New York Mets begin their quest for the title against the Royals in Kansas City on Tuesday night, followed by another game in KC on Wednesday and then games in Queens on Friday, Saturday, and, if necessary, Sunday. If the series continues, games six and seven would be the following Tuesday and Wednesday (Nov. 3 and 4) back in Kansas City. On Sunday, Governor Andrew Cuomo and Missouri Governor Jay Nixon announced a wager over the series, with the loser having to wear the jersey of the winning team to work for a day. There are other aspects of the bet, too, with significant home-state items to be sent from loser to winner.
Now, on to politics sans sport.
It was a quiet political weekend. Mayor de Blasio, City Council Member Dan Garodnick, and others touted the new Stuyvesant Town/Peter Cooper Village sales deal to the complex's tenant association on Saturday afternoon. [Read CM Garodnick's thoughts on the sale in this Gotham Gazette op-ed]
On Monday, de Blasio has no public events scheduled. Governor Cuomo is in New York City Monday, though, to make an announcement at 1:30 p.m. at Chelsea Piers.
There is a lot happening Monday and beyond. Services will occur this week to honor Police Officer Randolph Holder, who was killed on October 20. As has been the case since Holder was shot and killed, criminal justice reform and policing are sure to be sources of significant attention this week.
Thursday is the three-year anniversary of Superstorm Sandy hitting New York; there are sure to be both rememberances of the people and property lost, as well as assessments of progress made in recovering from Sandy and preparing for the next big storm.
See our day-by-day rundown below.
***Do you have events or topics for us to include in an upcoming Week Ahead in New York Politics?
E-mail Gotham Gazette editor Ben Max: This email address is being protected from spambots. You need JavaScript enabled to view it.***
The run of the week in detail:
Monday
At the City Council on Monday:
At 10 a.m. the Committee on Consumer Affairs will meet to discuss a bill that would ban the sale of personal care products or over the counter drugs that contain microbeads, as well as pass a resolution on the Microbeads-free Waters Acts.
At 1 p.m. the Committee on Environmental Protection will meet to discuss bills related to the use of biodiesel.
On Monday morning, current and former elected officials and others will honor recently-retired former Assemblymember Joan Millman. Comptroller Scott Stringer is among those who will speak.
At 12:30 p.m. Monday, schools Chancellor Carmen Fariña will visit the High School of Fashion Industries to kick off College Application Week and make an announcement.
On Monday at 1 p.m. at City Hall, Congressional Rep. Nydia Velazquez will announce new legislation aimed at reducing the number of guns in New York and nationwide. Rep. Hakeem Jeffries; Public Advocate Letitia James; Brooklyn Borough President Eric L. Adams; Brooklyn District Attorney Ken Thompson; Leah Gunn Barrett, New Yorkers Against Gun Violence; and NYC families impacted by gun violence will also participate.
At 3 p.m. Monday, Queens Borough President Melinda Katz will hold a Hometown Rally to cheer on the Mets as they start Game 1 of the World Series Tuesday night in Kansas City. Other elected officials, including City Council Speaker Melissa Mark-Viverito, Comptroller Scott Stringer, and Public Advocate Letitia James are set to participate.
Later, Mark-Viverito will speak at the 2015 Roy & Lila Ash Innovations Award for Public Engagement in Government, where she and the City Council are receiving an award for their Participatory Budgeting program. [Read more about the award and the participatory budgeting program in our new in-depth report: Participatory Budgeting Grows in NYC - Why Isn't Every Council Member Doing It?]
Then, Mark-Viverito "speaks at 2015 Shine Event for LGBT Immigration Equality."
At 7 p.m. Monday the Bronx Young Democrats will discuss the achievements and current initiatives of young female Bronx leaders. The event will feature Darcel Clark, Democratic candidate for Bronx District Attorney; City Council Member Vanessa Gibson; State Assemblymember Latoya Joyner; and Marsha Michael, Attorney & Law Clerk.
At 7:15 p.m. the Immigration Equality event "SHINE", celebrating women's leadership in in the LGBT community, will honor City Council Speaker Melissa Mark-Viverito and Denise Chambers, Immigration Equality client and asylum winner from Trinidad.
On Monday evening, several uptown Manhattan Democratic clubs are hosting Manhattan Borough President Gale Brewer for a discussion of relevant issues. City Council Member Mark Levine will also participate in the dialogue.
Monday evening is the Riders Alliance gala. Public Advocate Letitia James is among those set to attend.
Monday's City Council Participatory Budgeting event: CM Mark Treyger (District 47, Brooklyn) 6 p.m.
Tuesday
On Tuesday, at 8:30 a.m., Stroock, the public affairs law firm, will host a Government Leadership forum "What is the Future of Organized Labor?" Vincent Alvarez, President of the New York City Central Labor Council; Gregory Floyd, President of Local 237 Teamsters; Michael Mulgrew, President of the United Federation of Teachers; and Harry Nespoli, President of the Uniformed Sanitationmen's Association will be on the panel. Robert Abrams, former New York State Attorney General and Chair of Stroock's Government Relations Practice Group, and Alan M. Klinger, Co-Managing Partner and Co-Chair of Stroock's Litigation Practice Group, will moderate.
On Tuesday, Assembly Speaker Carl Heastie is in Westchester County meeting with elected officials and touring different areas.
At 10:30 a.m. the New York Joint Commission on Public Ethics (JCOPE) will meet on a number of matters including its ongoing search for a new Executive Director.
At 11 a.m. Vocal-NY, City Council Member Jumaane Williams, and Manhattan Borough President Gale Brewer, and others will hold the Fair Chance Rally. The purpose of the rally is to raise awareness about the Fair Chance Act, which makes it illegal for New York City employers to ask about one's criminal record until after a job offer is made, and is going into effect.
At the New York State Legislature on Tuesday: the Assembly Standing Committee on Environmental Conservation and Assembly Climate Change Work Group will have a roundtable discussion on Climate Change.
At the City Council on Tuesday: at 11 a.m. the Committee on Women's Issues; the Committee on Health; and the Committee on Education will meet for a joint oversight hearing on sex education in NYC schools. They will discuss three bills that would: require the Department of Education to provide a report on student health services to the Council; require the DOE to report annually on information about health education and HIV/AIDS education for students in grades six through twelve; require the DOE to submit an annual report on the sexual health education received by instructors in public middle and high schools.
Prior to that City Council hearing, at 10 a.m., there will be a "press conference to call for comprehensive sex education in NYC schools" led by Council Members Laurie Cumbo, Chair of the Committee on Women's Issues; Daniel Dromm, Chair of the Committee on Education; and Corey Johnson, Chair of the Committee on Health; as well as representatives from Planned Parenthood of New York City; NARAL Pro-Choice New York; New York Civil Liberties Union; and Reproductive Healthcare Advocates.
On Tuesday at 2 p.m. at 250 Broadway, "State Senator Jeff Klein (D-Bronx/Westchester), together with Public Advocate Letitia James, Council Member Annabel Palma and Make the Road New York, will release a bombshell investigative report "The American Scheme: Herbalife's Pyramid 'Shake'down.""
At 4 p.m. Safe Passage Project will hold an event composed of two parts. The first will be discussing the unmet needs of recent migrant children and young parent from Central America. City Council Member Rory Lancman will make opening remarks. There will be multiple related panel discussions thereafter.
Tuesday evening, Governor Cuomo is set to deliver remarks at the Business Council of Westchester's Annual Dinner.
At 6 p.m. the city Panel for Educational Policy will have a public meeting in Manhattan. At the event the Chancellor will give an update on current policies and the panel will discuss a number of important topics including: Race and Diversity in School Admission, Aggregation of Community District Budgets Together with a Proposed Budget for Administrative Expenditures of the City Board and the Chancellor, and more; while also taking public comment.
At 6:30 p.m. during The Hispanic Leadership Awards, City Council Majority Leader Jimmy Van Bramer will lead a celebration honoring several people for their outstanding leadership in the Latino community, including Council Speaker Melissa Mark-Viverito, who will receive a Distinguished Public Service Award.
At 7 p.m. City Council Members Donovan Richards and I. Daneek Miller will hold a Southeast Queens Transportation Town Hall. Representatives from DOT, MTA, TLC, and NYPD will attend.
Tuesday's City Council Participatory Budgeting events:
CM Mathieu Eugene (District 40, Brooklyn) 6:30 p.m.
CM Paul Vallone (District 19, Queens) 7 p.m.
Wednesday
At the New York State Legislature on Wednesday: The Assembly Standing Committee on Aging along with the Assembly Task Force on People with Disabilities, the Assembly Subcommittee on Community Integration, and the Assembly Subcommittee on Outreach and Oversight of Senior Citizen Programs, will hold a joint public hearing regarding the "New York State Office for the Aging's study on the benefits of creating an office of community living"
At 6:30 p.m. several groups host "Why She Ran: A Conversation With Women in Politics" discussing the challenges women face in New York politics and encouraging women to run for office. Public Advocate Letitia James, Council Speaker Melissa Mark-Viverito, Council Member Julissa Ferreras, and Council Member Helen Rosenthal will speak at the event. Sponsors of the event include the Working Families Party, Eleanor's Legacy, Federation of Protestant Welfare Agencies, Higher Heights for America, Ladies of Labor, Shirley Chisholm Institute, NOW-NYS, Women's Organizing Network, and WIN NYC.
Also at 6:30 p.m., school district 3 will host a Town Hall meeting with Chancellor Carmen Fariña.
Wednesday's City Council Participatory Budgeting events:
CM Paul Vallone (District 19, Queens) 6 p.m.
CM Melissa Mark-Viverito (District 8, Manhattan/Bronx) 6 p.m.
CM Helen Rosenthal (District 6, Manhattan) 6 p.m.
CM Ritchie Torres (District 15, Bronx) time TBA
CM Eric Ulrich (District 32, Queens) 8 p.m.
CM Paul Vallone (District 19, Queens) 7 p.m.
CM Jumaane D. Williams (District 45, Brooklyn) 6:30 p.m.
Thursday
On Thursday beginning at 8:30 a.m. the Urban Land Institute will hold a conference about the best new practices to help fund public transportation infrastructure in the New York metro area in the face of withering public funding, including solutions through partnerships with the private sector.
At the City Council on Thursday:
At 10:30 a.m. the Committee on Rules, Privileges and Elections will meet to hear communication from Orlando Marin of the City Planning Commission
At 1:30 p.m. will be a City Council Stated Meeting; prefaced, as always, by the Speaker's pre-stated press conference at 12:30 p.m.
At 5:30 p.m. United States Deputy Attorney General Sally Quillian Yates will discuss the administration's top goals and priorities at the Center for the Advancement of Public Integrity at Columbia Law School; following the speech will be a Q&A session.
At 5:30 p.m. The Hopkins-Hunter Forum for Education Policy, The Thomas B. Fordham Institute, and The Hunter College Gifted and Talented Program will host "The Excellence Gap: The State of Gifted and Talented Education," an event that will discuss the income based education gap among students, and talk about suggestions on how to address the issue in the future.
At 6 p.m. Mayor Bill de Blasio will be hosting a fundraiser for his 2017 campaign, as reported by Politico New York.
Thursday's City Council Participatory Budgeting events:
CM Mathieu Eugene (District 40, Brooklyn) 6:30 p.m.
CM Corey Johnson (District 3, Manhattan) 4:30 p.m.
CM Donovan Richards (District 31, Queens) time TBA
CM Paul Vallone (District 19, Queens) 7 p.m.
Friday and the weekend
On Saturday and Sunday, Mayor de Blasio and First Lady Chirlane McCray will hold two Spooky Parties at Gracie Mansion, inviting families with children 5-10 years old to come tour their haunted house. Families must have tickets through the ticket giveaway being held prior to the event.
On Sunday at 2 p.m. a large group of Democratic political clubs and progressive organizations will hold a Democratic Party Presidential Candidate Forum. Representatives from the Clinton, Sanders, O'Malley and Lessing campaigns will participate.. The forum will be moderated by Ronnie Eldridge.
***
Have events or topics for us to include in an upcoming Week Ahead in New York Politics? E-mail Gotham Gazette executive editor Ben Max any time: This email address is being protected from spambots. You need JavaScript enabled to view it. (please use "For Week Ahead" as email subject).
***
by Colin O'Connor, Konstantine Beridze, and Ben Max
@GothamGazette