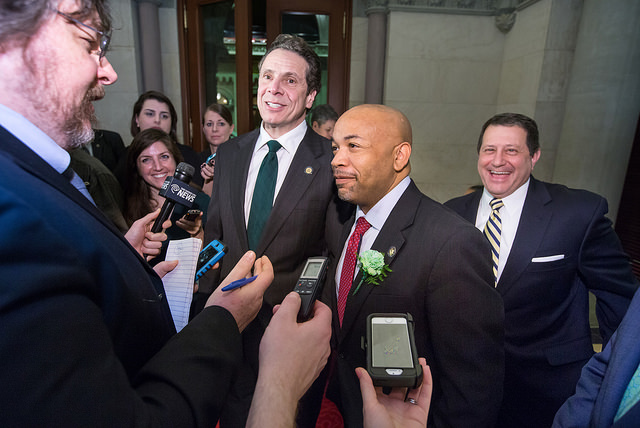 Assembly Speaker Heastie (photo via The Governor's Office)
---
On Thursday afternoon - after session, at the end of Sunshine Week - the Assembly's year-long path to greater transparency and participation took a major step as Assembly Speaker Carl Heastie announced recommendations made by his reform committee and pledged to enact them.
The proposals - some actual rules changes, others pledges - are designed to empower members through the committee process and give members and the public a clearer view into the legislative process. This transparency will in part come through utilizing technology and best practices in the chamber that has been especially criticized for resisting new digital tools and openness for decades. Heastie, a Democrat from the Bronx, replaced longtime Speaker Sheldon Silver last year when Silver was arrested with corruption charges that he was later convicted on. Silver was well-known for limiting the power of members and eschewing technology.
Changes announced by Heastie, who had appointed a special working group to make recommendations, include moving to a two-year session so that bills that have moved through committee but have yet to receive a vote in year one aren't forced through the same process in year two; a revamp of the Assembly website; a commitment to broadcast all committee hearings (something the Senate already does); and giving all members the right to have a certain number of bills considered by committee.
Good government groups say that they are pleased with many of the proposals, but that the agenda doesn't rise to meet the needs of the times given the recent convictions of Silver and former Republican Senate Majority Leader Dean Skelos. They also warn that a sharp eye must be kept on implementation of a number of the report's recommendations that won't actually be voted on as rules changes.
Some of the recommendations will be implemented by chamber rules reforms with bill language expected on Friday and a vote to follow early next week. While other parts will be implemented over time, with no particular deadline given as of yet.
"A lot of times committees put out these grand proposals that go nowhere," said Assembly Member Brian Kavanagh, co-chair of The Assembly Working Group on Operations, Participation and Transparency, "but the Speaker has already accepted the recommendations and committed to implementing them. We've put them out there and now we can be held accountable."
Heastie thanked Kavanagh and fellow co-chair Gary Pretlow in the press release announcing the reform package adding: "They worked diligently with the other members of the workgroup and the conference to sort through the numerous recommendations from members, advocates and constituents. We will continue to work together as a conference to identify ways to increase our members' ability to effectively meet the needs of their constituencies." The release included supportive statements from the other 12 members of the working group.
The process that led to the recommendations was sparked by the election of Heastie to Assembly Speaker after Silver's indictment on multiple federal corruption charges. Heastie named the working group in the spring of last year citing the need for more openness and democratization of the chamber. The group has been criticized for not holding any public hearings and for leaving out members of the Republican minority conference.
"The reforms offered by the Assembly Majority might help build a better website, but don't do enough to rebuild the public's trust," said Assembly Minority Leader Brian Kolb, whose conference offered a slew of internal reforms that were quickly rejected by the majority earlier this year.
"If this was a normal year where the Speaker and [Senate] Majority Leader hadn't just been indicted there would be a lot to get excited about," said John Kaehny of Reinvent Albany. "Of course, this doesn't address secret budget negotiations, requiring a rigorous public debate of the budget, or preventing the Speaker being able to stop any bill from coming to a vote, but it has a lot of smaller things people have wanted for a long time."
Silver had long been accused of bottling up bills he opposed regardless of how much support they enjoyed from Democrats or Republicans.
"Under Sheldon Silver's tenure the Speaker became more powerful and individuals less so and that contributed to an the environment that led to corruption and the disempowerment of members to where they felt they were potted plants," said Dick Dadey, executive director of Citizens Union. "This is a welcome recalibration of that relationship. This is a modest but important first step."
Kaehny said that while the report does not reshape the power structure of the Assembly it does contain quite a few items from good government groups' "wish list" when it comes to transparency and technology.
Republican Assembly Member James Tedisco, who has proposed a number of reform bills, criticized the working group for not making recommendations that would lessen the power of leadership, provide insight into how secret pots of money are spent, or provide equal funding to the offices of members of both parties.
"The one consistency about Albany is nothing changes when it comes to leaders voluntarily giving up any of their unbridled power to rule like kings," Tedisco said in a statement. "The rank and file members of the so-called Majority 'Reform Caucus' had an opportunity to rise up and disperse power back for their own constituents. They chose to keep it the same as it ever was and remain serfs in the Kingdom of Albany."
Kavanagh believes his group's reforms will help lawmakers move their bills independently. "The approach we've taken here is to make the committee process central to the legislative process," Kavanagh told Gotham Gazette. "Members can get their bills in the committee process early enough and get enough of their colleagues to vote for it so it gets to the floor. If committee members are voting down a bill in committee that is not dysfunction, that is democracy."
Changes meant to tweak the committee process include the move to a two-year session so that bills introduced in the first year of session would not be sent back to square one if they didn't make it to a floor vote. Bills that don't come to a vote during session currently must be reintroduced the next year. The Assembly will adopt this new approach independently and is asking the Senate to consider a similar system so that either house could vote on a bill passed in the first year of session in the second year.
Another change would give lawmakers of any party "the right" to have five bills voted on in committee in the first year of session, and an unlimited number in the second year. The push for committee consideration is allowed at the end of session, the new rules would extend this period in the second year two weeks earlier than is currently allowed.
While these changes are covered by actual rules reform, a measure that seems common sense to most good government groups - making sure committee hearings happen at regularly scheduled times and not during actual session while votes are occurring - is not being moved as a rules change, but instead a pledge.
"We're not saying it would never happen," said Kavanagh, who pointed to the high-paced nature of the end of session where bills are quickly passed by one house and hand delivered to the other for approval. But Kaehny said that forcing committee meetings to be scheduled ahead of time could actually correct a problem not addressed in the changes: making sure high-priority bills like the budget aren't jammed through without time for public review.
The fact that the scheduling of committee hearings is moving ahead informally, as a pledge, gets to the heart of another concern for Kaehny - a number of major recommendations aren't set to be codified in the rules.
Proposals that are exciting to Kaehny such as linking recordings of committee hearings to a bill's web-page, providing wireless access in public spaces, bringing more bills up at the start of session, and creating a floor debate list to keep members and the public apprised of the Assembly's schedule, are all simply pledges and not to be codified in the rules.
Kavanagh said that a number of tech-centric projects will need to be gauged and will take considerable time and investment. One pledge commits to the creation of a "C-Span"-like legislative channel.
With over 40 recommendations of a wide scope and spectrum, Kaehny said that "Follow up on all of this is critical." He urged legislators to keep track of implementation of all of the working group's recommendations while admitting, "This isn't all simple stuff, this could take some real time to do."
[Related: In Albany, Sunshine Week Begins with Darkness]
Note: Gotham Gazette is an independent publication of Citizens Union Foundation, sister organization of Citizens Union