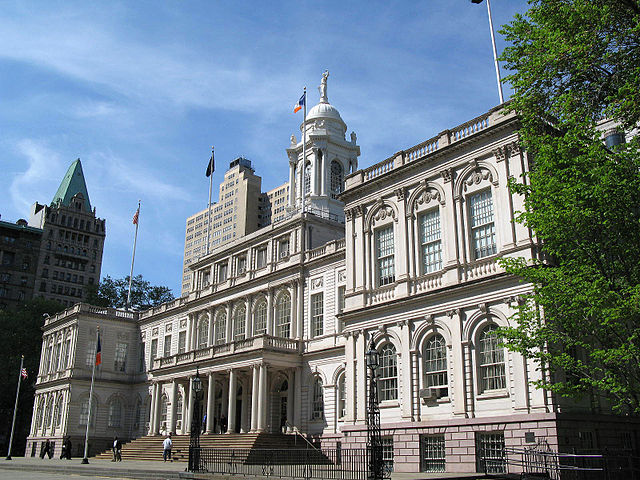 New York City Hall
---
What to watch for this week in New York politics:
A state budget is due by midnight Thursday! How close to the deadline will it go? Will it be late? Odds are Gov. Andrew Cuomo and legislative leaders will reach a deal on the $150-plus billion spending plan in time, as the governor has made this a priority of his time in office, more or less achieving it in each of his five years leading the state thus far (last year's is the only one in question, as the budget was technically voted through after the midnight deadline). In order to get everything done by Thursday night, the governor may need to issue "messages of necessity" removing the three-day aging period on the budget bills. We'll see what Monday holds as Cuomo, Assembly Speaker Carl Heastie, and Senate Majority Leader John Flanagan continue to negotiate. One key sticking point remains the details of raising the minimum wage so that it eventually reaches $15 per hour, a major priority for Cuomo and Heastie. There's a chance that the minimum wage will be dealt with, along with several other major policy issues like government ethics reform, in the legislative session following the budget. The state's fiscal year begins April 1. The legislative session continues into June.
It was a quiet Easter weekend all over the state, including in New York City. Mayor de Blasio was in Florida for the holiday - he's back Sunday evening - and several City Council members, including Speaker Melissa Mark-Viverito are on a trip to Ireland (along with the speaker, traveling Council members include: Julissa Ferreras-Copeland, Jimmy Van Bramer, Daniel Dromm, and Corey Johnson) - they are due back Tuesday.
Voting in this year's cycle of participatory budgeting began this weekend and continues throughout the week in the 28 (of 51) Council districts where members have decided to run the program, which allows constituents to propose projects and decide how $1-2 million in capital funds gets spent in each.
This week we're largely focused on the state budget, which of course has a great deal at stake for New York City, while city preliminary budget hearings continue at the City Council - it's been a fairly quiet city budget season thus far, though there are one or two points of contention between the Council and the de Blasio administration - like library funding. Still, most in the city are more concerned with the state budget than with city budget negotiations. While Gov. Cuomo has bowed to pressure over his proposed cost shifts to the city for hundreds of millions of dollars in CUNY funding, there are still several other high profile issues de Blasio, other city officials, and many around the city are keeping an eye on.
As always, there's a great deal happening all over the city, with many events to be aware of - read our day-by-day rundown below.
***Do you have events or topics for us to include in an upcoming Week Ahead in New York Politics?
E-mail Gotham Gazette editor Ben Max: This email address is being protected from spambots. You need JavaScript enabled to view it.***
The run of the week in detail:
Monday
Both houses of the New York State Legislature are in session on Monday in Albany.
At the City Council on Monday:
10 a.m., the Committee on Public Housing will hold its preliminary budget hearing
2 p.m., the Committee on Immigration will hold its preliminary budget hearing
At 10 a.m. Monday, Manhattan Borough President Gale Brewer will host a Women's History Month discussion and networking breakfast, featuring women working for Manhattan city, state, and federal elected officials as well as popular YouTube content creators. The venue will be the YouTube Space in Chelsea Market.
At 10:30 a.m. Monday, Bronx Borough President Ruben Diaz Jr. and the Bronx Veteran Advisory Council will host a meeting to educate the local community boards and elected officials on veterans' resources in the Bronx and across the city. Speakers at the event include Commissioner Loree Sutton of the Mayor's Office of Veteran Affairs, Jamal Othman, Deputy Director of the NYS Division of Veteran Affairs; and Shawn Kingston from the Bronx VA Medical Center.
At 11 a.m. Monday in the Bronx, "The Tata group...will be donating 10,000 new books to children in New York's 79th assembly district in The Bronx, in partnership with First Book, a nonprofit social enterprise and Assembly member Michael A. Blake. To celebrate this historic effort, one of the Tata group companies, Tata Consultancy Services (TCS), will host a "Read-A-Loud" with pre-kindergarten through fifth grade students at Urban Scholars Community School, where each of these 300+ students will receive two books to add to their personal libraries at home."
On Monday at noon in Albany, "A coalition of government reform organizations will come together to respond to Governor Andrew Cuomo, Senate Majority Leader John Flanagan and Assembly Speaker Carl Heastie's public statements that there will be no ethics reforms included in the final budget agreement. The groups will denounce the "unprecedented" secrecy around budget negotiations while urging that any lump sum budget appropriations be itemized and publicly disclosed." Participants include Citizens Union; Common Cause NY; League of Women Voters of NYS; NY Public Interest Research Group; and Reinvent Albany.
"On Monday, Mayor de Blasio will join NYPD officials for a counterterrorism tabletop exercise...After the tabletop, the Mayor and NYPD Commissioner Bratton will hold a media availability on terrorism preparedness." This press conference is scheduled for 3 p.m.
At 4 p.m. at City Hall, "the Mayor will hold public hearings for and sign eight pieces of legislation – Intro. 701-A, in relation to low energy intensity building requirements for certain capital projects; Intro. 721-A, in relation to green building standards for certain capital projects and to repeal section 3 of local law number 86 for the year 2005, relating to certain reporting requirements; Intros. 805-A, 814-A and 819, in relation to increasing inclusivity and enhancing the interpretation of the New York City Human Rights Law; Intro. 818-A, in relation to the provision of attorney's fees under the New York City Human Rights Law; Intro. 832-A, in relation to prohibiting discrimination in housing accommodations on the basis of an individual's status as a victim of domestic violence; and Intro. 763-A, in relation to requiring the department of correction to report on security indicators in City jails and repeal section 9-130 of such code, in relation to jail data reporting on adolescents."
Tuesday
Both houses of the New York State Legislature are in session on Tuesday in Albany.
At 8 a.m., City & State and The Plumbing Foundation will host a panel, "Skilled Labor (re)Building NYC," a discussion to highlight the need for investment in the city's aging gas infrastructure and the need to make the city more sustainable and resilient. Speakers to include City Council Members Jumaane Williams and Mark Treyger; David Gmach, Con Edison's Director of NYC Public Affairs; among others.
At 8:30 a.m. Tuesday, The Association for a Better New York will host a breakfast with Bronx Borough President Ruben Diaz Jr., who will discuss the progress his borough has seen since he first took office in 2009 and offer policy suggestions for the improvement of his borough and the city.
On Tuesday at the City Council:
11 a.m., the Committee on Land Use will hold its preliminary budget hearing
1 p.m., the Committee on Technology will hold its preliminary budget hearing
On Tuesday afternoon, Mayor de Blasio is scheduled to deliver keynote remarks at the launch of The Ford Foundation's "Inclusive Growth in Cities campaign." The event "will bring together mayors from more than 20 cities around the world—plus other business, philanthropic, and urban leaders—to highlight innovative ideas and smart strategies for addressing rising inequality and fostering inclusive growth worldwide."
Wednesday
Both houses of the New York State Legislature are in session on Wednesday in Albany.
At 8:30 a.m. Wednesday, The Manhattan Institute will host a conference on career and technical education schools in New York City and across the country. Arne Duncan, former U.S. Secretary of Education, will deliver the keynote address.
At the City Council on Wednesday:
10 a.m., the Committee on Women's Issues will introduce a bill requiring lactating rooms in certain public spaces throughout the city
1 p.m., the Committee on Recovery and Resiliency will hold an oversight meeting to review Build It Back's Temporary Relocation Assistance Program
At 1 p.m. Wednesday, an "all-in-one" resource clinic providing access to free, comprehensive services addressing aging, disability, immigration, personal finance, and transportation issues will launch at Brooklyn Borough Hall. The effort will be held on Wednesdays in the months ahead, and is intended to enhance the work done by Borough President Eric Adams' Constituent Assistance Center to provide assistance on issues facing the borough's residents.
Thursday
Both houses of the New York State Legislature are in session on Thursday in Albany. A budget is due by midnight!
At 10 a.m. Thursday, Bronx District Attorney Darcel Clark, the first African-American woman to hold this position in the history of New York State, will speak at the South Bronx Leadership Forum, in recognition of Women's History Month. Clark will discuss progress in reforming the criminal justice system and her experience at the helm of the Bronx District Attorney's Office.
At the City Council on Thursday:
10:30 a.m., the Committee on Housing and Buildings will meet on two bills: one to exempt the taxation of alterations and improvements to multiple dwellings and another to exempt the and abate the taxation of certain rehabilitated buildings as authorized by the real property tax law
1 p.m., the Committee on Governmental Operations will hold an oversight hearing to evaluate the structure and content of the Preliminary Mayor's Management Report (PMMR)
At 6:30 p.m. Thursday, City & State NY will host the "Above & Beyond: Honoring Women of Public and Civic Mind" gala. The event will celebrate 25 accomplished women working in various fields, including business, public service, nonprofit, organized labor and media, and feature special guest speaker Maya Wiley, Counsel to Mayor de Blasio.
Friday and the weekend
Nothing on our radar for the end of the week as of now. Stay tuned for updates here and other days this week!
***
Have events or topics for us to include in an upcoming Week Ahead in New York Politics? E-mail Gotham Gazette executive editor Ben Max any time: This email address is being protected from spambots. You need JavaScript enabled to view it. (please use "For Week Ahead" as email subject).
***
by Kelly Fan and Ben Max
@GothamGazette