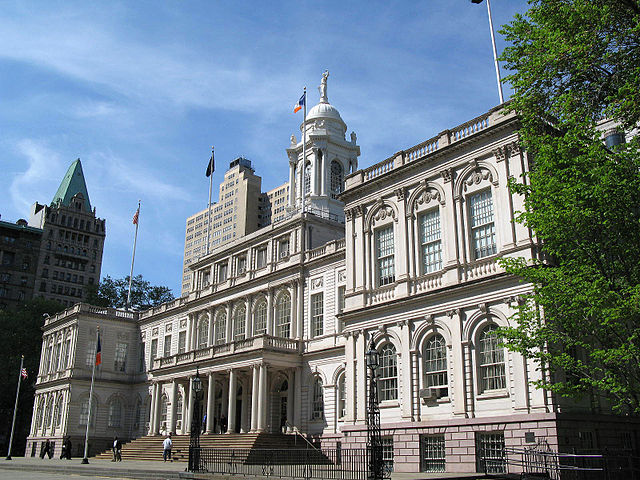 New York City Hall
---
What to watch for this week in New York politics:
Happy New Year! 2017 Promises to be a fascinating year in New York politics. We're here with our first Week Ahead of the new year, and this week will be an important one. We recently published our Top Ten Stories of 2016 in New York Politics and our 70 Questions for 2017 in New York Politics.
Over the holiday weekend, phase one of the Second Avenue subway extension opened, with a New Year's Eve inaugural ride and party, led by Governor Andrew Cuomo and the MTA, with many city civic leaders in attendance, including Mayor Bill de Blasio. The line -- a three-stop Q-train extension -- opened to the general public on Sunday.
As for this week, the new State Legislature is seated in Albany on Wednesday. News broke Monday that, as expected, the state Senate's Independent Democratic Conference will again caucus with Senate Republicans, who are in the majority after the 2016 elections and the decision by Senator Simcha Felder, a Democrat from Brooklyn, to continue caucusing with the GOP.
Also on Wednesday, Gov. Andrew Cuomo will be giving a speech in New York City, at which he is expected to make another infrastructure-related announcement. Before that, Cuomo is scheduled to make an announcement on Tuesday morning at LaGuardia Community College in Queens.
Speaking of Cuomo, we're waiting for details this week from the governor's office about his six-stop State of the State tour scheduled for the week of January 9. Cuomo's office announced he'll be foregoing the typical Albany address for six regional ones and announced the regions (New York City, Long Island, Western New York, Capital Region, Central New York, Hudson Valley), but no other specifics, yet. Cuomo is also required to release his Executive Budget by January 17.
On Monday Cuomo announced new measures to educate New Yorkers about the new minimum wage, which just increased in the first part of a multi-year regional phase-in passed in 2016. Cuomo also announced enforcement mechanisms, promising punishments for businesses that don't abide by the law.
Mayor de Blasio starts this holiday week with one public event: a Tuesday evening appearance on NY1's Inside City Hall. He's scheduled for several Wednesday appearances, including a press conference on crime -- see details below.
See our day-by-day rundown for the week below - it's a light week in terms of pre-scheduled events, but a lot gets in motion this week for the rest of the month and year in city and state politics.
***Do you have events or topics for us to include in an upcoming Week Ahead in New York Politics?
e-mail Gotham Gazette editor Ben Max: This email address is being protected from spambots. You need JavaScript enabled to view it.***
The run of the week in detail:
Monday
Monday was the official New Year's Day holiday.
Tuesday
New U.S. Congressional Rep. Adriano Espaillat will have an inauguration ceremony in Washington, D.C. on Tuesday. Manhattan Borough President Gale Brewer is among those from New York attending.
The City Planning Commission will hold a review session at 1 p.m. on Tuesday.
Mayor de Blasio is on NY1 in the 7 and 10 p.m. hours.
Neither Comptroller Scott Stringer nor Public Advocate Letitia James has any public events Tuesday.
Wednesday
On Wednesday in the 9 a.m. hour, Mayor de Blasio will appear on Hot 97 radio (in a taped appearance). At about 9:45 a.m., "the Mayor, First Deputy Mayor Anthony Shorris and Police Commissioner James P. O'Neill will view the NYPD photo exhibit at the Brooklyn Museum...Immediately following the viewing, the Mayor and Police Commissioner O'Neill will host a press conference to discuss crime statistics." Later, at 3 p.m., "the Mayor will appear on Power 105.1 with Angie Martinez."
The City Planning Commission will hold a public meeting at 10 a.m. on Wednesday.
At 10 a.m. Wednesday at City Hall, City Council Member Ydanis Rodriguez will announce a new legislation package "aimed at eradicating hit and run crashes from our streets." "Rodriguez will be joined by advocates and elected officials supportive of these measures."
At the City Council on Wednesday:
The Committee on Finance will meet at 9:30 a.m. to discuss a proposed law relevant to the Queens Plaza/Court Square Business Improvement District.
There will be a Stated Meeting at noon.
"On Wednesday, January 4, at 11:30 a.m., Department of Consumer Affairs (DCA) Commissioner Lorelei Salas and New York City Taxpayer Advocate Eunkyong Choi will warn New Yorkers about predatory tax preparer tactics, in particular, advertising for "express refund advances" and "refund anticipation checks" that, more often than not, end up costing consumers more money and results in them receiving a smaller tax refund. Due to a new law, the IRS must hold refunds for filers who claim the Earned Income Tax Credit (EITC) or the Additional Children Tax Credit (ACTC) until February 15, 2017. After that, most refunds will be processed in approximately 21 days, nearly three times longer than in previous years. These delays may lead to an uptick in consumers using these products."
The 2017 New York State Legislative Session will convene on Wednesday. The new Assembly and new Senate will be inaugurated, leadership positions will be (re)established and Albany lawmakers will begin their business of the new session. A budget is due by April 1.
At 11:30 a.m. on Wednesday, the Association for a Better New York will hold a luncheon with Governor Cuomo, who will discuss infrastructure beginning at noon.
Thursday
At the City Council on Thursday: The Subcommittee on Zoning and Franchises will meet at 9:30 a.m.
Friday and the weekend
No events on our radar as of Monday evening, though we do expect Mayor de Blasio to make his typical Friday morning appearance on WNYC's The Brian Lehrer Show at 10 a.m.
***
Have events or topics for us to include in an upcoming Week Ahead in New York Politics? E-mail Gotham Gazette executive editor Ben Max any time: This email address is being protected from spambots. You need JavaScript enabled to view it. (please use "For Week Ahead" as email subject).
***
by Brendan Birth and Ben Max
@GothamGazette