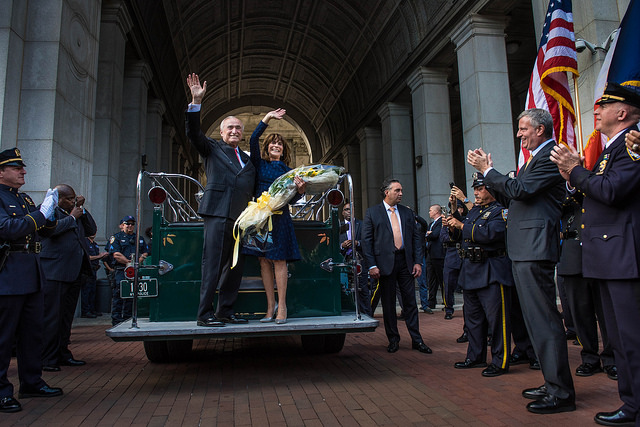 Bill Bratton departs (both photos: Michael Appleton/Mayor's Office)
---
Gotham Gazette's Top Ten Storylines of 2016 in New York Politics:
10. Bill Bratton Leaves 'On Top'
In an extraordinary send-off -- his own mini-parade -- Bill Bratton departed 1 Police Plaza on September 16, 2016 for the final time as NYPD commissioner. For about two-and-a-half years Bratton was Mayor Bill de Blasio's police commissioner and the arrangement worked mostly well for both: Bratton had the job and power in it that he wanted, de Blasio had political cover on his most sensitive issue, and crime continued to trend downward, silencing (or at least quieting) some de Blasio critics.
When Bratton announced his departure, few were shocked. It created a new vulnerability for de Blasio, but also came with a silver lining -- while Bratton gave de Blasio key political cover and got some key results that de Blasio needed, he was himself a political figure, prone to speaking his mind no matter what the de Blasio company line may have been, perpetually battling with the City Council, and the embodiment of his controversial brand of Broken Windows policing.
De Blasio quickly replaced Bratton with then Chief of Department James O'Neill, who he attempted to label not as the broken windows commissioner, but the architect of the new neighborhood policing.
In most quarters, Bratton's legacy is as a top policing leader, one who continued to oversee crime drops in New York City even as there were 2016 spikes in other cities around the country, and, for some, despite working for a mayor who doesn't get "law and order." In other quarters, Bratton is known as the purveyor of an antiquated, racially-biased system of over-policing who did little to change overall NYPD culture or hold badly-performing officers accountable.
Though Bratton did continue to implement broken windows, with its focus on strict enforcement of low-level crimes in order to prevent disorder and more serious crime, he and de Blasio also oversaw several significant policing reforms from 2014 through 2016. These included reductions in street stops and arrests for low-level crimes, including possessing small amounts of marijuana, a new training regime focused on de-escalation, and more. Under Bratton, de Blasio and the City Council agreed to add about 1,300 additional officers to the NYPD force.
Bratton should also be remembered as the central figure who helped de Blasio get through his most challenging period thus far as mayor: the murder of two police officers in December 2014 and subsequent NYPD revolt, during which officers turned their backs on the mayor and then engaged in their own work slowdown. For several weeks Bratton was the voice and face of the administration, making a variety of local and national media appearances -- then and throughout his tenure, Bratton full-throatedly vouched for de Blasio.
9. Criminal Justice Reform Act & More at the City Council
Under the leadership of Speaker Melissa Mark-Viverito, the New York City Council continued its progressive policy push in 2016. There's perhaps no better example of this than the Criminal Justice Reform Act, which created an altered legal paradigm for enforcement of low-level nonviolent offenses like being in a park after dark, having an open container of alcohol, public urination, and more.
The CJRA was not the blanket decriminalization of some low-level offenses that Mark-Viverito and other Council members may have wanted, but it was, to them, a good compromise with Mayor de Blasio and Police Commissioner Bratton. The offenses included will now mostly be handled in civil court as opposed to criminal court, avoiding arrest and a criminal record for thousands of New Yorkers, while saving the city money, keeping people out of jail, reducing the criminal justice system's backlog, and continuing to crack down on all the same behaviors. (NYPD guidance about carrying out the CJRA won't be public until sometime in the first half of 2017, so there is more to be seen and judged here.)
Along with the CJRA, the City Council and de Blasio in 2016 moved through a variety of other policies that fit with their promise to create a more fair and just city. It is worth noting that on many fronts, including the CJRA, there are voices on the left saying they did not go far enough. But, in terms of moving city public policy leftward, there is the CJRA, along with other examples like new protections for freelancers and grocery store workers; expanding access to feminine hygiene products in city schools, shelters, and prisons; additional steps to make the city more environmentally-friendly; and more.
Also at the City Council in 2016, pay raises for city elected officials were passed. This included raises for Council members, but also major reforms to the position of Council member, formally making it a full-time position and banning outside income, as well as eliminating bonuses for chairing committees.
8. De Blasio Pushes Affordable Housing, Battles Homelessness
Mayor de Blasio saw a major legacy achievement pass in 2016: mandatory inclusionary housing, which requires certain percentages of affordable housing within new residential developments where an upzoning occurs. De Blasio and his City Council partners call this the most progressive zoning for affordable housing in the country, and it is an important piece of the mayor's larger affordable housing plan.
MIH, which passed in March, is only one piece of that plan, though, which is more focused on preserving affordable units (rental apartments with certain rent caps) than on building new ones. De Blasio's administration continued to come to deals to preserve affordable units in 2016 and appears to be on pace for its goal of 200,000 units over 10 years. Neighborhood rezonings also come into play here, and the city passed the first under MIH and de Blasio's bigger plan to rezone about 10 areas of the city with the East New York rezoning in April.
New housing units, especially at the lower end of the affordability spectrum, can't come online fast enough. While de Blasio and his allies are moving ahead with new and preserved affordable housing, homelessness continues to reach record highs in the city and as 2016 ends the mayor is regularly admitting that his administration needs to do more to battle the crisis -- which now includes about 60,000 individuals, almost half of them children, living in homeless shelters.
De Blasio has promised more of a plan on homelessness early in 2017, but the issue has perhaps become his biggest policy failure. The mayor and his team are quick to point out that their rental assistance, eviction protection, and other measures have kept homeless numbers from reaching even higher heights. And, they correctly point to past and ongoing failures by others at the city and state levels on homelessness-prevention and affordable housing requirements that have contributed to an escalating crisis.
7. Cuomo's Infrastructure Focus
Governor Andrew Cuomo has outlined a $100 billion infrastructure plan that dots the state in projects related to its roads, bridges, tunnels, airports, convention space, and so on. The governor ends 2016 on a victory lap for getting the first phase of the Second Avenue subway open (Cuomo will take an inaugural ride New Year's Eve; it's set to open to the public January 1), and tying it to his larger plan. When discussing his grand plans -- some of which don't have full or transparent funding appropriations -- Cuomo talks of his ambition as a builder in grand, historic terms, claiming that he has led New York into a new era of thinking big after decades of small-mindedness.
Cuomo's focus on infrastructure is smart, as long as he can pay for it responsibly. Some want to see him invest even more in the MTA, given the problematic state of New York City's subway system, which is rife with delays and overcrowding. The state is investing tens of billions into the MTA, but for Cuomo there are also new and sexier things to build, and other parts of the state to attend to.
Cynics also see the governor's infrastructure push as a helpful distraction from continued dysfunction in Albany and corruption in state government, including Cuomo's own administration (see more on these topics below). Regardless, Cuomo knows that his infrastructure push will leave him with a physical legacy that few elected officials can claim. He may need re-election to a third term in 2018 to make sure that several pieces of his plan get executed as intended.
6. Cuomo-De Blasio Feud Continues
Yes, this is still happening. As New Yorkers know all too well, Gov. Cuomo and Mayor de Blasio barely speak to each other and don't hold joint events, even when they should. They can't bring themselves to appear at the same event unless absolutely necessary, and even then they go out of their way to avoid each other. While it makes for a few good jokes at the annual Al Smith Dinner (one of few occasions where they do share a dais), the two Democrats' ongoing feud is not good for New Yorkers and makes both look petty and small.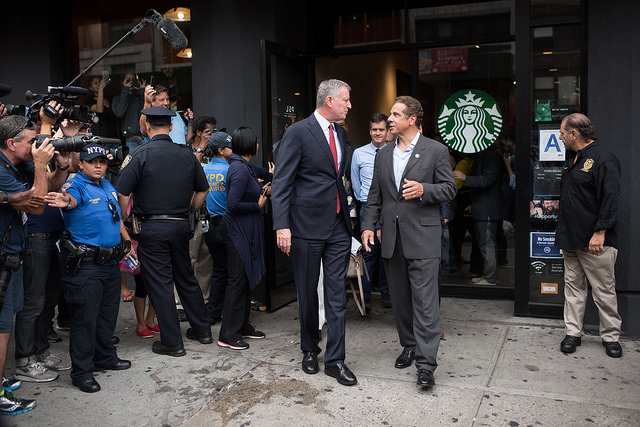 While de Blasio has made his mistakes in navigating the relationship, Cuomo continues to deserve more of the blame for the situation and appears to play a dangerous game in which he regularly leverages his governmental power to undermine de Blasio.
The two have warred over a long-list of issues including funding for the MTA, CUNY, Medicaid, and affordable housing; homelessness policy; responses to Ebola and Legionnaires' Disease; and much more. They even took their feud to the Democratic National Convention, where they called for party unity behind Hillary Clinton, while displaying none such unity themselves (again, this was more on Cuomo than de Blasio).
Cuomo and de Blasio managed to take a joint tour of the site of a bombing in Chelsea earlier this year (pictured), but couldn't manage to hold a joint press briefing.
Is there any hope for peace and reconciliation -- not to mention good, collaborative city-state governing -- in 2017? In a word: no. But, as 2016 ends the two have mostly settled into a ceasefire of sorts (their spokespeople continue to trade public barbs, but the electeds themselves have largely holstered their guns of late). Two key potential turning points loom on the horizon, though: the governor's upcoming executive budget, which he'll release in January, and the mayor's re-election campaign.
5. New Leaders, Same Albany
2016 was the first full year in power for Assembly Speaker Carl Heastie, a Bronx Democrat, and Senate Majority Leader John Flanagan, a Long Island Republican. In 2015 they became two of the "three men in a room" in Albany, negotiating major budget and policy deals with Gov. Cuomo. Despite the new leadership -- Heastie and Flanagan took over for disgraced predecessors who are headed to jail -- state government continued to function in its typical fashion: minimal transparency, questionable budgeting, and major spending and policy packages passed in the middle of the night with little public review, even by rank-and-file legislators.
Meanwhile, the two legislative chambers continue to disagree about how to address lawmakers' ethics and campaign finance reform, with Senate Republicans unwilling to limit legislators' outside income, close the infamous LLC loophole, or institute a public-matching campaign finance system like New York City has. Assembly Democrats, for their part, are against term limits and have done little to push budget and legislative negotiations into the light of day.
4. Election Results Boost GOP
Clinton Loses, Trump Presidency Looms Over New York; State Senate Stays Republican
New York was the center of the political universe in 2016, with both major party presidential candidates calling the state home, hosting their campaign kick-off events in New York City, and, as it all came to an end, holding their election night gatherings in the city as well. The result was not what most New Yorkers wanted, of course, as Donald Trump won the presidency despite losing his home state to Hillary Clinton, largely due to an especially wide margin in New York City.
As New York Democrats continue to reckon with Clinton's loss, they are also facing Trump's win. Both Gov. Cuomo and Mayor de Blasio (each being discussed as a possible 2020 presidential candidate) have promised to fight Trump if he attempts to follow through on some of his most extreme campaign promises, each reasserting their version of New York values since Election Day.
The president-elect has promised to freeze federal funding to so-called sanctuary cities, which are more immigrant-friendly, including welcoming undocumented immigrants, which could cost New York City about $7 billion in the next budget. However, it is not clear whether Trump would actually try to enact such a freeze or if he would be able to if he tried (legally, he would have to take different budget appropriations individually).
Budgeting and policy tie together, of course, and as de Blasio has repeated regularly, it's not really clear where Trump and his top cabinet officials will try to take the country, though they are likely going to attempt significant reconfiguring of health care, tax, immigration, and other major policy areas, all with significant impact on New York. Right now it's both wait-and-see and try-to-influence Trump and other federal officials, with much hope residing in New York's Charles Schumer, who will become Senate Minority Leader.
Democrats not only thought this would be their year to win another presidential race, but to take over the state Senate here in New York, and thus all of statewide government. While we won't know for sure until the new state Senate is seated and its rules adopted in early January, it is looking almost certain the Republicans will continue to control the 63-seat chamber, offsetting Democrats' control of the Assembly.
If the GOP does indeed control the Senate, it promises to continue to keep the brakes on some of the more liberal policies that Gov. Cuomo and other Democrats may be seeking in 2017, some of which are long-standing priorities that the GOP has blocked: the DREAM Act, Raise the Age, codifying Roe v Wade in state law.
Others, perhaps even Cuomo if you gave him truth serum, argue that GOP control of the Senate helps keep balance to state government, including fiscal responsibility. As always, there's a lengthy agenda for state lawmakers in the new year, including things like legalizing and regulating app-based car services like Uber, but the governor's State of the State and executive budget will give more form to the initial negotiations.
3. State Minimum Wage, Paid Family Leave Programs
The state budget passed on April 1, 2016 included a $15 per hour minimum wage program with different phase-ins by region and paid family leave mandates, placing New York among the national leaders on both. While some conservatives balk at the potential damage of the minimum wage plan to businesses and overall employment, Cuomo made it his signature issue of early 2016 and sees it as a major legacy accomplishment. The wage is about to make one jump as the year ends.
Meanwhile, the paid family leave program will begin to be phased in during 2018 and is seen as another leading progressive victory for Cuomo and his partners in government and beyond. More so than the minimum wage, Republicans are also celebrating the paid family leave policy.
2. Albany Corruption
Scandal again rocked state government this year. But in 2016 it was less the state Legislature and more the Executive Chamber: top associates of and donors to Gov. Cuomo were indicted in an alleged scheme involving bid-rigging, bribes, and kickbacks largely centered on the governor's Buffalo Billion economic development program.
Among those charged are longtime Cuomo friend, aide, and enforcer Joe Percoco; the longtime head of SUNY Polytechnic Alain Kaloyeros, whom Cuomo worked closely with and heaped praise and power upon; and several major donors to Cuomo's campaigns who won large state contracts. Cuomo has denied any knowledge of wrongdoing and has not been charged with any crimes. He has also made some changes to state practices and promised other reforms. They are moves that watchdogs call insufficient. Cuomo hasn't announced support for restoring contracting oversight powers stripped from the state Comptroller or giving the Attorney General blanket power to investigate and prosecute public corruption (something Cuomo called for when he was AG).
1. City Hall Scandals
People close to Mayor Bill de Blasio just want 2016 over with. What started out a promising third year in office for the mayor quickly turned sour -- and largely stayed that way -- when a series of law enforcement investigations into the mayor and his allies came to light. While a couple of controversial items, like the Rivington House saga, appear to be behind de Blasio and company without charges of criminal wrongdoing, 2017 does not at this point appear to offer much respite from controversy.
The New York Times recently reported that there are two different grand juries hearing evidence related to actions by de Blasio and his allies, one related to their involvement in 2014 state Senate elections and another related to whether donors to the Campaign for One New York were promised or received favorable government action. It is not clear whether de Blasio himself could be indicted, but anything short of no charges being filed against anyone will be extremely problematic for the mayor, and the city, given the distraction. Any time de Blasio and his aides are focused on legal issues and not their government work, the city suffers. De Blasio has maintained that he and his allies are innocent, that they not only followed the law, but also ethical guidance. Still, investigators appear to have at least found enough to assemble the grand juries (one state, one federal), and de Blasio and his team clearly at least blurred some ethical lines.
Much of 2016 was dominated by the Rivington House mess, questions about the Campaign for One New York, which took in millions from entities with city business, and decisions made by de Blasio and his political and governmental teams. Those teams have also had blurred lines, with the now-infamous "agents of the city" designation coming to light this year, followed by many questions around de Blasio's relationships with private sector consultants who regularly advise him while they work for clients with city business.
How those grand juries and any other ongoing investigations turn out will have immense impact on de Blasio's 2017, re-election bid, and life and career beyond. If the mayor can survive the proceedings, he'll be a heavy favorite to be re-elected.
That raises one other key story of 2016, not listed above: ongoing rumblings about who may challenge de Blasio. As 2017 begins, several big names (Scott Stringer, Ruben Diaz Jr., Hakeem Jeffries, Christine Quinn) are still on the sidelines.
[Revisit: Top Ten Stories of 2015 in New York Politics]