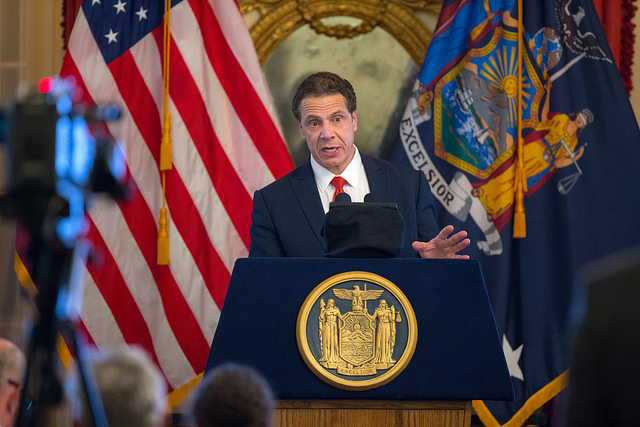 Gov. Cuomo (photo: Governor's Office)
---
Though he has expressed support in the past for a "yes" vote for a constitutional convention on this year's ballot, Governor Andrew Cuomo's newly revealed 2017 agenda and 2017-2018 budget provide no indication that such support continues.
Last year, Cuomo backed a constitutional convention in his lone State of the State speech, which was combined with a budget presentation, and he included $1 million in his spending proposal for a preparatory commission. Yet, this year, the issue is notably absent from Cuomo's $152.3 billion executive budget, unveiled Tuesday, as well as his 149-proposal, 380-page policy book, which was released last week in conjunction with an unconventional, six-speech State of the State tour.
While a spokesperson for the governor told Gotham Gazette that Cuomo still supports a constitutional convention, he made no mention of it during any of his speeches or his budget presentation. In his 2016 speech, Cuomo said, "a constitutional convention that is properly held – with independent, non-elected official delegates – could make real change and re-engage the public."
On November 7, 2017 – Election Day – New Yorkers who go to the polls will have a ballot question of whether the state should hold a constitutional convention. A majority "yes" vote would lead to a convention that could streamline or significantly modify New York State's outdated constitutional document and propose changes on issues like campaign finance, redistricting, voter registration, term limits, home rule, and much more. New Yorkers get to vote on whether to hold a constitutional convention once every 20 years.
In his three-day State of the State tour, Cuomo visited cities across New York, touting a populist message aimed at the middle class, delivering his policy agenda directly "to the people" rather than to the state Legislature, as is Albany tradition. At one appearance just before the State of the State tour, he was accompanied by Senator Bernie Sanders – a progressive icon whose 2016 presidential run helped fuel a populist movement – to announce a plan for making city and state colleges tuition-free for middle class New Yorkers.
Yet, Cuomo's agenda contains nothing on the upcoming constitutional convention vote – just 10 months away – which is a rare opportunity for the public participate in a process that could potentially curb the power of big money in politics. An opportunity for the people to "take their government back" at a time when state government has been plagued by corruption scandals.
Powerful interests -- particularly environmental and labor groups who are fearful that a convention could put at risk environmental protections and public employee pensions -- are already lining up in opposition, as they did in 1997, when the Con Con question was defeated in a landslide.
Meanwhile, legislators have little motivation to implement these reforms, since it is the status quo that effectively put them in office. The $1 million Cuomo proposed last year for a preparatory commission did not make it into the adopted fiscal 2016-2017 budget, likely because of legislative opposition from Assembly Democrats. Such a commission would make process recommendations and examine key issues to be addressed in a constitutional convention, including how delegates are selected and running the convention itself.
Cuomo's father, former Governor Mario Cuomo, was forced to use an executive order to create a Con Con commission and last year the governor's office expressed interest in going the executive order route after the money was not included in the budget. None has been announced.
Later last year, in response to criticism that few items in his 11-part plan to clean up Albany passed through the Legislature, Cuomo made the case for a constitutional convention in a New York Times interview, saying it was the only way to close the infamous LLC loophole, which allows virtually unlimited campaign donations from deep-pocketed interests.
Republicans would never agree to such reform, Cuomo said, "because they believe it ends corporate money, and only union money would come into the system, which would help the Democrats."
He added, "The people are going to have to do it."
In this year's State of the State and budget, the governor once again laid out an ambitious plan for government ethics reforms in areas like campaign finance, voter registration, and term limits, but his silence on Con Con may be related to his wanting to maintain the support of labor groups ahead of his 2018 reelection campaign.
A spokesperson for Cuomo did not rule out the possibility of forming a commission through means outside of the budget. "We continue to support a Constitutional Convention and are examining all options and resources available to form a commission," said Cuomo press secretary Abbey Fashouer.
Bill Samuels, the founder of government reform organization EffectiveNY and a vocal proponent of a Con Con who supported the governor because of his stance on the issue, said he remains hopeful that the governor would identify funds to convene a commission.
"If he is serious about major constitutional change, it's only going to happen through a constitutional convention," Samuels said. "He clearly has not made a statement 'I've changed my mind.' I don't think he's changed his mind, but he may have changed how active he wants to be," he added, with a nod toward Cuomo's looming reelection year.
A major challenge for nonprofits and interest groups pushing for a convention is getting the word out to the public and educating New Yorkers about the issues at stake. Recent polls show that nearly two-thirds of New Yorkers have heard little or nothing about the referendum, though polls also show that the idea does resonate with people. Constitutional convention advocates beyond Samuels expressed dismay over the governor's silence, saying he missed a significant opportunity to engage and educate the public on the upcoming referendum.
"New Yorkers have three chances in a lifetime to get serious attention to the operational structure of their state government and now we have a clear crisis in confidence," said Gerard Benjamin, political scientist, SUNY New Paltz professor, and longtime advocate for a constitutional convention. "The governor has joined the state Legislature in its efforts to deny the public the necessary info to make the choice."