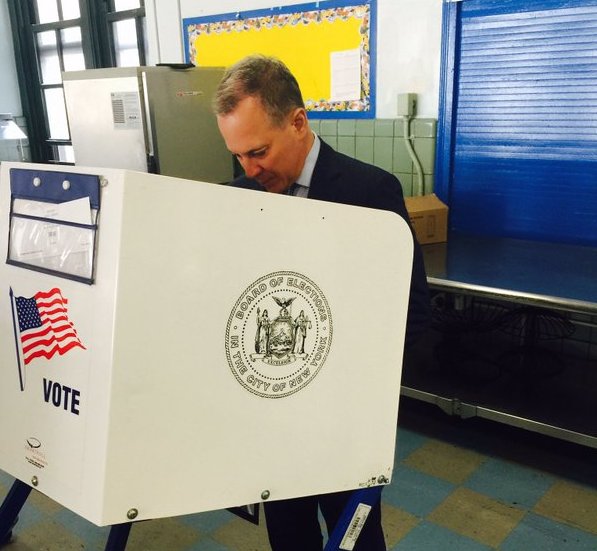 AG Eric Schneiderman voting
---
New York Attorney General Eric Schneiderman responded to a congressional inquiry Wednesday, making clear that there was "not one single substantiated claim of voter fraud in New York last year."
In a letter, addressed to Reps. Elijah Cummings, Robert Brady, and James Clyburn, Schneiderman emphasized the real voting challenges in New York are those that disenfranchise potential voters, rather than the "imaginary problem of voter fraud."
"New York's voting system faces many challenges," Schneiderman wrote, with restrictive laws, rules and procedures, as well as administrative errors, that both legally and illegally disenfranchise New Yorkers seeking to exercise their right to vote.
Schneiderman's letter came, he wrote, in response to an inquiry from the three members of Congress, all of whom are fellow Democrats, that came in the wake of President Donald Trump's unsubstantiated claim that 3 to 5 million people voted illegally, costing him the popular vote during the presidential election. Cummings is the top Democrat on the Committee on Oversight and Government Reform; Brady is ranking member, Committee on House Administration; and Clyburn is Assistant Democratic Leader.
In a letter to election officials and attorneys general in all 50 states, the representatives asked for details like the identity of individuals who cast a prohibited vote, the date of the vote, the polling place where the vote was cast, the legal reason for the vote being prohibited, and whether the individual was prosecuted.
Out of the thousands of calls fielded by the Attorney General's office during the four elections that took place in New York during 2016 (three primary days and one general election day), just two callers alleged voter fraud, according to Schneiderman. The Attorney General's office investigated one claim and determined the charge was unfounded. The second caller did not provide sufficient information to warrant an investigation in that case.
Furthermore, the New York State Board of Elections has not referred a single allegation related to fraudulent voting during the 2016 elections to the Attorney General for investigation or prosecution, according to Schneiderman. "The lack of such complaints made directly to my office, as well as the absence of referrals from other agencies, leads me to conclude that voter fraud—the act of an ineligible individual casting a vote in an election—is a non-issue, at least in New York State," he wrote in the letter.
Unsubstantiated claims of voter fraud have erupted on the local and national stages in the past year. In October 2016, Manhattan Board of Elections Commissioner Alan Schulkin came under fire after he was secretly filmed alleging that rampant voter fraud exists in New York City, enabled, in part, by Mayor Bill de Blasio's municipal identification program (which has no relationship with voting given that New York does not have voter identification laws). Schulkin, a Democrat, also claimed organizations in certain neighborhoods bus voters around between districts to fraudulently win seats, apparently making the case for Republican-backed voter ID laws.
At the time, City Council Speaker Mark-Viverito blasted Schulkin's claims as "uninformed opinions" with "no basis in fact" while Mayor Bill de Blasio called for his resignation. Democratic Party leaders decided not to reappoint Schulkin after his term ended in December 31, 2016 -- he continues to serve, though, until a replacement is named and confirmed through the City Council.
Trump's more recent theory that thousands of voters were "bussed in" from Massachusetts to New Hampshire during the presidential election have since been discredited even by the president's closest aides.
Voter access continues to be a problem given New York's antiquated electoral system, which has drawn the scorn of many elected officials, advocates, and everyday New Yorkers. In December, the Office of the Attorney General released a comprehensive report detailing the many issues voters faced at the polls during the April 2016 presidential primary election.
Last year, Mayor de Blasio outlined a series of voting reforms he wants to see, including early voting and same-day voter registration.
As he has before, Governor Andrew Cuomo included those measures and others in his 2017 State of the State policy agenda.
Attorney General Schneiderman recently introduced the New York Votes Act, which seeks to address many of these ongoing issues by updating the state's voting systems through early voting, automatic and same-day registration, consolidated primaries, shortened party registration deadlines, and more. Schneiderman also recently filed suit against the New York City Board of Elections for widespread violations that illegally purged over 200,000 New Yorkers from the voter rolls.
Republicans in the state Senate continue to form the most obvious and entrenched blockade to most of the voting reforms being sought by Cuomo, Schneiderman, and others.
"Our democracy is ailing, with too few eligible citizens registered to vote, too few of those who are registered exercising this fundamental right, and too many states devising methods to suppress the vote, rather than encourage participation in our nation's elections," Schneiderman wrote to members of Congress. "We would be happy to work with Congress to solve these problems – many of which persist not only in New York but also in states across the country – rather than seek to address the imaginary problem of voter fraud."