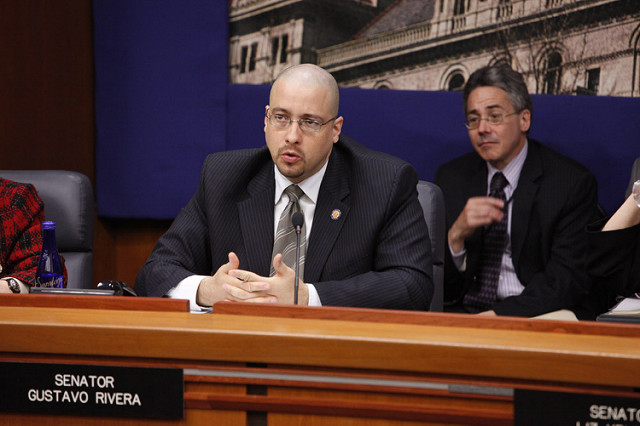 Senator Gustavo Rivera (photo: Senate Democrats)
---
A state Senator from the Bronx is calling on the state Board of Elections to investigate a former opponent's campaign finances for violations.
Senator Gustavo Rivera, a Democrat, alleges that the Senate campaign of Fernando Cabrera, a New York City Council Member, committed multiple violations in the Democratic primary for the District 33 Senate seat last year. In a Feb. 28 letter to the state Board of Elections, Rivera's campaign attorney, Sarah Steiner, noted the alleged violations and asked for updates on the status of three previous requests the campaign has made to look into earlier alleged violations.
In the letter, which was addressed to state BOE chief enforcement counsel Risa Sugarman and was made available to Gotham Gazette by the campaign, Steiner identified the new alleged violations by Cabrera's Senate campaign, including a failure to file a 10-day post primary disclosure and a January periodic report with the BOE.
The letter also alleges that Cabrera's City Council campaign filed necessary disclosures with the New York City Campaign Finance Board but not with the state BOE; and that Cabrera's Council campaign committee transferred $11,000 to his Senate campaign committee, which Steiner alleges exceeds the $7,000 limit for contributions to a state Senate primary campaign. However, that last allegation seems to be dubious since transfers by a candidate from one authorized political committee to another do not count as contributions, according to state election law.
Steiner also referred to earlier requests made to the BOE to investigate whether Cabrera's campaign had illegally coordinated independent expenditures with New Yorkers for Independent Action (NYFIA), a political action committee that was involved in four Democratic primary races last year.
"This person has a history of violating campaign finance laws and skirting ethical boundaries left and right," said Sen. Rivera, in a phone interview, of Council Member Cabrera. Cabrera has unsuccessfully challenged Rivera in two straight election cycles, in 2014 and 2016. Rivera's move was prompted by the recent news, reported by the Daily News, that the BOE had recommended criminal prosecutions in five cases last year. Although it's unknown which specific campaigns were involved, Sugarman told the Daily News that they covered "a more wide-ranging group of violations" than the nine prosecution referrals she made in 2015.
BOE's Sugarman declined to comment for this article.
That Rivera has chosen to publicly call out his opponent is not surprising. The primary race for District 33 turned bitter at times, particularly with NYFIA criticizing Rivera's record and seeking to link him with the culture of corruption in Albany. Rivera, for his part, criticized Cabrera as a political opportunist and blasted his conservative leanings on issues such as abortion and marriage equality.
In a statement to Gotham Gazette, Cabrera refuted the allegations in Steiner's letter. "My campaign meticulously complied with all rules and requirements established by the New York State Board of Elections," he said, adding that his campaign was notified that they were in full compliance of election law. "I am disappointed that Senator Rivera continues to invest time and energy in negative campaign tactics post-election, rather than devoting his resources to serving his constituents," he added. "It's time for Senator Rivera to get to work and start doing his job."