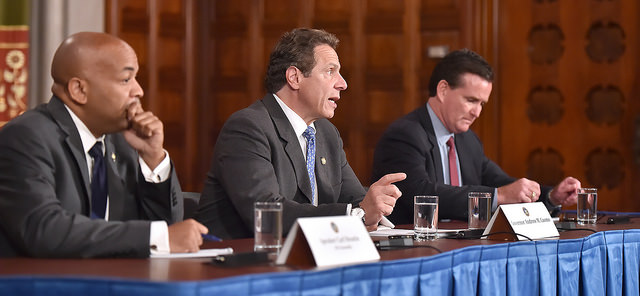 Heastie, Cuomo, Flanagan (photo: Governor's Office/Kevin P. Coughlin)
---
With a new state budget due by the end of the month, the Senate and Assembly are finalizing their one-house budget resolutions. The one-house statements of priorities in the Democrat-controlled Assembly and Republican-controlled Senate will be passed this week, and their passage signals the official start to the negotiations that will yield a state spending plan for the new fiscal year, which begins April 1.
The one-house budgets are shaped, in part, by a series of joint legislative budget hearings that took place in February, and are non-binding proposals from each chamber, wherein they respond to Governor Andrew Cuomo's Executive Budget.
Cuomo outlined his policy and spending priorities in January during his 2017 State of the State speaking tour, which was accompanied by a policy book, and his 2017-2018 executive budget proposal. Over the past weeks, several sticking points became clear, including a number associated with New York City interests and Mayor Bill de Blasio's agenda.
While de Blasio has praised several elements of Cuomo's agenda, he has also expressed concerns about several areas of proposed funding cuts to New York City, as well as the governor's new proposal for a replacement to the affordable housing-focused property tax abatement program known as 421-a. De Blasio is also pushing heavily for a "mansion tax" that would add a surcharge on New York City homes purchased for over $2 million.
Assembly Democrats, Senate Republicans, and the influential Senate Independent Democratic Conference (IDC) have each indicated certain priorities heading into the release of the one-house budgets and final weeks of negotiation. Debates over taxes appear to be at the top of the list, with the Assembly looking for tax increases (include de Blasio's mansion tax), the Senate looking to roll back taxes and fees, and Governor Cuomo, as usual, somewhere in between. (De Blasio's mansion tax is almost certainly not going to pass.)
Cuomo's Excelsior Scholarship, which would provide tuition-free city and state college to New York residents from homes earning $125,000 or less, will also be a focus of budget negotiations. The centerpiece of Cuomo's 2017 agenda, the program hinges on the extension of the state's so-called "millionaire's tax," which Senate Republicans have already made clear they oppose (and Assembly Democrats are looking to enhance). There are questions about how the scholarship program will be paid for, but also the enrollment qualifications, with a large group of Assembly Democrats proposing their own version of the plan. The IDC and Assembly Minority have indicated they prefer an expansion of the state's Tuition Assistance Program (TAP), which would be inclusive to students at the state's private colleges, who are not included in Cuomo's plan.
As has become the tradition in Albany, the final budget will be determined by the proverbial "three men in a room" -- a reference to the governor and the leaders of the majority conferences in both houses, who will meet frequently, and behind closed doors, in the coming days to hammer out details. As of 2015, the state budget has been hashed out by "four men in a room," to include IDC Leader Jeff Klein. The men will negotiate in consultation with their conferences, but they often make major policy trades and decisions just before the deadline and rank-and-file legislators wind up voting on billions of dollars in spending and major new policies without much time to review the details.
Given Republican control of the Senate and de Blasio's frosty, if not antagonistic, relationship with Cuomo, there is increased pressure on Assembly Speaker Carl Heastie, a Bronx Democrat, to represent the interests of New York City and its mayor. While Klein, Cuomo and Heastie are all nominally Democrats, they each come from different perspectives and with different priorities. In a coalition agreement with Senate Republicans that bolsters the GOP's razor thin majority, Klein's now eight-member IDC typically uses its leverage to push through a key progressive issues each session. It appears that raising the age of adult criminality in New York is at the top of the IDC list this year.
At a press conference Wednesday, de Blasio responded to a Gotham Gazette question about the status of state budget negotiations by saying that Speaker Heastie and the Assembly have been "extraordinarily supportive" of city interests, and that he and Heastie recently spoke about the city's housing needs, among other items.
"I've talked to him about, you know, all of the current greatest hits," de Blasio said. "Obviously, the housing MOU is one of the ones we care about the most. We want clarity on that set of resources. It's a lot of money. It's $2 billion. We have no idea how it's going to be used, there's been no specific plan. It could be incredibly helpful to our efforts to address affordability."
Specifically, de Blasio said, the city is concerned about the supportive housing proposal from the state, which is is supposed to provide 20,000 units. "There's not a single unit being produced anywhere at this point. There's no plan, there's no timeline, we really need that," said de Blasio. By "MOU" de Blasio was referring to a memorandum of understanding that must be signed by Cuomo, Heastie, and Senate Majority Leader John Flanagan to allocate the $2 billion set aside in last year's budget for affordable and supportive housing across the state. Only a small portion of the money has been released.
De Blasio also mentioned his ongoing push for the state to match the city's investment in NYCHA funding. "When I originally went to the state two years ago, I said 'we'll put $300 million into capital for the housing authority, please match us.' All the state did was give us $100 million and the vast majority we haven't seen yet, in two years," de Blasio said. "I have since added $1 billion to capital funding for NYCHA. The least the state could do is make a serious investment in the housing authority in this budget, and I think the speaker is very sympathetic on that front."
The mayor reiterated concerns he broached during his late January budget testimony in front of the state Legislature about tens of millions of dollars in proposed cuts to state spending on city services, including areas like foster care, senior and special education services, pre-kindergarten, and charter schools. Saying that the Assembly is with the city on the issue, de Blasio told reporters of the cuts, "Again, I don't think they should have been in the governor's budget to begin with; I hope they'll reconsider."
Another major point of contention in state budget negotiations is likely to be the governor's proposed 421-a alternative -- dubbed Affordable New York -- which the mayor has argued will be too costly for city taxpayers in the long run for not provide enough affordable units.
The program, which expired in 2015, is designed to spur affordable housing construction, especially in high-priced neighborhoods, by incentivizing developers with property tax exemptions. The previous version was seen by most as flawed and too generous to developers -- there was also lax oversight of the program by city and state entities. De Blasio had proposed his own version of 421-a in 2015, but it was shot down by the governor. De Blasio's critique of the governor's version is supported by a recent Independent Budget Office estimate that Cuomo's plan would cost the city $8.4 billion in property tax revenue over the next 10 years, or $2.3 billion more than the plan de Blasio floated in 2015. There are additional added long-term costs as well, given that 421-a tax breaks last decades.
"There are clearly significant additional costs associated with the newly proposed 421-a law. Making sure we secure an appropriate degree of value for taxpayers is our obligation," Melissa Grace, de Blasio's spokesperson on housing, told Gotham Gazette in a statement.
Cuomo's office has repeatedly maintained that "any expenses in exchange for making sure that all New Yorkers have a safe and decent place to call home are minimal, 26 years out, and worth it."
Meanwhile, Heastie has told outlets that the Assembly's one-house budget "will be more of the same" in terms of the Democratic vision the chamber has presented in previous years. Among the Assembly's new proposals, which have been trickling out in the form of press releases, are several tax cuts for small businesses and greater incentives for businesses that participate in the Excelsior jobs program by relocating to New York State.
Democrats have indicated that they would like to expand education aid beyond Cuomo proposal, make the governor's Excelsior Scholarship more inclusive and less restrictive, and create a higher tax rate for New Yorkers earning more than $5 million a year.
"I'd just say, where Democrats are and have been, it's probably more of the same," Heastie said, promising details in the coming one-house budget. "Of course, education aid and college affordability is covered in there. We want to make sure that there's clean drinking water throughout the state, transportation funding for the city and then outside of the city of New York. The things we always push for are no different, the lyrics of the song may just be a little different."
The Senate GOP, which typically pushes to reduce taxes and control spending in New York, has announced that its one-house budget will reject a bevy of taxes and fees proposed in Cuomo's budget -- including one new motor vehicle fee and another on prepaid cell phones, as well as the extension of the millionaire's tax.
"Middle-class taxpayers are struggling under the crushing weight of property taxes, income taxes, mortgages and the skyrocketing costs of higher education for their children," said Senate Majority Leader John Flanagan. "In this environment, these new taxes and fees are the last thing hardworking families want or need. We must make it more affordable to live and work in New York, not less, and that's exactly what our Senate budget will reflect."
Additionally, there remains the question of how many policy issues from Cuomo's State and the State, which do not necessarily involve a price tag, will make it into the budget. Cuomo's speech touched on government ethics and voting reforms, expansion of ridesharing to Upstate New York, extension of mayoral control of New York City's public schools, criminal justice reform, environmental issues, and more.
While some say that new policy decisions that do not have significant new costs should not be negotiated into the budget, the outcomes will depend on what Cuomo prioritizes and the trading that happens behind closed doors.
There has been a groundswell around the issue of raising the age of criminal responsibility to 18, which the IDC has apparently adopted as a priority for the 2017 budget. "We will not allow New York to treat our teenagers like criminals in criminal court or continue the tradition of mass incarceration of our youth and the 8 members of the IDC will not vote for a budget in the absence of Raise the Age," said IDC director of communications Candice Giove.
Cuomo and Assembly Democrats have been calling for raising the age for years. Flanagan has indicated that Senate Republicans, who have rejected the legislation in the past, are open to considering some version of the legislation. In an interview with Time Warner Cable, he said, "we're having real, adult discussions on this subject and there are a lot of people pushing, not just the governor."
New York City is among two states, the other North Carolina, that prosecutes and imprisons 16- and 17-year-olds as adults.
The IDC has also signalled it will push for the passage of the Dream Act, which would enable undocumented immigrant students to qualify for state college tuition aid. Senate Republicans have also blocked its passage for years.
And, finally, hanging over the entire proceedings is uncertainty out of Washington, D.C., where the Trump administration and Republican-controlled Congress are exploring repeal of the Affordable Care Act, federal funding cuts to housing and other programs, and tax reform. There are billions of federal dollars at stake that annually flow to New York State and City.