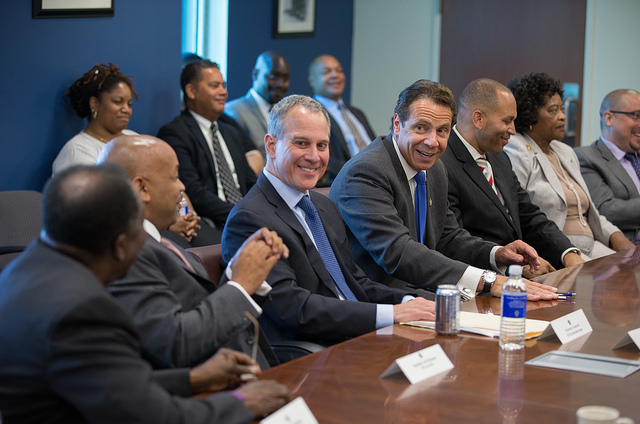 Cuomo & Schneiderman (photo: The Governor's Office)
---
The office of New York Attorney General has recently become one of the most high-profile law enforcement jobs in the country, and a springboard to the Governor's Mansion, with its own heightened powers and prestige. Both Eliot Spitzer and Andrew Cuomo jumped from Attorney General to Governor of New York after tenures marked by major prosecutorial victories, and there is plenty of talk that current A.G. Eric Schneiderman -- one of the leading national opponents of President Donald Trump through his litigation efforts -- has his eyes on a similar leap.
But this outsized role for the New York Attorney General, the head of the Law Department and the chief lawyer representing the state, hasn't always been so -- in fact, the move to law enforcement leader prosecuting major public corruption, financial industry malfeasance, and other cases is a new phenomenon largely ushered in by Spitzer.
The New York State Constitution actually has very little to say about the Attorney General. The document outlines, in detail, the powers of the Governor, Lieutenant-Governor, and State Comptroller, the other elected offices in the executive branch, but the Attorney General's power is mostly derived from statutes rather than the state constitution itself.
The Constitution doesn't spell out the Attorney General's power of enforcement, but rather, lists some of the office's clerical duties. The document states that the Attorney General is to be elected "at the same general election as the governor and hold office for the same term," that the Attorney General shall be the head of the Law Department, that the AG shall render opinions on proposed constitutional amendments prior to a vote in the Assembly and Senate, and that state money and measures violating the constitution can be restrained "on notice" of the AG "at the suit of the people."
The actual enforcement and prosecutorial power against crime in the Constitution is endowed in District Attorneys. The Attorney General would focus on defending both the state of New York and the people of the state of New York. For example, Schneiderman's office created a "Taxpayer Protection Bureau" to more diligently root out abuses, fraud, and theft committed against taxpayers whether it be through fraud in government programs, investments, or contracts.
But the Attorney General has gradually become a regulator rather than chief lawyer. Schneiderman's tenure has seen crackdowns on tenant abuse by landlords, on malfeasance and opacity in the nonprofit sector, and on daily fantasy sports leagues like DraftKings, to name a few things; his office filed the initial lawsuit against Trump University, the President's fraudulent college; he refused to join a settlement with the Obama administration and all other State Attorneys General over fraudulent mortgage dealings by banks, believing that more could be attained. He turned out to be correct.
This kind of outsize visibility and power has been building for some time.
According to Gerald Benjamin, the director of the Benjamin Center at SUNY New Paltz and a leading expert on state constitutions, especially New York's, the Attorney General "was empowered without the constitution," but instead in common law, to become what it is today. The original intent of the position was to be the state's chief lawyer, while prosecutorial power would be delineated to the various district attorneys. But various AGs -- more so recently -- have sought instead to be high profile prosecutors due to the visibility and political capital that such a role can bring.
The office is elected separately from the governor, like in most other states, and enjoys a certain sense of independence from the chief executive. However, the attorney general can be empowered in certain areas by the governor, such as Governor Cuomo using an executive order to assign Eric Schneiderman with prosecutorial authority over some potential police misconduct, a plan opposed by four out of five of New York City's District Attorneys at the time it was proposed. (Some have suggested that DAs are too close with local police departments to impartially review improper use of deadly force by police; at the time Schneiderman requested that Cuomo grant him the additional power in such cases, Daniel Pantaleo, the police officer whose chokehold killed Eric Garner, had recently escaped an indictment.)
According to Richard Rifkin, special counsel to the New York State Bar Association who formerly worked under Attorneys General Robert Abrams and Eliot Spitzer, the governor granting power to the AG doesn't tether them together. "The governor," he said, "once having given the attorney general the power, would not interfere with the attorney general," referring to the AG as "truly an independent prosecutor."
The position of attorney general has recently become something of a gubernatorial catapult. Schneiderman's two immediate predecessors, Spitzer and Cuomo, went on to be elected governor successively. And many expect Schneiderman, who has emerged as a leading opponent of President Trump, suing and threatening to sue Trump and the administration on matters ranging from the Muslim ban to the American Health Care Act, to pursue the same path (Schneiderman has also been criticized for going after Trump so fervently, with some saying he is overstepping his bounds, while he argues that everything he has pursued related to Trump has been applicable to his work representing New York.). All three men enjoyed high profiles during their tenures in the office, due in part to their visible roles as prosecutors of the powerful, whether government officials, Wall Street firms, or even the President.
But the position hasn't always been this way. In fact, arguably the only other New York attorney general in recent history who used the position as a springboard to a higher position in government was Jacob Javits, who was only attorney general for two years before being elected to the U.S. Senate (in fact, Javits served concurrently as U.S. senator and New York attorney general for six days in 1957).
According to Professor Benjamin, it was "relatively rare" for an attorney general to seek higher elected office, such as Governor or U.S. Senator, prior to Robert Abrams' 1994 Senate run, which he lost to incumbent Republican Al D'Amato. Attorneys general have also more recently sought to take the lead on issues of "statewide and national importance," such as climate change, gun control, and sanctuary cities, "the effect of [which] has been to elevate their importance in state politics" and draw more ambitious politicians to the position, Benjamin noted. While virtually any attorney general from any state could pursue such goals, New York's size and prominence make the possibility all the more attractive and plausible for the state's AG.
All of these attorneys general expanded their power at least partially on the basis of a single 1921 statute known as the Martin Act, which gives the New York AG vastly greater latitude in prosecuting financial crimes against shareholders.
Among "Blue Sky Laws," which are laws designed to protect investors from securities fraud, the Martin Act is largely considered to be the toughest in the nation. That wasn't always the case though, as New York's blue sky law was initially weaker than that of many other states, until the New York Supreme Court determined in People v Federated Radio Corporation (1926) that the act's purpose was to "defeat all kinds of fraud in connection with the sale of securities and commodities and to defeat all unsubstantial and visionary schemes in relation thereto whereby the public is fraudulently exploited," even if the fraud can't be proven to have "originated in any actual evil design or contrivance to perpetrate fraud or injury upon others."
Spitzer's 2002 settlement with Merrill Lynch, totaling $100 million, over conflict-of-interest allegations is seen as a pivotal point on the road to what the AG has become today. Prior to Spitzer's tenure, it was mostly used for smaller financial violations, such as "shady pharmacists, Ponzi schemes, and peddlers of fraudulent Salvador Dali lithographs," according to a 2004 article in Legal Affairs by Nicholas Thompson, published prior to the revelation of the Bernie Madoff Ponzi scheme, for which Andrew Cuomo used the Martin Act when he was attorney general.
Spitzer was no stranger to the way the office changed under his tenure, and made it central to his gubernatorial campaign. In a gubernatorial debate with Republican John Faso, Spitzer claimed that "we've transformed an office that once stood for very little, into an office that brought cases that reflected the values we all share. Integrity on Wall Street to protect your pensions; honesty and accountability in government to pursue fraud and recover more money in Medicaid waste than ever before; and honesty in the pharmaceutical sector to make sure that companies told you the truth about the pharmaceuticals you were using. These are the values I hope to bring to Albany." However, once in office, Spitzer found the office to be more constricting than the A.G., leading to frequent clashes with state legislators such as then Senate Majority Leader Joseph Bruno, and his approval ratings were already low before he resigned in disgrace due to a prostitution scandal.
Spitzer's words have inspired his successors; rather than the A.G. being a "sleepy" job that just goes after small-time hucksters and defends the state in court, the office is now a formidable foe against powerful interests, and the attention those pursuits bring to the person at the helm can propel them to high office.
Schneiderman, who once represented financial firms in private practice, has used the Martin Act to pursue his "Insider Trading 2.0" initiative, obtaining multimillion-dollar settlements from financial institutions such as Deutsche Bank, BlackRock, and Barclays, as well as settlements with banks such as Morgan Stanley and Goldman Sachs over deceptive practices leading up to the financial crisis.
Beyond its use as a tool against large financial institutions, Schneiderman has used the act as a basis for a probe into ExxonMobil, arguing that its alleged failure to disclose to its shareholders and the public research that showed the potential impact of climate change constituted a Martin Act violation. Schneiderman issued a subpoena for the documents containing Exxon's research, to which Exxon countersued. The suit was recently in the news when it was revealed that U.S. Secretary of State Rex Tillerson, formerly the CEO of Exxon, had used an alias, Wayne Tracker, in emails relating to the case that were "lost." A court had ordered the documents to be released.
The New York AG also has leeway into how settlement funds are used. In a press release on April 11, Schneiderman announced that $20 million of funds from settlements with Goldman Sachs and Morgan Stanley would be used "to provide local governments with innovative technology to address and transform problem properties—including homes and buildings that are blighted, poorly maintained, vacant, abandoned, and in financial distress—that fell into disrepair following the foreclosure crisis," as part of a program called Cities for Responsible Investment and Strategic Enforcement, or Cities RISE.
Previously, Schneiderman's office had used settlement funds on other programs designed to assist homeowners post-housing crisis, such as the Homeowner Protection Program, providing legal services for homeowners, and the Mortgage Assistance Program, providing zero-interest loans to homeowners who are at risk of foreclosure; the office has also funded land banks with settlement money.
The use of settlement funds by Schneiderman is just one of many examples of how recent attorneys general have secured new money through investigative and prosecutorial work that they've then used for whatever priorities they see fit, at times expanding their office's reach even further beyond the traditional role of AG.
Proponents of the Martin Act have noted the high rate at which financial crimes are prosecuted in New York; opponents have argued that the law has been used by attorneys general to score political points and boost political profiles, and that it's been used improperly due to the broadness of the statute.
Paul Atkins, the head of Wall Street consulting firm Patomak Global Partners and the financial regulatory advisor to Donald Trump during his presidential transition, is an opponent of the Martin Act and other blue sky laws. He did not follow the president to the White House, however.
A referendum will appear on the ballot this November, asking New Yorkers if the state should convene a constitutional convention, which would make recommendations for potential changes to the state constitution. The last convention was held in 1967, but the state failed to accept the recommendations that emerged when they were later on another ballot referendum.
Professor Benjamin, a strong supporter of a constitutional convention, believes that the attorney general would seek to cement, even broaden, authority if the measure were to pass in November and a constitutional convention is indeed held. "I think they'd be well advised to try and get some of the powers of their office constitutionally grounded," he said, "as the powers of the other state elected offices in New York are constitutionally grounded."
For example, there could be discussion of granting the attorney general blanket prosecutorial jurisdiction to pursue public corruption cases against elected or appointed government officials. It is a power Cuomo sought as AG, but was not granted; and a power Schneiderman has sought as AG, but has not been granted by Cuomo.
Rifkin, meanwhile, believes that the AG, or any agency head, be they elected or appointed, should not push for codified powers in the constitution should a convention come to fruition. "That's because the agencies need the powers that they need in this particular moment in time," he said. "New issues come up, new problems arise, and life goes on, and when they're locked in the constitution, government just can't adjust to the current situation."
[Related: How Cuomo's Special Prosecutor Order is Playing Out, 19 Months Later]