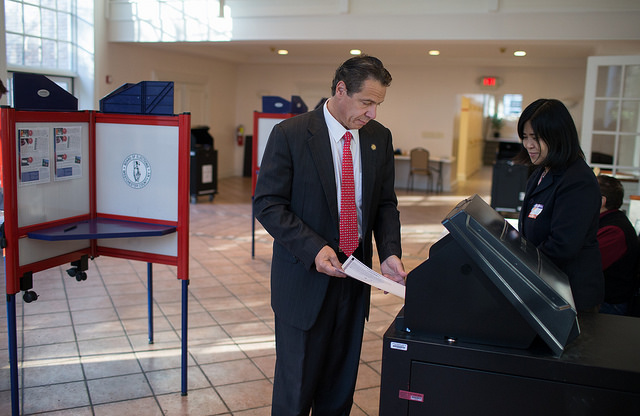 Gov. Cuomo votes (photo: The Governor's Office)
---
Governor Andrew Cuomo's prediction that there is insufficient political will at the New York State Legislature to pass any significant voting reform measures this year may be coming to fruition.
During the final weeks before the end of the legislative session, this year June 21 -- when lawmakers leave the Capitol and return to their districts for the remainder of the year -- there is typically a final thrust for policy measures that did not make it into the budget, which this year was passed in early April.
On the electoral front, there has been a growing push from voting reform activists, civil rights organizations, and some Democratic elected officials to modernize New York's arcane system, but, given the reluctance of Senate Republicans and, at least in part, Cuomo's lack of prioritization of electoral reform despite saying in January he backs an ambitious agenda, major reforms appear to be elusive.
Citing numerous barriers faced by voters during the 2016 elections, Attorney General Eric Schneiderman and New York City Bill de Blasio have joined the call for Albany to pass meaningful electoral reform, a cause that has been championed by other Democrats in the state Assembly majority and Senate minority.
Democrats in both legislative houses have introduced a slew of voting reform bills -- including legislation on early voting, automatic voter registration, electronic poll books, and "no excuse" absentee ballots, among other measures -- as they do each year. While most passed the Democrat-controlled Assembly, as usual, the efforts are stalled in the Senate, where Republicans control the chamber by a slim majority given the help of Senator Simcha Felder, a nominal Democrat who conferences with Republicans, and bolstered by the Independent Democratic Conference (IDC) in a coalition agreement.
The Senate has passed a significantly slimmer electoral package, most of which would do little to increase voter access or enhance voter registration.
So far, the only electoral legislation passed in both houses would allow polling place inspectors to work eight-hour half-shifts, when previously they were made to work 16-hour days. It is a move intended to help Boards of Elections recruit staff and improve efficiency on election days.
Another piece of legislation, sponsored by IDC Senator Diane Savino and Assemblymember Amy Paulin in their respective chambers, would require special ballots to be mailed to domestic violence victims and has passed each house's election committee and is calendared for floor votes.
The Assembly election committee is meeting on Tuesday, June 6, to consider a dozen more electoral law changes.
Other relatively minor pieces of electoral legislation close to being passed in both houses relate to the way candidates are listed on the ballot, the creation of an inventory of official campaign websites, and protecting the ballot information of domestic violence victims.
One sign of the lack of agreement on major electoral reforms, though, relates to consolidating New York's repetitive primary election days, a cause that has bipartisan support -- in theory. Both the Senate and Assembly have passed bills to consolidate federal and state primary elections -- a move projected to save the state $25 million and help increase voter turnout -- however the houses cannot disagree on which month to hold the joint election.
The congressional primaries were split from state level primaries in 2012, when the federal MOVE Act mandated that federal elections allow sufficient time for absentee ballots from those in the army and overseas to be collected. The Assembly bill requires the joint primary to happen in June, in order to allow more absentee ballots to trickle in, while the Senate suggests an August date, which would still meet federal regulations. Democrats argue that the August date would suppress voter turnout given peoples' summer vacations.
The only bill designed to expand voter access that has advanced in the Senate is an early voting bill, sponsored by Senate Minority Leader Andrea Stewart-Cousins, which would allow eligible New Yorkers an additional seven-day window prior to election day to cast their ballots, but it too appears unlikely to reach the Senate floor.
Stewart-Cousins' bill, which mirrors legislation by Assemblymember Brian Kavanagh that has passed the Assembly, would open poll sites for seven days ahead of election day, allowing one day in between the early voting period and elections. Each county, depending on its size, would be required to make at least one and up to seven polling sites available during that period.
In March, when Stewart-Cousins forced the Senate election committee to vote on the measure, Democratic members of the committee voted to advance the bill to the Senate floor, only to have it diverted to the local government committee by GOP members. As Politico wrote, the majority conference is able to kill legislation without explicitly voting against it by pawning it off to another committee, which is unlikely to meet more than once or twice before the end of session and does not have to calendar a vote.
A bill for automatic voter registration, sponsored by Senator Michael Gianaris, a Democrat from Queens, was defeated after a vote was compelled in the same manner.
While Cuomo, a second-term Democrat, unveiled a sweeping electoral reform agenda during his 2017 State of the State, by April, following the passage of the budget, he appeared to have lost any can-do, telling reporters, "There is more to do; there is no political will to do it. Otherwise we would have done it in the budget."
This lack of enthusiasm on voting reform is echoed by Senate Majority Leader John Flanagan, Republican of Long Island, who, when asked recently by a reporter, noted the fiscal component of early voting. "Early voting is defined so many ways, is it just one day?" he asked rhetorically. "I was just joking around that I'm supportive of early voting, just start 5 o'clock instead of 6. It is a serious subject and something we should be talking about, but how do you do that without costing astronomical amounts of money? Our county boards of election are strapped right now."
While there is still time left in the legislative session, without Cuomo using his influence, movement on the issue in unlikely, according the Blair Horner, executive director of New York Public Interest Group, one of the advocacy organizations lobbying for electoral reform.
"Lawmakers don't have to face voters until next year so they are more likely to do popular things on even number years than odd number years. The governor has not shown a lot of leadership on this, so they haven't felt a lot of pressure," Horner said.
De Blasio, no ally of Cuomo, told Gotham Gazette last week that he and unnamed partners intend "to launch a major effort" to see voting and election reforms passed in Albany by the end of the session.

Cuomo's office told Gotham Gazette that the governor continues to support modernizing the state's electoral laws and will keep pushing for measures to do so despite their lack of movement through the Legislature. A spokesperson did not answer whether the governor would make any public push to see his desired electoral reforms passed.