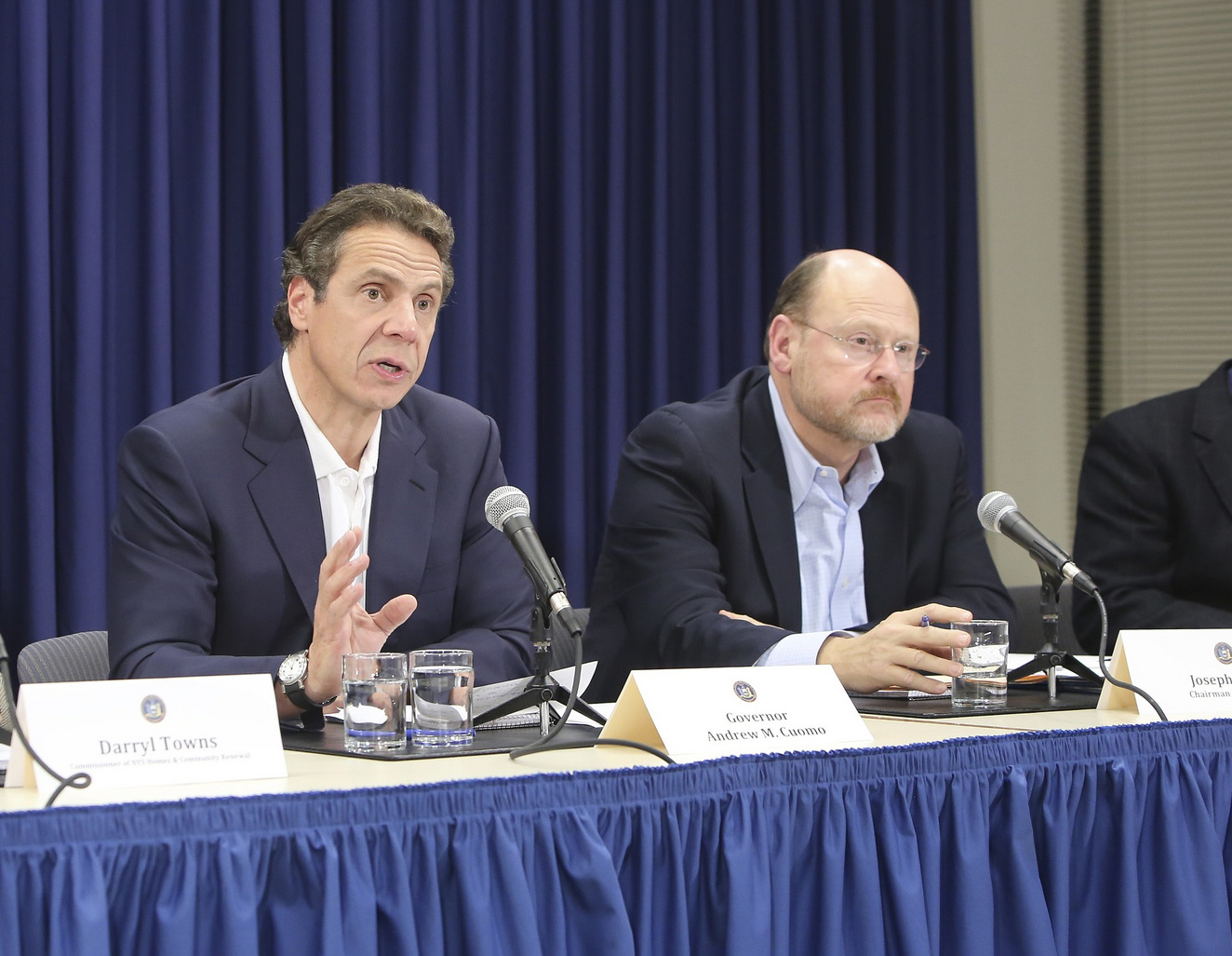 Governor Cuomo with MTA Chair Joe Lhota (photo: Governor's Office/Flickr)
---
Two separate subway track fires on Monday, in the morning and evening, that led to stoppages on multiple lines and delays across the system were just the latest incidents that put the spotlight on problems with New York City's subways. The last few weeks have seen chronic delays, a recent A-train derailment, and passengers trapped on an F Train for nearly an hour without running air or power. Although issues with the subway system have long been apparent, and only increasing in severity, the official response has widely been deemed insufficient. Transit and infrastructure experts agree that the city and state must act now, and act together, to deal with the system's overcrowding, aging trains and archaic signal mechanisms, and there seems to be broad consensus among them on policies and proposals that could solve the city's transit crisis.
The problems with the city's subways have been decades in the making, stemming from chronic underinvestment in mass transit infrastructure. Earlier this month, in a New York Times op-ed, Chicago Mayor Rahm Emanuel contrasted New York City's system with Chicago's own, pointing out that the key to his city's transit successes was prioritization of maintenance and direct accountability of local officials. "[F]irst, we put reliability ahead of expansion," he wrote. "We focused relentlessly on modernizing tracks, signals, switches, stations and cars before extending lines to new destinations."
Although the editorial drew a harsh rebuke from elected officials and New York's tabloids, Emmanuel's criticisms were not entirely off the mark. The MTA has largely failed to maintain and modernize the analog signal system in New York, which dates back to before World War II and is one of the key factors in system breakdowns. Although improvements are underway, at the rate the MTA is progressing, a system-wide upgrade is expected to take 50 years.
Official accountability has also been lacking. Mayor Bill de Blasio has faced increased pressure from constituents, activists and political opponents to address the MTA's poor performance, though he does not in fact control the state agency. The mayor has sought to distance himself from those issues, laying the problems at the feet of Governor Andrew Cuomo, who has authority and control over the MTA's day-to-day operations.
Cuomo, however, has argued that he has insufficient control of the agency despite appointing a plurality of the MTA's board members and its chair. He recently proposed increasing the number of gubernatorial MTA appointees, declared a state of emergency for the MTA to ease procurement rules, and appointed Joe Lhota, who has previously served as MTA chair, to lead the agency yet again. Cuomo also pledged another $1 billion to the MTA capital plan.
"If suspending procurement rules is a good idea, why is it only being done for $1 billion? Why isn't the governor pressing for more fundamental reform?" wondered Stephen Smith, an urban and transit policy expert who runs the popular Twitter account Market Urbanism. Smith, along with other transit experts, are skeptical that throwing more money at the problem will work unless officials implement multi-faceted solutions that address existing infrastructure, spending efficiency, management and capital project completion, to name a few.
Fixing signals and reducing crowds
One of the main ailments affecting subway infrastructure is the old and neglected signal system, which the MTA has acknowledged is one of its most important challenges. The state has already allocated $2.1 billion, of the MTA's total $29.5 billion capital plan, for signal improvements. "We're undergoing a top-to-bottom review, but make no mistake, we must do maintenance and system expansion to underserved communities at the same time," said MTA Chair Lhota in a statement earlier this month to the New York Daily News, responding to Emmanuel's op-ed.
On a recent episode of What's the [Data] Point?, a joint podcast hosted by Gotham Gazette and Citizens Budget Commission, Janno Lieber, the MTA's new chief development officer pointed towards expanding use of Communications-based train control (CBTC), a signal system that would allow trains to move in closer proximity to one another due to more precise tracking of trains. According to Lieber, CBTC improves service by allowing more cars to run on a particular lines while reducing the delays and danger that often come with crowded tracks. The upgrade is currently in use on on the 7 and L lines, with plans to implement them in the E, F, M and R lines as well.
But the slow pace of upgrading the system stems from the balancing act that the MTA and State have to strike in implementing physical infrastructure improvements. The MTA's modus operandi has generally been to shut trains down for nights or weekends at a time in order to make repairs and upgrades, allowing trains to run during high-use periods. But that work is time consuming and less efficient, driving many in the transit world to lean towards avoiding stop-and-go style fixes. "Full shut downs of subway lines get work done faster," said Ben Kabak, editor of the New York City-centric transit news blog, Second Avenue Sagas. "At some point, that's going to have to be the conversation we're going to have."
Kabak supports the MTA's plan to effect repairs on the L Train, which will involve a complete shutdown of the line starting in 2019. This option, though understandably unpopular with commuters, results in faster and less costly repairs.
David Jones, a de Blasio appointee on the MTA board and long-time transit advocate, echoed Kabak. "I was convinced by the arguments they made that to do this in a piecemeal fashion would have led to chronic delays and lasted a much longer period of time," he said of the planned L Train shutdown. "I don't think this is going to be pleasant," he added, though conceding that it is the best approach to a less-than-ideal situation.
[Related: 7 Transit Commitments Advocates Want From Candidates This Year]
A prime factor that causes a majority of subway delays is overcrowding. In a sense, the MTA is a victim of its own success and, since the 1990's, has seen ridership rise from four to six million daily riders. Unfortunately, in that time, the system has added less than 30 new train cars, leading to trains running at peak capacity. As a result, overcrowding is now responsible for more than one-third of the 75,000 subway delays each month, according to MTA data.
"The only truly effective way to address crowding on the subway is to run more trains," John Raskin, Executive Director of Riders Alliance, a transit advocacy group, told the New York Times in January. "It's not a cheap or quick solution."
An effort to add more miles of track would also improve service. This is evident from the launch of the Second Avenue subway line, which, in its first month, reduced ridership on the busy Lexington Avenue line by 27 percent between 42nd and 110th streets. But Smith is not optimistic that Governor Cuomo will launch large subway expansion projects to reach underserved neighborhoods. "Andrew Cuomo is very focused on the 2020 election, which is why he's focused on rebuilding bridges," he said. He doesn't expect Cuomo to show a similar commitment to mass transit. "I don't have much hope," he said.
More bang for the MTA's buck
It's widely acknowledged that the MTA has lacked for investment for years, and elected officials and advocates have proposed numerous options to fund repairs. Fare hikes have been used in the past but are unpopular, for obvious reasons. The Empire Center's E.J McMahon suggested in June the State should use 40 percent of the over $10 billion from banking fines and penalty money in the last three years to finance subway improvements. Recently, State Assembly Member Robert Carroll proposed increasing the city's 50-cent taxi surcharge to one dollar, and expanding this tax towards black cars and ride-hailing services. A coalition of eight transit advocacy groups have also proposed taxing the property value added through real estate upzonings to finance investment in transportation.
But experts told Gotham Gazette that it's not a lack of funds, but rather the manner in which they are put to use which is the more significant. Costs for long-term transit projects in the city tend to balloon over time, owing to delays in construction and increasing labor costs. Transportation writer Alon Levy estimated that New York City's cost per mile of subway construction astronomically outpaces what other major cities such as Madrid, London and Paris spend. The first phase of the Second Avenue Subway first phase, for example, cost $4.5 billion -- $1.7 billion per kilometer, or just under two-thirds of a mile. In comparison, London's Jubilee Line Extension, Amsterdam's North-South Line and and Berlin's U55 cost $450 million, $410 million and $250 million per kilometer respectively. The cost of the Second Avenue Subway, about four times as much as the equivalent in Paris, was not an aberration. The 7 line extension has cost near as much per kilometer of construction and the East Side Access is even projected to surpass the cost of the Second Avenue line.
Smith and Levy agree that until officials figure out how to get more bang for their buck for both tune-ups and new construction, the city's transit troubles will likely continue. For them, the discourse on the issue features an outsized emphasis on raising revenue while ignoring the soaring costs. "It's difficult to ask people for more money when they're not getting much for it," Smith said.
Nicole Gelinas, senior fellow at the Manhattan Institute, a conservative think tank, echoed that argument. "The problem is we've implemented a new tax for the capital plans but we've never dealt with the cost side," she said, attributing the bulk of costs to labor. "Labor is 40 percent of the costs, 40 percent materials and then 20 percent overhead and white collar," she said, referring to a report released in April by the Empire Center for Public Policy. Those labor costs are "25 percent higher than they should be," she said. Smith concurred, suggesting that high labor costs and a "mind-boggling amount of waste" are the likely culprits.
MTA's Lieber conceded as much on the Gotham Gazette-CBC podcast, pointing out that the agency has not been sufficiently scrupulous in its procurement and project coordination, leading to costly labor. Lieber, who previously worked for Silverstein Properties as president of World Trade Center Properties, believes the MTA can take lessons from the private sector to lower costs. "You have to have design process that is going to resolve all the design questions and then not reopen them," he said, contending that continuous arguing and haggling over design often delays and increases project costs. To do this, the parties involved need "close collaboration on design, so you don't have change," he said, insisting that the agency needs to ensure efficient and timely construction work.
Another factor behind high prices is the premiums that contractors place on construction when faced with uncertainty going into a project, Lieber said. "Sometimes we say to the contractor, 'take all these risks about conditions that you don't know about and throw a huge premium on it,'" he said. He suggested that hiring outside contractors may not be the best approach. "We'd probably be better off letting the public sector own and manage those risks and try to eliminate them," said Lieber, "rather than having the contractor in effect charge you...much, much higher price for risks that he or she doesn't really understand or can't envision."
Lieber also noted that builders often squander money on excessive last-minute repairs to completed projects, which adds to the final price tag. In his new role, Lieber said he'd enact measures to tackle these inefficiencies and improve how the MTA conducts its business.
Opportunities for the City
In the absence of state action, experts agree that there are initiatives de Blasio can take on his own. Earlier this month, a coalition of transit advocates rallied around seven transit initiatives they want City Hall, and any candidate running for elected office in the city, to adopt. These include discounted MetroCards for low-income New Yorkers, alternatives for when the L Train shuts down, and enhancing bike and bus lanes.
For his part, the mayor has touted the expansion of the express Select Bus Service and the New York City Ferries as examples of incremental improvements his administration has made. And, more ambitiously, his administration is exploring the Brooklyn-Queens Connector (BQX) proposal, a streetcar that would run along the waterfront from Sunset Park in Brooklyn to Astoria, Queens. Similar to the procedure with which former Mayor Michael Bloomberg expanded the 7 train to the West Side, the de Blasio administration hopes to finance the project with value capture funding, which collects the value of increased property taxes in the neighborhoods along the route.
Other than the Select Bus Service, transit experts are skeptical about de Blasio's ideas and priorities. Ferries, while useful for some, have a relatively limited capacity. And the BQX draws mostly harsh reviews from transit experts, who say it would neither serve a currently popular and overcrowded route nor a necessary one with demand. Smith called it a "terrible idea' and "a solution in search of a problem."
Kabak concurred. "Their plan is suspect from a transit routing perspective and the plan is suspect from a financial perspective." He argued that real estate interests were the driving motivator behind the misbegotten idea. Kabak suggested what he believes to be better alternatives to the BQX route, that the mayor can work on without state cooperation. He pointed to the Triboro RX proposal, a proposed route that would run from Bay Ridge, Brooklyn through Queens to Co-op City in the Bronx. It would serve an "unmet demand" for trains in areas such as Flatbush and Flushing, he said.
Smith favors more significant structural and jurisdictional reforms. "My personal opinion is that the city needs to take back the NYC Transit Authority for it to ever really be fixed," he emailed. "Leaving it in the governor's hands is just a recipe for political unaccountability, since the vast majority of voters in New York State do not ride the subway or buses and don't care about their fate."
He said Mayor de Blasio should take steps towards getting mayoral control of the MTA, starting with buses. "They're much lower-stakes – lower ridership, less capital funding – and the governor might be more willing to give them, and, of course, their funding, back to the city," Smith said. "And if the city shows that it can be a better steward of the buses than the state was, I think the case for taking back the big prize – the subway – becomes a lot more convincing."
He continued, "This would have the effect of both fixing the substantive and the jurisdictional unaccountability problems by making the powers-that-be that manage the city's mass transit more responsive to the cohort that uses it."
Easing congestion
Coinciding with mass-transit troubles, and partly because of them, New Yorkers have also experienced an uptick in traffic congestion, and continued subway dysfunction is likely to make matters worse. Gelinas said this is an area where de Blasio can take small steps such as making the streets safer for bicycles and improving street management. "When you look at the streets, the streets are just complete chaos, so you can understand why people don't want to ride bikes," she said. Along these lines, the City Council has discussed pushing the NYPD to increase bus lane enforcement and crack down on placard abuse, as well as adding bus and bike lanes.
[Related: Calls for Small & Large Fixes to City Congestion, Transit Woes]
A more ambitious measure requires encouraging ridership from the outer parts of Queens via the Long Island Rail Road. In fact, as transit experts are quick to note, one of the few advantages of gubernatorial control of all New York public transportation agencies is the ability to integrate different modes of transportation.
Levy argued that the LIRR, though passing through decidedly urban parts of Queens, better serves suburban commuters. He recommended that the LIRR be integrated, like the subways and buses. This would reduce E train ridership and take drivers off the road, he argued. He also proposed matching subway schedules with the LIRR to allow for quicker commutes from Queens.

In Kabak's view, the most impactful option available to lawmakers is congestion pricing, with strategically increased tolls to discourage driving on busy roads. "I think the only real way to get these cars off the road is to price traffic accordingly," he said. "It's a tough sell because people who drive have a loud political voice but until you're willing to say this traffic comes at a price that the rest of us are paying, as opposed to the drivers, then you'll have traffic."
Jones, the MTA board member, voiced support for gas taxes and congestion pricing to discourage driving. These measures would, however, need the backing of the governor and the state legislature. Governor Cuomo has said congestion pricing is a "nice idea" but insists that the legislature, which has rejected it in the past, still lacks the appetite for it. Mayor de Blasio similarly has insisted that congestion pricing is contingent on state action, and has shown little interest in pushing the issue.
Instead of redirecting responsibility and kicking the can down the road, Jones hopes that Cuomo and de Blasio can work together to push these fixes as commuters desperately await action. "The public doesn't really care about the dispute between the mayor and the governor," he said. "They just want to be able to get to work on time."