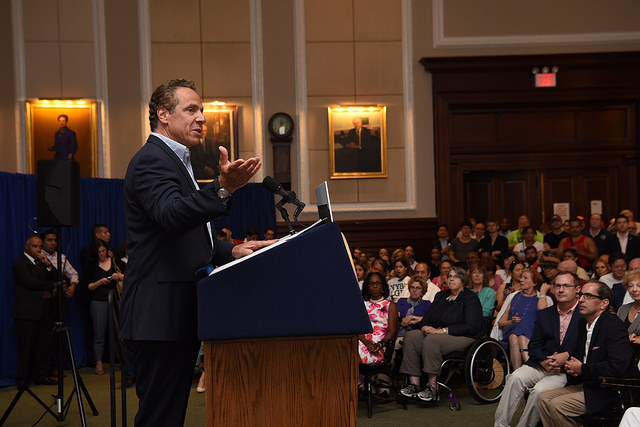 Gov. Cuomo (photo: The Governor's Office)
---
Governor Andrew Cuomo signed an executive order Monday expanding the list of New York State agencies required to provide voter registration assistance and creating a task force to oversee implementation of the program.
While current state and federal law requires the forms to be available at the Department of Motor Vehicles and certain social service agencies, Cuomo's new order mandates that all agencies that interact with the public through professional licensing, recreational activities and other avenues carry the forms.

The State Agency Voter Registration Task Force -- comprised of Cuomo's counsel Alphonso David, Jamie Rubin, his Director of State Operations, as well as a variety of agency commissioners -- will explore ways to implement the reforms laid out in the executive order. The task force will also study the use of electronic signatures and how to set up secure online voting registration systems -- similar to the one currently in place at the Department of Motor Vehicles -- through additional state agencies, according to the governor's office.
Advocates of voting reform, who were disappointed by the lack of meaningful electoral reform during the 2017 legislative session, were buoyed by the news, praising it as an important first step, but they also noted that a lot more can be done to increase access to registration and voting.
"While we appreciate Governor Cuomo's intentions, his proposed executive order will do little to address the issues New York State voters face on Election Day. Voter purges, strict registration and party change deadlines, and long lines at the polls cannot be fixed with enhanced voter registration," said Jennifer Wilson of League of Women Voters in a statement.
In pointing out that voter registration is not the main barrier to voting in New York State, Wilson noted that in 2016 voter registration reached a record high, but many newly enrolled voters faced barriers to casting their ballots.
"While we agree that state agencies should take a more active role in voter registration, we would prefer to see an executive order that enacts early voting, alters registration deadlines, or allows for electronic poll books. The only way to truly empower voters and ensure ballot integrity is to make voting easier and more accessible," said Wilson.
Reinvent Albany, a government reform group, issued a statement saying the organization is "most excited by the potential to use proven technology to implement fully online voter registration in New York State. State agencies, SUNY and CUNY and Boards of Election should make voting easier by maximizing the use of secure technology."
"Governor Cuomo's actions are a helpful step in what we hope is a wider push to update our archaic voting system," said New York Civil Liberties Union head Donna Lieberman, noting the executive action's timeliness in the wake of the Trump administration's request for voter information through its newly created voter fraud commission, which critics say is paving the way to attempt voter suppression, and 44 states, including New York, have refused to comply with.
The voter registration expansion ordered by Cuomo could have a significant impact in places like New York City and Westchester where a considerable number of voters do not frequently interact with the DMV, because they are not car owners or are not licensed to drive.
A recent study by the New York Public Interest Group (NYPIRG), which has been pushing for all agencies to make voter registration forms available, found that fewer than 50 percent of people who are of voting age living in Brooklyn or the Bronx possessed driver's licenses, while in Queens, 64 percent of those residents were licensed, and in Manhattan, 54 percent of those residents were licensed. Eighty-three percent of voting age Staten Islanders were licensed, and in Westchester, 88 percent of those residents were registered with the DMV.
The analysis also found disparities between men and women who interacted with the DMV in New York State; there were 300,000 fewer female licensed drivers than male drivers, though there are 600,000 more women than men in the state. The NYPIRG estimates are based on 2010 U.S. Census data.
Cuomo has also ordered SUNY and CUNY to conduct a full investigation of their campus voter registration practices in order to ensure that required steps are being taken to increase voter registration rates among young voters on the state's public college campuses. State law requires SUNY and CUNY campuses to provide all students with voter registration forms at the beginning of each school year, as well as in January of each presidential election year.
Finally, Cuomo directed the DMV to send information referencing its online voter registration application in all emails reminding New Yorkers to renew their licenses, identification cards, and vehicle registrations, in order to maximize New Yorkers' awareness of the electronic voter registration application.
Since the launch of online voter registration in 2012, there have been over 921,922 online voter registration applications, including 430,886 who identified themselves as first-time voters, according to Cuomo's office.
Reinvent Albany called on the new Cuomo task force, CUNY and SUNY to hold public hearings around improving voter registration.
Earlier this year, as part of his State of the State and 2017 policy book, the governor proposed "The Democracy Project," a legislative package to further modernize and reform New York's voting system. The bills were comprehensive, including early voting, same-day voter registration, and automatic voter registration, but the governor was criticized for failing to see any of those measures passed during the budget or subsequent legislative session, which ended in late June.
When asked about the failure to pass these reforms, Cuomo said there was "no appetite" in the Legislature.
"There is more to do; there is no political will to do it. Otherwise we would have done it in the budget," Cuomo said of the reforms when talking with reporters at an annual Easter open house.
Chisun Lee, senior counsel in the Democracy Program at the Brennan Center for Justice at NYU School of Law, noted that while an executive order has its limitations, the governor could direct his task force to "study the benefits of and best practices for implementing opt-out automatic registration — a reform that would move New York from the back of the pack to the vanguard of pro-voter states." Under this program, all eligible voters would automatically be registered unless they proactively declined.
"Today's order is a good step forward, though more can and should be done to replace New York's archaic, paper-based registration system with a modern, electronic one that increases efficiency and improves accuracy of our registration rolls," Lee said in a statement.
A spokesperson for Cuomo's office said the governor will continue to push for the reforms introduced in his 2017 agenda, but did not elaborate about how.