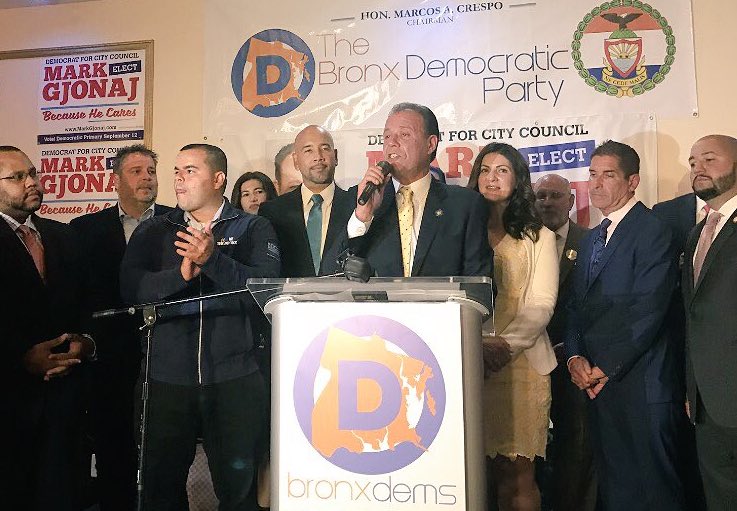 Mark Gjonaj & Bronx Democratic leadership (photo: @MarkGjonajNY)
---
With the New York City primary election behind us, it appears that at least three state legislators are likely to be leaving behind the trips to Albany for plush City Council seats.
Following the path of former State Senator Bill Perkins, who was elected to the City Council in a special election earlier this year, two Assembly members and one state senator are likely to be making the same jump come January: State Senator Ruben Diaz Sr, Assemblymember Mark Gjonaj, and Assemblymember Francisco Moya were all victorious in determinative Democratic primaries Tuesday night.
Assemblymembers Felix Ortiz and Robert Rodriguez also ran in Democratic City Council primaries, but appear to have lost their respective bids. Ortiz came in a distant second attempting to unseat incumbent Council Member Carlos Menchaca and Rodriguez is narrowly behind Diana Ayala in a race he has not conceded, though Ayala did declare victory. Gjonaj will have to defeat Republican candidate John Cerini in the general election, who is expected to be tougher competition than Diaz Sr.'s Republican opponent, Eisley Constantine. Moya does not have any general election competition.
The three state legislators who won on Tuesday would join the City Council as part of the full new class of 51 members for a four-year term starting in January. For Diaz Sr., it would be a return to a Council district he once represented before being elected to the state Senate.
Gjonaj, Moya, and Diaz Sr. will likely be part of a Democratic supermajority in the Council that will elect a new Speaker and work with Mayor Bill de Blasio -- if he prevails in November's general election as expected. They will be asked to help deal with problems like a lack of housing affordability, a deteriorating transportation system, substandard schools, and more.
The state lawmakers would bring to the City Council significant legislative experience as they fill three of the 10 seats set to change hands.
"The powers of the Legislature are infinitely broader, as a result these candidates bring a functional experience which is invaluable and would help City Council immensely," says former Assemblymember Richard Brodsky.
Last year, Mayor de Blasio and the City Council approved a large pay boost for all city elected officials, including Council members -- to $148,000, up from $112,500 -- in exchange for a ban on most outside income, which may continue to draw a steady stream of candidates from state government, where legislative salaries have been frozen at $79,000 since 1999. In addition to the pay bump, state lawmakers from New York City may be attracted to the proximity of City Hall as opposed to the state capital, as well as the influence and visibility that come with a City Council position.
Leaving the Legislature, the three would join a number of other rank-and-file state lawmakers who have abandoned Albany for other offices where they believe they can be more effective. Additionally, this year, Republican Assemblymember Nicole Malliotakis, who was largely unnoticed outside of her district while serving in the Assembly minority, is now posing a fierce challenge to de Blasio in the mayoral race.
In August, State Senator Daniel Squadron, penning a letter in The Daily News about his own disillusionment with the Albany process, announced that he would leave the Senate to pursue a national initiative. During his eight years in Albany, his legislation to close the infamous "LLC loophole" had never made it to the Senate floor.
The moves from the state Legislature to the City Council often come down to opportunity. Diaz Sr., Rodriguez, Gjonaj and Moya all sought to replace City Council members who are term-limited or not seeking re-election. As soon as an elected official enters a City Council race, they typically become the favorite, given their higher profile, ability to fund-raise, and ties to important entities like labor unions. They almost always win.
Lawmakers say they find it easier to have an impact legislatively from the City Council than in the State Assembly, where Democrats have an overwhelming majority, or in the State Senate where the Democratic conference is fractured and in the minority, according to those who have made the switch. The Albany budget and legislative processes are also known to be closed off to many rank-and-file legislators, given the "three men in a room" decision-making that often dominates.
"In order to be effective in Albany you have to be there a long time, to accumulate seniority, to get a committee chairmanship. It's very hard to get legislation passed without clout," said Brooklyn Council Member Alan Maisel, who was elected to the body in 2013 after seven years in the Assembly.
Some leave Albany in part because they have young children at home and being Upstate for portions of six months out of the year is grueling for their families, while others are motivated to move to the City Council as they near retirement, because the state's pension system determines disbursements based on a lawmaker's most recent salary. Maisel said he enjoyed his time Albany, but the turning point for him was the months after Hurricane Sandy, when he felt helpless to support his constituents from Albany. When the seat became available, he ran.
"Here I am in Albany, from January till June, and I didn't like that," he said. "I wanted to be involved in local community things."
In 2021, when 37 Council members will be term-limited out of office, there is expected to be a marked influx of state legislators to the City Council. Other City Council members who have came from the State Legislature in recent years include Council Members Vanessa Gibson, Rafael Espinal, Joe Borelli, Inez Barron, and Rory Lancman.
The departure of Squadron, Moya and, likely, Diaz Sr. and Gjonaj, will set off a series of special elections, which will be called at the discretion of Governor Andrew Cuomo. Susan Lerner, executive director of Common Cause/NY, has called for Cuomo to consolidate all the special elections into one, on November 7, Election Day.
"We need to remove barriers to voting with early voting, instant runoff voting, and automatic voter registration -- an advance the Governor could accomplish administratively without legislative action," said Lerner.
To enable this, Lerner called on the Diaz Sr., Gjonaj, and Moya to "put the public's interest ahead of their own self-interest and resign from the Legislature immediately." If the lawmakers remain in office for the remainder of the term, their seats will remain unfilled during the start of the 2018 legislative session.
This year's likely migrants have already been thrust into the next big fight in City Hall, that for the coveted role of City Council speaker, held by term-limited Melissa Mark-Viverito until the end of the year. It is for Mark-Viverito's Council seat in District 8 (East Harlem and the South Bronx) where Assemblymember Rodriguez could still possibly join the wave, if his attempt to see affidavit and absentee ballots counted puts him ahead of Ayala, Mark-Viverito's preferred successor and former aide.
As their votes are being sought by their soon-to-be-colleagues seeking the speakership, there is more to know about the three legislators likely moving to the City Council.
Ruben Diaz Sr.: Council District 18
Famous for his signature cowboy hat, his unvarnished "What You Should Know" newsletter, and his passionate speeches on behalf of immigrants and the working class on the Senate floor, Reverend Ruben Diaz Sr. will soon be bringing his distinctive sartorial style to the Bronx's 18th City Council District, a position he briefly held in 2001.
An ordained minister who was born in Puerto Rico, Diaz leads the Christian Community Neighborhood Church on Longfellow Avenue and the New York Hispanic Clergy Organization, an organization of 150 local evangelical ministers. He is known as a conservative Democrat who may be out of step with many more socially progressive Council members.
Diaz, who replaces the term-limited Annabel Palma, enjoys widespread support in the district. Legislatively, during his 13 years in the Senate, 18 of his bills have made it to the governor's desk, 16 signed into law. His record ranges from targeting the topless panhandlers in Times Square, to pushing Cuomo to implement an identification card program similar to IDNYC across the state, which is available to all immigrants regardless of documentation.
Diaz Sr. also has much to gain from returning to his former district, which he left in 2002 to replace the scandal-scarred Senator Pedro Espada. Moving back to New York City and joining the City Council will allow Diaz, who is 74, to collect a higher pension when he eventually retires and cementing the Diaz brand could be beneficial for his son, Bronx Borough President Ruben Diaz Jr., who may have broader, citywide political aspirations in the future.
Diaz Sr. has drawn criticism for his socially conservative views, particularly his vote against New York's Marriage Equality Act in 2011 and his anti-abortion stance. The reverend's views have made for tricky politics for allies such as City Council Member Ydanis Rodriguez, who is seeking the Council speakership and was criticized by gay activists for endorsing Diaz Sr. in his Council bid. A prominent LGBT political club, the Stonewall Democrats, rescinded its support for Rodriguez as a result.
"While we obviously do not agree on every issue–particularly his stances on abortion and the rights of the LGBTQ community–I know Sen. Ruben Diaz Sr. has been a strong advocate for Latino representation and his working class constituents in the Bronx," Rodriguez told the New York Post. "As an experienced legislator, he will continue to serve them well in the Council."
Another speaker hopeful, Council Member Corey Johnson, who is gay, also caught flack for friendliness toward Diaz Sr., but much earlier in the election cycle.
In 2011, Diaz's grandaughter, Erica, who is a lesbian, famously organized a counter protest to her grandfather's anti-gay marriage rally.
Regarding his views on homosexuality, Diaz Sr. told City Limits, "You don't believe in this, you don't believe in that, but you respect the people. And you provide the service you are supposed to provide and you make sure they get the same service as everyone else."
Many are surely hoping that his "What you Need to Know" columns, which are published in the Bronx Chronicle continue. In his blunt columns, he's taken to task his colleagues in the Senate, Governor Cuomo's ethics reform attempts, actor/director Sean Penn's comment at the Oscars, and most recently, Council Speaker Mark-Viverito was caught in his crosshairs.

On Tuesday, Diaz Sr. defeated Elvin Garcia, a former Bronx aide in Mayor de Blasio's community assistance unit who is gay; activist Amanda Farias, who was backed by the National Organization of Women; and others.
"I disagree with Diaz [Sr.] on just about everything, but I find him to be active and engaged and a serious member of the Legislature," said Brodsky of his former colleague. "The tendency for these candidates to be colorful and independent is a virtue," he added.
Mark Gjonaj: Council District 13
Gjonaj joined the state Assembly in 2012, after defeating incumbent Assemblymember Naomi Rivera, the daughter of Assemblymember Jose Rivera and sister Councilman Joel Rivera, in the 2012 Democratic primary. A real estate broker without political background aside from a stint as the Bronx representative on the Taxi and Limousine Commission, his victory caught the political establishment by surprise.
The son of Albanian immigrant union workers, Gjonaj is seen as something of a trailblazer for the Bronx's Albanian-American community, which includes a population of more than 12,500, according to 2011 figures, and he continues to have widespread support in the district.
The 48-year-old Gjonaj, who is known for his extravagant fundraising tactics, recently drew criticism for spending campaign dollars on his own family businesses as well accepting donations from questionable sources. He is credited with energizing a somewhat conservative constituency in the Bronx. His centrist Democratic politics is evidenced by the endorsement of state Senator Jeff Klein, leader of the Independent Democratic Conference, which forms a ruling majority with the Senate GOP. Both politicians represent suburban areas of the Bronx.
Gjonaj served as chairperson of the subcommittee on micro business and has signaled support for charter schools. He has been criticized for taking credit for the Women's Equality Act, which he voted against, and he has promoted drug-fighting legislation, including a bill criminalizing and increasing penalties for the sale of synthetic marijuana.
During his bid for City Council, Gjonaj scooped up all the major endorsements from the Bronx Democratic party machine and power players, as well as major labor unions. He spent a record amount -- more than $716,469 -- on his campaign, defeating Marjorie Velazquez, a Democratic district leader and community board member who was endorsed by progressive and women's groups, and John Doyle, a hospital official who once worked for Klein.
"I am honored that the people of the 13th District have chosen me to fight for The Bronx and help lead the way in protecting the common-sense Democratic values that are vital in safeguarding our working and middle-class families, keeping our streets safe, ensuring every child receives a quality education and securing affordable housing options for the most vulnerable," Gjonaj said in a statement following his primary win. "From City Hall, I will be in a better position to bring attention to those issues and take action."
But, Gjonaj does have an active general election competition ahead, even if he is a heavy favorite. Following the primary, Bronx County Republican Party Chair Michael Rendino said in a statement that Gjonaj's primary win showed a lack of popular support. "In a stunning rebuke to politics as usual, Mark Gjonaj couldn't even break 40% in his Democratic primary election after spending more money than any council candidate in the history of the City's campaign finance system," Rendino said. "Developer Mark Gjonaj is now going to have to defend his record against John Cerini in the general election. John is a longtime community leader and small business owner in Throgg's Neck and has been fighting for us his whole life. I like our chances."
Francisco Moya: Council District 21
Good governance won out on primary day when Francisco Moya successfully beat out disgraced ex-Senator Hiram Monserrate, who was coming off of a two-year stint in jail for misappropriating $100,000 of taxpayer funds after previously having been expelled from the Senate for a domestic violence incident involving his then girlfriend.
Monserrate has been seeking a return to elected office and has shown he can still turn out votes. After a particularly ugly battle, the margin was close, with Moya pulling in 56 percent of the vote, compared to Monserrate's 44 percent.
"Honesty and integrity won tonight," Moya, 43, told the crowd at a victory party in Corona Tuesday night, according to The Daily News.
That sentiment was echoed by the National Organization for Women (NOW) which released a statement of congratulations to the incoming Council member. "We are proud to congratulate Francisco Moya for his victory today, because we know that he is going to fight for women, fight for immigrants, and fight for his community, and he can stand up as a role model for them as well," said Sonia Ossorio, president of the NOW, which had come out strongly against Monserrate's candidacy in recent weeks.
Beyond Monserrate's criminal record and ethics, a key point of contention during the race was the fate of Willets Point, a large plot of land that is in limbo after a proposed development there was blocked by a Court of Appeals ruling. The initial deal had been struck by Council Member Julissa Ferreras-Copeland, who announced earlier this year that she would not seek reelection for the seat and will leave it at the end of the year. She endorsed Moya as her successor and campaigned with him in the days before the primary.
Moya's progressive legislative record during his seven years in Albany -- not to mention universal disdain for Monserrate from the Democratic establishment -- allowed the Assembly member to sweep up endorsements from the Working Families Party, unions, and numerous politicians, including Mayor de Blasio, Governor Andrew Cuomo, and Public Advocate Tish James.
Elected to the Assembly in 2010 over Monserrate, Moya has been known for his efforts to fight for the passage of the NY DREAM Act, which would enable undocumented immigrant college students to be eligible for state financial aid. But year after year, the legislation died in the Republican controlled Senate.
As a Council member, Moya won't have to worry about his bills being blocked by Republicans, who control only three seats in the 51-seat body.
Moya, who has said that he is the first state legislator of Ecuadorian descent and represents Jackson Heights, Queens, this year introduced an extensive legislative package aimed at protecting immigrants from police and enforcement agencies amidst a federal immigration crackdown, which would provide undocumented individuals with access to public defenders.
He has introduced legislation to stop employment agencies from committing fraud against job seekers, and went to bat for New York's Scaffold Law, which places all liability for injured construction workers on employers. An avid soccer enthusiast, he's also championed bringing a Major League Soccer stadium to Queens -- an idea that may come to fruition soon.
Update: this article has been updated with a revised statement from Common Cause NY.
Update: this article and its headline have been corrected to reflect that Diaz Sr. and Gjonaj have general election opponents.