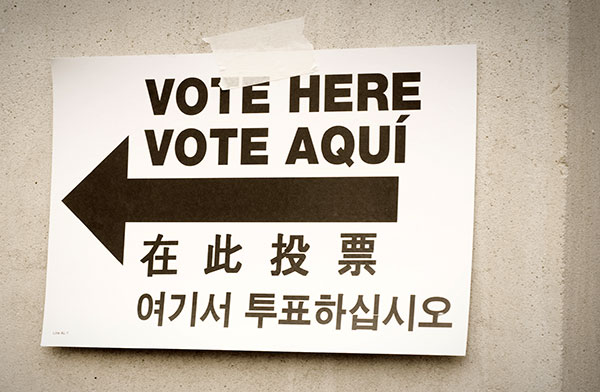 (Wiki Commons)
---
During the judicial primary elections September 12, Brooklyn Democratic voters seemed to base their selections for Civil Court judge primarily on gender; immune, apparently, to an ongoing squabble over the process for selecting the nominees, who are virtually guaranteed election in November given the borough's Democratic tilt.
With 12 candidates vying for six civil court seats, Brooklynites nominated only women to the bench and no men, paying little attention to slates, endorsements, experience, or judicial screening panel approvals. Ignoring a bitter feud playing out between the Kings County Democratic Committee and a political operative running his own insurgent slate, voters chose a combination of women from both slates as well as a female judge running independently.
The trend did not go unnoticed and it has some speculating that in low-turnout elections, uninformed voters simply chose women because they may believe them to be more trustworthy and suited for judgeships.
For countywide civil court -- which had five contested seats -- three county-backed female judges, Connie Melendez (15.3 percent), Robin Sheares (13 percent), and Patria Frias-Colon (10.6 percent), drew enough of the vote to win (voters were asked to choose up to five of the 11 candidates listed on the ballot). Sandra Roper (9.9 percent), who was represented by Gary Tilzer, a political gadfly running a six-person judicial slate, came in fourth, and Ellen Edwards (9.8), who ran independently, was the fifth winner.
Tilzer, who says he has instructed his candidates to shun voluntary judicial screening panels, insists that the current nomination process is rigged.
"The screening panels are fake and the only people who don't know it are the journalists," Tilzer said in a phone interview. "The party leaders select the judges."
Many in Brooklyn's legal community who take issue with Tilzer's methods expressed dismay that a county-endorsed incumbent, Frederick Arriaga, who finished sixth, will be unseated after 10 years on the bench, while candidates who refused to submit to judicial screening panels or were deemed "unqualified" by the panels, were victorious.
"It's upsetting that someone would challenge a competent, qualified, sitting judge -- someone who had a good reputation on the bench. Are you trying to make people hire consultants? What is the point of primarying someone like that?" asked former City Council Member Lew Fidler, who has close ties to the county party.
Howard Graubard, a lawyer active in Democratic politics, said the public would not be served if sitting judges were forced to become political.
"When I first came to Brooklyn in the 1980s -- whether a judge was elected by reformers or insurgents -- everyone left alone the incumbent judge. It was frowned upon in the political and legal community. it was something you just didn't do," he said. "The fact that Arriaga is not going to be on the bench in January, it's a sin."
In addition to the Democratic Party's judicial screening panel, which has had its own controversies, New York City and Brooklyn bar associations have created their own peer-review screening committees which determine if candidates are "highly qualified," "qualified," or "not qualified." A fourth judiciary screening is conducted by the state's Office of Court Administration.
The trend held up in the primary election for Brooklyn's Civil Court District 6, where Tilzer's candidate, Elena Baron -- a woman deemed unqualified by at least three judicial screening panels -- won with 39.3 percent of the vote, over two panel-approved male judges.
Tilzer, who is credited with getting Brooklyn Civil Court judges Rachel Freier and Odessa Kennedy elected in 2016, is not pleased with the outcome either, speculating that this year's pitifully low voter turnout derailed efforts to influence votes, and the fact that he was hospitalized with a foot infection in the weeks before the primary.
The only woman on the ballot who was not nominated was Isiris Isaacs, a client of Tilzer's who was unanimous approved by all four judiciary committees and lost twice before running on the county slate. Close watchers speculate that she does not have an easily discernible female name and was therefore at a disadvantage among voters choosing based on perceived gender identification.
Meanwhile, Tilzer's most well-known countywide candidate, John O'Hara -- a lawyer who made headlines for his rare conviction on voter fraud charges and subsequent exoneration -- was listed above the other names on the ballot, which is often seen as an advantage, and yet came in last.
While county-endorsed candidates often have a significant advantage, names play an important role in lesser-known elections like judicial races, and it is not uncommon for candidates to be selected based on apparent race, ethnicity, or gender, according to those who closely follow elections, including for judicial seats.
"When voters don't have a lot of information, many default to women, believing -- whether correctly or not -- that women are outside the dominant power structure," says election lawyer Sarah Steiner.
This may be aided by the fact that more women vote than men, and low voter turnout -- just 14 percent of New York Democrats voted in the mayoral primary happening the same day as the other primary elections. Some voters don't even fill in any choices for down-ballot races like judicial seats due to a lack of familiarity with the candidates.
Connie Melendez's Latino name have also helped her draw the overwhelming majority in the countywide race, since the Latino base was likely energized by the candidacy of Acting District Attorney Eric Gonzalez, according to those familiar with Brooklyn's judiciary. Gonzalez won his primary overwhelmingly and will no longer be Acting DA come January.
One thing voters apparently did not pay heed to was the back and forth erupted between a weakened Democratic machine and Tilzer over the legitimacy of the party's candidate selection process.
A Democratic Party spokesperson said that the screening system was set up decades ago due to a push from government reformers to address rampant corruption within Brooklyn's court system. The party only chooses to endorse candidates that have been approved by all four judicial screening systems.
"Gary Tilzer is full of sh**. If he had a complaint about the Democratic Party's screening panel, what about the Brooklyn Bar [Association]? Then what about the New York City Bar [Association]? What about the independent screening panel organized by Office of Court Administration? It is a weak argument," said Bob Liff, spokesperson for the Brooklyn Democratic Party, which is led by Chair Frank Seddio.
Liff noted that the County's screening panel, which includes representatives from the borough's many smaller bar associations, has in the past rejected the prefered candidate of former party boss Vito Lopez and typically find the same judges to be qualified as the peer-review committees run by the bar associations.
Tilzer retorted that Seddio is a member of the Brooklyn Bar Association, serving as its president last year, and suggested that the other screening committees are connected by an intricate web of political power players.
"The bar associations essentially enable a system where the political leaders can pick judges," Tilzer said. "If they really were serious about having judges not connected to political leaders they would speak on that issue. [Candidates] have to go through this closed system with the county leaders and the district leaders and if you are not part of this group, you don't get elected."
Aimee Richter, president of the Brooklyn Bar Association, told Gotham Gazette that Seddio, her predecessor, made a point to separate politics from his activities at the volunteer-run bar organization when he was its president in 2016, and had no influence over the judicial committee.
"Frank Seddio is a member of our organization like anybody else. Whenever politics got involved he made a very clear wall between his role at the Brooklyn Bar Association and his work at the Democratic Party. Anything having to do with the judicial screening committees, Frank stepped away from that," Richter said.
When asked about the independence of its judiciary committee, a spokesperson for the New York City Bar Association pointed to its web page that outlines the organization's extensive process and criteria for evaluating the qualifications of judicial candidates.
"The Committee's mission is to determine if the candidate being reviewed holds the necessary qualifications to become a judge, such as integrity, impartiality, intellectual ability, knowledge of the law, industriousness, and judicial demeanor and temperament," according to the organization's website.
While the war between Tilzer and the Democratic Party has turned ugly, and both sides have drummed up negative press stories, there is deep skepticism in legal circles over whether the public is served by Tilzer's efforts.

Until Tilzer became active, voters were presented with few options in Civil Court races, and typically the county-endorsed slate won. In Supreme Court, on the other hand, voters do not get to choose the Democratic nominee at all; rather, nominees are chosen by a judicial nominating convention, a process which has long been criticized for enabling cronyism and corruption.
However, many politically involved lawyers who spoke to Gotham Gazette defended the legitimacy of the screening panels and objected to Tilzer's efforts to discredit them.
"I'm a big supporter of the panel system to ensure that we have qualified judges. That's not to say that there aren't occasionally qualified judges that for one reason or another, are rejected by the panels," said Steiner. "Reformers of the judicial process worked really hard to get the panel structure into the existence and to make sure that different groups and different bar associations were able to give their opinion on judges. It's a real shame that it didn't happen this time."
Others they see Tilzer as an opportunist, looking to profit of the little known, barely scrutinized elections, while calling himself a reformer.
"Gary Tilzer has some people bamboozled. He makes money by causing primaries," said Fidler. "These [screening] panels do really good work and people ought to listen to that, rather than vote on name."
Tilzer disputes the claim that he is in it for the money. "What I charged was way under price, because I was in the hospital," he said, adding, "My fee is always lower than what the other consultants charge."