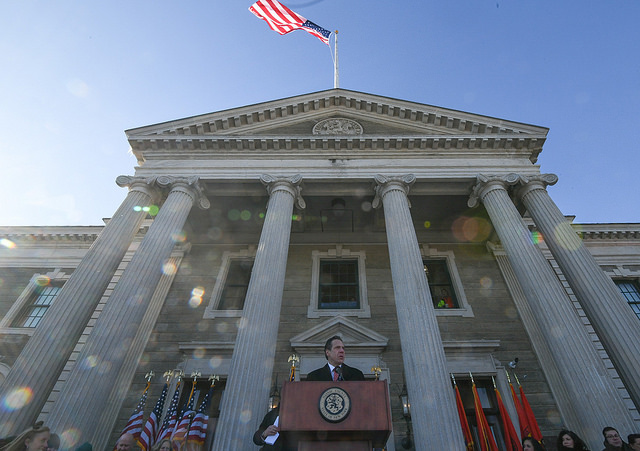 (photo: The Governor's Office)
---
New York's leading government reform groups reacted to Governor Andrew Cuomo's 2018 State of the State agenda on Thursday in Albany, holding a press conference to urge the governor and legislative leaders to adopt a package of reforms to help restore public confidence in state government.
Despite, or perhaps because of, the fact that Cuomo failed to pass any of the reforms he promised in the wake of the alleged bid-rigging schemes associated with his signature economic development programs, government ethics and contracting reform got barely a mention in Cuomo's 92-minute Wednesday address. His 2018 policy book includes many of the same reform measures included in his 2017 version, such as closure of the LLC loophole, limits on outside income for state legislators, the creation of a chief procurement officer, and expansion of the oversight of the state inspector general. Critics point out that the latter two measures would not be significant reforms given they would both be under the governor.
Citing the six upcoming corruption trials of former high-ranking public officials that begin this month, representatives from New York Public Interest Group, Citizens Union, Reinvent Albany, Common Cause/NY, and League of Women Voters outlined specific actions they believe must be taken to prevent corruption and clean up state government.
The coalition is urging state leaders to approve a package of reforms, titled "Restore the Public's Trust," which includes procurement reform, transparency in lump-sum budget appropriations, an end to "pay-to-play," closure of the LLC Loophole, strict limits on outside income for legislators, and the empowerment of "independent, effective, well-resourced" watchdog agencies.
The courtroom dramas that are bound to cast a shadow over this legislative session touch on both the executive and legislative branches, as well as state and local government. Two of the trials directly touch Gov. Cuomo's inner circle of aides, allies, and donors, while the two former legislative leaders, Sheldon Silver and Dean Skelos, will be retried after their corruption convictions were overturned due to a new Supreme Court ruling.
The trial of Joseph Percoco, former executive deputy secretary to Gov. Cuomo, is scheduled to begin January 22; former State Senator George Maziarz's trial will start February 5; former Nassau County Executive Edward Mangano will be tried beginning March 12, and former SUNY Polytechnic Institute President and CEO Alain Kaloyeros' trial is set to begin May 15.
"Pay-to-play is a major issue in New York State because of lump sum appropriations in the budget and because of a lack of transparency in the procurement process," said Jennifer Wilson of League of Women Voters at Thursday's news conference. "In 2016, we learned that a lot of the RFPs in Buffalo Billion were people who gave huge donations to the governor. Other states have pay to play laws; we can't allow that in New York State.
Especially pointing to the Silver and Skelos sagas, the civic groups are calling on legislative leaders to act.
"LLCs loom large in the Skelos and Silver cases," said NYPIRG Executive Director Blair Horner. "Glenwood Management pumped in more than $10 million into campaign contributions."
"The Senate has to be brought along; there's no way around it," Horner said, referring to the fact that campaign finance reforms are more popular in the Democrat-led Assembly than the Republican-led Senate.
The cases the groups mentioned are just the latest in a seemingly endless barrage of corruption scandals plaguing state and local government, earning New York its reputation as one of the most corrupt states in the nation. At least 33 legislators have left office since 2000 due to corruption-related issues.
Good government groups have been pushing for some of these measures for years, and to some might sound like a broken record, as state Senate leadership has continued to block campaign finance reform and the governor has opposed the type of procurement reform being called for by the groups, Comptroller Tom DiNapoli, and others. But after last session, good government leaders say there have been some encouraging signs on the transparency front, citing legislation from Republican Senator John DeFrancisco, of Syracuse, that progressed through the finance committee, but ultimately did not make it to the floor of the Senate.

"Last year we saw some movement on the clean contracting bill from the Comptroller, and on the database of deals, and the governor's put forth his proposal on prohibiting vendors from making campaign contributions during the bidding process," said Alex Camarda, of ReInvent Albany.
As presented by the groups, the Restore Public Trust agenda, which they say will be the basis of a "campaign," includes:
Clean Contracting. Basic accountability measures that would result in an open, ethical, and efficient way to award government contracts appropriations, an area which was identified as a key problem in the indictments of the governor's top aides.
Real Budget Transparency. Make lump-sum budget appropriations and the resulting expenditures fully transparent.
Ban "Pay to Play." Strict "pay to play" restrictions on state vendors. The U.S. Attorney's charges that $800m in state contracts were rigged to benefit campaign contributors to the governor underscores the need to strictly limit contributions from those seeking state contracts.
Close the "LLC Loophole." Current practice allows essentially unlimited campaign contributions via Limited Liability Companies. LLCs have been at the heart of some of Albany's largest scandals.
Strict Limits on Outside Income. Real limits on the outside income for legislators and the executive branch. Moonlighting by top legislative leaders and top members of the executive branch has triggered indictments by the federal prosecutors.
Effective Watchdogs. Truly independent, effective, well-resourced, ethics enforcement agencies are needed (e.g. JCOPE, SBOE, ABO).
Note: Gotham Gazette is an independent publication of Citizens Union Foundation, sister organization of Citizens Union.